Top 10 NFL Coaches of the Decade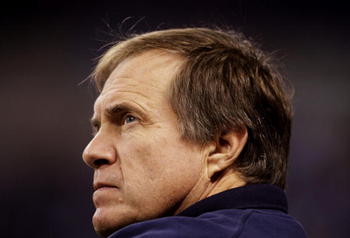 This decade of football has been somewhat of an unpredictable one, much like every decade of any sport. Most would not have predicted the Patriots, under the leadership of (at the time) young, inexperienced QB Tom Brady to take the team to three Super Bowl championships.
The Super Bowl victories of the Buccaneers in 2002 and the Giants in 2007 were rather unexpected, just as the Super Bowl appearance of the 9-7 Arizona Cardinals in 2008 was a shock. But this slideshow is not necessarily about the teams of the decade, but the masterminds behind the teams: the coaches.
So here it is, the top 10 coaches of the decade.
10. Jon Gruden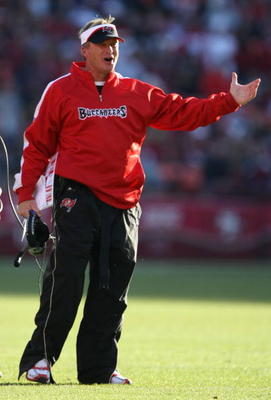 79-65, five playoff appearances (one Super Bowl win) (2000-2001, Oakland Raiders, 2002-2008, Tampa Bay Buccaneers)
Five playoff appearances and a 5-4 record in the playoffs including a Super Bowl win in 2002 is what gets Jon Gruden on this list. What keeps Gruden from the top is the inconsistency he had in Tampa after his Super Bowl victory.
After 2002, Gruden's record with the Bucs is just 45-51 with just two winning seasons, failing to reach the 10-win mark. His short success with Oakland, Super Bowl victory with Tampa, combined with a rough six-year stretch to end his tenure with the Bucs is what gets Gruden on the list but keeps him from the top.
9. Mike Shanahan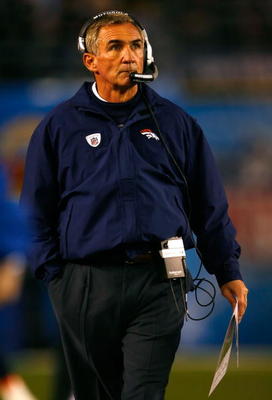 85-59, four playoff appearances (2000-2008, Denver Broncos)
Though Mike Shanahan's success seems to move above the bottom of the top 10, remember that his best years in Denver did not come during this decade. Though he made four playoff appearances, he only won one playoff game, totaling a weak 1-4 record.
While his four 10-plus win seasons stick out, what sticks out even more is the .500 record of his last three years in Denver, and the collapse during the last three games of the 2008 season, which eventually got him fired.
8. Mike Holmgren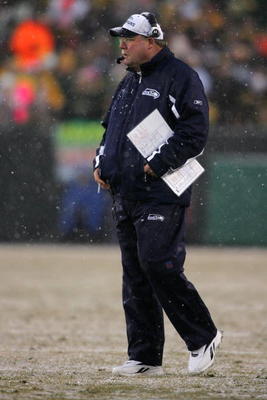 Mike Holmgren: 77-67, five playoff appearances (one Super Bowl appearance) (2000-2008, Seattle Seahawks)
It is almost a fact to say that the now President of the Cleveland Browns is one of the most respected coaches in the NFL of the last decade. Though his record is not outstanding at 77-67, a 4-5 playoff record isn't bad, and the 2005 Super Bowl appearance against the Steelers also doesn't hurt his resume of the decade.
Holmgren and the Seahawks had three losing seasons over his nine years in the decade, which isn't awful, but could be better, although the 2008 4-12 season is not necessarily him to blame (Injuries to Matt Hasselbeck, Nate Burleson, Deion Branch and the loss of Shaun Alexander).
Over the decade, Holmgren continued to prove that he is one of the elite coaches in the decade, which justifies him for this list.
7. Brian Billick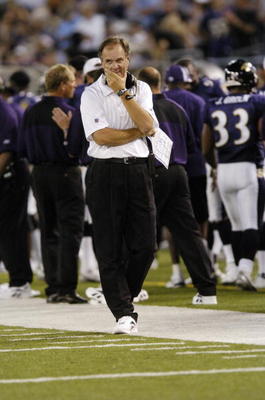 72-56, four playoff appearances (one Super Bowl win) (2000-2008, Baltimore Ravens)
I don't really want to put Brian Billick over Holmgren, who, overall, is a much better coach, but going by decade, Billick has a better winning percentage and one thing that Holmgren doesn't have this decade: a Super Bowl win.
Billick is similar to Jon Gruden in the sense that most of his success came in his first few season as a coach. A 12-4 record and a Super Bowl win over the Giants in his second year as Ravens coach, Billick didn't have as much luck after that.
His 60-52 record after 2002 certainly isn't bad, but his 1-3 record in the playoffs is nothing to brag about. After a mediocre 2005, Billick brought in the late Steve McNair, who turned a five-win team into a 13-win team that had Super Bowl hopes but lost in their first playoff game.
An incredibly disappointing 2007 season, in which Jamal Lewis left the Ravens for the Cleveland Browns, had the team winning just five games, with Billick getting fired. Like Gruden, had Billick been more consistent, he would have been in the top five.
6. Jeff Fisher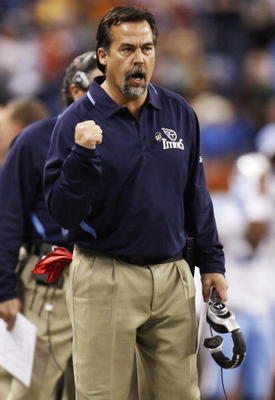 90-69, five playoff appearances (2000-present, Tennessee Titans)
Had Fisher's Super Bowl appearance come in 2000 rather than 1999, he probably would have made the top five. Regardless, Fisher has been one of the elite coaches of the 21st century to date.
His 90 wins give him the fourth most of the decade, only behind three coaches who will be mentioned later in this list. The Titans saw one of their most miraculous seasons in 2006 when, after a 2-7 start, rookie Vince Young took control of the team and propelled the team to a 6-1 finish, nearly getting the Titans into the playoffs.
The 2008 Titans went 13-3 under Kerry Collins, yet couldn't win in the playoffs. Fisher went 2-5 in the playoffs in the decade, which held Fisher back from being one of the top five, or even top-three coaches of the decade.
5. Tom Coughlin
74-69, four playoff appearances (one Super Bowl win) (2000-2002, Jacksonville Jaguars, 2004-present, New York Giants)
Coughlin's overall record in the decade doesn't necessarily justify how well he has done. Though his last three years in Jacksonville and his first year in Big Blue were not very successful, Coughlin's record since 2005 is 49-29 with a 4-3 record in the playoffs, including the Super Bowl win in 2007 over the then undefeated New England Patriots.
Though Coughlin's Super Bowl victory and success in New York gets him on this list, what keeps him from the top is the playoff routs in 2005, 2006 and 2008, especially the rough loss to Philadelphia in 2008 after an incredible 12-4 season that looked more promising than the 2007 Super Bowl winning season. So Coughlin easily gets on the list, but not at the top.
4. Bill Cowher
72-39-1, four playoff appearances (one Super Bowl win) (2000-2006, Pittsburgh Steelers)
Cowher is no doubt a hall of fame coach, with an excellent playoff record and a super bowl victory in 2005. His 7-3 record in the playoffs in this decade is outstanding, and it puts him high atop this list.
In this decade, the Steelers have only had one season with a losing record, and four seasons with double digit wins, including a near perfect 2004 season at 15-1.
Cowher has won at least one playoff game in each of his four playoff appearances in this decade. The only thing that would put Cowher at the top of the list would have been to not resign after the 2006 season, because had he kept coaching the Steelers probably still would have won the 2008 Super Bowl, though we will never know that for sure.
Either way, Cowher is one of the greatest coaches of the decade.
3. Andy Reid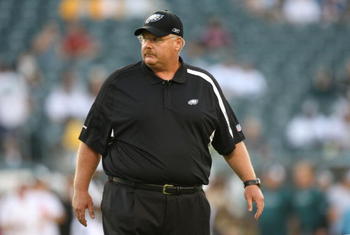 102-55-1, seven playoff appearances (one Super Bowl appearance) (2000-present, Philadelphia Eagles)
Although Eagles fans might not admit it, Reid is one of the greatest coaches in the NFL right now. Year after year he has put an amazing team on the field, consistently making the playoffs and doing well in them.
Reid is 10-7 in the playoffs, including a trip to the Super Bowl in 2004 against the Patriots. But the most amazing statistic about Reid's tenure is that in seven playoff appearances, Reid has won a playoff game in all seven appearances.
In other words, Reid has never lost in his first playoff game, meaning he has won at least one playoff game in each appearance, which is a pretty amazing feat. In this decade, he has only had a losing record once, in 2005 because of the Terrell Owens effect.
Reid has the utmost respect from all his players, all the time, and continues to prove why he is just so good on the sidelines.
2. Tony Dungy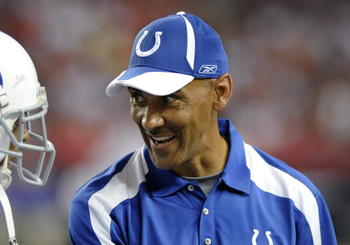 104-40, nine playoff appearances (one Super Bowl win) (2000-2001, Tampa Bay Buccaneers, 2002-2008, Indianapolis Colts)
Dungy is often considered one of the most inspirational and motivational people in this whole country. His football teams definitely thought so. Dungy is the only coach in this decade who can say he made the playoffs every single year he coached.
In his seven seasons in Indianapolis, his season LOW in wins is 10, meaning he was in double digits in wins every season. In addition, he had a winning season every year he coached, his low in wins overall coming in Tampa in 2000 at nine. Not too shabby.
His Super Bowl victory in 2007 simply justified how amazing a coach he was, putting him as one of the better coaches of all time, and certainly one of the greatest coaches of the decade.
1. Bill Belichick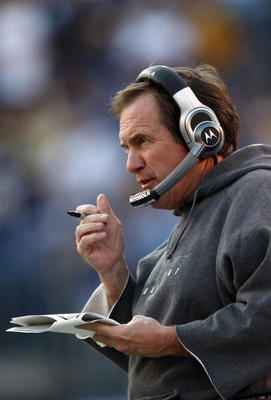 112-47, six playoff appearances (four Super Bowl appearances, three Super Bowl wins) (2000-present, New England Patriots)
For this list's sake, let's just say Belichick is a better coach than he is a sweatshirt selector (If you didn't notice, the part of a face on the first slide is his). Belichick has showed his football greatness this decade, as he was the only multiple Super Bowl winner of the decade, with three, a pretty remarkable feat.
When Drew Bledsoe had a long term injury in the second game of the 2001 season, Belichick was able to win with some kid named Tom Brady, going 11-3 in the last 14 games and winning the Super Bowl. He did the same thing in 2003 and 2004, and put together the first undefeated regular season in the history of the 16-game schedule era.
Although he is the most successful coach of the decade, his coaching tenure has not gone without controversy. The spygate controversy, which cost Belichick $500,000, revealed that Belichick and his Patriots set up cameras to "spy" on other teams during games, allegedly picking up play calls from the opposing teams offenses and defenses.
Regardless of what he has done, his accomplishments are unbelievable, and he shall be honored by being named the coach of the decade.
Final Slide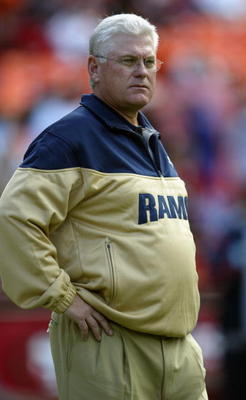 Honorable Mentions:
Jack Del Rio: 57-54, two playoff appearances (2003-present, Jacksonville Jaguars)
Marvin Lewis: 56-54-1, one playoff appearance (2003-present, Cincinnati Bengals)
Mike Martz: 51-29, four playoff appearances (2000-2004, St. Louis Rams)
John Fox: 70-57, three playoff appearances (one Super Bowl appearance) (2002-Present)
Lovie Smith: 50-44, two playoff appearances (one Super Bowl appearance) (2004-Present, Chicago Bears)
Mike Sherman: 57-39, four playoff appearances (2000-2005, Green Bay Packers)
I know I'm probably going to get a lot of "how do you put Tom Coughlin over Mike Shanahan, Mike Holmgren and Jeff Fisher?," and "Andy Reid over Bill Cowher?," but that is my opinion, and that's what I think based off the information out there. So please argue with me if you wish, because that's the beauty of America.
Keep Reading