NHL (Almost) Mid-Year in Review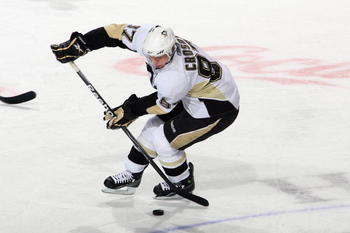 Well, seeing we're nearing the mid-point of the year in the NHL, I think it's fair to make a good judgment of where teams stand, and how they are going to fare for the rest of the season.
So far, Gary Bettman and the NHL could not have asked for a better season. The Chicago Blackhawks have risen from the ashes truly as a young-and-gun team ready to prove to the league that they are the real deal.
The yet again seemingly impenetrable New Jersey Devils are locked in a wrestling match with the defending Stanley Cup champions Pittsburgh Penguins in one of the most interesting division races we may have seen in years. It's a great year for hockey, and everyone should be loving it.
First of all, I would like to hand out my awards for the mid-year. They may be the front-runners, but still have a long way to go.
Vezina Trophy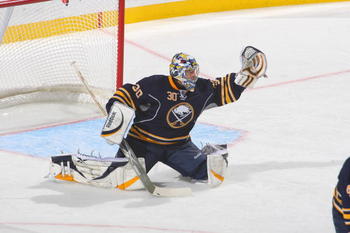 Under no circumstances should this go to anyone else but Ryan Miller. As of 32 games played, Miller leads the league with a.935 save percentage, and is second in both goals against (1.98) and shutouts (4).
A career year for Miller so far, he looks to lead the Sabres to the promised land, or at least a return to the playoffs after a two-year drought.
Honorable Mentions: Martin Brodeur (NJD), Miikka Kiprusoff (CGY), Evgeni Nabokov (SJS)
Norris Trophy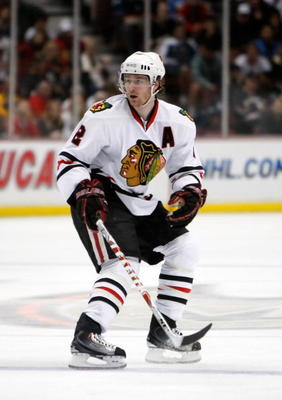 The Norris Trophy may be the hardest one to hand out at this point, but I would have to hand it to Duncan Keith.
Chicago is off to one of its best starts in recent memory, and Keith is the biggest reason why. Keith consistently puts in a great effort night in and night out, going more than 26 minutes on a consistent basis.
He is third in TOI (26:49), and is a solid +9. Look for Chicago to go deep into the playoffs because of its solid defense corps, led by Keith.
Honorable Mentions: Drew Doughty(LAK), Mike Green (WSH), Jay Bouwmeester (CGY)
Calder Trophy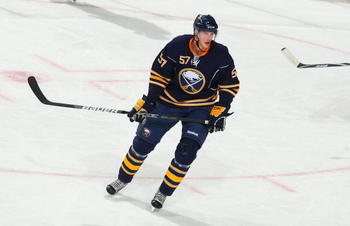 Another very tough one, but this kid has been the rookie sensation of the first half of the season. 19 year-old defenseman Tyler Myers has been outstanding for the blue and gold this year.
The Sabres are second in the east in goals against, and have one of the best goalies in the league in Ryan Miller.
But one of the main reasons he is so good is Buffalo's defense, led by Myers.
He has confidence and play-making ability beyond his years. He isn't afraid to lead the rush. He leads all rookies in TOI and is 7th in scoring. He still has much to prove, but has been the best rookie thus far.
Honorable mentions: Ryan O'Reilly (COL), John Tavares (NYI), Matt Duchene (COL)
Frank J. Selke Trophy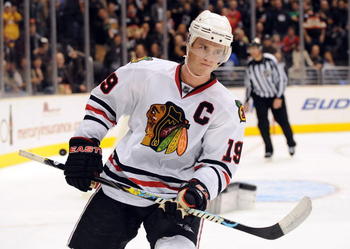 Well, this guy can do it all, and will for a long time. Jonathan Toews is another reason why the Blackhawks are good again.
He leads all centers in+/- and is a key penalty killer for the Blackhawks. He can score, too, but isn't afraid of making that shot-block and defends just as well as he scores.
Keith, Toews and the rest of the Blackhawks will go deep into the playoffs by means of strong defense.
Honorable Mentions: Pavel Datsyuk (DET), Alex Burrows (VAN), Joe Thornton (SJS)
Hart Memorial Trophy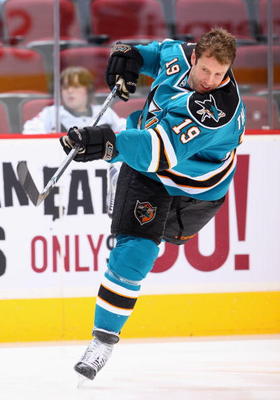 Joe Thornton is the best hockey player in the world. He is one of the most prolific passers in the history of the game, and is an exceptional penalty killer.
He leads the league in scoring with 54 points in 38 games played. I will not say he is the sole reason the Sharks are near the top of the league, but he is a large part of that.
Adding Dany Heatley to his line was an awesome acquisition over the offseason.
Honorable Mentions: Ryan Miller (BUF), Sidney Crosby (PIT), Ilya Kovalchuk (ATL)
Division Review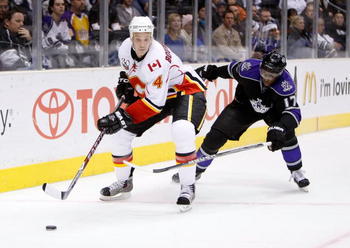 Seems to be the gist of who's doing what in the season so far individually, team wise though....
Northeast Division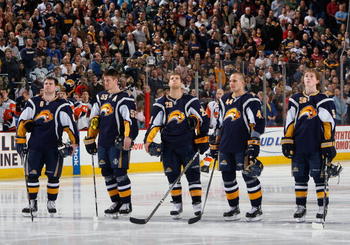 Look for the Sabres to ride the goaltending of Ryan Miller and their spectacular defense into their second division title in four years.
They will not be true contenders until they make a move for a big time scorer, though.
Boston is playing somewhat consistent hockey and should be a lock for the playoffs. Look for Tuuka Rask to be a superstar someday.
Ottawa needs to get healthy, though, in order to remain competitive. Daniel Alfredsson is out for four weeks or so and Jason Spezza is out for a while, too. They need to rebound from injuries in order to stay high in the standings.
Montreal isn't living up to their potential, yet again, and will not make the playoffs until they do.
Toronto also has potential to sneak in after a very dismal start. Phil Kessel is lighting it up, and with strong goaltending from "monster" Jonas Gustavsson, the Leafs have a small chance of salvaging the season.
Atlantic Division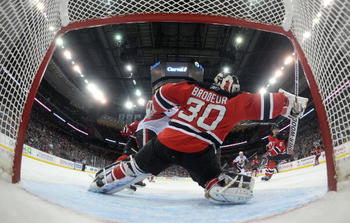 Look for the Devils to firmly establish themselves as the top team in this division. Why? Martin Brodeur and their defense.
Similar to Buffalo? I think so. And that is why Pittsburgh will not win this division. Marc-Andre Fleury and their early injuries will stop them from winning the division, but definitely not the playoffs.
Sidney Crosby is off to a phenomenal year yet again, and maybe has grown a tough bone in his body. The Pens should go deep into the playoffs, but New Jersey will win the division.
The Rangers and Flyers are in virtually the same position. One has better goaltending, though, and that will make all the difference. With Ray Emery out for awhile, look for the Flyers to plummet.
After firing John Stevens, they have no unity and need leadership from their young captain, Mike Richards. Henrik Lundqvist has carried the Rangers, and will continue to. It will be tough for them to make the playoffs by relying on Marion Gaborik to score all their goals, but it remains a possibility.
The Islanders are quietly putting up a good fight. They remain just below the eighth seed, but you have to give them credit for hanging around. Maybe if Rick DiPietro gets back healthy, maybe, this team might get it together.
Southeast Division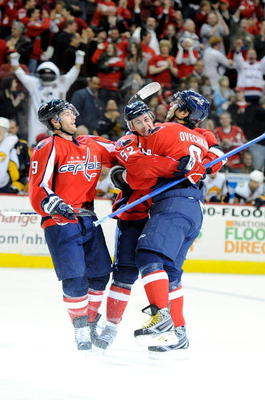 The Washington Capitals are the major frontrunners in this division. Alexander Ovechkin, Nicklas Backstrom and Alexander Semin are scoring left and right, and making a case for the best defense is a great offense.
The Thrashers are quietly having a good year behind the leadership/goal scoring of MVP candidate Ilya Kovalchuk and surprisingly strong goaltending of Johan Hedberg.
Florida or Tampa Bay may sneak in, but their chances are slim, as both teams are way too inconsistent. Carolina is plainly the worst team in the league.
Central Divison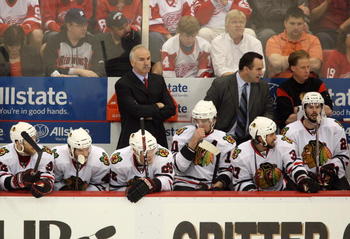 The most predictable division in the NHL is not so predictable anymore. Look for Chicago to pull ahead of the rest.
The rise of the Blackhawks has created quite the disruption in this division. Led by Pat Kane, Jonathan Toews, and Duncan Keith, and Brian Campbell, the Blackhawks look to go deep into the playoffs with the best defense in the league.
The return of Marian Hossa is a scary thought as well for this team.
Also, where the heck did the Nashville Predators come from? They have come out of nowhere to contend with the Blackhawks legitimately for the division title.
Balanced scoring and strong defense led by Shea Weber have placed the Predators where they are now. The Red Wings are having a poor year and are on the bubble for making the playoffs right now; but have no fear, they will make it and perhaps contend for another Stanley Cup.
St. Louis and Columbus are having bad years, and both are pretty doubtful for making the playoffs.
Northwest Division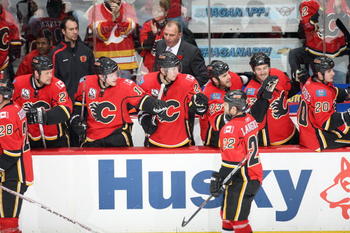 As much as I would love to see Vancouver here, both them and Colorado will fall to the superior goaltending and defense combination of Calgary.
Calgary has some of the best defense in the league, led by Jay Bouwmeester and Dion Phaneuf, and perennial offensive force Jarome Iginla. Goaltender Miikka Kipprusoff is off to yet another great year as well.
Vancouver is way to inconsistent despite the return of Daniel Sedin. Goaltender Roberto Luongo needs to pick it up if they are expected to do anything in the playoffs.
Colorado is young and inexperienced but is playing exceptionally well and is a lock for the playoffs. Matt Duchene, Ryan O'Reilly, and Paul Stastny look to become the next generation of great core players for the Colorado franchise.
Minnesota is slowly climbing up the standings, but will most likely be squeezed out due to a horrid start.
Niklas Backstrom is having an ok year, and Martin Havlat has been quite a disappointment thus far.
Edmonton just doesn't have it this year, which is expected with all the adjustments that have been made over the past year (Nikolai Khabibulin, Pat Quinn).
Pacific Division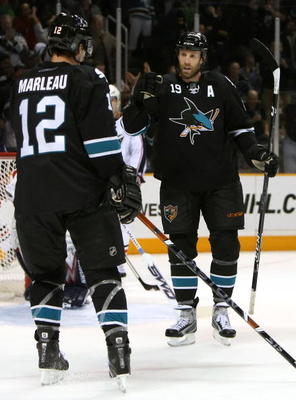 The San Jose Sharks are an offensive beast. Joe Thornton, Dany Heatley, and Patrick Marleau are virtually unstoppable.
Evgeni Nabokov is playing well, and so are Dan Boyle and Rob Blake in front of him. Look for them to go very deep and avenge last year's first-round loss to the Ducks.
The Kings are having a great season and should make the playoffs, especially after the return of Ryan Smyth to help Anze Kopitar score goals again.
Phoenix is riding the strong play of goalie Ilya Bryzgalov and are quietly having their best year in recent memory.
Dallas is having an OK year too, but have to play consistent in order to make the playoffs.
Talk about living up to their potential, the Ducks are the saddest story in the NHL this year. No one likes to play defense on that team, but they seem to be on the rise after going 5-2-3 in their last 10.
Stanley Cup Champs??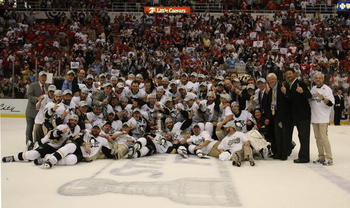 Can the Penguins repeat? It's way to early to tell, and really shouldn't even be talked about for superstition's sake, but...I predict the Buffalo Sabres or New Jersey Devils in the East, and the Blackhawks or Sharks in the West.
The Northeast Division was the only division not to win a Stanley Cup in the past decade...they are due. I'm just saying.
It should be one of the best playoffs in a long time, it seems that all the teams so far are very evenly matched. Oh, and two minuscule events called the Olympics and the Winter Classic should be quite entertaining as well.
Keep Reading