For Iowa and Georgia Tech, Orange Bowl Will Be a Program-Defining Game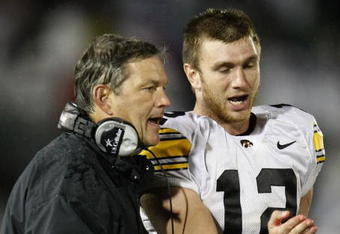 Gregory Shamus/Getty Images
This is the fourth in a series of articles that I will be doing about the Orange Bowl. This one focuses on both teams' futures after the game. To see more of my Orange Bowl articles check out my profile and stay tuned for more to come before Jan. 5.
While the 2008 and 2009 college football seasons have been dominated by the historically elite teams such as Florida, Alabama, Texas, and Oklahoma, many other teams have started to emerge over those two seasons.
Programs such as Cincinnati, Georgia Tech, Iowa, and Oregon will have been to at least one BCS bowl game over that time span, and are starting to make their programs relevant on college football's national stage.
The Orange Bowl matches up two of these teams: Iowa and Georgia Tech.
Not only would an Orange Bowl win be a confidence boost for each team and its respective conference, but it would also be a program-defining win for each team.
While both are undoubtedly headed in the right direction, a win in the Orange Bowl would make either team a legitimate national title contender in 2010.
Both teams have most of their players coming back, and with a win, both will have the preseason hype that is suddenly necessary to win a championship in college football.
Under new coach Paul Johnson, Georgia Tech has flourished, with its new triple-option attack. The offense has improved over the past few years at such a rate that it is almost as close to perfect as an offensive scheme can get.
The keys to the offense are quarterback Josh Nesbitt and running back Jonathan Dwyer. Both will undoubtedly end the season with over 1,000 yards rushing, as Dwyer has already reached that mark and Nesbitt is nine yards away. They lead one of the best—if not the best—rushing attacks in the nation.
But the Yellow Jackets also pass the ball, and they do it well. Wide receiver Demaryius Thomas has 1,154 receiving yards this season and eight touchdowns to go along with Nesbitt's 156.78 passer rating.
The passing game relies on the big play; Georgia Tech rarely throws short passes, preferring to throw the ball deep instead of picking up short gains.
Most teams that use this strategy are hurt by time-of-possession, but because of their reliance on the run, the Yellow Jackets are able to run first, then throw the ball deep, and still win the time-of-possession battle.
But the main criticism the Georgia Tech offense has faced is that it hasn't faced an elite defense all season that has the capability of stopping the triple option.
Let's face it: Playing in the ACC doesn't offer much of a defensive challenge. Many critics point to a 38-3 blowout in the Chick-fil-A Bowl, where the Yellow Jacket offense was manhandled by LSU.
If the Yellow Jackets can beat Iowa, they can prove that their offense is now more perfected and can beat even the best defenses in the country.
And with all three of its star players coming back, the offense would be even better in 2010, and may be unbeatable.
Even with a loss in the Orange Bowl, Georgia Tech will undoubtedly be the ACC favorite in 2010, but it won't be taken as seriously as a national title contender.
A win in Miami could change that.
Iowa, on the other hand, has started to build its program around defense. In current college football the phrase "defense wins championships" is basically dead, as new offensive formations such as the wildcat, spread offense, and even the triple option, have started to take hold.
But Iowa has maintained its vanilla-style defense, and done a terrific job of containing the new offenses.
Defensive coordinator Norm Parker has the most opportunistic secondary in the nation, and safety Tyler Sash leads the way with six intereceptions.
But the defensive front and the linebackers are what will make or break the Orange Bowl for the Hawkeyes. The key to stopping the triple option is being good up front on defense, and Iowa certainly has that quality.
The defensive line is among the best in the nation, and is led by defensive end Adrian Clayborn. The line is a perfect combination of strength and speed.
Iowa is known for its physical defensive play, but its speed surprises teams.
The linemen have run down plenty of running backs this season and the 282-pound Clayborn even caught Arizona running back Nic Grigsby from behind.
The linebackers will also play an essential role in stopping Nesbitt and company in Miami. Senior Pat Angerer leads one of the best linebacking corps in the nation, and with 135 tackles, he is one of the most physical players at his position.
But Angerer's speed is also a major asset to his game. His 4.5 second 40-yard dash is the fastest among all NFL Draft eligible senior linebackers, and what he lacks in size, he makes up for in strength and speed.
But for Iowa to win the Orange Bowl, the offense will also have to perform. The unit was extremely inconsistent this year, and quarterback Ricky Stanzi basically defined the team's season.
When he was good, he was outstanding, but when he was bad, he was awful. This inconsistency is much of the reason for the disrespect toward the Hawkeyes this year. For Iowa to be seen as a contender in 2010, Stanzi needs to put together an entire game of good football in Miami.
So what can Iowans look forward to with a win in the Orange Bowl? With much of the team coming back, it may be safe to say the the best has just begun for Iowa football.
The entire defensive line returns, and may be the best line in college football next year. Adrian Clayborn and Broderick Binns are possible All-American candidates, and the unit itself has a shot at being named All-Big Ten.
The whole secondary returns, that is, if cornerback Amari Spievey decides to forgo the NFL for his senior season. And considering how dominant that group was in 2009, teams will have a tough time passing against Iowa in 2010.
The only defensive players the Hawkeyes lose are linebackers AJ Edds and Pat Angerer. But Iowa reloads at that position, and both replacements, Troy Johnson and Tyler Nielsen, have shown tremendous potential. Johnson forced a fumble and had 12 tackles against Minnesota.
But the offense will define the team in 2010. The defense will keep Iowa in every game, but the offense needs to win them. Getting Jewel Hampton back at running back will certainly help, but much of the weight lies on Ricky Stanzi's shoulders.
If Stanzi is able to put together a dominant performance in the Orange Bowl, he will have a major confidence boost heading into 2010 and possibly put his team in national championship contention.
With a loss, Stanzi's play will once again be a question mark, and he will have to try to win over the college football world throughout the season, which makes it much harder to become a contender on the national stage.
He needs to establish himself before next season to make Iowa legit in the eyes of the nation, and the Orange Bowl is his last chance to do so.
While a win in the Orange Bowl is a big win in itself for both Iowa and Georgia Tech, it may have much bigger implications than that. While the loser of the Orange Bowl will undoubtedly have a good team in 2010, the winner will become a much bigger player on college football's national scene and be in the mix for a national championship.
This article is
What is the duplicate article?
Why is this article offensive?
Where is this article plagiarized from?
Why is this article poorly edited?

Iowa Hawkeyes Football: Like this team?