Joe Mauer Tops Minnesota Twins All-Decade Team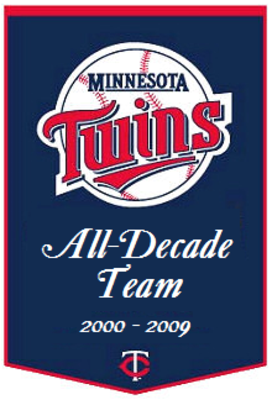 As the first decade of the 2000s comes to a close, it seems like a fine time for a little reflection.
The Twins have arguably been one of baseball's best franchises during the past decade.
Largely under the watch of underrated skipper, Ron Gardenhire, the Twins have won the American League Central five times.
Even more impressively, the club has maintained a high level of competitiveness all decade long, as Minnesota only finished lower than third one time, and that was back in 2000.
The success of the club as a whole has come as a result of numerous players over the last ten years.
As such, I've created the Twins All-Decade Team, a full 25-man roster meant to honor those players who played a big part in the most successful period of Twins baseball in franchise history.
Not all of the players listed below are the best players who have suited up for the club in the past ten years, but they are the players who had the biggest impact.
For example, Luis Castillo is probably the best overall second baseman to grace the Twins' roster in the past decade, but his brief stint with the club didn't warrant a position on this list. The same could be said about Joe Crede, who (when healthy) was arguably the best third baseman the Twins have had in years.
As such, all of the players listed have spent significant time—at least three seasons with the Twins.
Some of the decisions were no-brainers, and some required a lot more reflection. When you're done with the slideshow, I'd love to hear your thoughts on the subject.
Without any further ado, I present the Minnesota Twins All-Decade Team.
C – Joe Mauer (2004-2009)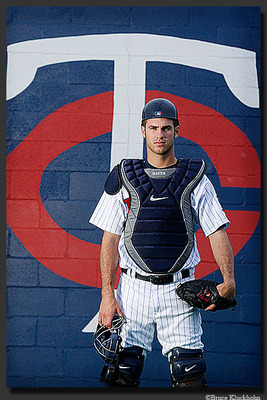 C – Joe Mauer (2004-2009)
Mauer is probably the easiest choice on the list.
The hometown kid has been a star ever since he broke into the show and at just 26-years-old only figures to keep getting better.
He already has three batting titles, two Gold Glove Awards, three Silver Sluggers, and an MVP award to his name in just six seasons at the big league level.
Mauer is just entering his prime and is one of the best hitters in the game today; needless to say he is the crown jewel of the franchise.
This off-season figures to be a contentious one as debate rages over whether or not the Twins can afford to sign him to a long-term extension or if the club will be forced to trade the three-time All-Star rather than let him walk via free agency.
1B – Justin Morneau (2003-2009)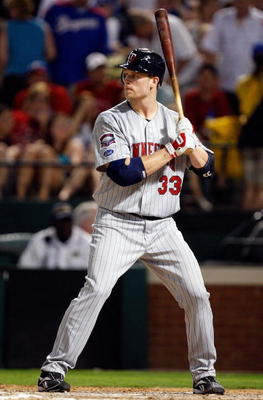 1B – Justin Morneau (2003-2009)
Morneau, after Mauer, is one of the biggest no-brainers on the list.
The Canadian Crusher has been a mainstay in the lineup since 2004 and hasn't looked back since.
He's a three-time All-Star and won the 2006 American League MVP because he helped to propel Minnesota into the playoffs after a rough first half.
Along with Mauer, he is part of the team's core for the future and one of the most feared sluggers in the American League.
He can be counted on for 30 home runs and 100+ RBI every season.
He suffered a major injury in 2009 but is expected to be fully-healed and ready to go by Spring Training.
Additionally, he continues to improve his glove work every season and is becoming one of the games better defenders at first.
2B – Nick Punto (2004-2009)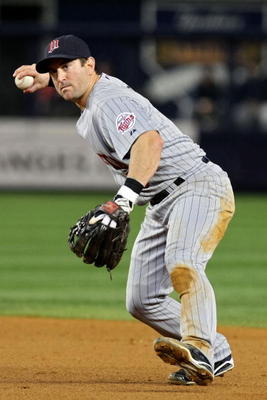 2B – Nick Punto (2004-2009)
Punto gets the nod at second more or less by default.
Technically, Luis Castillo is the best second baseman the Twins have had this decade, but his brief one and a half year stay didn't warrant him placement on this list.
Luis Rivas and Alexi Casilla were both largely awful during their stints at second base.
Punto hasn't been a full-time second baseman with the Twins, as he's played all three outfield positions, third, shortstop, and second.
In fact, second base even ranks as his worst defensive position according to UZR/150.
That fact notwithstanding, Punto has been an important player for the Twins in recent years, largely as a result of his positional flexibility, and was completely deserving of a place on this list.
SS – Cristian Guzman (2000-2004)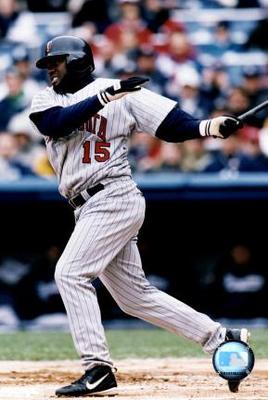 SS – Cristian Guzman (2000-2004)
Guzman is a shoe-in here, as he was the only shortstop that could consistently be trotted out over the past decade.
The club has had a revolving door at short for much of the later years of the decade, but early on, Guzman was a rock for the club's middle infield.
Guzman, now with the Nationals, was once a very solid defender up the middle and gave the Twins a viable lead-off man.
His on-base skills were never top-notch, but he had speed to burn and led the league in triples on three different occasions.
He may be best remembered for the way legendary public address announcer Bob Casey announced him as "Cristiaaaaaaaan Goooooooooooooooooozman" prior to at-bats at the Metrodome.
3B – Corey Koskie (2000-2004)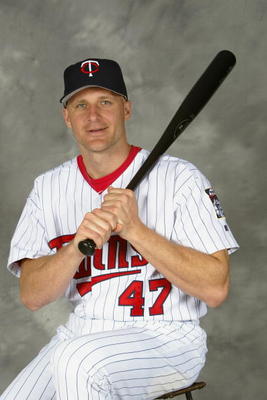 3B – Corey Koskie (2000-2004)
Corey Koskie will always be the one that got away.
If shortstop has been a revolving door, third base has been a veritable wind tunnel where no one can even grab a foothold, let alone lay claim to the position.
Since Koskie's departure following the 2004 season, the Twins have trotted out 17 different players at third base, none of whom have been able to consistently hold down the position.
Koskie was a fan favorite in Minnesota and provided the Twins with steady defense at the hot corner and moderate pop from the lower half of the lineup.
He played a major role in the Twins' resurgence early in the decade and is fondly remembered by fans for his contributions to the franchise's return to glory.
Unfortunately, Koskie's career was cut short due to a serious bout of post-concussion syndrome.
LF – Jacque Jones (2000-2005)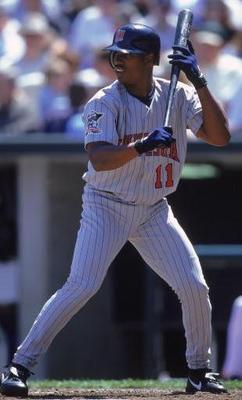 LF – Jacque Jones (2000-2005)
Jones was much maligned in his time with the team, but was arguably one of the best outfielders to suit up for the Twins in the 2000s.
Throughout the early part of the decade Jones was a very versatile young slugger who played all three outfield positions and played them pretty well.
His defense regressed with age, and both his arm and range were stretched when playing anywhere but left field, but he still was consistently in the lineup, averaging close to 150 games per year.
He could be counted on for 20+ home runs and 70+ RBI every year to go with a solid average.
His inability to hit in the clutch, however, often drew the ire of Twins fans, as did his yearly disappearing act in the playoffs.
CF – Torii Hunter (2000-2007)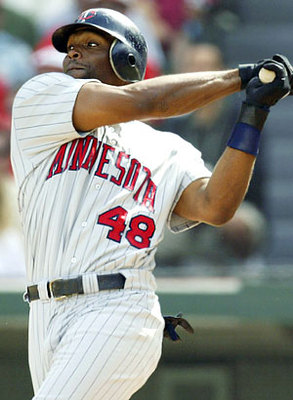 CF – Torii Hunter (2000-2007)
Hunter was the face of the Twins franchise for years and has been missed.
He came up with the Twins late in the previous decade and was mentored by Twins' great Kirby Puckett.
Hunter provided the club with plenty of off the field intangibles, as he was a major clubhouse presence and team leader.
Additionally, he was a major contributor within the community in his efforts to promote baseball to younger generations.
On the field he became a cornerstone of the offense, and his defensive prowess in center field proved to be rivaled by none.
He earned seven Gold Glove Awards and was elected to the All-Star team twice in his tenure with Minnesota.
His departure left a hole in the lineup that the club is still struggling to adequately fill both offensively and defensively.
RF – Michael Cuddyer (2001-2009)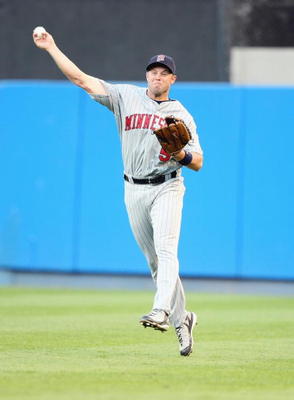 RF – Michael Cuddyer (2001-2009)
Cuddyer, love him or hate him, has been one of the primary offensive forces for the Twins this decade.
Sure, he has dealt with his fair share of injuries, but he has also proven to be a team-first player on numerous accounts.
Cuddy came up as a corner infielder, and the club subsequently tried him at second base and all three outfield positions.
Eventually Cuddyer proved to be a very solid right fielder and has primarily played there since 2006.
When healthy, Cuddyer is the legitimate right-handed power threat that the club needs and can crush 25+ home runs and 100+ RBI over the course of a full season.
He is already locked up into the next decade and figures to be a force for years to come.
DH – Jason Kubel (2004-2009)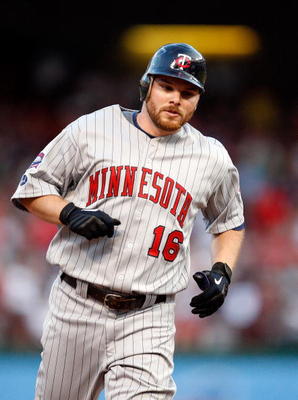 DH – Jason Kubel (2004-2009)
Kubel may be the only real designated hitter the Twins have run out this decade.
The Twins have seen the likes of David Ortiz (pre-power), Butch Huskey, Matt LeCroy, Jose Offerman, Rondell White (post-power), and Jeff Cirillo all take their turn at DH, and none of them have worked out the way Kubel has in his short stint at the position.
Kubel's career—at just age 27—already contains an impressive comeback story, and he only figures to continue getting better.
He largely carried the club on his back down the stretch in 2009 and will be counted on to do even more in the future, as he is now in the upper echelon of DHs in the American League.
B (1B) – Doug Mientkiewicz (2000-2004)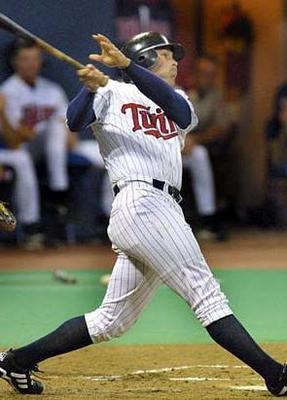 B (1B) – Doug Mientkiewicz (2000-2004)
Mientkiewicz may be best known for his un-spellable name or his standoff with the Red Sox following the 2004 World Series.
To Twins' fans, however, he'll always be remembered for his defensive wizardry at first base.
Before there was Morneau, fans were privy to Mientkiewicz's exploits at first.
Minky, as he was lovingly called by Twins' fans, played the game with in a hard-nosed fashion and earned the respect of fans and players alike.
In 2001, his exploits at first base earned him a Gold Glove Award.
Unfortunately, Minky hasn't had the same level of success since leaving Minnesota.
He's become a part-time player and hasn't played with a different team each year since his departure from the club.
B (SS) – Jason Bartlett (2004-2007)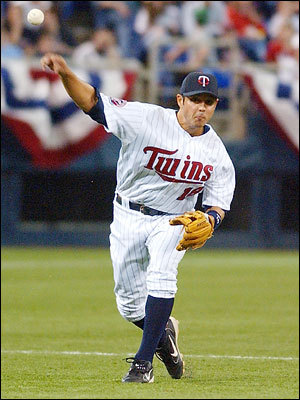 B (SS) – Jason Bartlett (2004-2007)
Bartlett was an intriguing figure in his time with Minnesota.
He showed all of the potential to be a solid shortstop, and the club had high-hopes that he would anchor the infield for years to come.
Instead, Bartlett was never able to fully take the reins at shortstop until his final season with Minnesota.
In that time he had a very Jekyll and Hyde career with the Twins and was traded to Tampa Bay as part of the Delmon Young deal following the 2007 season.
He has since blossomed into an All-Star and proven to be everything Minnesota had envisioned when the club traded former first-round draft pick Brian Buchannan for him in the middle of the 2002 season.
B (OF) – Shannon Stewart (2003-2006)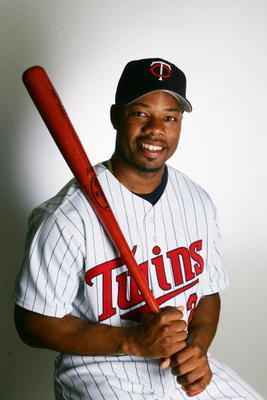 B (OF) – Shannon Stewart (2003-2006)
Shannon Stewart was a God-send.
Okay, maybe not, but he was a major part of the Twins march to the playoffs in 2003.
Stewart, a former first-round draft pick, was traded to the Twins by the Blue Jays in exchange for Chucky doll lookalike Bobby Kielty in July of 2003.
At the time of the trade, the Twins were a third-place team, sitting seven and a half games out of first and five games below .500 in the division.
Stewart went on a tear, hitting .322 /.384/.470 with six home runs, 38 RBI, 43 runs scored, and 22 doubles in just 65 games played and helped propel the club back to the playoffs.
His performance earned him enough votes to finish fourth for the American League MVP that season.
Injuries derailed much of the remainder of Stewart's tenure with the club, but when he was in the lineup he gave a much needed top of the order threat with solid on-base skills.
B (C) – A.J. Pierzynski (2000-2003)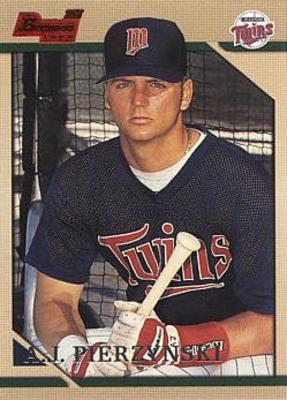 B (C) – A.J. Pierzynski (2000-2003)
Pierzynski is probably the definitive example of a "love him or hate him" player. Very few people have middle-of-the-road feelings about Pierzynski.
Twins fans, however, are prone to both loving and hating Pierzynski.
In his time with Minnesota, Pierzynski was every bit the brash loud-mouth that he is today, but he was our brash, loud-mouth, and Twins' fans respected him for it.
He has taken some parting shots since leaving Minnesota but still holds a fond place in the hearts of most Twins' fans.
He played a major role in the franchise's resurgence early in the decade and netted the club a pretty solid return upon his exodus to San Francisco.
For that we will always be grateful, even if he is a huge jerk.
SP – Johan Santana (2000-2007)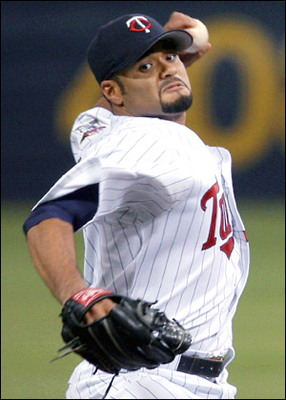 SP – Johan Santana (2000-2007)
Santana was arguably the best pitcher to ever don a Twins uniform.
His emergence from Rule 5 Draft pick to Cy Young Award winner played a major role in the Twins' return to glory this past decade.
Santana will long be remembered for his absolute dominance over hitters and his two (should have been three) Cy Young Awards.
He was the lights out ace that every club covets and undoubtedly the best pitcher in baseball from 2003-2007.
He will also be remembered for essentially handcuffing the Twins in trade talks with an ultimatum that forced the team to trade him by a deadline he established or else he would enact his no-trade clause and leave the team as a free agent at season's end.
As a result, the Twins were forced to accept a lackluster package from the New York Mets.
SP – Brad Radke (2000-2006)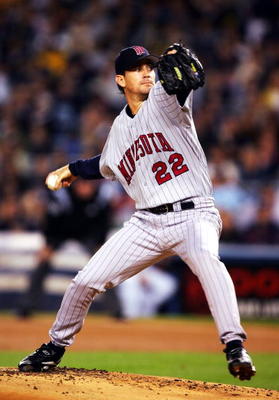 SP – Brad Radke (2000-2006)
Brad Radke epitomized Minnesota Twins baseball for twelve seasons.
He was a gamer who didn't have overpowering stuff on the mound but showed up and took the ball every fifth day.
He pitched 200+ innings in nine of his twelve big league seasons and only missed significant time once, in 2002 when a groin injury sidelined him for much of the summer.
Radke was the Twins' Opening Day starter nine times, and he ranks second on the Twins all-time list in starts (377) and third in wins (148), strikeouts (1,467), and innings pitched (2,451).
Injuries forced Radke to retire following a gutsy performance in the 2006 playoffs.
Despite his lack of Hall of Fame numbers, Radke will always be remembered fondly by Twins' fans and players for his numerous contributions on and off the field in Minnesota.
SP – Francisco Liriano (2005-2009)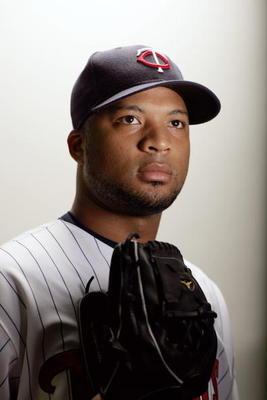 SP – Francisco Liriano (2005-2009)
Liriano may seem like a bit of a stretch to stick in here, but he has proven twice (2006 and 2008) that he has exactly what it takes to be a top-flight pitcher in the big leagues.
His burgeoning career and Rookie of the Year campaign was cut short in 2006 when injuries forced him to the sidelines and eventually resulted in Tommy John surgery.
Liriano missed the entire 2007 season and started off 2008 with rough outings. He returned to Triple-A and quickly returned to his old, dominating form.
He returned to the big leagues late in the year and was successful once again, albeit without his once-devastating slider.
He struggled mightily in 2009, and it would seem that 2010 will be a make or break year for the southpaw.
SP – Scott Baker (2005-2009)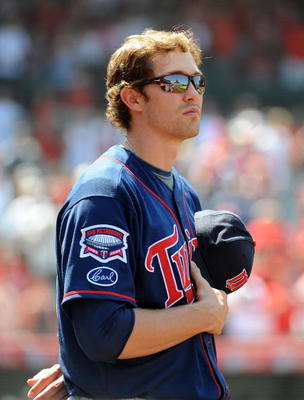 SP – Scott Baker (2005-2009)
It may be hard to believe, but Scott Baker has been in the big leagues for five seasons already.
In that time he's worked his way up from spot-starter to back of the rotation filler to unequivocal team ace.
He has had his share of struggles, but for the most part he has proven to be a reliable front of the rotation starter who can be counted on for 200+ innings, 30+ starts, and double-digit win totals.
Baker, much like Radke before him, may not have overpowering stuff on the mound, but he is a very solid pitcher who knows how to get hitters out with or without the strikeout in his arsenal.
He is signed well into the next decade and figures to be a mainstay in the Twins' rotation for years to come.
SP – Eric Milton (2000-2003)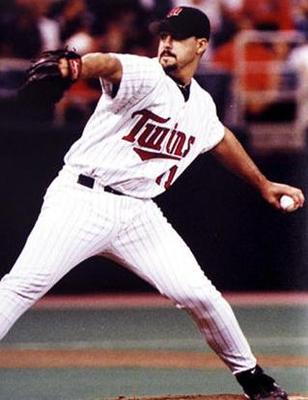 SP – Eric Milton (2000-2003)
Milton may not produce the same nostalgic images as Radke, but he did play a major part in the Twins' success earlier this decade.
Milton was a key component of the Chuck Knoblauch trade with the New York Yankees and for a time proved to be one of the better lefties in the American League.
Along with Radke, Milton was part of a dynamic one-two punch atop the Minnesota rotation.
Milton even pitched a no-hitter for the Twins once upon a time in 1999 and was an All-Star in 2001.
He was a first-round draft pick with the Yankees and was expected by many to be the Twins' ace, but inconsistency never allowed that to happen.
After a knee injury limited him to just three starts in 2003, the Twins shipped the southpaw to Philadelphia for Carlos Silva and the aforementioned Nick Punto.
RP – Jesse Crain (2004-2009)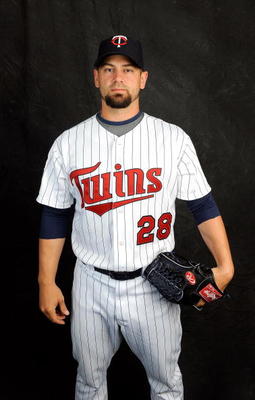 RP – Jesse Crain (2004-2009)
Jesse Crain, love him or hate him, has been one of the few constants in the Twins' bullpen over the past six seasons.
Crain's struggles with consistency have led many fans to call for his dismissal from the bullpen, despite past-talk that he was a closer of the future.
Either way you look at it, Crain has been a major factor in the late-innings for the Twins for years, and, for the most part, he's done a pretty solid job.
He has a career 3.50 ERA and a winning record. He walks more batters than most would like to see, but he can also mow down hitters with the best of 'em.
His career was thrown off track in 2007 when he underwent surgery for a torn rotator cuff and labrum. He has since recovered, but has endured struggles along the way.
RP – Juan Rincon (2001-2008)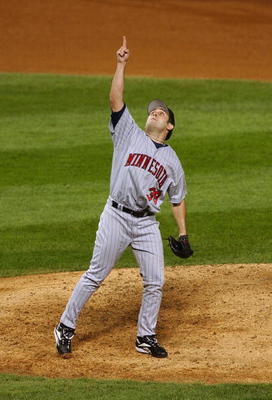 RP – Juan Rincon (2001-2008)
Juan Rincon was a staple of the Minnesota bullpen for much of the club's run of back-to-back-to-back division titles.
He was a very solid setup man for a number of years and helped bridge the gap to closer Joe Nathan.
For a four-year stretch early in the decade, Rincon was one of the top setup men in baseball.
From 2003 to 2006, Rincon went 25-19 with a cumulative 2.93 ERA, 1.22 WHIP, and 318 strikeouts in 319 innings pitched.
After the 2006 season, however, the wheels came off. Rincon's ERA doubled and his walk-rates increased while his strikeouts decreased.
Midway through the 2008 campaign—with his ERA ballooned to 6.11-the Twins released Rincon, ending his tenure with the club.
He has since struggled to find the same semblance of success he had earlier in the decade.
RP – J.C. Romero (2000-2005)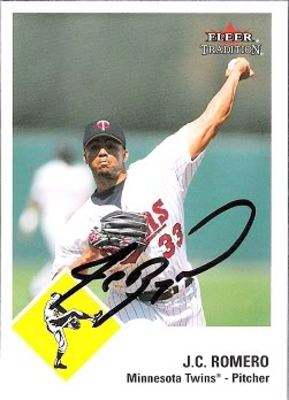 RP – J.C. Romero (2000-2005)
Romero started his career as a relatively unsuccessful starter and finally found his niche when he was converted to a relief role.
He would combine with the aforementioned Juan Rincon for much of the early part of the decade to form a solid righty/lefty setup combo.
Romero was a dominant lefty reliever for the Twins for a time after his conversion but developed control problems and eventually a chip on his shoulder in regards to his role with the club.
As a result, the enigmatic reliever requested a trade and was shipped to Los Angeles in exchange for talented yet frustrating second baseman Alexi Casilla following the 2005 season.
RP – LaTroy Hawkins (2000-2003)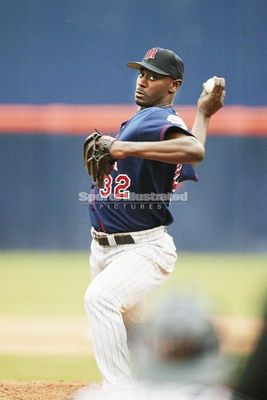 RP – LaTroy Hawkins (2000-2003)
Hawkins spent nine years with the Twins.
The best of those years, however, came in this decade.
The best years also came after the club decided to—much like with the aforementioned Romero—convert Hawkins from a starter, a role in which he was terrible, to a reliever.
As a reliever, Hawkins was able to make use of his mid-90s fastball to dominate hitters more effectively.
Hawkins saved 43 games while being used as the Twins' closer during the 2000 and 2001 seasons but eventually lost the job to Eddie Guardado.
In a setup role, Hawkins excelled and posted an ERA of 2.13 in 2002 and an even better 1.86 ERA in 2003.
Hawkins became a free agent after the 2003 season, and since he wanted the opportunity to be a closer again, he left the Twins and signed with the Chicago Cubs.
He has been relatively successful since leaving the club but mostly as a setup man.
RP – Matt Guerrier (2004-2009)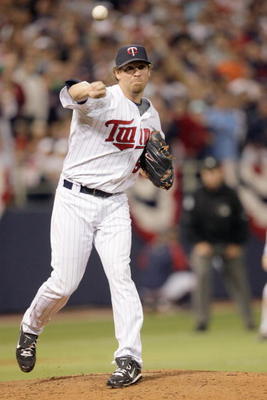 RP – Matt Guerrier (2004-2009)
Matt Guerrier has quietly become the Twins' silent assassin in the back of the bullpen.
In six big league seasons, Guerrier has amassed a 3.41 ERA that is only that high because of a rough second half in 2008 that saw him post a dreadful 8.88 ERA after the All-Star break.
Beyond that one blip, Guerrier has been incredibly reliable and durable, having led the American League in games played two years in a row.
He isn't an overpowering late-inning specialist, but he gets the job done by keeping the ball in the park and forcing batters to get themselves out.
His contributions to the Twins' success in the latter half of the decade are undeniable.
RP – Eddie Guardado (2000-2003, 2008)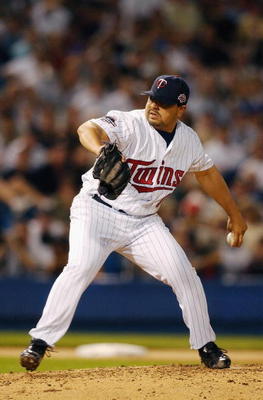 RP – Eddie Guardado (2000-2003, 2008)
Guardado become a household name as "Everyday Eddie" with the Twins.
Guardado, like many others on this list, began his career as a starter but was shifted to the bullpen. He spent twelve seasons with the Twins and was a middle reliever for most of the 90s before getting his break as a closer midway through the 2001 season.
Guardado took over the closer role from the struggling LaTroy Hawkins and never looked back.
From 2001 to 2003, "Everyday Eddie" notched 98 saves with a 3.11 ERA, a 1.03 WHIP, an 11-9 record, and 197 strikeouts in 199.2 innings pitched.
Guardado left the Twins after the 2003 season to sign a big money contract with the Seattle Mariners.
CL – Joe Nathan (2004-2009)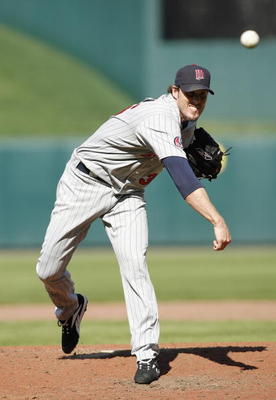 CL – Joe Nathan (2004-2009)
Nathan, much like Mauer and Morneau, is one of the easiest choices on this list.
Nathan has been one of baseball's most dominant closers since taking over the role in 2004 after an unsuccessful stint in San Francisco.
Packaged along with Boof Bonser and Francisco Liriano in the aforementioned A.J. Pierzynski trade, Nathan has proven to be the cream of the crop in that deal.
In his six years with the club he has posted a 22-12 record to go with an astounding 1.87 ERA, an amazing 0.93 WHIP, 246 saves, and 518 strikeouts in 418.2 innings pitched.
He is undoubtedly the greatest closer in franchise history, yet some people have still called for the club to trade Nathan because of his playoff meltdown in 2009.
Overreacting, short-sighted fans notwithstanding, Nathan is still in his prime and is under contract into the next decade, when he figures to continue notching up big time save totals for years to come.
The End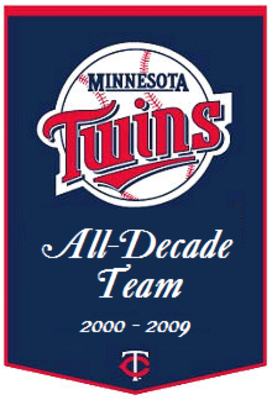 That's it, my official 25-man roster for the Minnesota Twins All-Decade Team.
I'm sure many of you disagree with some of my selections and I'm sure others think I've done a fine job.
Either way, take to the comments and let me hear what you think.
Keep Reading

Minnesota Twins: Like this team?