Chris J. Nelson's 2010 Pro Bowl Ballot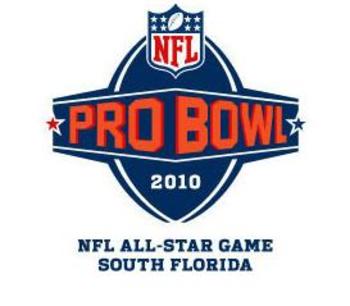 Fan voting for the 2010 Pro Bowl has closed, and the NFL will announced the selections for the AFC and NFC squads on Dec. 29 on the NFL Network.
I actually forgot to actually cast a ballot (doh!) but I've decided to still write what my ballot would have looked like.
Here are my choices for the 2010 Pro Bowl...
Quarterbacks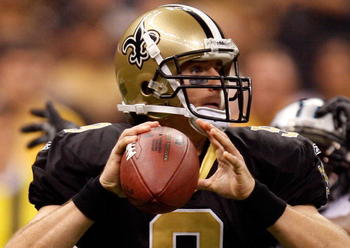 -AFC-
Peyton Manning, Colts—Playing as well as ever, leading a 14-0 team, and arguably the best quarterback in history.
Phillip Rivers, Chargers—Underrated quarterback who deserved a Pro Bowl nod last year and does again in 2009.
Matt Schaub, Texans—Schaub has always had the potential, but he's finally put it all together this year, teaming with Andre Johnson to create one of the best passing offenses in the NFL.
-NFC-
Drew Brees, Saints—Leads the NFL's best passing attack and makes it look easy.
Aaron Rodgers, Packers—The difference between Rodgers and Brett Favre in Minnesota? Protection. Rodgers has put up outstanding numbers and led the Packers' offense while being sacked 49 times through 14 games, so he gets the nod.
Brett Favre, Vikings—There is no denying that Favre is benefiting heavily from the talent around him and endless protection he receives, but you also can't deny his production. Favre is playing great football this season at an age when most quarterbacks are in the broadcast booth.
Running Backs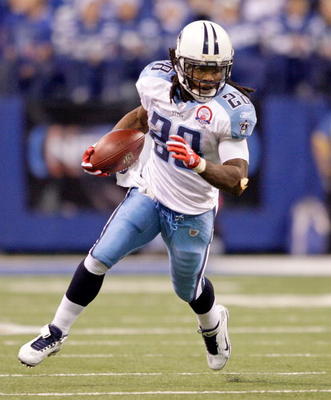 -AFC-
Chris Johnson, Titans—Quite possibly the most outstanding offensive player of the year, Johnson is a threat to score every time he touches the ball. He leads the NFL in yards and also has an insanely good rushing average.
Maurice Jones-Drew—The Jaguars shy away from him too much at times, but Jones-Drew is still a great runner and a touchdown machine.
Ray Rice, Ravens—The second-year back has really come on as late, showing skills as a rusher and receiver.
-NFC-
Steven Jackson, Rams—He has almost no talent around him which can't make things easy, but Jackson continues to be one of the best overall backs in the NFL.
Adrian Peterson, Vikings—His fumbling problems aside, Peterson is an amazing runner and is a big reason why Brett Favre has had such an easy time on his third team in three years at age 40.
DeAngelo Williams—The Panthers have been a bit of a disappointment in '09, but Williams has played very well, surpassing 1,000 yards on a great average while splitting time and battling injuries.
Fullbacks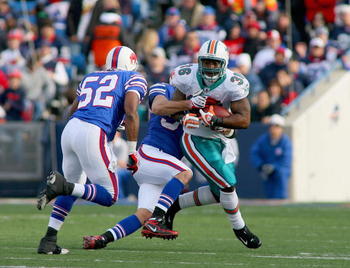 -AFC-
Lousaka Polite, Dolphins—Polite has emerged as a powerful piece of the running game since joining the Dolphins last season. He's an excellent run blocker, is money in short-yardage situations, and is a big reason why the Dolphins haven't missed a talented back like Ronnie Brown too much.
-NFC-
Naufahu Tahi, Vikings—He certainly has talent around him, but Tahi is a skilled blocker who helps pave the way for Adrian Peterson and Chester Taylor.
Wide Receivers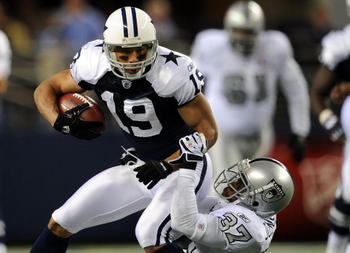 -AFC-
Andre Johnson, Texans—The complete opposite of a diva, Jonson goes about his business quietly and is consistently one of the best receivers in the business. He's starting to get some recognition, currently leading the NFL in receiving.
Reggie Wayne, Colts—It's a lot easier to be a receiver when you quarterback is Peyton Manning, but Wayne has pulled his share of the load as well without many proven skill players on offense to take attention away from him.
Vincent Jackson, Chargers—A raw player with great size coming out of Northern Colorado, Jackson has developed into a complete receiver and is one of the league's elite, despite being somewhat underrated like his quarterback.
Randy Moss, Patriots—Moss has received slack for lack of effort at times this year, but he's still one of the AFC's most productive receivers and has as much talent as anyone.
-NFC-
Sidney Rice, Vikings—Rice certainly benefits from great talent all around him, but he's played extremely well and has done a good job coming down with some of Brett Favre's wild passes.
Miles Austin, Cowboys—A former undrafted free agent who has been developed for four years now, Austin has broken out as a legitimate playmaker. He has reliable hands and is a big, physical receiver, giving Tony Romo the quiet No. 1 target he's needed for so long.
DeSean Jackson, Eagles—Not just an electrifying returner, Jackson seems to score a long touchdown from Donovan McNabb once a game. In just his second year, he has become one of the top playmakers in the NFL.
Larry Fitzgerald, Cardinals—Fitzgerald miraculously avoided the Madden curse [/sarcasm] and continues to be one of the best all-around receivers in the NFL.
Tight Ends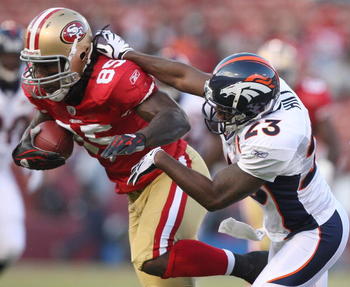 -AFC-
Dallas Clark, Colts—He's not really a tight end, but Clark has certainly been a productive pass-catcher for the Colts this season. He racks up catches for the Colts like a top NFL wideout and is Peyton Manning's most reliable target.
Antonio Gates, Chargers—Gates isn't having his most dominant season, but he's still quietly putting up some of the best numbers at his position.
-NFC-
Vernon Davis, 49ers—Davis has always been a physical freak, but he's finally shed the under-achiever label this season with a breakout year in 2009. He's been a touchdown-scoring machine and has been the biggest reason Alex Smith has played so well in his return under center for the Niners.
Tony Gonzalez, Falcons—Gonzalez may be in a new uniform for the first time in his career, but he's still playing at the same high level. Not only has Gonzalez brought his pass catching ability, experience and leadership to Atlanta, but he's also contributed greatly as a blocker.
Offensive Tackles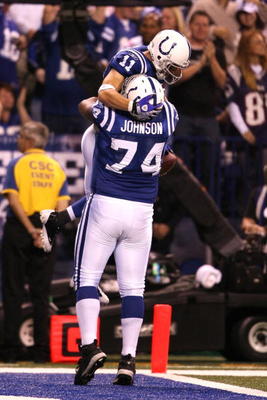 -AFC-
Charlie Johnson, Colts—Johnson does a great job of protecting Peyton Manning's blind side and letting him dominate opposing defenses.
David Stewart, Titans—An underrated player, Stewart has been consistently shutting down opposing pass-rushers for a few years now.
Matt Light, Patriots—Tom Brady is great in his own right, but a big reason he has been so successful as a pro is that he's always had ample time to find open receivers. Light has been protecting Brady for a long time and still does so at a high level.
-NFC-
Jermon Bushrod, Saints—His sack numbers are a bit higher than the other names on this list, but you have to consider how much the Saints pass the ball compared to a lot of teams. Bushrod is a good run blocker and does a good job letting Drew Brees sling it.
Sam Baker, Falcons—Baker has been started since he was drafted in 2008 and has been one of the NFC's best pass protectors in that span.
Winston Justice, Eagles—Justice was once a laughing stock and well on his way to "bust" status, but he's definitely turned it around. He's developed into a quality starter and has kept Donovan McNabb relatively untouched in one of the NFL's most explosive offenses
Offensive Guards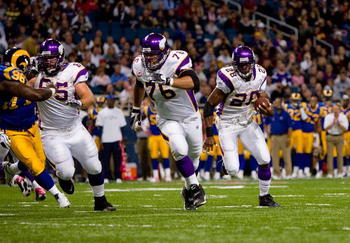 -AFC-
Justin Smiley, Dolphins—The Dolphins have one of the most powerful downhill running games in the NFL, and Smiley is their best run-blocking offensive lineman.
Eugene Amano, Titans—A long-time reserve, Amano has slowly developed into a sure starter and helped Chris Johnson on his way to stardom.
Ben Grubbs, Ravens—A former first-round pick, Grubbs has established himself as one of the better run-blockers in the game.
-NFC-
Leonard Davis, Cowboys—Davis didn't live up to his potential as a top offensive tackle prospect, but he's still a very strong run blocker.
Steve Hutchinson, Vikings—More of the same from Hutchinson, who continues to block with near-flawless results.
Jahri Evans, Saints—A former mid-round pick, Evans has developed into a strong all-around lineman and does a great job blocking in the NFL's best offense.
Centers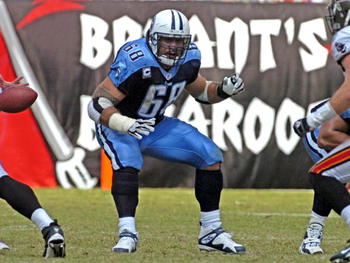 -AFC-
Kevin Mawae, Titans—Mawae continues to play at a high level even at 38 years of age, dominating opposing nose tackles and paving the way for Chris Johnson in the running game.
Matt Birk, Ravens—A long-time Vikings, Birk changed teams and conferences, but his play remains the same. He's been a strong part of every aspect of the Ravens' offense in 2009.
-NFC-
Andre Gurode, Cowboys—Gurode continues to lead the way for Marion Barber III and Felix Jones in Dallas.
Ryan Kalil, Panthers—It took him a few years, but the undersized Kalil has become a very strong blocker in both the passing and running games.
Defensive Ends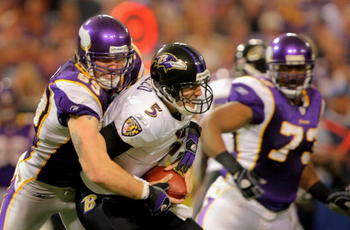 -AFC-
Dwight Freeney, Colts—Freeney is most certainly a one-dimensional player, but his pass-rush ability and subsequent impact alone are reason enough to earn him a Pro Bowl selection
Mario Williams, Texans—His numbers aren't staggering, but Williams continues to be a good pass rusher and plays the run well too.
Aaron Schobel, Bills—He doesn't get the credit he deserves in one of the NFL's worst markets, but Schobel is arguably one of the game's most complete defensive ends.
-NFC-
Jared Allen, Vikings—Allen is having as good a year as ever in 2009 and is one of the most dominant defenders in the NFL.
Trent Cole, Eagles—Cole has quietly become one of the NFL's best pass rushers and is always harassing opposing quarterbacks.
Andre Carter, Redskins—The Redskins are having a dismal season, but Carter is having a carer year with 11 sacks and good run defense. He's done some of that with a torn arm muscle, too.
Defensive Tackles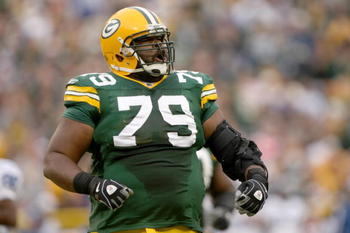 -AFC-
Shaun Rogers, Browns—Rogers only played in 11 games before going on injured reserve with a broken leg, but when he was playing he was one of the best nose tackles in all of football and a force against the running game.
Randy Starks, Dolphins—Technically a defensive end in Miami's 3-4, Starks is really more of a tackle and plays the line well. He's contributed heavily a a pass rusher and run defender this season, helping the Dolphins consistently shut down opposing backs.
-NFC-
Ryan Pickett, Packers—The Packers' transition to the 3-4 hasn't gone entirely smoothly, but Pickett sure has done his part by anchoring the middle of that line at nose tackle.
Aubrayo Franklin, 49ers—A former reserve lineman for the Ravens, Franklin has quietly developed into one of the most dominating nose tackles in football.
Outside Linebackers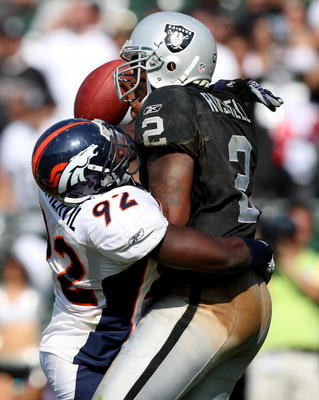 -AFC-
Elvis Dumervil, Broncos—A great pass-rushing specialist, Dumervil leads the league with 15 sacks and is constantly harassing opposing quarterbacks.
James Harrison, Steelers—He's not having the dominant season he did in 2008, but Harrison is still one of the best outside linebackers in the game and is strong in all aspects.
Brian Cushing, Texans—Cushing has excelled as a rookie, starting every game and racking up 119 tackles, 3.0 sacks, three interceptions and two forced fumbles.
-NFC-
DeMarcus Ware, Cowboys—Ware began the season a bit slowly, but has come on in the second half and has played like the one of the best pass-rushers in the league.
Brian Orakpo, Redskins—Orakpo is another rookie outside linebacker who is playing well. The former college defensive end has done a solid job against the run while also totaling 11 sacks.
Clay Matthews III, Packers—The second rookie USC linebacker on this list, Matthews has been a dominant force at outside linebacker in the Packers' 3-4 scheme, accumulating 10 sacks in 14 games.
Inside Linebackers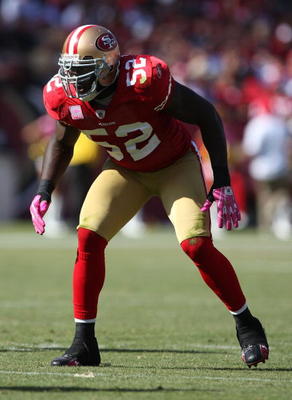 -AFC-
David Harris, Jets—Harris doesn't get a ton of credit, but he's a play-maker inside in the Jets' 3-4 and does a great job rushing the passer from a position that doesn't really require it.
D. J. Williams, Broncos—Williams seemed a bit of a iffy fit in the Broncos' new 3-4 scheme, but his talent took over as he continues to be one of the NFL's best tacklers and cover linebackers.
-NFC-
Patrick Willis, 49ers—Willis doesn't seem to be getting a much recognition as he has the past few years, perhaps because everyone already knows he's so good. Willis continues to be arguably the best inside linebacker in the game.
Jon Beason, Panthers—Beason beats out guys like London Fletcher and Barrett Ruud because, in addition to being a strong tackler like those two guys, Beason is also more of a play-maker with two sacks and three interceptions.
Cornerbacks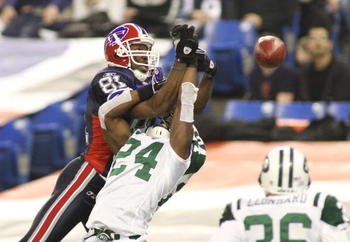 -AFC-
Darrelle Revis, Jets—Revis has been the best shut-down cornerback in the NFL this season and is rarely beaten.
Jonathan Joseph, Bengals—Hall has really developed into a quality cornerback, intercepting six passe and helping the Bengals turn their defense around and rank in the top 10 against the pass.
Leon Hall, Bengals—Hall joins his teammate as my third AFC cornerback pick. Like Joseph, Hall has five interception and 20 pass deflections on the year, in addition to two forced fumbles.
-NFC-
Charles Woodson, Packers—Woodson has made a late push for NFL Defensive Player of the Year with his play-making ability. He's still one of the best cover men in the game and has eight interceptions, two sacks and four forced fumbles on the season.
Asante Samuel, Eagles—Samuel has proved he wasn't a product of the well-coached New England system and is clearly one of the best cornerbacks in the NFL.His eight interceptions tie him for second in the NFL.
Dominique Rodgers-Cromartie, Cardinals—Rodgers-Cromartie began his career as a raw player who often got picked on by opposing quarterbacks, but no longer. DRC has five interceptions on the year and ranks second in the NFL with 28 pass deflections, trailing only Darrelle Revis.
Free Safeties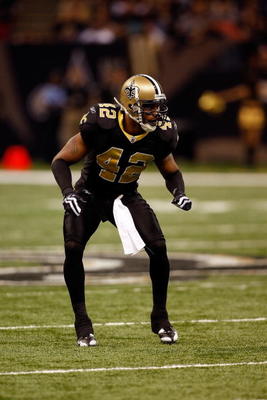 -AFC-
Jairus Byrd, Bills—A rookie converted cornerback, Byrd has been one of the lone bright spots for the Bills this season. He recently when on injured reserve and will miss the final two games of the season, but his nine interceptions still lead the NFL.
Ed Reed, Ravens—Reed has battled injuries this season, but has still played in 11 games and continues to be one of the best play-makers in the league.
-NFC-
Darren Sharper, Saints—Even at 34, Sharper is still one of the best ball-hawking safeties. His eight interceptions tie him for second in the NFL though 14 games.
Nick Collins, Packers—Collins has emerged as one of the best young safeties in recent seasons, recording six interceptions through 14 games after picking off seven in '08.
Strong Safeties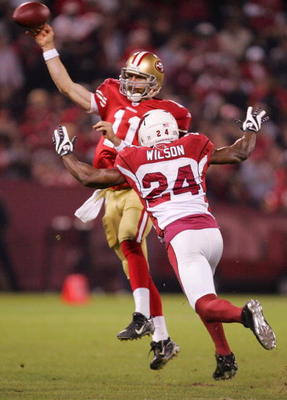 -AFC-
George Wilson, Bills—Overshadowed by rookie Jairus Byrd and his nine interceptions, the OTHER Bills safety can hold his own. A converted wide receiver, Wilson has 94 tackles, two sacks and four interceptions on the season.
Dawan Landry, Ravens—After not picking off a pass in each of the last two seasons, Landry has become a play-maker of his own alongside Ed Reed.
-NFC-
Adrian Wilson, Cardinals—Wilson has always been one of the NFL's better safeties, and is still at it with 70 tackles and four picks in 2009.
Roman Harper, Saints—Harper has helped the once-ridiculed Saints defense become somewhat respectable in 2009, and is a sure-tackler that plays inside the box well.
Placekickers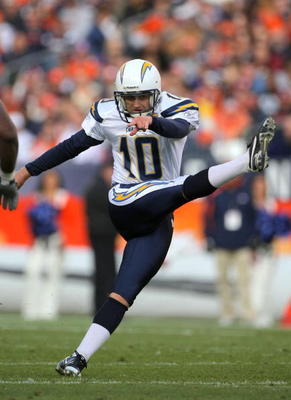 -AFC-
Nate Kaeding, Chargers—Kaeding simply does not miss kicks, and he gets plenty of opportunities in the high-scoring Chargers offense.
-NFC-
David Akers, Eagles—Akers (29-of-33 on the year) gets the nod over the Vikings' Ryan Longwell because he doesn't play half his games in the climate-controlled safety of a dome and has performed nearly just as well.
Punters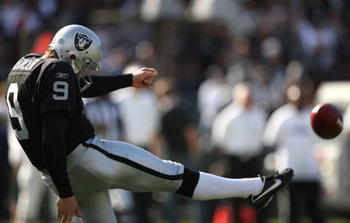 -AFC-
Shane Lechler, Raiders—The Raiders' MVP year in and year out (sad but true), Lechler is one of the best punters to ever play the game and consistently does the job better than anyone else in the league.
-NFC-
Ben Graham, Cardinals—A former Australian rules football player who was cast off by the Jets, Graham is having a superb year with a 41.4-yard net average (fourth in NFL) and an NFL-best 37 punts downed inside the 20-yard line.
Kickoff Returners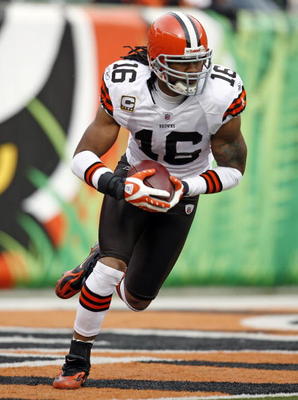 -AFC-
Joshua Cribbs, Browns—Cribbs was the easy choice here, as he leads the NFL with three kickoffs returned for scores and boasts an impressive 27.8-yard average.
-NFC-
Percy Harvin, Vikings—The electrifying rookie for the Vikings as player extremely well as a receiver, but has also flashed the return skills that made him such an impact player at Florida. Harvin has averaged 28.3 yards per return on kickoffs and taken two back for touchdowns.
Punt Returners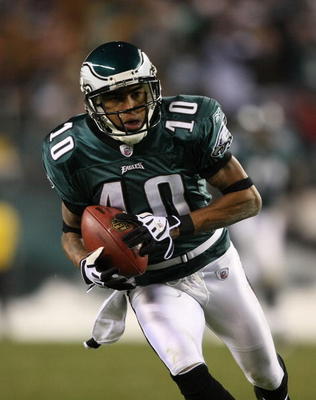 -AFC-
Eddie Royal, Broncos—Royal gets the nod here only because I already selected Joshua Cribbs as the AFC's kickoff returner. Royal has done a fine job retuning punts in Denver, averaging 11.2 yards with one touchdown.
-NFC-
Patrick Crayton, Cowboys—Because DeSean Jackson already makes my NFC Pro Bowl squad as a receiver, I'm giving Crayton the selection at punt returner. Crayton has two punts returned for touchdowns this season and has a strong 13.8-yard average.
Special Teamers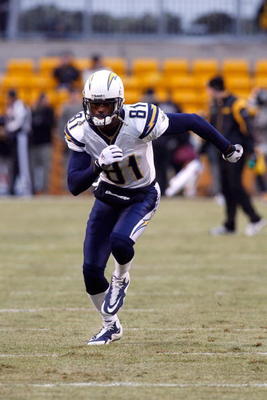 -AFC-
Kassim Osgood, Chargers—Osgood is a master of his craft, teaming with Chargers punter Mike Scifres to consistently pin opponents deep in their own territory.
-NFC-
Sean Morey, Cardinals—Not much of an NFL receiver, Morey is a sure special-teams tackler and is great and running down punts. It's no coincidence his team's punter—Ben Graham—leads the NFL in punts downed inside the opponent's 20-yard line with 37.
Keep Reading