Washington Huskies All-Decade Basketball Team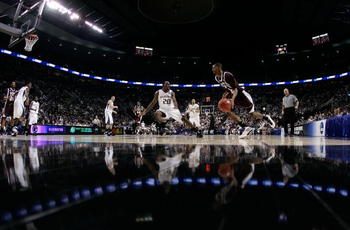 The Huskies have had a memorable decade of college basketball. Though the Huskies have not played basketball past the round of 16 in the tournament in this decade, this team has won the conference tournament and the Pac-10 regular season crown on two separate occasions.
Led by one great coach, this team has seen many players jump to the NBA with several players on the current roster looking to do the same.
I present to you my top ten Huskies of the past decade.
Starting Point Guard: Will Conroy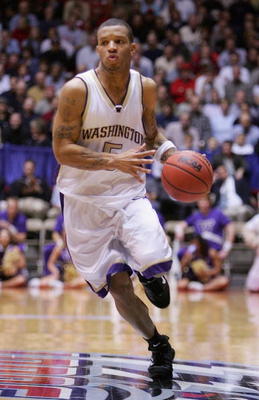 Conroy was one of the critical pieces to the team that turned around the program in 2003-04. He is UW's career leader in assists (515) and recorded a single-season record for the program with 219 assists in 2005.
Conroy was a great complement to Nate Robinson in the back court. Though the Huskies played an up-tempo game, Conroy was able to limit turnovers. He finished 2005 with a 2.45 asssist/turnover ratio. In 2004 he led the Dawgs to their first tournament appearance in five years. He helped the Dawgs repeat the feat in 2005, with the Huskies gaining a number one overall seed.
Since graduation Conroy has seen scarce time on some NBA teams and has been around the NBDL circuit.
Starting Shooting Guard: Nate Robinson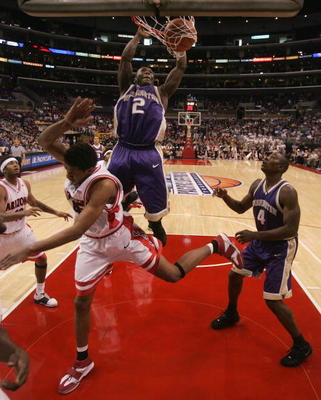 Nate Robinson was not supposed to play basketball for the Huskies. Originally at UW on a football scholarship, after his sophomore year, he decided to focus on basketball. Known for his dazzling dunks, Robinson's eccentric personality and soaring athleticism provided excitement and intrigue to a struggling program.
Robinson led the Huskies in scoring in all three of his seasons. As a junior, Robinson averaged 16.4 ppg, and tallied 20 points or more in 14 of the Huskies games that season. Nate was also a pest on defensive end. Though undersized, Robinson made an impact by swiping the basketball from the opposing team's perimeter players. In 2004-05, Robinson posted 61 steals, many of which led to the Huskies' trademark fast break buckets.
The Huskies program would not be where it is right now without the contributions of Nate Robinson. After declaring for the draft after his junior season, he was drafted by the Clippers and promptly traded to the New York Knicks. Robinson has become one of the NBA's notable players and has wowed the nation with his freak athleticism.
Starting Small Forward: Brandon Roy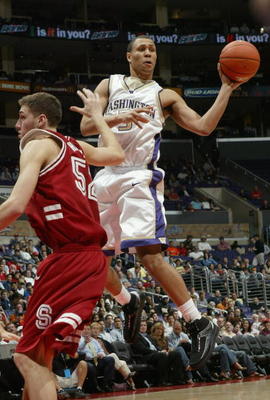 Perhaps the greatest Husky of all-time, Roy was under the radar of many Husky fans until his senior season. With the loss of Nate Robinson, Will Conroy, and Tre Simmons, the Huskies were lacking a leader entering the 2005-06 season. Roy not only stepped into that role off the court, but he became a prime example on the court.
Roy was not as athletic as Nate Robinson and he did not really stand-out with one skill in his time at UW. Throughout his senior season, Roy's style of play was described as crafty, deceptive, and smart. He simply could not be stopped by opposing defenses. In his senior year, Roy averaged 20.2 ppg and led the Huskies to a 26-7 record and an appearance in the Sweet Sixteen. Roy was named Pac-10 player of the year and received several All-American honors.
In 2006, Roy was drafted as the No. 6 pick and has since then become one of the NBA's premier players. This past January, Roy's No. 3 jersey was retired, making him one of the two Huskies to hold such an honor.
Starting Power Forward: Jon Brockman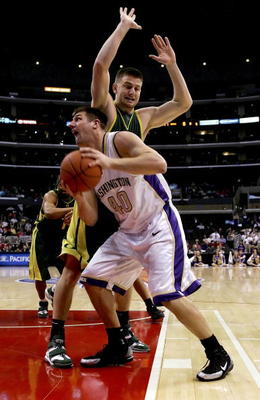 Jon Brockman had one mission on the basketball court: rebounding. Under-sized at the forward position at 6-7, Brockman's insatiable desire on the boards vaulted him into history, becoming the Huskies' career rebound leader with 1,283 boards averaging 9.8 rpg in his four years at UW.
Since the departure of Roy, Brockman unquestionably became the leader of this Husky team. He was able to lead the Dawgs into the second round of the NCAA tournament last season. Double double and Jon Brockman became synonymous terms in every post game analysis of the Huskies.
After impressing NBA Scouts at the Portsmouth Invitational Tournament, Brockman was selected by the Sacramento Kings in the second round of the NBA Draft.
Starting Forward: Bobby Jones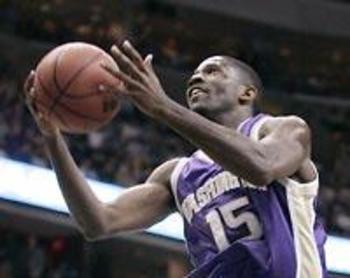 Bobby Jones did not light up the stat column in his four years at UW. Jones' contributions came in the form of his stifling defense. He became the shut-down defender for the Huskies. In 2006, the Huskies faced star point guard Dee Brown and Illinois in the 2nd round of the NCAA tournament. Jones' 6-7 framed caused problems for the 6-0 Dee Brown all game long and helped the Huskies advance to the Sweet 16.
In 2006, Bobby Jones was drafted in the 2nd round and started his career with the Philadelphia 76ers. The next season Bobby Jones was traded to the Nuggets. In 2007, Jones found himself five different NBA squads with stints with the Nuggets, Grizzlies, Rockets, Heat, Spurs, and the Nuggets again. Jones is now playing overseas in Italy and keeps a well-written and informing blog.
photo source: http://seattletimes.nwsource.com/ABPub/2006/06/12/2003057375.jpg
Bench: Justin Dentmon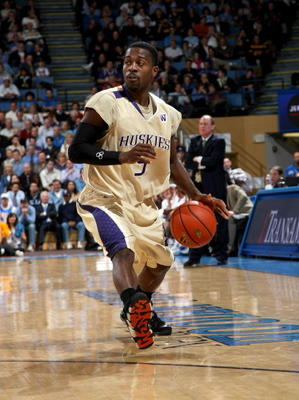 Dentmon took the reigns as starting point guard for the Huskies after the departure of Will Conroy. In his freshman season, Dentmon was voted to the All Pac-10 Freshman team. His 124 assists and 52 steals are freshman season records at UW. He also helped form one of the Huskies most productive back courts in recent history. Dentmon did not fully reach his potential in his sophomore and junior years, however in his senior year, Dentmon became the Pac-10's most improved player. His superb free throw and three point shooting helped the Huskies make it into the NCAA tournament last season.
Bench: Isaiah Thomas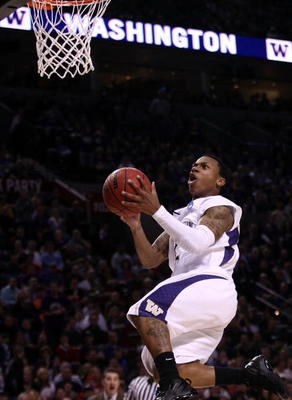 Though Thomas is only in his second season as Husky, he has become one of the most prolific scorers in all of college basketball. Undersized at 5-8, Thomas has compensated with his incredible strength and athleticism. Coming off a season where he was awarded Pac-10 Freshman of the Year, Thomas will likely raise his game to the level of his predecessors. He has a bright future ahead of him, containing the ability to lead this Husky team deep into the NCAA tournament this season and the next two years.
Bench: Ryan Appleby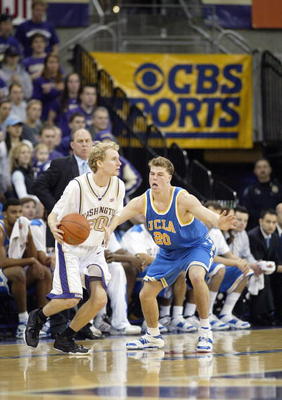 What's there to say about one of the greatest shooters to ever wear a Husky uniform? Some people just have the natural shot, and Appleby had it. He is the Husky career leader in 3-point field goals made. On five different occasions, he made six or more three pointers. In a game against Oregon St. he made nine three pointers. This guy was a zone breaker and a nightmare for perimeter defenders. Teams would always have to adjust their defenses and keep a defender shadowing Appleby.
Bench: Quincy Pondexter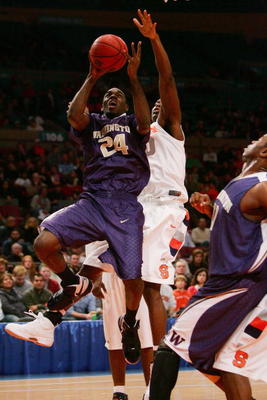 Coming in as a four-star recruit, Pondexter had a lot of expectations on his shoulders. After the departure of Jon Brockman and steady improvement the past three seasons, Pondexter has elevated his leadership both on and off the court. He has become a constant scoring threat and remains a nightmare to defend for opposing defenses. Don't be surprised when Pondexter is drafted in the first round of the NBA Draft in 2010. He still has a lot potential, his performance this season will likely define his career at UW.
Bench: Spencer Hawes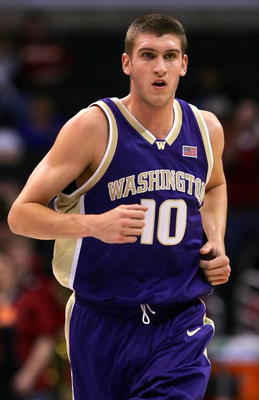 It would be a crime to leave out the Huskies one and only one-and-done NBA player. Although he was suffering from illness much of his time at UW, he still was a critical player for a team that struggled to a 19-13 record. He led the Huskies in scoring his freshman year with 14.9 ppg and is Washington's all-time leading freshman scorer and shot blocker. One of his most memorable games was a solid Husky win over LSU where he scored 23 points and grabbed 12 rebounds.
Keep Reading