The 10 Worst BCS Bowl Games in College Football History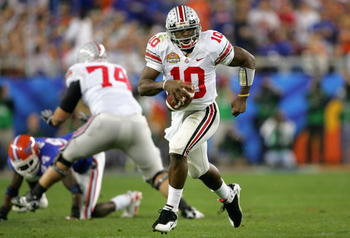 With the news that Cincinnati's interim coach, Jeff Quinn, has been hired by Buffalo, coupled with the inevitable letdown Florida's players must feel, the Sugar Bowl between the Gators and Bearcats is shaping up to be one of the most disappointing BCS bowls of all time.
That TCU would play Boise State—and not Florida, Georgia Tech, or anybody else—made me lock myself in my room for a good week.
Amazingly, a little research turns up how the BCS has been disappointing us for some time now.
I've assembled and ranked the 10 worst BCS bowls in recent memory.
In expectation of the inevitable letdown, let us together mourn the wasting of our time.
No. 10: 2003 Rose Bowl, Oklahoma-Washington State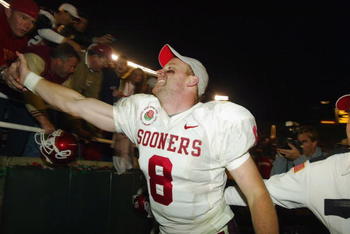 Lost in the cacophony of doubt surrounding Bob Stoops was how Oklahoma used to win these big games, and win them handily.
Case in point—the 2003 Rose Bowl. Sooner QB Nate Hybl tossed two touchdown passes and led the Sooners to a 27-0 lead that they held until the middle of the fourth quarter.
The Sooner defense suffocated Wazzu's running game, and the bad feelings surrounding coach Mike Price's upcoming departure to Alabama called into question the Cougars' gameplan.
Jason Gesser hit Jerome Riley on a 37-yard touchdown pass with just over six minutes to play, and Sammy Moore returned a kickoff 89 yards for a touchdown.
But the damage to Wazzu had been done, and the program hasn't been the same since. To karma's credit, neither has Mike Price.
No. 9: 2002 Orange Bowl, Florida-Maryland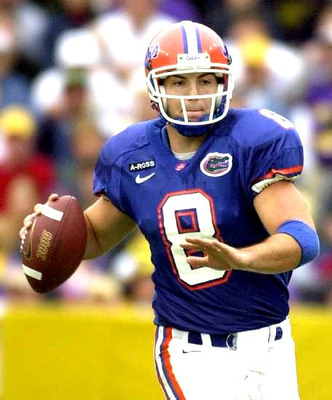 The Gators ran up 659 total yards of total offense on the hapless Terrapins. Earnest Graham ran for 149 yards and two touchdowns, while Brock Berlin and Rex Grossman (who missed the first half due to suspension) helped Taylor Jacobs rewrite the Orange Bowl record book, hauling in 10 catches for 170 yards and a touchdown.
Grossman led the Gators to touchdowns on the first six possessions of play, and put the game well out of reach by the middle of the third quarter.
Maryland's Marc Riley ran for two fourth quarter scores for the Terps, but by that time, Florida was playing its preferred walk-ons.
No. 8: 2001 Fiesta Bowl, Oregon State-Notre Dame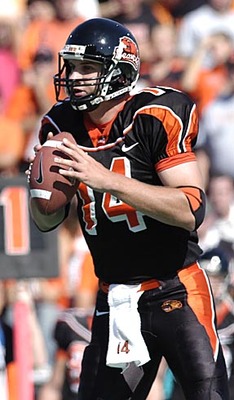 Jonathon Smith torched the Irish for four touchdowns, including a pair to Chad Ochocinco and one to T.J. Houshmandzadeh, with the Beavers leading 41-3 after three quarters after scoring 29 in the third.
The Irish didn't score until Tony Fisher scampered in in the fourth quarter.
But the worst part was the poor display of sportsmanship by the Beavs, who got flagged 18 times for 174 yards.
If you're going to beat the Irish that badly, do it the Chad Henne way—remember, stoicism is key.
No. 7: 2005 Fiesta Bowl, Utah-Pittsburgh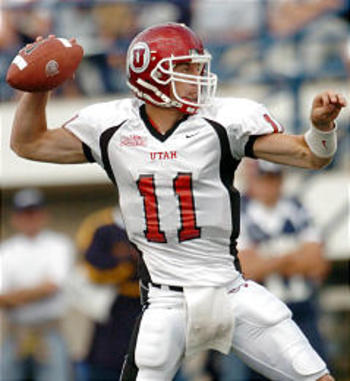 Knowing what we know now about Urban Meyer, it's no surprise that the Panthers got smacked 35-7.
The Ute defense, coached by the underrated Kyle Whittingham (who would succeed Meyer), hurried Tyler Palko all game and shut down the Pitt running game, which netted only 16 yards.
Alex Smith threw four touchdown passes, two to Paris Warren, and the Utes, as they would four years later, made everyone feel guilty for not giving them a shot at the national title.
No. 6: 2009 Rose Bowl, USC-Penn State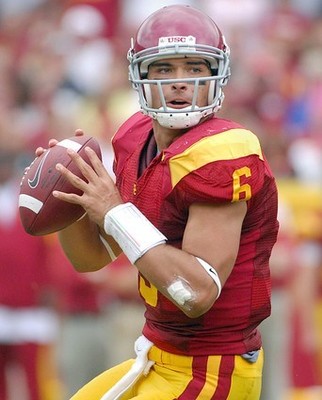 Pick a USC Rose Bowl from the past six years that doesn't include Texas.
My least favorite was last year, because I thought at the time that, of the Big Ten's last four attempts, Penn State was the most complete team and had the best shot.
Penn State recovered a Joe McKnight fumble early and had a chance to strike first, but the defense was called for offsides. The Trojans scored, and though the Nittany Lions answered back, the rout was on.
Somebody up in the booth saw something about Penn State's secondary that they liked, because Mark Sanchez threw for a record 413 yards and four touchdowns and went into the locker room with a 31-7 lead that was insurmountable.
Penn State's 17-point fourth quarter to make it 38-24 was purely cosmetic.
Joe Paterno said of the loss, "We just didn't do a good job as coaches." No, Joe, you didn't.
No. 5: 2007 Sugar Bowl, LSU-Notre Dame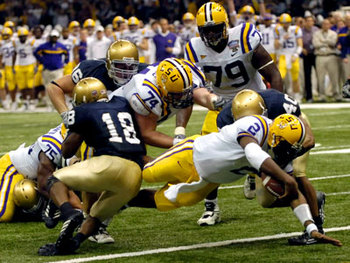 Though Ohio State might have gained more yards on the Irish the previous year, this game is more distasteful to me. Notre Dame had done so little to deserve being in the Sugar Bowl.
Blowout losses to Michigan and USC, their two worthiest opponents, weren't enough to keep the Irish from cashing in on their automatic BCS bid (they started the year ranked No. 2 in the nation, which certainly helped).
This game was actually a touch closer than I remembered. After giving up a 14-0 lead, the Irish tied the game on passes to Jeff Samardzija and David Grimes, but let JaMarcus Russell score on a five-yard draw play to close the first half.
Notre Dame went limp in the second, allowing 577 total yards of offense to the Tigers and turning the ball over twice to keep the game out of reach.
Oakland Raiders fans, to this day, wonder why JaMarcus Russell had to look so good.
No. 4: 2002 National Championship, Miami-Nebraska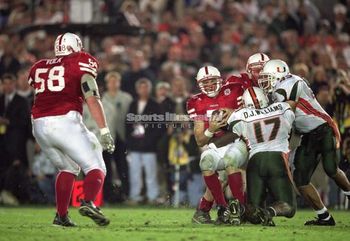 In retrospect, the Cornhuskers probably shouldn't have been in the national championship after allowing 62 points to Colorado in their regular season finale (they didn't even win their conference).
But Miami made that feeling official in a dominating performance worthy of the greatest Hurricane teams of all-time.
Ken Dorsey and Andre Johnson hooked up seven times for 199 yards and two touchdowns, Clinton Portis ran in a touchdown from 39 yards out, and the Canes put it away when James Lewis intercepted an Eric Crouch pass and took it 42 yards to give the U 37 points, their final score.
Judd Davies scored on a 16-yard run and DeJuan Groce returned a punt 71 yards for Nebraska's only scores, but it was all titillation at that point. Crouch's outstanding campaign as a Husker concluded, one might say, tepidly.
No. 3: 2005 National Championship Game, USC-Oklahoma
Oklahoma opened with an easy score and a led 7-0 on a Jason White to Travis Wilson connection for a five-yard touchdown.
Then, as Vonnegut would put it, the excrement hit the air conditioning as Matt Leinart threw five touchdown passes, capitalized by diving catches from Dominique Byrd and Steve Smith.
Smith's grab near the end of the first half made it 35-10, and the Trojans tacked on another field goal for good measure.
The Sooners turned it over five times and USC capitalized on each.
Up 55-10, the Trojans' defense subbed in visiting family members who were wearing their jerseys, and let Bob Stoops have some pity points. Ugh.
No. 2: 2007 National Championship, Florida-Ohio State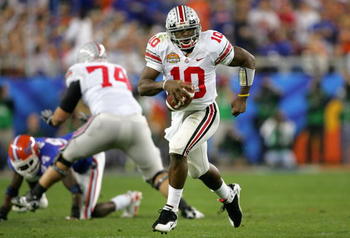 I forced myself to choose between the 2006 and 2007 Ohio State gaffes rather than include both, and though the LSU loss was more pathetic, the Florida loss was by far the more tragic.
Imagine how up a creek Jim Tressel realized he was when Ted Ginn, Jr. took the opening kickoff for a touchdown and then got injured by his teammates during the celebration.
Anyone who had watched the Buckeyes since Smith took the helm knew how integral Ginn was to Ohio State's attack. On reverses, on sly routes, and on special teams, Ginn was the fastest guy on the field.
Though Antonio Pittman would run in a score, the loss of Ginn would be a fatal blow for the Ohio State offense, which gave up a completely uncharacteristic five sacks. Troy Smith completed four—four!—passes on the night, the Bucks never adjusted, and the Gators played field position the entire second half.
All due respect to Florida, but Ohio State could have been a contender. As circumstances dictated, they were an embarrassment.
No. 1: Sugar Bowl, 2007, Georgia-Hawaii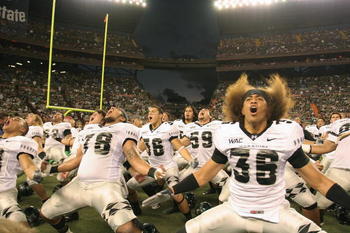 All those good feelings from the Boise State-Oklahoma Fiesta Bowl in 2006 propelled undefeated WAC champion Hawaii into the Sugar Bowl to face the Georgia Bulldogs.
Maybe the stakes weren't as high as the previous games, but the result was one of the most gruesome football events ever recorded.
Six turnovers by the Hawaii offense, eight sacks, an injury to Colt Brennan, and a lot of shots of really unhappy Hawaii fans with their faces painted.
People from Hawaii should never look sad. It throws off the balance of the universe.
Keep Reading