Top 10 NBA MVP Candidates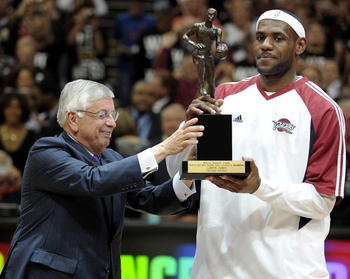 Even though the NBA season is only about a third of the way complete, most of the preseason prophecies are playing out rather predictably.
The Lakers & Celtics seem destined to meet in the Finals.
There are only four competitive teams in the East, while everyone in the West seems to be playing for second place.
Brandon Jennings or Tyreke Evans will be a lock for Rookie of the Year.
And either LeBron James or Kobe Bryant will win MVP.
Wait a minute...in the words of Lee Corso, not so fast my friend! While most of the country assumed that the King would be hoisting his second straight MVP trophy, or Kobe Bryant would snatch the award back from James, it might not be that cut and dry.
In this mundane season full of mostly average teams & storylines, the MVP race might be the most exciting thing going on in the NBA. With five players that have a legitimate shot at winning, plus a handful of others who could take the trophy with a strong winter, the chase for the Maurice Podoloff Trophy promises to be one of the more exciting plotlines in the NBA for the next four months.
So without further ado, let's take a look at our candidates (stats are as of Sunday, December 20)...
The Least Valuable Player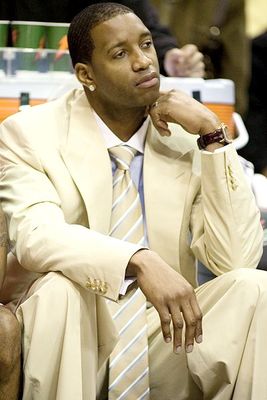 In order to establish how valuable the upcoming 10 players are, I felt the need to emphasize players that have little value, to put it nicely.
So let's go through this hypothetical situation:
Player A, known as one of the better guards in the league, has offseason surgery before the 2008-09 season. He limps around for 30 games to average 15 points on just 38 percent shooting. He misses nearly 20 games trying to heal his knee but to no avail.
Then, a few days before the All-Star break, he hears his name in some trade rumors. Inexplicably, he decides to have microfracture surgery and not inform the team, ruining his trade value and saddling his squad with a massive, $22 million dollar contract for another two years.
Now, even though he's cleared to play and was assumed to be one of the best players in the league, he comes off the bench for eight minutes a game. He sits around acting disinterested and can't get playing time on a team headlined at the guard position by Aaron Brooks, Kyle Lowry, Trevor Ariza, Jermain Taylor, and Chase Budinger. And he lost some serious money in potential free agency next year (nobody is touching this guy for more than two to three years for a couple million).
And Player A is...Tracy McGrady, your 2009-10 Least Valuable Player!
The best part: the fan vote means McGrady will probably start in the 2010 All-Star Game. Isn't America great?
10. Rajon Rondo (Boston Celtics)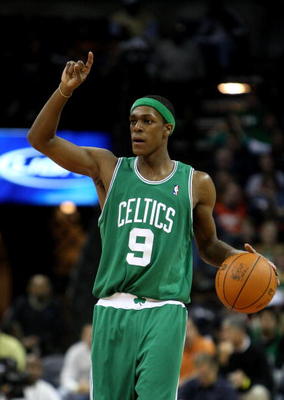 Stats: 12.0 pts, 9.7 ast (4th in league), four reb, 2.6 stl (1), 53.8 FG percentage (16—career-high)
The Celtics have the East's best record (22-5) and have reeled off the longest win streak in the league so far this year (11). While most assume that the Big Three of Garnett, Pierce and Allen must be leading the way, it's actually been Rondo who is quietly helping the C's to separate themselves from Orlando and Cleveland.
Rondo's role in the Celtic offense has expanded over the past three seasons, and this year he's taken on a much larger role.
With the Big Three not getting any younger, Rondo has transformed increased minutes (34.1 per game, a career high) into a more developed offensive game.
He's attacking the hoop relentlessly (and hitting over 53 percent of his shots), and teams can no longer play three to four feet off of him—he's beginning to develop a consistent jumper in the 15-20 foot range, a scary thought for most opposing defenses.
Rondo used to be looked at as the weak link in Boston's armor. This year, he's having an MVP-type season.
And I'm having nightmares of him repeatedly blowing by Mo Williams in the '10 Eastern Conference Finals.
9. Carlos Boozer (Utah Jazz)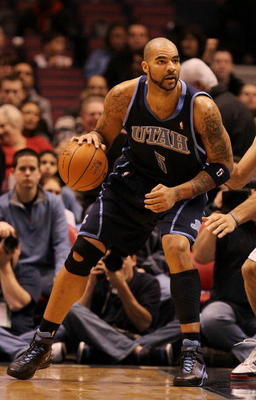 Stats: 19.9 pts (16), 10.9 reb (6), 3.5 ast (career-high), 55.0 FG percentage (13), 237 defensive reb (3), 77.4 FT percent (career-high), 5.1 FTA (career-high)
One of the more awkward situations in the league. The Jazz actively shopped Boozer around at the end of 2009 and Boozer didn't opt out of his contract after last year, fearing he would be low-balled after an injury-ridden, inconsistent stretch of basketball.
In this marriage, nobody wants to be together. But Boozer has kept his mouth shut and played hard, and the results have been astounding. He's having a career year and the 1-2 punch of Boozer & Deron Williams is as good as any PG/PF combo in the league.
However, inconsistencies with both Boozer (only 11 points on 35 percent shooting against the Lakers & Celtics) and the Jazz (good at home, bad on the road) will likely keep him from garnishing any serious MVP considerations. But, in a contract year, Boozer might be making himself a lot of money for the next five or six years.
(Just think, Carlos, you could have been doing this with LeBron James for the last five years. Losing in the second-round of the playoffs every year is karma for stabbing a blind guy in the back.)
8. Dwight Howard (Orlando Magic)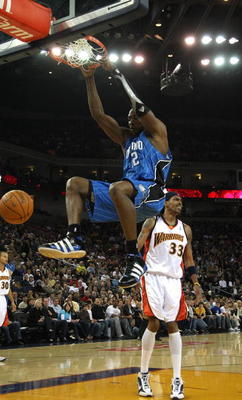 Stats: 17.9 pts, 13.0 reb (1), 2.3 blk (2), 63.2 FG percentage (2), 290 FTA (1), 249 defensive reb (1), 103 offensive reb (5)
If the stats tell you one thing about Dwight Howard, it's that he's a damn good rebounder and enforcer.
But everything else about his game has taken a step back this year.
I'm not knocking his stats, because he is putting up some good numbers. But with no Hedo Turkoglu and Rafer Alston to monopolize the ball, Howard should have been getting touches on every possession, and using his dominance in the post to set up Rashard Lewis, Jameer Nelson, Vince Carter, Mickael Pietrus, Ryan Anderson, and J.J. Redick (all six are viable outside shooters).
It's just not happening. He's averaging 9.1 shots per game, his lowest since he was a rookie. Even though he leads the league in rebounding, those numbers are down from the past two years. And his turnovers and fouls per game are at the highest of his career.
Watching Orlando, it seems they have no faith in his low-post game at all. They probably shouldn't rely on it too much (his only move is to face-up and take a running hook shot across the lane), but you've got to give him the ball more, right?
Twelve times this year he's attempted less than 10 shots a game, and six times less than five shots. That's ridiculous for the supposedly best center in the NBA.
Even though it's been a solid season for Howard, it's not what I expected—I thought he would be one of three or four players in the running for MVP. Not eighth.
7. Dwyane Wade (Miami Heat)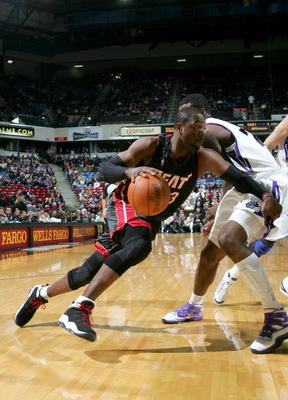 Stats: 26.6 pts (5), 6.0 ast (13), 5.2 reb, 1.5 stl, 1.3 blk, 252 FTA (T-4), 37.5 mins (15), 43.2 FG percentage (career-low), 25.0 3-pt percent (lowest in five years), 76.0 FT percent (T career-low)
Like Dwight Howard, the stats are there for Dwyane, but when you watch him play, something ever so small seems to be off.
Maybe it's the abuse; Wade still drives to basket with no repercussions and shoots over 10 free throws a game. We saw him tired and injured in '07 and '08 because of all the hits he took from repeatedly throwing his body around.
Or maybe it's the pressure. I think most of America hoped that the Heat would be able to take the the leap that the Hawks are taking this year and step up to challenge the Celtics, Magic and Cavs.
But other than Wade, the Heat don't have a starter that would probably crack a starting five for any of the top four teams in the East (other than Beasley, nobody would get minutes on Boston, Cleveland, or Orlando's top-eight rotation). Dwyane is forced to carry his team, and when he's not making shots and getting to the line, Miami is not that good.
The fact that Wade continues to keep this Heat team above .500 is amazing to me. That alone should get him some MVP votes. There's going to be moments where he does some special things this year, as he does every year.
Unfortunately, Miami isn't getting out of the first round in the East. And it's hard to give an MVP to a player whose team is bounced so early.
6. Kevin Durant (Oklahoma City Thunder)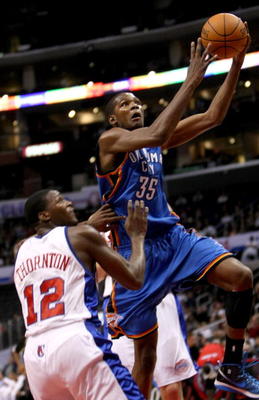 Stats: 27.2 pts (4), 7.0 reb, 3.0 ast, 1.6 stl (18), 39.5 mins (4), 44.9 FG percent, 87.3 FT percent (13), 28.4 3-pt percent (career-low), 229 FTA (6)
Headlining the most exciting young team in the NBA, Kevin Durant continues to put up improved numbers and increase his overall play as he leads the surprising Thunder to a .500 record heading into Christmas week.
Over the past three seasons, Durant has steadily increased his average in points, rebounds, assists and steals to the point where he could easily be averaging 30-10-5-2 by 2011.
This year, while his overall shooting percentage is down, he's still a more polished scorer; he picks and chooses his spots better and has really begun to develop a more consistent mid-range game.
However, like Dwyane Wade, Durant has really struggled from behind the arc, surprising since he shot a blistering 42.2 percent last season. He's not shy about jacking up three-pointers (4.5 a game), but he's not getting clean looks, and struggles when he does find himself open.
But he's too good of a shooter to continue to shoot under 30 percent. Expect a three to four week stretch in January/February where Durant puts up some ridiculous numbers, like 35-8-4 with over 50 percent shooting from the field and 40 percent from behind the arc.
If that's enough to sneak OKC in the playoffs, then Durant could vault up in the top five for MVP talk. For now, he remains on the brink...but not bad for a 21 year old.
5. Dirk Nowitzki (Dallas Mavericks)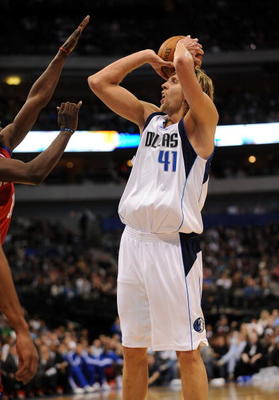 Stats: 26.1 pts (6), 8.1 reb, 2.7 ast, 1.4 blk (T-20), 37.6 mins (13), 47.6 FG percentage, 88.4 FT percent (8), 207 FTA (7), 191 defensive reb (9)
Compared to his career stats, Dirk's numbers this year are just sort of pedestrian. Not that 26 points and eight rebounds are anything to stick your nose up at, and this is Dirk's twelfth season, so how long can you really expect him to put up dominating numbers?
But this is a situation where you have to look past the numbers to evaluate Dirk's MVP candidacy. Similar to when he won the award in 2007, the overall success of the Mavs is what's going to generate hype about Nowitzki's game.
Dallas quietly has the second best record in the West and boasts win over the Lakers and Cavs. Dirk is the face of the team and can still dominate in crunch time. He spreads the floor against bigger defenders and abuses small forwards in the post.
There's not much else to say. For whatever reason, Dallas is a quiet 20 win team and Dirk is a quiet MVP candidate. But I think more people will start to recognize once April rolls around.
4. Kobe Bryant (Los Angeles Lakers)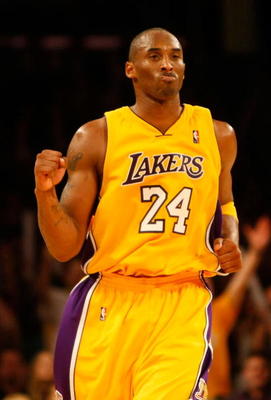 Stats: 28.9 pts (2), 5.6 reb, 4.2 ast, 2.1 stl (3), 37.4 mins (18), 48.6 FG percentage (career-high), 84.0 FT percent, 188 FTA (10)
I try my best not to let my personal disdain for the Lakers have any effect on my fake MVP ballot. And honestly, Kobe should be higher on this list. He really should. I just can't put him above any of the remaining three.
If you've read "The Book of Basketball" by Bill Simmons, you know about Simmons' comparison of Bryant to "Teen Wolf." Basically, the gist of it is that Bryant, like the Teen Wolf when he took over Michael J. Fox, played selfishly for years while NBA fans pined for him the grasp the team concept and play good, team-oriented basketball.
In the last two years, Kobe has matured and then some; in fact, you can look at him now as (I can't believe I'm saying this) the ultimate team player.
Kobe gets it now. He's cemented his legacy. Everyone on the planet knows what an unstoppable scorer he is and that he's the best finisher in the game today.
He's not worried about his stats anymore, or how others view his game, or his place in history. I think the best way to justify this is his field goal percentage from the past two years (46.7 percent last year, career-high 48.6 percent this year). He's no longer taking any shot he wants, or playing a one-on-one game with the likes of LeBron, Wade, Durant, etc.
He defers to his teammates. He doesn't take bad shots. In fact, he's developed his post-up game to the point that it's frightening to watch. Like Jordan at the tail end of his career, Kobe knows when to get his team involved, and when to take over and be the alpha dog, and that's why he's shooting the ball so well.
As a Lakers hater, this is terrifying, because Kobe can maintain this level of play for another three to four years. Who's going to beat this team?
What's going to hurt Kobe (only in the MVP race) is the fact that the Lakers are so stacked from top to bottom. If you switched Kobe with LeBron, Wade, or 'Melo, the Lakers are still a 60-65 win team and probably the favorites to win the title.
So instead of another MVP trophy, Kobe probably will have to settle for sealing his place as one of the 10 best NBA players of all-time (as well as the defining player of the post-Jordan generation) and multiple NBA Finals visits for the upcoming years. Tough consolation prize.
3. LeBron James (Cleveland Cavaliers)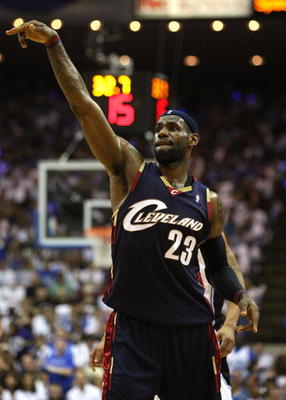 Stats: 28.8 pts (3), 8.0 ast (6—career-high), 7.0 reb, 1.3 stl, 38.0 mins (11), 50.1 FG percent (career-high), 37.0 three-pt percentage (career-high), 78.4 FT percentage (career-high), 252 FTA (T-4)
There's no player in basketball I would want on my team more than LeBron James (even after the way I praised Kobe in the previous slide). He's impossible to match up against, a prolific scorer, a phenomenal passer, a tenacious defender...you name it, he's got it. I don't need to spend this section telling you how good he is; if you've ever watched him play, you know.
But there two main reasons why I wouldn't give him the MVP so far this season.
First is his fourth quarter play. This should be more of a knock on the Cavs coaching staff than LeBron, but it still reflects on him.
Watch the Cavs for the first three quarters in any game. They move the ball beautifully. They set each other up for open jump shots, back door cuts, and clear paths to the hoop. And James is the catalyst.
But in the fourth quarter (this year it's been worse than ever), all of that stops. Mo, Parker, Moon & Gibson stand at the three-point line. Shaq, Z, and Hickson camp in the middle (Varejao is the only one that moves with a purpose). Everyone stares at LeBron and waits for him to go 1-on-5. And he obliges.
And again, this isn't all his fault. He needs help from his coaches and teammates. But still, he'll stand around for 20 seconds before making his move with four on the shot clock. He'll settle for jump shots against smaller defenders instead of taking them to the post. He throws his body around when he does drive to the hoop, looking for bailout fouls. It's not aesthetically pleasing basketball.
Second, and this is more nitpicking from a basketball perfectionist, but the Cavs just don't seem to be having as much fun this year. Last year they seemingly had the perfect balance between good-natured fun (especially before games) and focusing on the court (let's face it, they beat up on most teams).
This year, they just seem tightly wound; I can't quite put my finger on it, but their overall body language suggests that they're not having much fun (and they're not playing that great as well). Again, this isn't all on LeBron. But as the leader of this team, it reflects back on him.
Bottom line: I think LeBron James is the best player in the NBA and I hold him to much higher standards than every other player (aside from Kobe). He hasn't quite fulfilled them yet, so I couldn't in good conscious give him the MVP.
I hope in four months I'm singing a different tune.
2. Steve Nash (Phoenix Suns)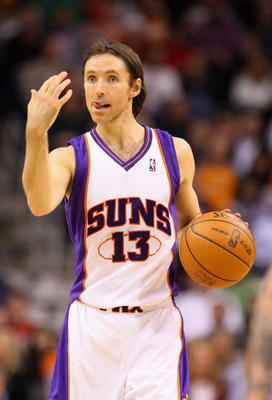 Stats: 18.1 pts, 11.4 ast (1), 3.0 reb, 53.2 FG percentage (19—career-high), 94.3 FT percentage (1—career-high), 44.3 three-pt percentage (10)
Steve Nash defies the laws of time. When the Mavs let him to go Phoenix six years ago, I thought it was the right move—sure Nash will be productive for two to three years, but age and injuries will catch him up towards the tail end of that six-year deal, right?
Somehow, year after year, Nash keeps coming back. And he keeps producing. This year is no exception.
The casual basketball fan won't appreciate Nash's skills. The die-hard fan loves how easy he makes the game for his teammates.
It's the simple things about Nash's game that I love. Like how everytime he drives baseline to the hoop, he always keeps his dribble alive, circles back toward the top of the key and finds an open man. Or how he can whip a pass across the court when he sees help-side defense hedging on a pick-and-roll.
The fact that the Suns are 18-10 is testament to Nash's leadership and playmaking ability. I'm confident that if you take Nash off this team and replaced him with Kobe, LeBron, Dirk, Wade, or anyone else, this team wouldn't be as good. Nash makes the Suns.
The only reason I can't put him at No. 1 is because he's such a defensive liability. But it's a close, close race.
1. Carmelo Anthony (Denver Nuggets)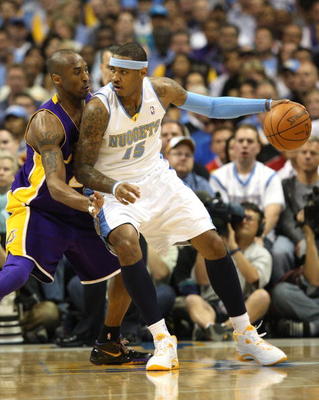 Stats: 30.5 pts (1—career-high), 6.1 reb, 3.1 ast, 1.2 stl, 47.9 FG percentage, 87.6 FT percentage (12—career-high), 279 FGM (1), 233 FTM (1), 266 FTA (3)
When Carmelo Anthony burst on the scene in 2003, everybody was shocked at how explosive his game was. Could he better than Wade? Could he better than LeBron? These were serious questions.
Then 'Melo kind of faded away in the discussion. Wade won an NBA title. LeBron got to the Finals. And Anthony was stuck in mediocrity in the loaded Western Conference, losing in the first round each of his first five years in the NBA.
Questions started to rise: could Carmelo ever put it all together? Would he ever be a premier defender? Could he mentally be mature enough to dominate at this level?
He started to open the door last year; this year, he's busted it down.
I'm more and more impressed with 'Melo every time I watch him play. He's the best scorer in the league—nobody can stop him one-on-one. If you don't double-team him, he's good for at least 30 points. Maybe 40. Or 50.
The arrival of Chauncey Billups helped him immensely. He saw what it took to be a winner and absorbed the wisdom of an NBA veteran.
Carmelo's stats are pretty much no different than what's he averaged throughout his career (other than an increase in points and free throw attempts). He no longer takes as many bad shots, or loses his temper, or gets repeatedly exploited on the defensive end.
And he's the leader now. This is his team. He's shown incredible maturity and a mental understanding of the game.
To quote Bill Simmons, 'Melo understands "the secret." It's in his basketball IQ now. And he's the best player in the NBA...so far at least.
Keep Reading