Oldies's 2010 NFL Draft Preview: QB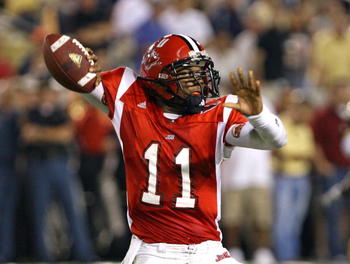 In every NFL draft the position that goes through the most scrutiny is the QB position. This position isn't only the person that throws the ball. Its the player that leads your team, directs traffic and tries to read the defensive scheme. The players that go out for the draft really come under question. Every angle of their game comes to question and anything can happen. The position has such an impact that teams really want to make sure they get the right pick. To analyze a player you have to look at all the players traits and all of his qualities. You can't ever over examine sports most difficult position.
Quarterback X Ryan Perrilloux, QB Jacksonville St.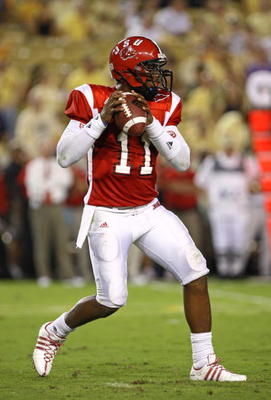 When most people see Perrilloux on this list most will raise an eyebrow. I believe that Perrilloux will really rise on draft boards come April. Besides having a cannon for an arm, Perrilloux has really shown much maturation over the last two years being able to keep his nose out of trouble—so his character won't really have too much of an effect on his draft stock.
At Jacksonville State this year, Perrilloux has shown that he really is a play maker—throwing for 23 touchdowns to only two picks. He has good NFL size at 6'3 228. He has however shown that he can be a little inconsistent and some of his throws will sail. Yet I still believe Perrilloux has about as much potential as anyone in this years draft. Look for him to be a project for some team. the bottom line comes down to he is just to physically talented to go unnoticed.
10. Bill Stull ,QB Pittsburgh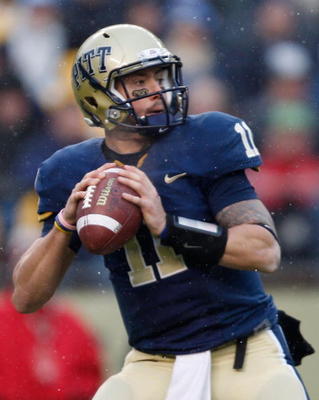 Stull's stock rose with every game he played this year. He has good enough size at 6'2 (not great but adequate). His arm is just average but he makes up with it with his quick release and good decision's. His draft this year will depend allot on Senior Bowl workouts and the combine. I can see him him really rising on draft boards much in a Stephen McGee type way. I personally really like Stull as a prospect. I believe with good workouts he could go as high as the 3rd round.
9. Tim Tebow ,QB Florida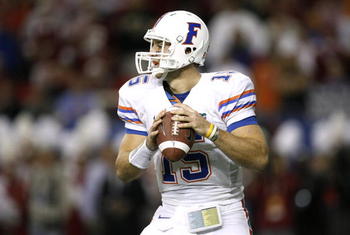 I hate even mentioning the top 10 and Tebow in the same sentence. Yet I have to because he will go in the first two rounds based on his reputation alone. Tebow isn't that tallest QB ever, and his arm strength is very questionable. His foot work is absolutely terrible and his release is way to long. He does bring great leadership to the table and a winning attitude. As we all know he is also very mobile (looks like a QB in a FB's body). Tebow will get over drafted and that team is going to have on the biggest projects on their hands in recent memory.
8. Jarrett Brown ,QB West Virginia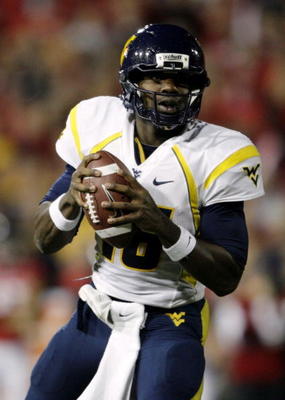 Imagine if Pat White was 6'4. If you can he would probably look allot like Brown. Brown has a good arm and is very mobile. The biggest questions remain on weather he can improve his decision making or if he can learn to read defenses better. He is very inconsistent, and displays that allot.
7. Sean Canfield ,QB Oregon St.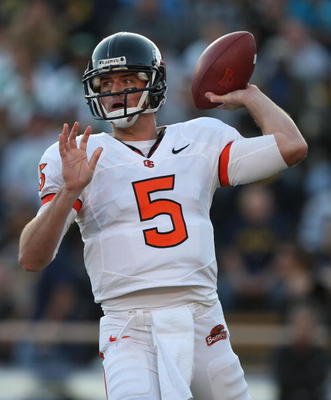 He has gone from a CFL prospect to a possible 3rd rounder. He has really shown that he can make all of the throws consistently. His size is decent and his arm is average. His biggest strength is his football IQ, he is a very smart crafty QB that any QB scarce team should welcome on their roster. (He is the exact opposite of another Oregon St. QB Derek Anderson.)
6. Dan LeFevour ,QB Central Michigan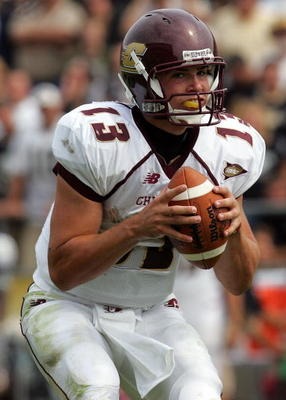 He's got a bright future. He's got good size and an NFL adequate arm. He is also surprisingly mobile. His draft position once again will rely allot on his workouts, but right now he seems to look like a very solid 3-4 rounder!
5. Tony Pike ,QB Cincinnati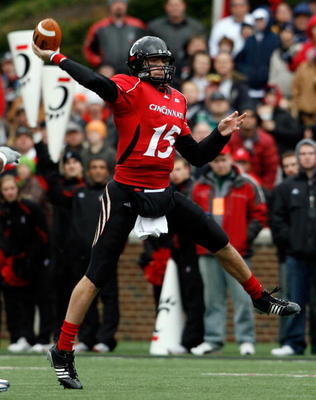 Spread QB. Tony Pike would have won the Heisman trophy if he was healthy for the entire year. He has the arm for the pros and can make all of the throws. I believe that a team will take him and use him more as a project than a pro ready QB. He has great size at 6'6 and good intangibles. Watching Pike he does need to learn to control his arm strength some times. he has the tendency to put a little to much mustard on some throws. Yet overall I believe he is a solid 2-3 round prospect.
4. Colt McCoy , QB Texas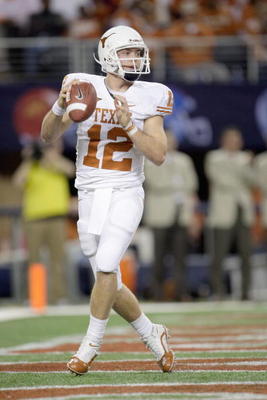 Another spread offense, and this one literally has no arm strength. The winningest QB in college football history is going to have to prove that he can make the transition to the pros. He has great intangibles and good size. He also posses elite level leadership skills. He is better suited for a west coast style of offense in the pro. Though a team like Denver make take a flier on him in the second round.
3. Ryan Mallett , QB Arkansas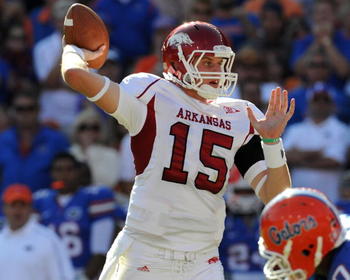 Mallett is a massive QB at 6'7 that has an absolute tank for an arm. He can make all of the throws and plays in a pro-style offense at Arkansas. At Arkansas he literally re-wrote every passing record at the school. I believe he has the talent to be the first QB taken in the draft. ( Al Davis may fall in love with his physical attributes!) I personally hope that Mallett goes back for his junior season, where he will be in the running for the top overall QB in the draft next year. Yet due to the imposing rookie salary cap Mallett may be more inclined to declare this year!
2. Sam Bradford , QB Oklahoma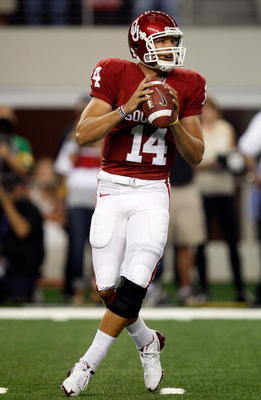 Sam Bradford has good size, and elite level accuracy. The question is how strong is his arm. A lot will rest on ,the former Heisman winners, workouts. He must also prove that he is completely healthy from shoulder surgery. Bradford could be the first QB taken but, the questions are to great to put him at the first spot.
The biggest question though is weather he can make the transition from a spread offense to a pro style. This is probably the biggest question. Allot of teams will shy away from a spread QB due to the recent lack of production from former spread QB's.
1. Jimmy Clausen , QB Notre Dame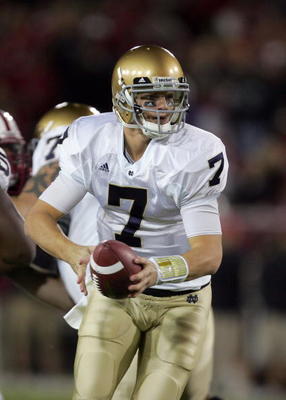 Jimmy is the model of a solid QB. He has good vision, a good arm, and is very accurate. He is solid in every aspect of the quarterback position aside from some small concerns over his deep ball. Yet overall—like it or not—Clausen is the best prospect in what I consider a pretty deep class of QB's. He has allot to prove when the draft rolls around but I believe he has more potential than Bradford. He played in a pro style offense in college so that gives him the edge over other QB's such as Bradford and McCoy.
Keep Reading