Nebraska's Ndamukong Suh Leads Bowl Season's Top 10 Impact Players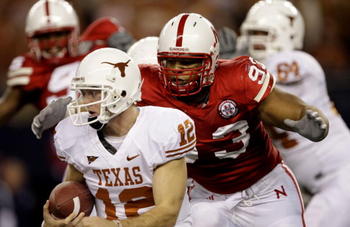 As much as coaches preach team effort, some wins (and losses) come down to the effort one player puts into a game.
My favorite example, and possibly the most famous, is, appropriately, from a bowl. Vince Young compiled 467 yards by himself against the Trojans' defense, and topped it all off with the scamper.
Individual efforts like Young's could power teams to bowl wins this year. I've compiled a list of 10 players who have taken games onto their shoulders, and whose play will likely determine their team's fate in the postseason.
Enjoy.
No. 10: Luke Kuechly, MLB, Boston College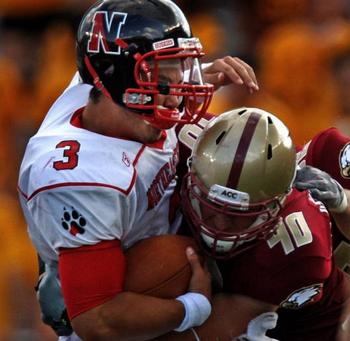 Luke Kuechly, Boston College's freshman middle linebacker, finished the year second in the nation in tackles. His Eagles just got word that USC running back Joe McKnight will miss the Emerald Bowl this Saturday.
The goal of shutting down USC's running game and forcing Matt Barkley to make better decisions just got a little more doable.
Kuechly's talents in coverage will now be tested, particularly on all those play-action square-ins and shallow crossing routes the USC playcallers use so much.
If Kuechly and the back seven can force a few turnovers and help with field position, it could help Boston College score what, in any other year, would be a monumental upset, at least from a non-conference perspective.
No. 9: Jacory Harris, QB, Miami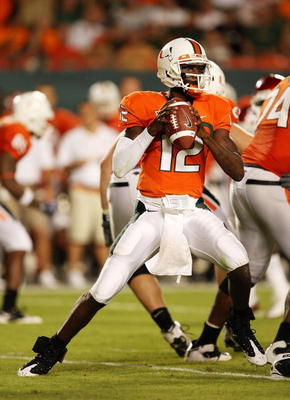 Miami's fortunes went as Harris went.
When he was great—in wins over Virginia, UCF, and Georgia Tech—the Canes rolled. When he was good—the narrow victory over Oklahoma, the so-so effort against South Florida—the Canes survived.
And when he was off—the flattening against Virginia Tech, the interception-prone losses to UNC and Clemson—Miami couldn't last.
Wisconsin will bring the pressure with the help of O'Brien Schofield, the impact player for this game in an alternate-universe Bleacher Report. Schofield is a demon at the DE/OLB spot and can play in coverage on zone blitzes as well as he brings the heat.
If Harris can step up, keep the interceptions to a minimum (he leads the ACC currently), and get back some of the magic from earlier in the season, his efforts could put a more satisfying conclusion on a season free-falling from its early, lofty heights.
No. 8: Dion Lewis, RB, Pitt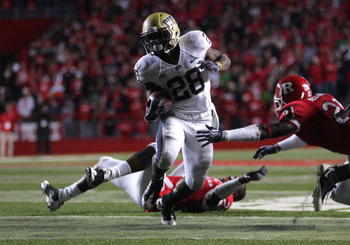 The freshman Lewis has his work cut out for him against a conference-leading defense at North Carolina.
Lewis is a fantastic running back to watch. Powerful and small, Lewis spins and jukes defenders, and is nearly impossible to bring down quickly. He has patience and vision to make up for the lack of elite speed.
Pitt plays a lot of opponents close and sticks to familiar playcalling, out-muscling their opponents at the line, and leaning on their defense. Lewis' play will determine how well the Panthers keep the chains moving and the workload off of Bill Stull, who struggled with interceptions as the year went on.
As one commenter pointed out, this game may end 6-3. But no matter the score, it will also be another 40-carry game Lewis takes on his diminutive shoulders and, literally, runs with.
No. 7: Tyler Sash, S, Iowa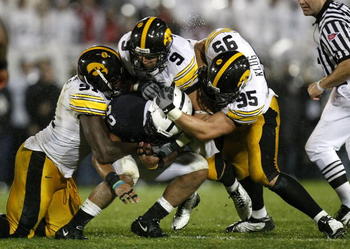 My feelings change on this game depending on what side of the bed I wake up on.
Today, I envision a defensive slugfest wherein Iowa's outstanding defense sheds Georgia Tech's downfield blocks and bottles up the running game, but can't generate a lot of points or rushing yards itself against a good defensive line.
The difference will come when Josh Nesbitt, pressured by Adrian Clayborn, throws a wayward pass in the direction of Demaryius Thomas. Iowa safety Tyler Sash, who has assisted outstandingly in run support, intercepts, returning the ball to the GT 40-yard line.
Iowa RB Adam Robinson crashes the gates to score the bowl's only touchdown, the game-winner in a 13-9 struggle.
Iowa wins because of a strong team effort, but my prediction as of today is that Sash's play will make the difference in gang tackling and in coverage.
No. 6: CJ Spiller, APB, Clemson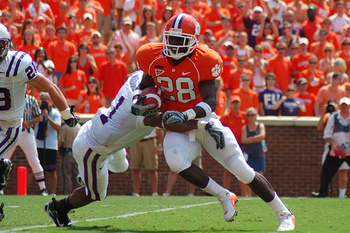 In spite of a nagging turf toe injury, Spiller ran wild all season, breaking records for all-purpose yardage in the win over Miami, lighting up the scoreboards of the ACC Championship, and joining Reggie Bush as one of the only two players to notch 2,500 yards rushing, 1,500 yards in kickoff returns, 1,000 yards receiving, and 5,000 yards in punt returns.
Hopefully, Spiller's injury doesn't impede his final game for the Clemson Tigers, who could be surprised by a resourceful Kentucky squad that scrapped down for bragging rights amongst the middle-tier SEC teams.
A few big plays in special teams—or, shoot, just get the guy a few blocks and let him run—and Spiller can make his case for the most unappreciated running back in college football history.
No. 5: Jeremiah Masoli, QB, Oregon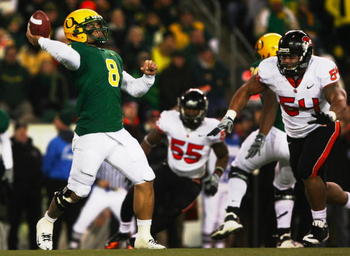 I think a lot of Ohio State's defensive line—enough that I predicted they would beat Oregon in the trenches.
But the one factor that elevates Oregon's offense to a scary level is quarterback Jeremiah Masoli. His talent with ball fakes and misdirection is unparalleled and brings an element to Chip Kelly's spread 'n' shred offense that hadn't been explored in previous spread-run iterations.
What good will penetration do if Ohio State's ends are chasing the wrong guy, right?
With his combination of poise, intelligence, and wizardry, Masoli can have a game similar to the one he had against USC.
While scrapping for yards, drawing up defenses on the run-fake, and then lofting it over their heads, Masoli may leave another reputed defense in the dust, and propel his team to the top of the preseason lists for next year.
No. 4: Toby Gerhart, RB, Stanford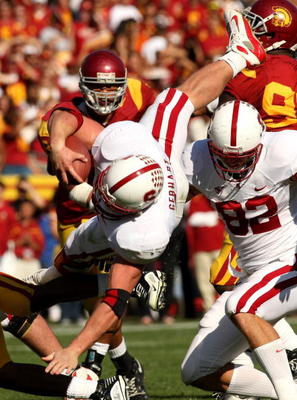 The consensus among pundits is that Oklahoma will be Toby Gerhart's toughest test as a running back. The Sooners' defensive line and linebackers, they argue, are not as easily truckable as some of the speedy, but less physically imposing, front sevens in the Pac-10.
I invest some faith in this theory, but not much. I think Gerhart is just as lethal when he breaks containment and takes on cornerbacks—and cornerbacks are cornerbacks, no matter the league.
But with Andrew Luck possibly out with a finger injury, Gerhart will have to be what he's been all year—the heart and soul, and grit, of the Stanford Cardinal. And he'll do that against a Sooner defense that, whatever its size, ranks in the top ten in the nation in yards allowed.
Forget about draft stock—a 200-yard, two or three touchdown performance in the Sun Bowl will cement Gerhart's year as one of the greatest a running back has ever had in college football.
Nos. 3 and 2: Kellen Moore and Andy Dalton, QBs, Boise State and TCU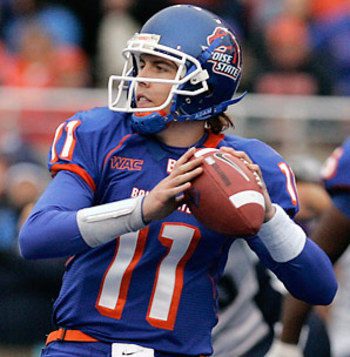 Billed as the national championship game for us misfits, the duel Boise's Kellen Moore and TCU's Andy Dalton will have in the Fiesta Bowl could potentially melt your eyeballs.
The two lead not only their conferences, but are first and fourth in the nation, respectively, in pass efficiency rating. No other bowl can come close to promising that.
Moore quarterbacks a true passing spread and has two receivers just shy of 1,000 yards on the year (though Austin Pettis may have to miss the game due to a leg injury), while Dalton is deadly accurate off the play-action, which is set up by the three-headed TCU rushing attack.
If there's one kid that will be prepared against TCU's atypical 4-2-5 defense, it will be Moore. What he lacks in stature and strength he makes up for in the film room.
Dalton needs to avoid Kyle Wilson, Boise's senior leader at cornerback and a future first-rounder in the draft. The shutdown corner could functionally remove Jeremy Kurley or Antoine Hicks from the gameplan, and Boise's defensive line, though not spectacular, won't give Dalton too much time to check down.
If this duel plays out as advertised, the Fiesta Bowl shouldn't disappoint...any more than it already has, that is.
No. 1: Ndamukong Suh, DT, Nebraska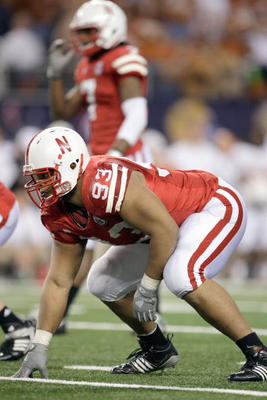 We've seen what can happen when Ndamukong Suh takes over a game (really, more than once), and the song remains similar against Arizona.
We also know the situation with Nebraska's offense—they don't have one—so Suh will need to take this game on his shoulders as he did with the Big 12 Championship for the Cornhuskers to avoid another disappointment.
In this case, however, Arizona's offensive line looks to be an improvement over Texas'. The Wildcats have only allowed 11 sacks all year, tied with Cincinnati for tenth best in the nation.
To get the kind of pressure he's accustomed to, Suh will have to break the Wildcats' statistical tendencies and mire Arizona in a field position battle that hopefully bends the Huskers' way.
SUH BREAK. SUH KILL TENDENCIES. SUH KILL.
Attaboy, Suh.
Keep Reading