The Ugliest Uniforms of the 2009 College Football Season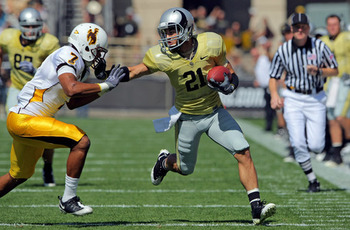 As far as football goes, 2009 is a memorable one for some teams. Alabama gets their first Heisman winner. Oregon gets their first Rose Bowl birth since 1995.
For others, it's one they would definitely want to forget. USC not making a BCS bowl. Oklahoma disappearing after talk of making a title run.
But for some teams, it's a year they want to forget for a different reason: What they had to wear.
The fans suffer as well, forced to admit that they actually like the Wyoming Cowboys, or the Colorado Buffaloes (both pictured).
It's hard to be respected for some teams with the uniforms they're forced to put on. Just look at the picture above. That's just about the two ugliest uniforms I've ever seen, and it happens to be at the same game.
This list covers the 10 ugliest uniforms in college football worn in 2009, and what makes them so darn ugly, complete with a bonus slide of the most boring uniform.
The Most Boring Uniform in College Football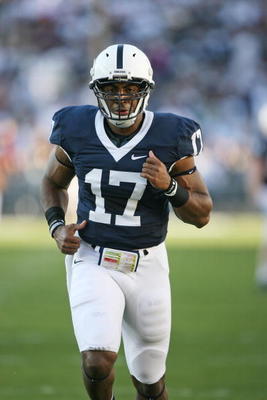 Some people call it traditional. I call it boring.
This was a hard choice. The big time schools like Michigan, USC, etc. tend to create an image and stick with it. Which is fine for some people. But for most, it's not.
So I examined the most boring, plain uniforms out there and my choice, though it was a close one, is Penn State.
While too much going on is a bad thing, these uniforms look like a bad NFL uniform.
The plain blue jersey, the plain white pants...the only flare at all is the color around the collar. I mean seriously, it's just plain boring.
Notre Dame is a close second, but I chose Penn State due to Notre Dame changing it up every once in a while, and throwing in some "Irish" colors.
But after examining USC, Michigan, Texas, TAMU, Nebraska...they all have one thing over Penn State: a logo. Penn State has nothing on their helmet but one blue stripe.
It doesn't get any more boring than this.
If you're a classic type guy and enjoy tradition, you might like these. But if you're like me and into the more "modern" uniforms, these are boring.
Runner up: Notre Dame, USC, Texas, Nebraska.
And now, on to the ugly...
10. UAB Blazers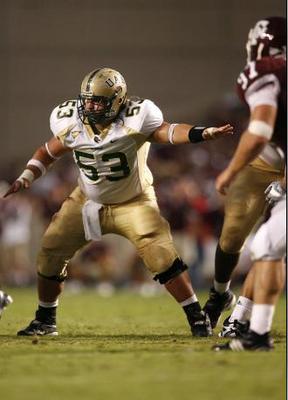 I nearly put Iowa State here, as well as Minnesota. But everyone knows those uniforms are ugly. And not many ever hear of UAB, or Alabama-Birmingham.
The school's color scheme isn't too bad in itself. And you have a unique logo and nickname to work with.
However, it's totally ruined with these uniforms.
The white shirt is normal for an away uniform. But those pants are like baby puke.
Then they have these awful stripes rolling up the sides, ruining the whole uniform.
The only high point is the helmet. It has a nice UAB rolling across, and is one of the few to have a mascot up there as well as lettering—and have it work.
It's no wonder UAB gets no national attention, and has one of the lowest ticket sales in college football. You'd have to be crazy to want to sit through a whole football game watching those.
9. LSU Tigers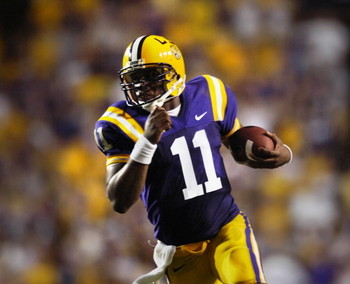 Purple uniforms never look good. They are the complete opposite of manly. I simply don't think "Tigers" when I see these.
And not only are these uniforms purple, the purple is coupled with a bright yellow helmet and shoulder stripes that just makes it all "pop." Gross. It's just wrong to make a man wear those.
8. Boise State Broncos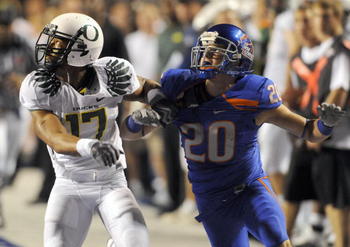 It's no wonder the Ducks lost! The Broncos actually have camo uniforms!
And seriously, talk about home field advantage. While the numbering is sleek, and the logo isn't too bad, the all blue is a bit much. Then to go and make it match your smurf turf field...now I understand the undefeated seasons.
At least they got rid of the big orange stripes that used to be there. But still, any uniform with orange will never make it in my book. The all blue continues to make me gag, and the orange isn't helping.
But, they aren't worse than the team beside them.
7. Toledo Rockets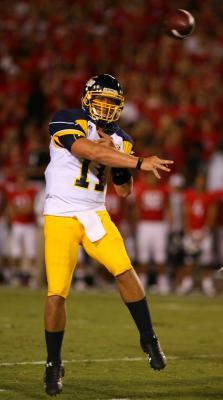 While the Rockets solid blue uniforms actually aren't that bad, these ones are.
There's so much wrong, where to begin...
Let's start with the helmet. That facemask, while it usually isn't a big deal, stands out more than the helmet itself. I mean, wow, that's yellow. The logo is big, distracting, and looks like it came straight out of a comic book.
Then the pants. Is there any team that can make solid banana yellow pants look good? Anyone?
The shoulders are the worst, with the little yellow "flares" coming up the shoulders.
All in all, Toldeo has no sense of fashion. They need to change these uniforms rocket-fast (couldn't help myself...).
6. Oregon Ducks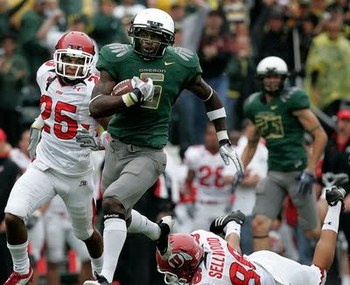 That's right, I may be an Oregon fan, but I know these things were ugly.
I was a big fan of the diamond plating they had for two years. The wings aren't that bad when they're used right. There's a lot of people against it, but according to the polls they're quite popular.
The throwbacks aren't ugly, and the solid black uniforms featured against Arizona State are the ones I love. But these one's are just plain ugly.
From head to toe, nothing flows. There's nothing "Ducks" about it other than the green jersey.
The white helmets by itself, not too bad. With the jersey? Bad. The gray pants? Even worse. Then they had to throw in the yellowish-gray numbers. That's just the icing on this terribly nasty, and moldy cake.
Hopefully they'll go back to diamond plating, or come up with something better next season.
5. Wyoming Cowboys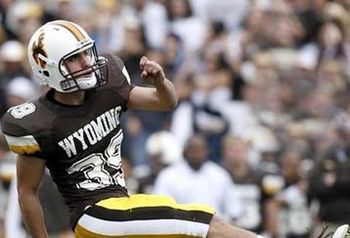 The Cowboys have been compared to chocolate cake, coffee cake, lemon cake, feces, and landfill.
I never really understood, seeing as how Wyoming is never on TV, and their fan base is less than most FCS schools. But in the New Mexico Bowl, we all found out.
The school colors are the real problem here. I mean seriously, someone needs to take action and change those.
The logo just screams "hillbilly," the jersey shoulder stripes are stupid, and the number "3-D" look is also dumb.
The pants do in fact look like lemons, and the jerseys like chocolate. Does anyone besides me now feel an urgent need to go eat some cake?
4. Colorado Buffaloes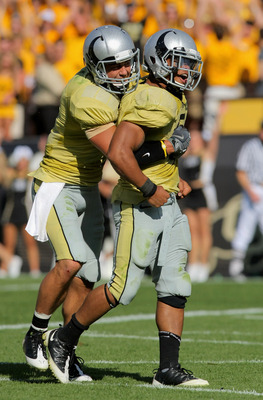 Yes, the regular uniforms are awesome. I like the logo personally, and the all black uniform is awesome.
But throwbacks usually fail big time, as proven with Ohio State among others, and is the case with Colorado.
These would be higher if not for the fact these aren't "actually" Colorado's uniforms.
But they are quite possibly the ugliest throwbacks I've ever seen. The helmets are just terrible, what is that black thing coming out of the facemask?
The jerseys look like baby food, and the pants do them no favors either. The shade of gray doesn't even match the helmets, and it really just tops off a disgusting uniform.
My apologies to any Colorado fans who had to suffer through watching this game.
3. Navy Midshipmen
Need I remind anybody of the garbage the two teams came up with at last year's matchup?
While no disrespect to the men and women of the Navy, but the uniforms are downright awful. You guys need to stop coming up with stuff like this for media attention.
The main thing wrong with this is the five different colors. The navy blue, the dark tan stripes, the red highlights, the beige numbers/ lettering, and then the white accents.
It does not go. Never have I seen a uniform with this many colors. And there's a reason. It's ugly.
Thank god the helmets are plain, who knows what would've gone up there...
2. Clemson Tigers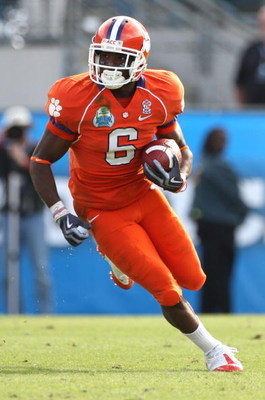 Orange never looks good on uniforms. Oregon State and Texas are the only ones who make it endurable to look at.
Clemson's just makes my eyes burn it's such an intense orange.
Clemson has a unique color combo with orange and purple, and sometimes they wear it well. Other times, as with the all orange, they don't.
The all purple doesn't look good either, but at least it isn't as bright.
Do I really even need to say anything else? The uniforms are just downright ugly.
Frankly I hate all orange uniforms, but won't include Oregon State, Tennessee, and Syracuse who all also have terrible orange uniforms.
And is it just me, or is it hard to look at football players as "tough" when they were things like orange and purple?
Still, this isn't even the worst orange uniform...
1. Virginia Tech Hokies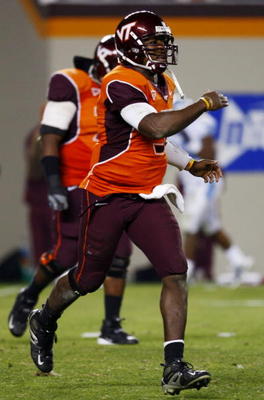 ...Virginia Tech's are.
These things are as repulsive as they come.
Virginia Tech has a stylish logo, and some unique colors with maroon and dark orange. They probably could make something good out of it. But they botched the whole thing with these uniforms.
The orange jersey by itself is just ugly. The purple stripes are odd, and they look misplaced. Then the pants have their own little stripes going on, while mostly just pointing out the ugly jerseys because they're so dark.
It really doesn't get any worse than this.
Virginia Tech hasn't lived up to expectations this year, and they top it all off with the ugliest uniforms in college football. Better luck next year.
Keep Reading

Oregon Ducks Football: Like this team?