The All-Time NBA "Short People" Team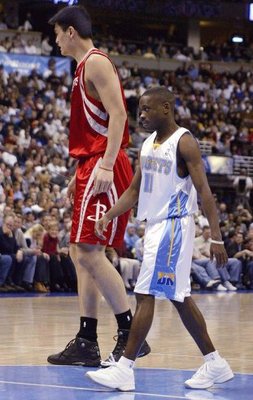 In this slide show, I rate the best "short people" to play in their positions in the NBA.
Being a one-time 5'10" power forward myself, I have a very soft spot in my heart for players considered too short for their position.
My claim to fame was that I was the leading rebounder in the league throughout junior high school despite being the shortest player in my position. I also missed 13 consecutive free-throws in one game!
My "short" criteria is very subjective. I assessed whether the players were shorter than most people who had historically played at their position.
Factors that were considered include career accomplishments and longevity. I hope you enjoy.
Guard: Tyrone "Mugsy" Bogues - 5 feet 3 inches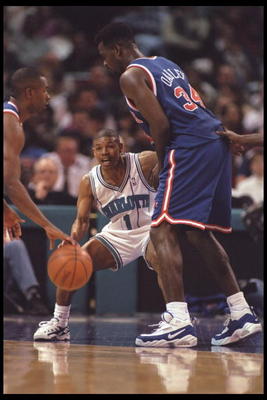 Mugsy Bogues enjoyed a 14-year NBA playing career. He was one of original members of the NBA Charlotte Hornets.
Bogues was regularly among the NBA leaders in assists, steals and assist-to-turnover ratio. He averaged 8.8 points, 8.8 assists and 1.7 steals during his nine-plus year tenure in Charlotte
For his entire career he had averages of 7.7 points, 7.6 assists and 1.54 steals.
Bogues is recorded as the all-time shortest NBA player. He is purported to have dunked in a game, but this may be an urban legend. I was unable to find evidence of that dunk.
In an interview with Hank Hersch of Sports Illustrated Bogues said of his overachieving "I always believed in myself. That's the type of attitude I always took out on the floor—knowing that I belonged, that with my talents, my abilities, there's a place for me out there."
Gurad: Anthony "Spud" Webb - 5 feet 7 inches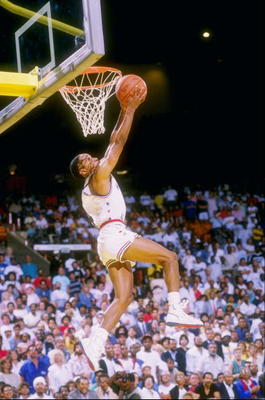 Spud Webb, the 5-foot 7-inch phenom, had a recorded 42 inch vertical jump. His vertical leap was approximately 67 percent of his height. That would be like Chris Bosh having a 56 inch vertical leap. Incredible!
Although Webb led North Carolina State to the NCAA Sweet 16, he was not selected in the NBA draft, apparently because he was too short to play.
I remember well watching Webb winning the 1986 NBA Slam Dunk Contest.
My jaw dropped to the ground as he completed a variety of dunks including a two-handed double pump dunk, the one-handed off the backboard one-handed jam, a 360-degree helicopter one-handed dunk, a 180-degree reverse double-pump slam, and finally, the 180-degree reverse two-handed strawberry jam from a lob bounce off the floor.
Twenty years later, he trained New York Knicks point guard Nate Robinson to win the event. Webb tossed the ball to Robinson, who leaped over Webb and dunked, earning 50 points from the judges. Robinson and Webb are the only two people in NBA history under six feet to win a slam dunk contest.
Webb played 814 career games, averaging 9.9 points per game, scoring 8072 points and dishing out 4342 assists in twelve seasons.
Webb was the third shortest player to play in the NBA, ahead of only Earl Boykins and Muggsy Bogues.
Forward: Charles Barkley - 6 feet 4 inches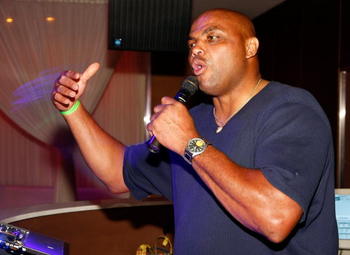 Whatever you may think of Sir Charles Barkley, the man could play basketball better than most. Often listed at 6'7" and 6'6", Barkley later admitted he was barely 6'4" tall. So what!
Barkley was certainly one of the NBA's most colorful players during his 16-year career. Barkley entered the NBA in 1984 with the Philadelphia 76ers. From 1992 to 1996 he played with the Phoenix Suns, and then was a member of the Houston Rockets until his mid-season retirement in December of 1999.
Barkley was named an NBA All-Star 11 times, won two Olympic Gold Medals scored more than 20,000 points and grabbed over 10,000 rebounds in his career.
In 2000 he signed a deal with Turner Sports and became a regular studio analyst on the TNT cable program Inside the NBA.
Forward: Adrian Dantley - 6 feet, 5 inches or 6 feet, 2 inches
Why the weird title of this slide? Many do not know that Dantley played with special shoes to compensate for the fact that one leg was three inches shorter than the other.
Despite this "disability," Dantley had a stellar college and professional career.
He led Notre Dame in scoring in 1974-75 (30.4 points per game) and 1975-76 (28.6 points per game), while also leading the team in rebounding those two seasons with marks of 10.2 and 10.1 rebounds per game, respectively.
He was also the leading scorer on the 1976 US Olympic team and was drafted sixth overall in the NBA draft, by the Buffalo Braves. Dantley remains the only Rookie of the Year in any major sport to be traded after his rookie year.
Dantley finished his NBA career with an average of 24.3 points per game. He led the league in free throws six times and ranks sixth all-time in that category. He shares the record with Wilt Chamberlain for most free throws made in a regular-season NBA game with 28.
Center: Wes Unseld - 6 feet 7 inches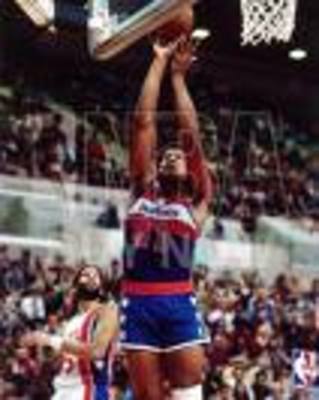 Unseld was to centers what Barkley was to forwards. He made his reputation on relentless rebounding, bone-jarring picks, and tremendous outlet passes.
Unseld was never flashy or showy. was the league's MVP and Rookie of the Year in 1968-69 and a five-time NBA All-Star who captained the Bullets to four NBA Finals appearances in the 1970s and to a championship in 1977-78.
During his 13-year NBA career, all with the Bullets, Unseld had numerous accomplishments. He ranks seventh on the league's all-time rebounding list and was one of a handful of players to have tallied at least 10,000 points and 10,000 rebounds for a career.
In his 984 professional games, he grabbed 13,769 boards and dished out 3,822 assists, both franchise records for the Bullets.
Keep Reading