Five Things on the Washington Huskies' Holiday Wish List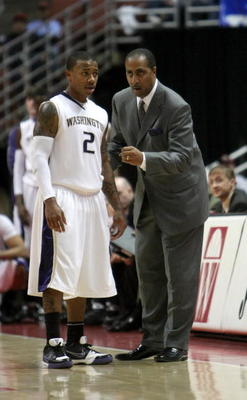 The Washington Huskies have been viewed as one of the front-runners to take the Pac-10 this year.
Expectations for 2009-10 have been pretty high after winning the conference last year, and, with Pac-10 play set to begin against Oregon State on New Year's Eve, now is the time to pick the five things the Dawgs would love to find under their metaphorical Christmas tree.
No. 5: Gaddy Living Up To His Potential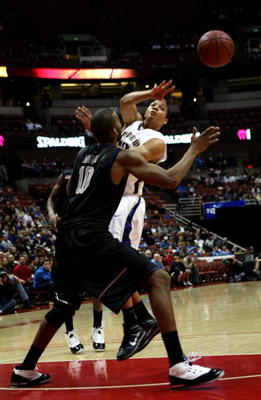 Freshman guard Abdul Gaddy was a top-10 national recruit and a McDonald's All-American.
A lot of people expected him to have an immediate role as a scorer for Washington. So far, this hasn't been the case.
Sure, he's only a freshman and Pac-10 play hasn't started yet, so it's fair to say Gaddy is still transitioning.
But 4.9 PPG and 2.6 APG aren't stellar, especially for a player of his caliber who is playing nearly 20 minutes per game.
The encouraging part is that Gaddy has been taking shots.
The only problem is that they just haven't exactly been falling as often as they should be.
I would imagine in time this is going to change. The sooner the better.
No. 4: Bryan-Amaning as a Legitimate Big-Man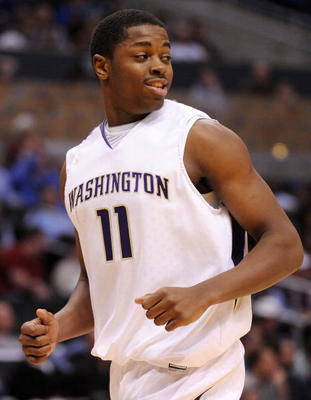 I could easily come up with five wishes for Matthew Bryan-Amaning by himself.
It's not easy to be the guy who had to "replace" Jon Brockman, but that has pretty much been the title that Amaning has been assigned.
I don't see Bryan-Amaning breaking any Pac-10 rebounding records and he probably won't be regarded as one of the best big-men in the conference either, but it is my wish that he gets up to averaging a double-double while making some more free throws.
No. 3: Another Pac-10 Title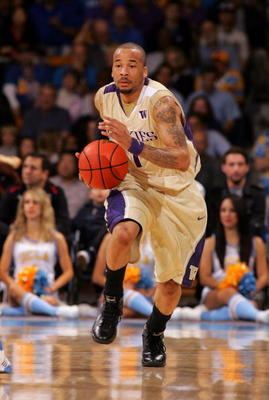 Last year, the Pac-10 sent six teams to the Big Dance, with Washington winning the conference.
Most people have the Pac-10 pegged as mediocre this year, which makes this wish in reach.
The Huskies boast a solid defense, two scoring threats averaging at least 20 points a game this year (Isaiah Thomas and Quincy Pondexter) and a coach who has done this before.
The only real threats for Washington within the conference look to be Cal, maybe UCLA, and Arizona State. The conference could be Washington's to lose.
No. 2: Pondexter For Pac-10 POY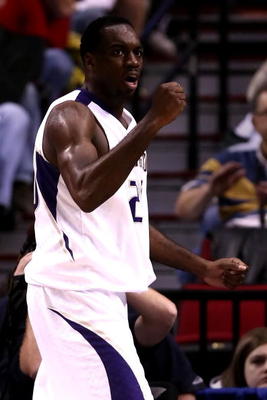 These days, there aren't many great college basketball players who stick around for four years.
Most guys who have the talent to enter the NBA after one or two years in college will do it.
And who can really blame them for going where the money is at?
Huskies senior Quincy Pondexter is one of the few guys who stuck it out, struggled for minutes at times, then eventually developed into an NBA prospect and one of the best players in the Pac-10.
Pondexter is the only senior from a recruiting class that featured Spencer Hawes (entered the draft after freshman year), Phil Nelson (transferred to Portland State), and Adrian Oliver (transferred to San Jose State).
Pondexter is averaging 22.1 PPG with 9.6 RPG, and he's really been the best player on what appears to be the best team in the Pac-10.
Even though Pac-10 play is yet to start, Pondexter has made a case for himself to be highly considered for Pac-10 Player of the Year honors.
No. 1: Sweet 16... At Worst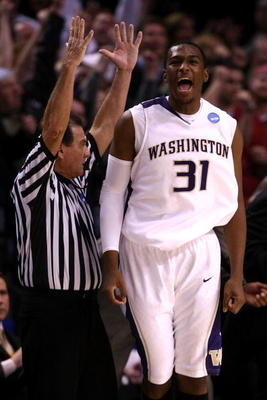 The last time Washington was in the Sweet 16 was in the Brandon Roy era, when they made back-to-back appearances.
This year is a good opportunity for the Dawgs to get back to this level.
Sports in Seattle have become a downright joke.
I don't need to explain the demise of the pro franchises or the failures of Huskies football (though they're improving).
Huskies basketball is kind of all Seattle-ites have going for them.
If the Huskies can somehow make a deep run in March, they could begin the resurrection of sports in the state.
But this is a wish list, right?
So I'm going to go a little crazy and wish for a Sweet 16 at worst.
I want to see the Dawgs in the Elite Eight for the first time since '53.
Keep Reading