The Top Eleven Plays of the 2009 Iowa Hawkeyes Season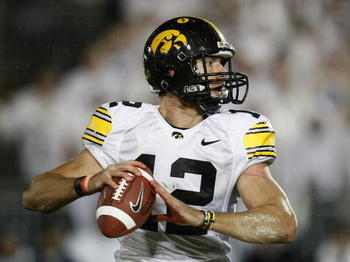 The 2009 Iowa Hawkeyes football season was an historic one full of plays destined for highlight reels and magazine covers. Fans will long remember the roller-coaster ride of twists and turns that this season brought with it.
As the Orange Bowl game in Miami against Georgia Tech approaches, and the teams begin to watch game tape after game tape, it felt appropriate to compile a list of the top plays from the year.
It was hard narrowing it down to an arbitrary eleven plays, and there were likely a few oversights, so feel free to comment.
Here are the Top Eleven Plays of the 2009 Iowa Hawkeyes season...
11. Clayborn knocks Michigan's Forcier silly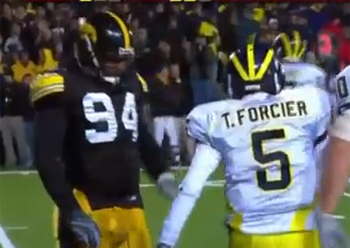 Defensive end Adrian Clayborn absolutely terrorized quarterbacks this year. There was little offensive lines could do to stop him.
Just ask Michigan.
10. Spievey's diving interception against Wisconsin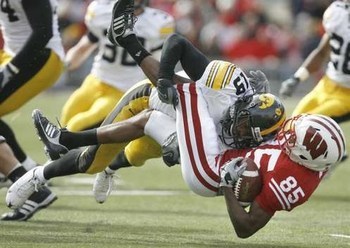 Known as "The Glove" on Iowa message boards, Amari Spievey is arguably one of the best defensive backs in the country.
Against Wisconsin, he proved that when he picked off Tolzein with a leaping dive of a catch.
The play starts at the 3:45 mark...

9. Stanzi to Moeaki in the end zone against Wisconsin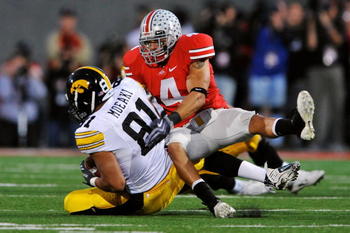 Ricky Stanzi and Tony Moeaki have connected on more than a few touchdown passes over the last two years.
Against Wisconsin, they did it once again.
The play starts at the 2:10 second mark...

8. Stanzi's 92-yard bomb to Marvin McNutt against Indiana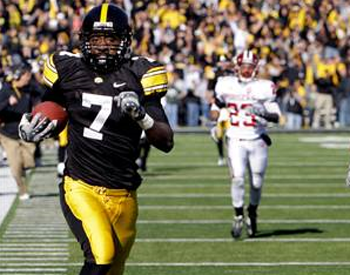 Iowa's game against Indiana started off horribly. The first three quarters were very painful to watch.
Then Stanzi hit McNutt for a 92-yard touchdown pass to start the fourth quarter.
7. Trey Stross' diving catch against Michigan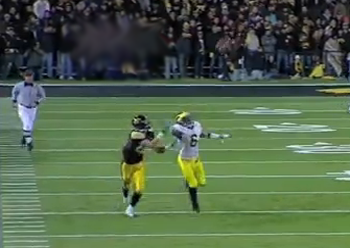 Trey Stross has had a very solid career as a wide receiver at Iowa, and his highlight reel is spectacular.
This year was no different. In the game against Michigan, he had an acrobatic catch for a huge gain to give Iowa some much needed momentum.
Here is a clip from the game. The catch starts at the 2:20 mark.

6. Two consecutive blocked field goals against UNI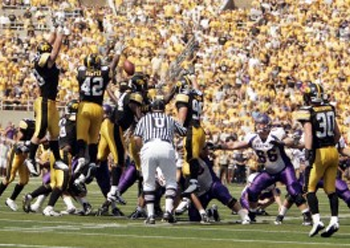 Hawkeye fans started off this season with two near heart attacks in the game against Northern Iowa.
Since Iowa made college football history by blocking back to back field goal attempts, it is only fair to lump them together as one play and give them a spot on the list.
The game wasn't pretty, but the Hawkeyes came through when they needed to.
5. Sash pinball interception against Indiana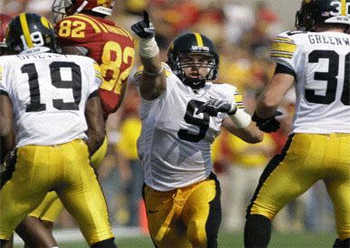 Tyler Sash's Traveling Interception Show added five more INTs to the total this year.
One of those might be the strangest inception in college football this year. Sash picked off a deflected pass and ran it back for a touchdown, a play that started to swing the momentum back in Iowa's favor.
Starts at the :50 second mark.
4. Robinson's 43-yard run on 3rd-and-very-long against Arizona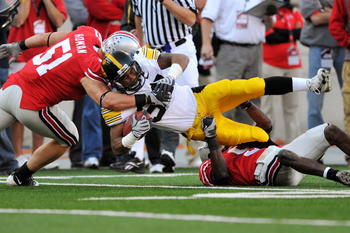 "There were a bunch of little plays that stick out," Stanzi said as he prepared for practice Thursday evening. "We were backed up against Arizona...it was third-and-23 and A-Rob had that draw play for 43 yards. That play got us to the other side of the field. If anything, it changed the field position and changed the momentum of the game."
Starts about the 1:20 mark

3. DJK 99-yard kickoff return for a touchdown against Ohio State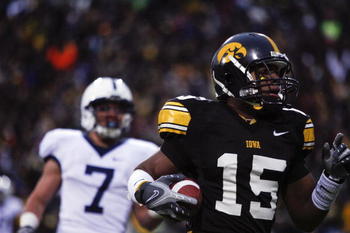 Just when almost all hope was lost for Iowa in the Ohio State game, Derrell Johnson-Koulianos, otherwise known as DJK, returns a kickoff 99 yards for a touchdown.
Simply awesome.
Starts at the :30 second mark...

2. Stanzi to McNutt for the game winning touchdown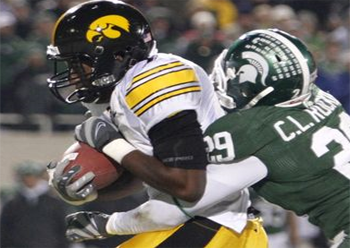 The entire state of Iowa was at the edge of their seat for the last play of the Michigan State game.
Fourth down. Almost no time left on the clock. An undefeated season hangs in the balance.
And Stanzi comes through...

1. Adrian Clayborn's blocked punt against Penn State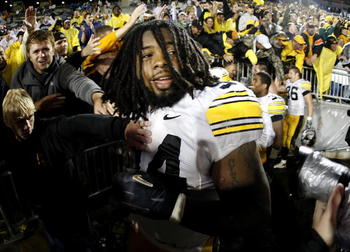 Iowa's game against Penn State in Happy Valley was a battle fought under a downpour. But not even a force of nature can stop Adrian Clayborn.
On national television, with the Hawkeyes trailing in the fourth, Clayborn's punt-block totally changed the complexion of the game.
Clayborn slammed past Penn State's Nick Sukay, blocked the punt, picked up the ball and sprinted 53 yards to give Iowa an 11-10 lead with 12:21 left in the game.
Honorable Mention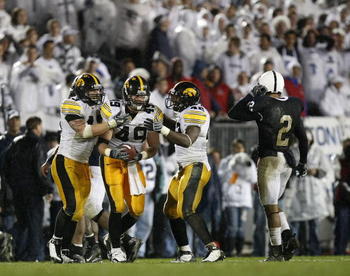 - DJK sliding catch against Michigan
- Stanzi to DJK 66-yard touchdown pass against Indiana
- Tony Moeaki's 42-yard TD catch against Michigan
- Clayborn runs down Arizona's Grigsby
- Angerer's interception against PSU
Keep Reading

Iowa Hawkeyes Football: Like this team?