The Top 25 Coaches In College Football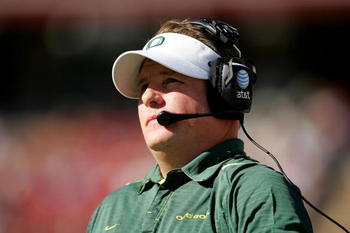 Ranking the top coaches in the country has little to do with wins and losses, salaries, championships, recruits...
The best coaches provide direction, lay groundwork, rally from behind. They do the intangible things to be outstanding, just as players have intangibles that make them terrific, that make them stand out from their peers.
Though close in letter and in spirit, this top 25 list does not mirror the top 25 programs in the country. Instead, it recognizes those coaches who are succeeding in more places than the win/loss column.
Let's get to it.
No. 25: Rich Brooks, Kentucky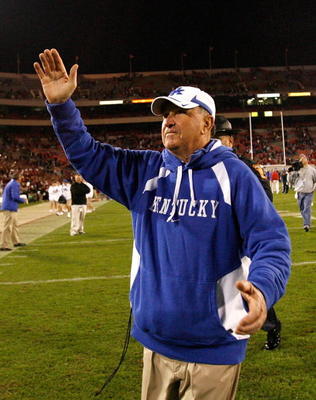 Kiffin, Richt, Petrino, Miles, Nutt...give me Rich Brooks, the Kentucky coach who has put the Wildcats in the postseason in four consecutive seasons since overcoming penalties for recruiting violations passed down in 2002.
The Wildcats have owned the rivalry with Louisville, beat Georgia and Auburn, and took Tennessee to the wire in the final game of the season.
Though the 'Cats haven't competed for an SEC division title since the days of Andre Woodson, Brooks has kept UK alive at one of the most difficult periods in conference history, and with almost no recruiting validity to speak of.
No. 24: Al Golden, Temple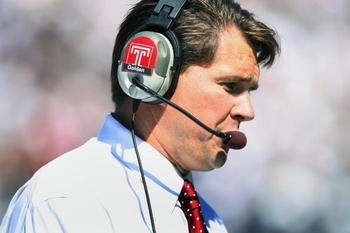 Beyond just making a bowl, Golden's Temple Owls are barreling into the postseason.
The Owls orchestrated an upset of Navy, a 1308 yard, 15 touchdown performance by running back Bernard Pierce, and a bid for the MAC title, falling short by one game after losing to Ohio in the season finale.
Golden had Temple playing outstanding rush defense, and will likely springboard into the next coaching strata this year or next.
No. 23: Mike Riley, Oregon State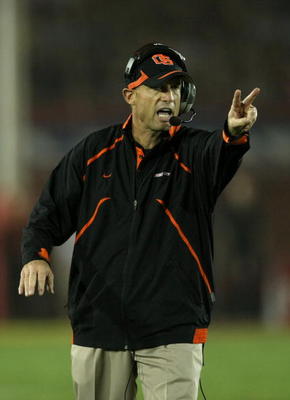 Riley has quietly put together back-to-back outstanding seasons at Oregon State, and if either season had ended in a Rose Bowl, he'd be coach of the year.
He's a brilliant offensive mind, and I'm excited to see how he follows the Sean Canfield/Lyle Moevao era at OSU.
No. 22: Kyle Whittingham, Utah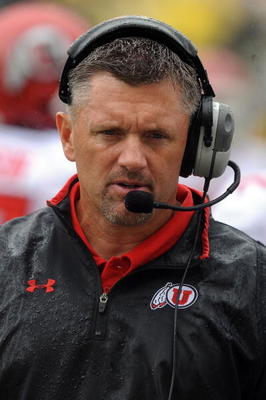 The Utah coach has slipped in the rankings since last year, but his Utes still won nine games and were in contention for the Mountain West Conference title when TCU rolled into town.
Even if Utah got manhandled, it would be unwise to dismiss Whittingham's team this year or next. Don't forget the gameplan Whittingham put together in last year's win over Alabama in the Sugar Bowl, which now looks doubly impressive.
He's a great defensive mind, and he'll have the Utes back in MWC contention next year without question.
No. 21: Kevin Sumlin, Houston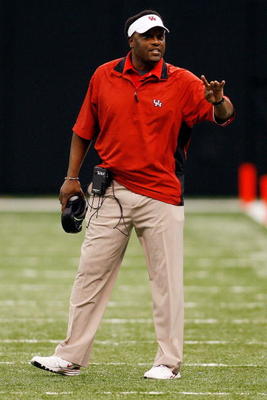 The toast of the college football town, Houston's Kevin Sumlin has distinguished himself as a primary candidate for all subsequent vacant coaching jobs.
Even if he stays at Houston another year, he'll be coaching a presumptive Heisman candidate at quarterback, against the most nationally relevant and difficult schedule Houston has played since the Andre Ware era.
By the end of next year, he'll be able to write his own ticket.
No. 20: Mike Stoops, Arizona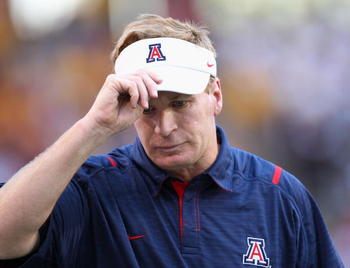 The Arizona Wildcats came out of their shell this year, taking Oregon to the wire and beating USC to finish second overall in the Pac-10 (with a win over Arizona State in the desert to add flavor).
Mike Stoops will have a difficult job replacing his brother Mark at defensive coordinator—the Seminoles stole him—and QB Nick Foles loses both of his favorite targets at wideout.
But he need only refer to the Stoops Family Brochure on Good Coaching: field a flashy quarterback, play defense, and come close enough in the big game to avoid too much scrutiny.
Done, done and done.
No. 19: Frank Beamer, Virginia Tech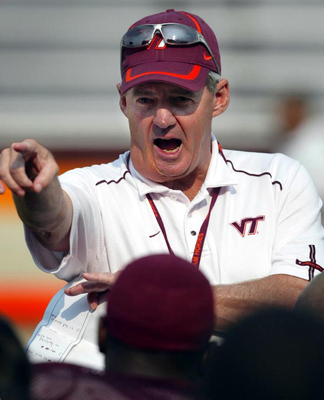 He's a staid old dog, but Beamer's had the Hokies in contention every year for the ACC title. And though he ended this year with a thud, next year's VT team will be loaded, returning freshman-of-the-year Ryan Williams at running back and a seasoned Tyrod Taylor at the quarterback position.
It will be the most promising VT squad since Michael Vick's sophomore year. Let's hope Beamer knows what to do with it.
No. 18: Steve Sarkisian, Washington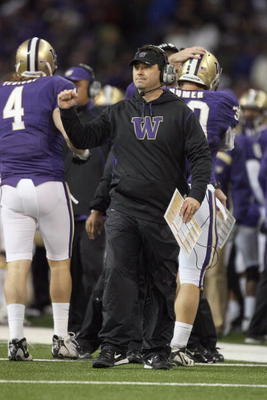 Winning five games, beating his former employers, and steamrolling Cal and Arizona was the tip of the iceberg for Sark.
Yes, his greatest sell job was in convincing stud QB Jake Locker to return next year instead of entering the NFL draft. Sure, Locker might not have put up great numbers, but his presence alone stabilizes the fan base, helps the recruiting effort, and might just lead the Huskies back to bowl season next year.
No. 17: Bob Stoops, Oklahoma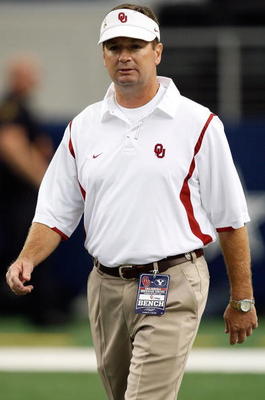 At the helm of perhaps the most disappointing team in college football this year, Stoops still managed a close loss to Texas, held on against Kansas State, and pantsed Oklahoma State in Bedlam.
This was the worst team Stoops has fielded since arriving in Norman, and he's in danger of disappearing from this list if the 2010 Sooners don't get it together. But flashes of optimism are there if you want to see them: the maturation of Landry Jones, ever-consistent DC Brent Venables, and the Sooners' recruiting, which hasn't missed a beat.
And hey, at least he didn't go to Notre Dame. What idiot started that rumor?
No. 16: Dave Wannstedt, Pitt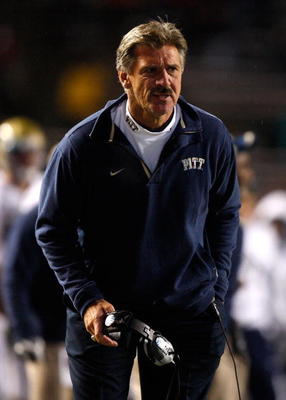 Instead of mourning the early departure of LeSean McCoy, Wannstedt turned to his recruiting staff and said, "Find me the next one."
And find the next one they did. Dion Lewis, the undersized, underrated, and underrecruited back out of New Jersey, rushed for 1640 yards and 16 touchdowns, leading Pitt to the brink of the Big East championship.
A lot of credit belongs to the line, many of whom depart, but Wannstedt has shored up Pitt's standing in the fertile Pennsylvania recruiting ground. Besides, when your offense's strength happens to be the same play run over and over again—right guard pulls, run to left side—how hard could it be to train the next guys?
No. 15: Bo Pelini, Nebraska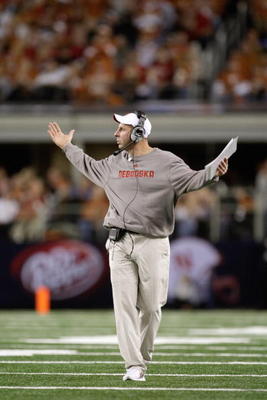 Relax, Bo, you're not the Rodney Dangerfield of the college football world. Sure, the refs slighted you in the Big 12 championship, and sure, Ndamukong Suh was, without question, the greatest player in college football all year (ask Colt McCoy, he never tells a lie).
But we all still recognize what you're doing at Nebraska. How you won nine games without a functioning offense, beat teams on the line of scrimmage, almost won the Big XII, and fielded one the most fearsome defenses in football.
Juggling quarterbacks just to pay lip service to the matter wasn't wise, but that's what offensive coordinators are for, Bo. Look them up: O-F-F-E...you get the picture.
We're waiting for you to take charge of the North, Bo. Take those cowboys in the south down a few pegs. Hop to it.
No. 14: Gene Chizik, Auburn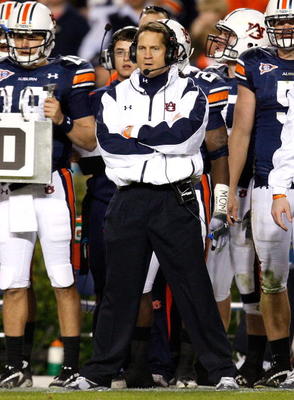 In his first year alone, Chizik's calm, cool collection has stabilized what looked to be a poisoned program.
He opened Auburn's doors to offensive experimentation, inviting guru Gus Malzahn to tinker with an offense that, compared to its traditionally solid defense, often seemed to be a weak counterpart, a liability, a handicap.
This was a great risk, considering the ignominuous departure of Tony Franklin, who tried the same thing to disastrous effect the previous year.
But stability and continuity almost always pay dividends, particularly in the wild and woolly SEC, and the Chizik approach looks to be working: the Tigers are back in a bowl.
No. 13: Randy Shannon, Miami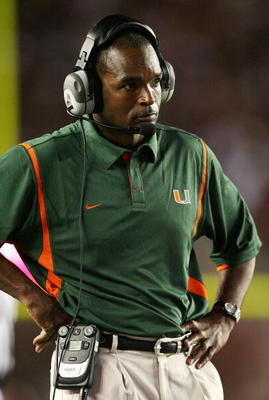 Shannon made waves in the preseason when he promised wins in the Hurricanes' first four games—against presumptive ACC frontrunner Florida State, future ACC champion Georgia Tech, 2008 ACC champion Virginia Tech, and 2008 Big 12 Champion Oklahoma—but he took down three of those four and had Jacory Harris flying for the Heisman before the Hurricanes tumbled down the stretch.
I still think they're in position for next year and beyond, based on the U's past, their geographical position, and the return of their swagger, which now includes the kind of intensity and explosive play that traditionally backed the talk up.
He's the perfect man for the job: a straight shooter, quiet, brooding, intolerant of failure. One or two more years, and the Canes will be a force.
No. 12: Jim Harbaugh, Stanford
Stanford ended the year with upsets of two top 10 teams, trucking Oregon at home and destroying USC on the road, before returning home to drive the nail in Charlie Weis' coffin. They didn't just make a bowl, they stormed into a bowl.
Scoring college football's greatest statistical upset to date against USC in 2007 was merely the beginning for the ex-Wolverine quarterback, who saw his contract fattened earlier this month.
The big test will be if he can convince running back and Heisman runner-up Toby Gerhart to exercise his last year of eligibility. If not, he'll have to revamp next year's offense and "reload" a Stanford offense that finished in the top 15 in points scored.
No. 11: Jim Tressel, Ohio State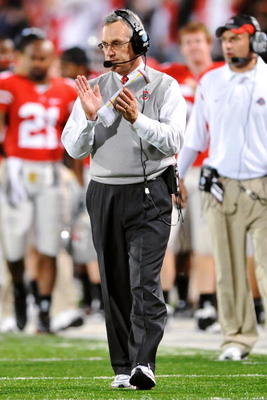 Jim Tressel and the Buckeyes had to step out of their comfort zone a few times this year, coming up just short (as opposed to getting blown out) in the out-of-conference loss to USC and dropping a game to Purdue, the first perplexing loss in Tressel's tenure.
That just made the rebounding effort more laudatory. The Buckeyes went 3-3 in their brutal closing stretch, blasting Penn State in Happy Valley, outlasting Iowa, and beating Michigan for an unprecedented sixth straight time to keep the "rivalry" at bay for yet another year.
Tressel can make a case for belated coach of the year, and put the critics to bed, with a win over Oregon, but just surviving the year is enough to keep him among the elites.
No. 10: Pete Carroll, USC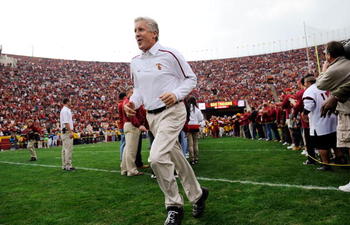 His prestige has slipped, naturally, but the indefatigable Carroll has remained upbeat, declaring the past as past and refocusing on the recruiting trail and the promise of the 2010 Trojans.
Remember, the last time we saw USC down like this, they were only a year away from the first of their seven straight Pac-10 titles and two years away from the national championship.
Expect the same bounce by 2011—part of "winning forever" involves Carroll as the rubber and all of us as the glue.
No. 9: Brian Kelly, Cincinnati Notre Dame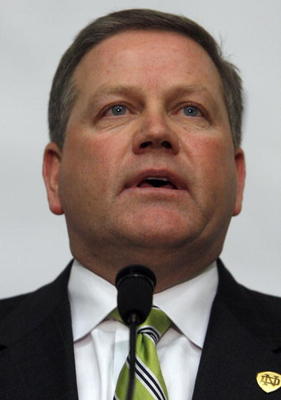 You better be good to be saddled with the Irish's problems. And Kelly is. He started out as a defensive coordinator before taking the head job at Grand Valley State, a program he built into a Division-II power before taking over at Central Michigan.
He led the Chippewas to the MAC championship and discovered NCAA touchdown leader Dan LeFevour from CMU's rolls, where he slowly acclimated himself as an offensive mind.
He took Cincinnati to back-to-back Big East championships, going undefeated in his third year and turning Tony Pike into a dark horse Heisman contender and expected second round draft selection at QB.
His system holds up to the scrutiny of my favorite writer, and I trust (and kind of fear) that he really is the answer at Notre Dame: a coach who preaches simplicity, perfects through hard work, and makes the most of the talent he has.
No. 8: Paul Johnson, Georgia Tech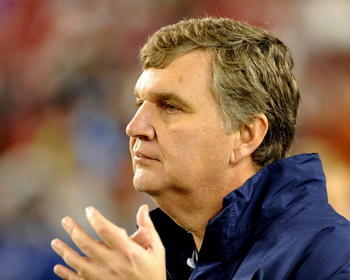 Put simply, he is a brilliant communicator of his system.
He led Georgia Tech to the ACC championship title in only his second year at the helm, and has the triple-option churning out yards nearly without flaw. GT put three players in the ACC's top 12 in rushing, and fielded the nation's second-best wide receiver, Demaryius Thomas, in terms of yards per attempt.
As an (anonymous) admirer and colleague of Johnson's at Georgia Southern put it, "Paul Johnson is an a-hole, but he knows how to win." Hear hear.
No. 7: Kirk Ferentz, Iowa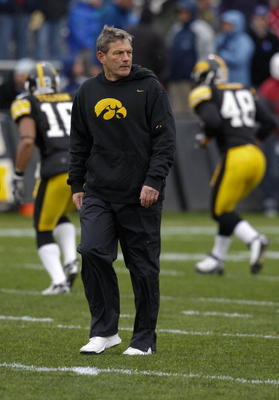 The Hawkeyes had been left for dead on numerous occasions throughout the season—beginning with the preseason news that Jewel Hampton, Shonn Greene's replacement at running back, was out for the season with a torn ACL, and ending with the injury to Ricky Stanzi that led to a -17.5 spread for the de facto Big Ten championship game.
But the Buckeyes still needed overtime to put Iowa away, despite redshirt freshman James Vandenberg making his first start at quarterback, on the road, in the Horseshoe, in a game that decided the Big Ten's automatic BCS bid.
The Hawkeyes won a lot of games close, and few pretty. But you can bet that didn't matter to the voters, who christened Ferentz the Big Ten Coach of the Year, rightfully recognizing his efforts at keeping the faith strong against all odds.
No. 6: Urban Meyer, Florida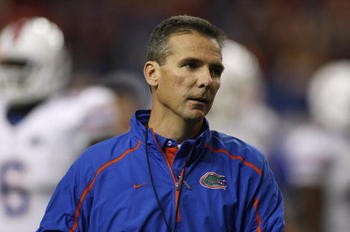 An inexhaustible recruiter, a vengeful schemer, a ruthless warrior, a winner. Call him whatever you like, Urban Meyer probably fits the bill.
That the Gators spent most of the year untested is more the Florida AD's fault than his, but you can bet Meyer will schedule some quality non-conference games in the future—no man wants to see his team knocked around in the SEC championship like Florida was.
But even more than schemes, wins, losses, was how Meyer showed loyalty to UF in not pursuing the Notre Dame job as many expected he would. The vacancy was there, but Meyer is rich and his program is alive in Gainesville, and his "dream," if it did exist as he described, has clearly changed, as they tend to do.
No SEC coach was glad to hear it, but that's evidence of how much respect Meyer, appropriately commands.
The next step is in getting the Gators out of the funk and back to their domineering ways, and not letting it slip against the Bearcats in the Sugar Bowl.
No. 5: Chris Petersen, Boise State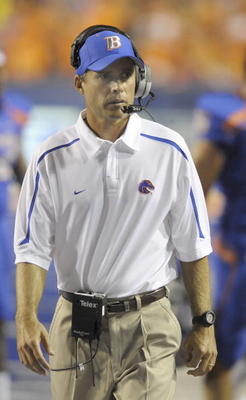 Evidently, Dan Hawkins wasn't the reason for Boise State's successes in the middle part of the year. He's treading water (barely) at Colorado, while Chris Petersen, Boise's offensive coordinator-cum-head coach, has, if anything, improved on the winning tradition Hawkins began.
The better news is, he doesn't look like he's going anywhere. He's raising a family in Boise—really, two families—out of the homegrown talent and the two- and three-star players left behind. With them, he's content to crash the BCS gates year after year and fight for respect from the Big Six.
When the Broncos get it—maybe in the next decade—it'll be almost entirely Petersen's doing. I hope you hear that, all you members of the Boise AD mulling his contract extension.
No. 4: Chip Kelly, Oregon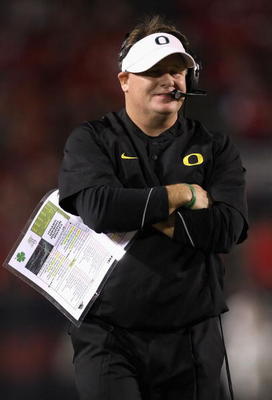 Not only did Chip Kelly, against all odds, pull the Ducks out of their early season tailspin, he led them to the Pac-10 title, put the epic smackdown on USC, and has Oregon in position to be the preseason frontrunner for 2010.
Kelly's efforts are made all the more poignant for what he experienced in his first game as coach, a humiliation at Boise State, the suspension of LeGarrette Blount, and the well-meaning but ominous eye of AD and former coach Mike Bellotti staring over his shoulder.
Oregon better hold on tight to him—the Ducks' predicted domination of the next decade is contingent on his name being on the front office door.
No. 3: Gary Patterson, TCU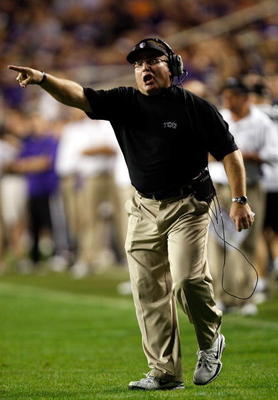 TCU's Gary Patterson has discovered the ingredients of a winning system in picking the players left behind by the major Texas programs.
In turn, he kindles their drive for revenge and puts them on defense, where they can use their speed to disrupt the passing game and make plays in the backfield.
Despite replacing seven starters just on defense, TCU fielded the country's top unit in yards per game that was stifling against the run and punishing against the pass.
The Horned Frogs just signed Patterson to a weighty contract so he's in Fort Worth for the foreseeable future.
Those other southern programs might want to consider picking up the two- and three-star running backs before Patterson can bulk them up and blitz them in droves at their poor, slow-footed quarterback.
No. 2: Mack Brown, Texas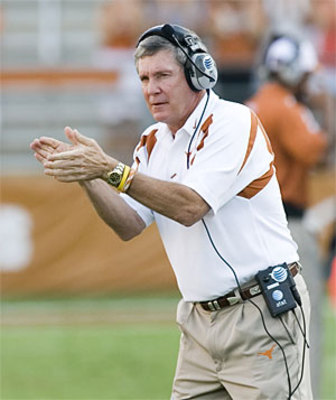 The gold standard by which all coaches ought be judged, Mack Brown runs a clean church, and he runs it well.
Brown has brought the Longhorns full-circle, navigating a senior-led team into national title contention, off of a BCS bowl win in the previous year that set up a high preseason rank that couldn't be touched.
Texas actually beating Alabama in the national championship would probably stop my heart, so I'll be content to watch the Longhorns play the Tide close and hope for a few uncharacteristic mistakes.
The man makes more money than I'll ever see, but I hope I have enough of a clue to guess why: he's one of the best in the biz.
No. 1: Nick Saban, Alabama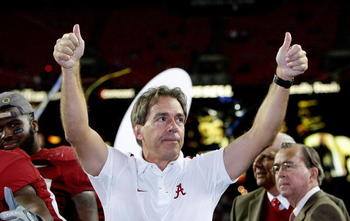 Saban is an outstanding recruiter and a ferocious challenger. He has restored pride in the Tide and completed an undefeated season in the SEC (not even Urban Meyer can say that), an outstanding feat especially after coming off of another near-undefeated season in only his second year.
He's brought success (ill-tempered success, but success) wherever he's gone, and one hopes he remains at Alabama long enough that a succession plan becomes clearer than it has in the past.
Until that time, Tide fans will reap the reward of the country's greatest coach, a modern-day Napoleon whose sights are set on the rest of the mainland.
Check Out Another College Football Slideshow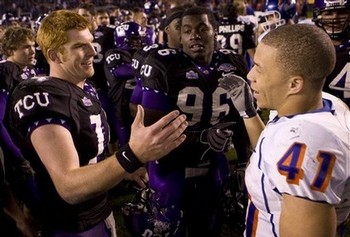 Keep Reading