The Top Five 1-2 Pitching Punches for Each League in 2010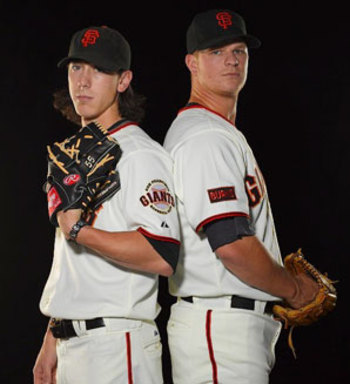 Trades are being made...Some rotations are getting stronger, and others are, well...staying the same.
Here are the top five one-two punches for each league in 2010, based off the current depth/rotations.

5. Detroit's Justin Verlander and Rick Porcello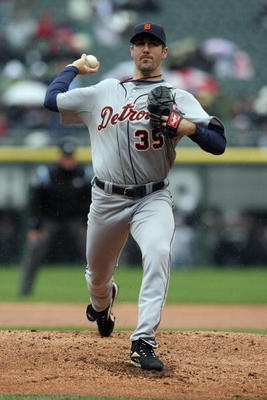 Justin Verlander was absolutely brilliant last year, leading the American League in strikeouts—he also went from leading the league in losses to leading the league in wins.
Rick Porcello had a great rookie season, being able to accumulate 14 wins and a 3.96 ERA. The kid is only 20.
4. Chicago's Mark Buehrle and Jake Peavy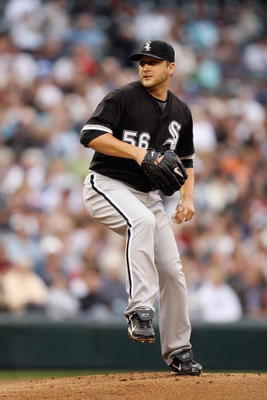 Mark Buehrle continues to win. Mr. Perfect had 13 wins last year with a 3.84 ERA and continues to be the rock of the White Sox pitching staff.
Jake Peavy adds a former Cy Young arm to the Sox rotation. After his injury, he started three games for the White Sox and only yielded three runs. He's not going to have Petco Park/NL numbers, but he'll still be good.
3. New York's CC Sabathia and AJ Burnett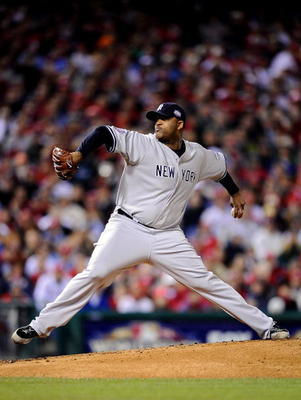 We can expect CC Sabathia to continue his fantastic play. He played like he was paid to play—3.37 ERA and 197 strikeouts are more than impressive.
AJ Burnett, on the other hand, was just alright last year—and that's good enough for the money he's making. Are we going to see better than a 4.04 ERA and 1.40 WHIP?
2. Boston's Josh Beckett and Jon Lester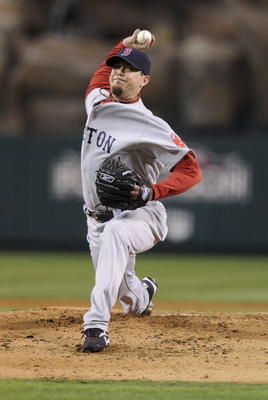 Josh Beckett wasn't his best last year...and he was still good. He racked up 17 wins with a 1.19 WHIP and 199 strikeouts.
Jon Lester continues to strike people out (225 Ks last year). His 15 wins and 3.48 ERA weren't too shabby either.
1. Seattle's Felix Hernandez and Cliff Lee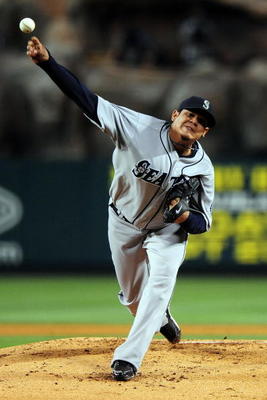 King Felix was arguably the best pitcher in baseball last year. He finished second in Cy Young voting, with 19 wins, 2.49 ERA, and 217 Ks. He has triple-crown potential.
The Mariners also just acquired former Cy Young winner Cliff Lee. An unknown nugget is that Lee had a lower ERA in the AL than NL last year, which signals good things for the Ms.
5. Arizona's Dan Haren and Brandon Webb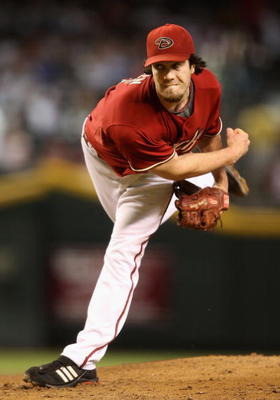 Dan Haren was phenomenal last year. And he should have had at least five or six more wins than he did to complement his 3.14 ERA and minuscule 1.00 WHIP.
Brandon Webb was injured last year, but we should expect him to come back in full force. The guy's a stud, winning the Cy Young in 2006, and finishing in second in 2007 and 2008.
4. Philadelphia's Roy Halladay and Cole Hamels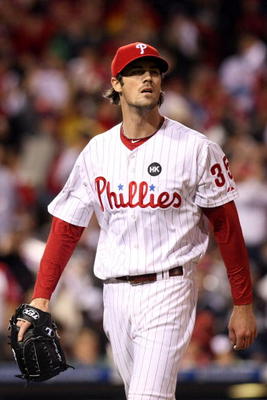 Philadelphia went from Cliff Lee to Roy Halladay...and people are complaining. Seriously? Roy Halladay is the best pitcher in the game today, and I predict he'll win the NL Cy Young in 2010. His numbers are about to deflate massively in the NL.
On the other hand, Cole Hamels has to step up. He had a 4.32 ERA which was over a point higher than the previous year. We should expect improvements from Hamels.
3. Chicago's Carlos Zambrano and Ted Lilly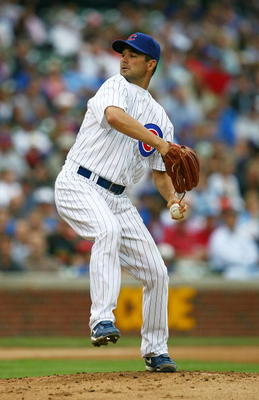 Carlos Zambrano has his good days and his bad days. When he's good, he's unstoppable. He put up respectable numbers, though not his best, last year with a 3.77 ERA and 9 wins.
Ted Lilly was a pleasant surprise for the Cubs last year. He compiled 12 wins with a tiny 3.10 WHIP and 1.09 WHIP—both numbers significantly lower than his career averages.
2. San Francisco's Tim Lincecum and Matt Cain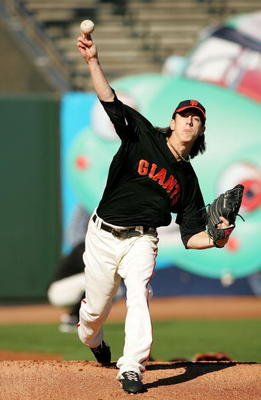 Tiny Tim won his second consecutive Cy Young award and is already generating Hall of Fame buzz at the age of 25. He led the NL in strikeouts with 261 and complete games with four.
Matt Cain got no love, in the form of second or third place votes, in Cy Young voting despite having a 14-8 record, four complete games, 2.89 ERA, and 1.18 WHIP. He's pitched at least 200 innings for three straight years.
1. St. Louis's Chris Carpenter and Adam Wainwright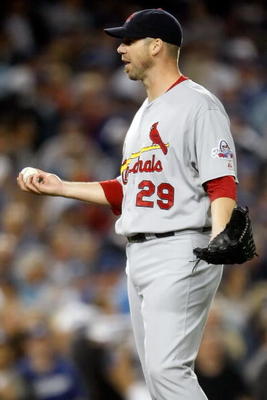 Was there any doubt? What people expected to happen happened. Carpenter and Wainwright split the Cy Young vote allowing Linceucm to win.
Wainwright finished with the most first place votes, yet ended up in third place. He led the NL in wins (19) and innings pitched (233) last year and we can expect him to be just as good next year. He was snubbed of many wins, due to his offense, last year.
Chris Carpenter remains one of the best pitchers in baseball. He led the NL in ERA (2.24) and win percentage (.810) last year. He will also be up for another Cy Young next year.
Best of the Rest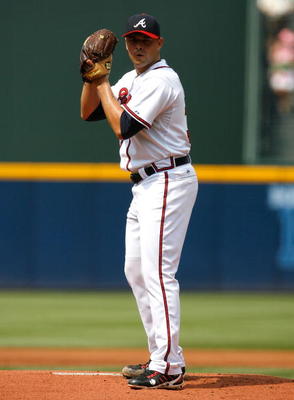 --Atlanta
How can you not include the Braves?? Well, because Derek Lowe is their supposed ace and he, well, stinks. The Braves have the best five-man rotation in baseball, just none of them is a true ace. Jurrjens is an underrated stud, Vazquez turned his career around, Hudson looks good, and Hanson is going to be a star.
--Milwaukee
Yovani Gallardo is underrated, and when healthy, is a dominant force. He and Randy Wolf are going to help Milwaukee actually have a decent pitching staff next year.
--Los Angeles
The McCourts divorce is preventing the Dodgers from doing anything. Kershaw is absolutely brilliant, but Chad Billingsley just collapsed last year. There's no true ace.
Keep Reading