The Top 10 Gaffes Lane Kiffin Has Made At Tennessee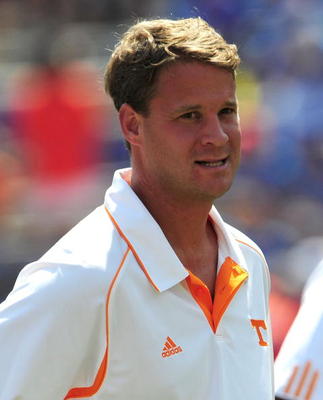 The nerdlings at the NCAA statistical bureau have crunched some numbers, and are saying that the average college football coach makes 1.4 major gaffes per year.
Most of the time that involves silly things like forgetting the name of a recruit's mom, using the salad fork instead of the entree fork at the end-of-year banquet, or punting on first down (which Jim Tressel still maintains is not a gaffe).
But for Tennessee head coach Lane Kiffin, gaffes flutter from the sky like Jonathon Crompton interceptions.
It's been a tumultuous year for the rookie head coach, and one that's been begging for a slideshow since his staff first plugged in the smoke machine and cued up the fake microphones.
Here are, in chronological order, the top 10 gaffes of the Kiffin era.
Read on, you lover of schadenfreude you!
Stealing Tom Cable's Coach
Kiffin ruffled the feathers of his former employer when he hired James Cregg away from the Raiders with two weeks left in the NFL season.
Cable indicated that he planned to confront Kiffin on the incident. And considering how he deals with things, that might not end well.
Calling Out Urban Meyer—Twice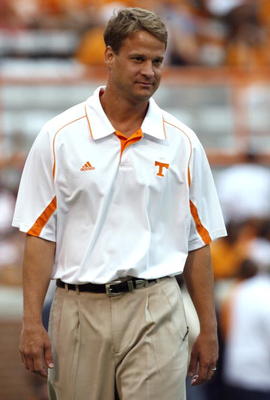 Kiffin slighted the Gators twice, accusing Urban Meyer of a recruiting violation that wasn't a violation (which is itself a violation, and including singing Rocky Top after the Vols beat Florida in a list of experiences he looked forward to as Tennessee coach, which he wasn't able to do.
I'll bet he's one of those guys that buys into the 2012 end-of-the-world thing, too.
How They Have Fun In South Carolina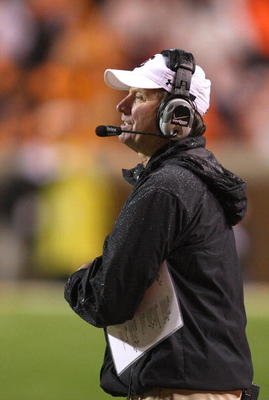 Kiffin disparaged the entire state of South Carolina when he insisted to a recruit that he would be pumping gas for the rest of his life if he ended up signing with the Gamecocks, because that's what all the other players ended up doing.
At his Shell Station in Charleston, George Rogers must have been fuming.
Kiffin Goes Outside The Lines, and Bounds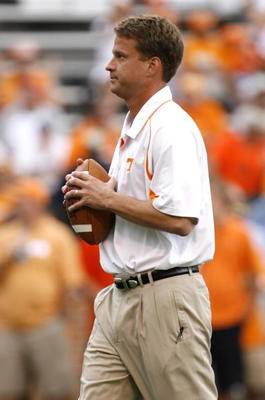 Kiffin made another recruiting gaffe when he allowed ESPN's Outside The Lines segment to film him meeting with recruits.
And there was tape of the incident, so this one was kind of hard to argue against.
So-And-So Is An Outstanding Player, Is What He Meant To Say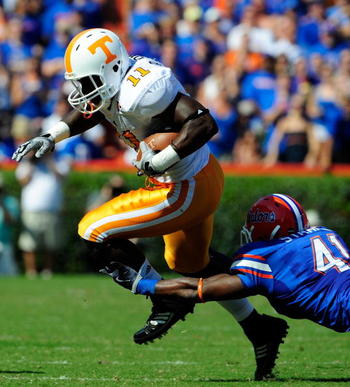 Kiffin piled on the violations when he staged mock press conferences for his recruits during a visit to campus, and used smoke machines to enhance the illusion of celebrity.
He also referred to No. 1 overall running back Bryce Brown by name on the radio, a recruiting no-no that indicated either his inexperience at the collegiate level or his sly and subtle tactic of letting his lover know he was thinking of him.
Disparaging Pahokee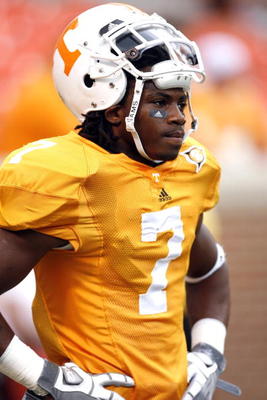 Kiffin put the cherry on top when he insinuated that Nu'Keese Richardson's papers might not get sent in because of a conspiracy against him by Pahokee's coaches.
The Pahokee program demanded an apology they never received—by that time, the Vols PR machine had run out of ways to say "I'm sorry."
Three Players Get Arrested
The arrests of Nu'Keese Richardson, Janzen Jackson, and Mike Edwards for alleged armed robbery ground the Tennessee program to a halt.
Kiffin immediately suspended all three players from the team indefinitely, and made those suspensions final for Richardson and Edwards a week later.
Jackson was reinstated when mitigating circumstances were revealed, but worst of all, Kiffin had just reported that his team had had no off the field incidents, with full knowledge of their arrests.
Kiffin Offers His Prediction on Alabama/Florida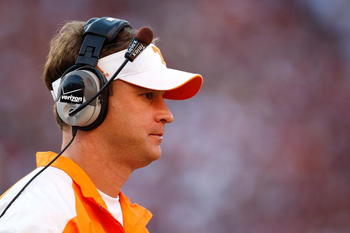 Kiffin's infamous take on the SEC Championship game—that Florida had "better players," but that Alabama had "better coaches"— was vintage Kiffin: a double-backhanded compliment that offered no clear prediction on the winner and managed to piss off everybody.
They Call Them Flight Attendants Now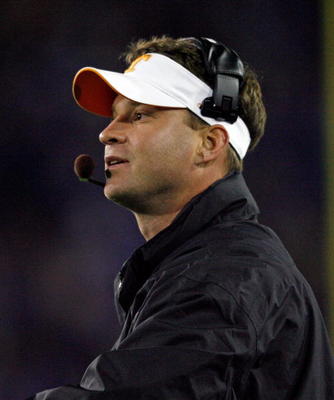 The Tennessee program is in the news again. The NCAA is investigating Tennessee's use of "hostesses" (read: the kind of women in a Mike McD slideshow) that facilitate the good time recruits have while on campus.
Everybody does it, but when you've generated the kind of buzz Kiffin has, you're the one that gets noticed. The squeaky wheel gets the grease, if you'll pardon the visual.
Oh, Interns.
Along with the hostesses story looms another potential violation. Kiffin allegedly procured the services of "recruiting intern" Steve Rubio, with whom he visited recruits and prospects at St. Thomas Aquinas.
Rubio, who played football for Aquinas, is not sanctioned to recruit on Tennessee's behalf. Worst of all was that, when asked whether Rubio had any direct contact with recruits, Kiffin responded, "Not that I know of."
What he doesn't know could hurt him.
Check Out Another Slideshow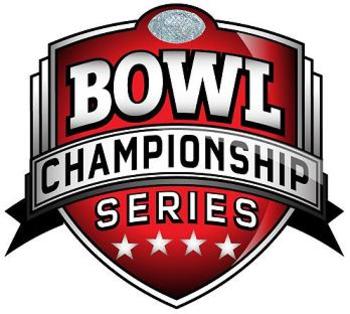 Keep Reading