The Biggest Busts of the Decade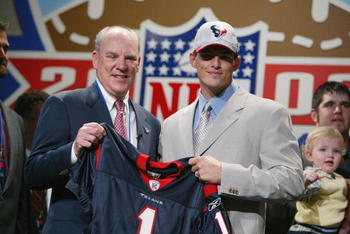 Every year, there are huge expectations for the top ranked players coming out of college. Players drafted the top of the draft often fall short of expectations, while players drafted in the 7th round fight their way to Pro Bowls.
This slideshow will go through the drafts from 2000-2008, analyzing those players that couldn't make the transition from college to pros, as well as showing players of that position that were selected behind them... the ones that fought.
The draft is always interesting and player expectations are never known, which is why these players are the biggest busts of the current decade.
2000: DE Courtney Brown, No.1 Overall, Cleveland Browns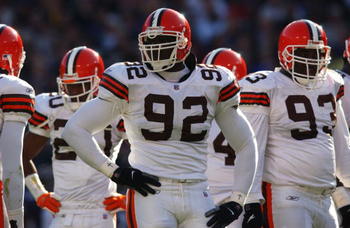 Courtney Brown was a highly regarded Defensive End at Penn State University, and was taken with the No. 1 overall pick by the Cleveland Browns in 2000. In his college career he recorded 33 sacks, and 70 tackles for a loss.
However, the transition to the NFL wasn't as easy. After a decent rookie season, he was plagued by injuries and could never bounce back and return to his dominant ways as a Nittany Lion.
Defensive Ends selected after Brown
No. 12. Shaun Ellis, New York Jets
2001; WR David Terrell, No. 8 Overall, Chicago Bears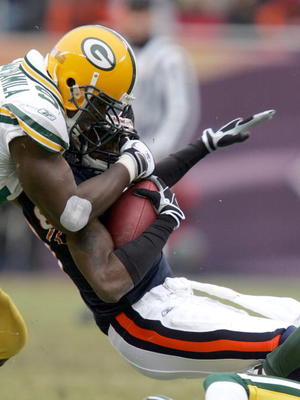 Coming out of the University of Michigan in the 2001 NFL Draft Class, WR David Terrell was highly regarded as a fast, possession receiver. As a Wolverine, he played on a team with Super Bowl winning QB Tom Brady.
Terrell was never able to adjust to the NFL, and was cut. After shuffling through New England, Denver, and a tryout in Kansas City, Terrell is now a free agent.
Wide Receivers taken after Terrell
No. 16 Santana Moss, New York Jets
No. 30 Reggie Wayne, Indianapolis Colts
No. 36 Chad Ochocinco, Cincinnati Bengals
Also: Chris Chambers of the Chiefs, Steve Smith of the Panthers, and T.J Houshmanzadeh of the Seahawks.
2002: The QB's Who Couldn't: David Carr and Joey Harrington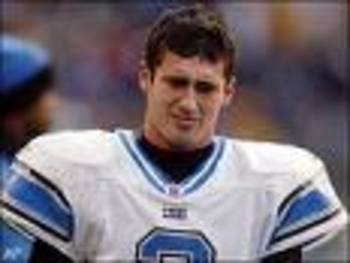 In 2002, The Houston Texans were introduced to the NFL, and selected Fresno State QB David Carr with the No. 1 overall pick, and the Detroit Lions selected Joey Harrington out of Oregon with the No. 3 overall to be the new face of their franchises.
Both were highly ranked,scouted as great quarterbacks, and signed huge contracts with their teams. Neither one was able to take their squads to the next level, and are now journeyman backup quarterbacks.
Quarterbacks taken after Harrington and Carr
No. 108 David Garrard, Jacksonville Jaguars
2003: WR Charles Rogers, No. 2 Overall, Detroit Lions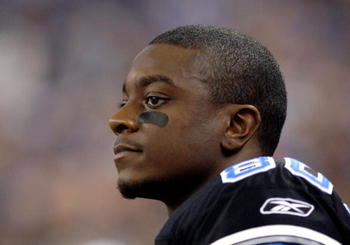 Charles Rogers was a stud at Michigan State and was beginning to be compared to greats like Randy Moss and Jerry Rice, breaking countless records at the school.
The Detroit Lions, had the No. 2 pick this season, and selected a WR for second-year QB Joey Harrington to pass to.
He showed promise throughout his first five games, before breaking his collarbone. He broke the collarbone again, and after a series of drug abuse and suspensions, he was released.
Charles Rogers was a receiver with great promise, and could have been something special, had it not been for the off the field issues.
Wide Receivers selected after Rogers
No.3 Andre Johnson, Houston Texans
No. 54 Anquan Boldin, Arizona Cardinals
Nate Burleson, Justin Gage, Kevin Walter, Bobby Wade, Kevin Curtis
2004: T Robert Gallery, No. 2 Overall, Oakland Raiders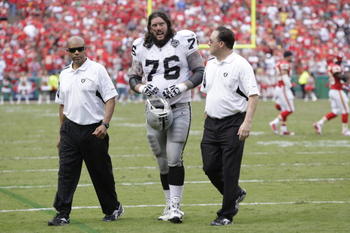 The 2004 Draft featured superstars such as Philip Rivers, Larry Fitzgerald, Eli Manning, Sean Taylor, Kellen Winslow, in addition to multiple other Pro Bowlers.
Robert Gallery was selected out of Iowa by the Oakland Raiders, as a perfect 9.0 scout rating, and received a huge contract from team Owner, Al Davis.
Gallery had the size and strength to be an elite Tackle in the NFL, but was not able to live up to his hype. In 2006 he missed ten games, yet still managed to allow 10.5 sacks, which was 4th most in the league by an offensive lineman.
2005: DB Adam Jones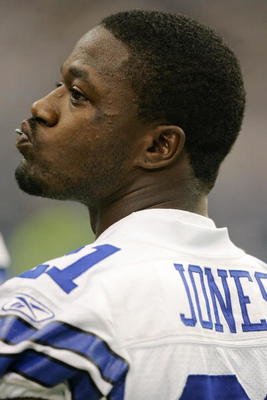 In 2005, the Titans thought they had the cornerback of the future when they selected Adam Jones out of West Virginia with the 6th pick in the draft.
Instantly, he was an issue. He missed most of training camp, due to a holdout, and was involved in several off the field issues, including violating probation for fighting.
In his sophomore season he showed potential, as he totaled 62 tackles, one sack, one forced fumble, 12 deflected passes, 4 interceptions, 130 return yards, one interception touchdown, 14 passes defended (second-team), 440 punt return yards and tied for NFL-high with three punt return touchdowns.
Everything changed in 2007, after a shooting at a Las Vegas strip club, where Jones allegedly threw $30,000 and beat a woman. It is alleged that he ordered a security guard to be shot.
Jones had the potential to be a star, but just like the bust before him, off the field issues ruined his future.
Defensive Backs Selected after Jones
No. 8 Antrell Rolle, Arizona Cardinals
No.9 Carlos Rogers, Washington Redskins
No. 14 Thomas Davis, Carolina Panthers(Now Linebacker)
Corey Webster, Bryant McFadden, Ellis Hobbs, Dominique Foxworth,
2006: QB Matt Leinart, No. 10 Overall, Arizona Cardinals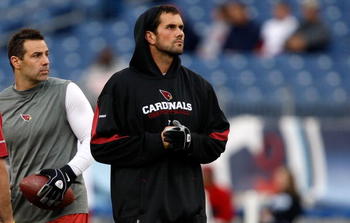 In 2006, Matt Leinart of USC was the second quarterback selected in the draft, behind Vice Young of Texas. Matt Leinart was a highly successful as a Trojan, leading his team to consecutive BCS Championships and an AP Championship.
In the NFL, he took over Kurt Warner's starting job, set a rookie record passing for 405 yards in a loss to the Vikings. After a poor start to the 2007 season, Warner replaced Leinart. Three days later, Leinart broke his collarbone, and was placed on IR.
He now is paid $51 million to sit on the bench and watch the Cardinals go to the Super Bowl.
Quarterbacks selected after Leinart
No. 11 Jay Cutler, Denver Broncos
2007: QB JaMarcus Russell, No.1 Overall, Oakland Raiders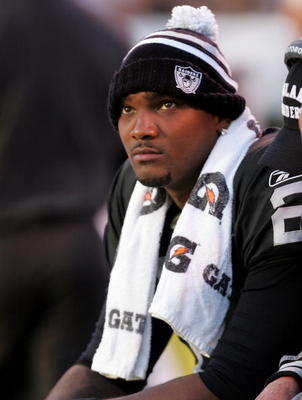 JaMarcus Russell stands at 6'5, weighs 265 lbs, and has a cannon for an arm. Al Davis thought this was exactly what the Raiders needed, when he selected the quarterback out of LSU with the No. 1 overall pick.
After signing a $68 million dollar contract, he was a disaster in his rookie season, passing for only two touchdowns, and throwing ten interceptions.
His play was a disappointment again in his sophomore campaign, and was recently replaced by Bruce Gradkowski, who is now the man under center for the Raydahs.
Quarterbacks taken after Russell
Brady Quinn, Tyler Thigpen
2008: RB Darren McFadden, No. 4 Overall, Oakland Raiders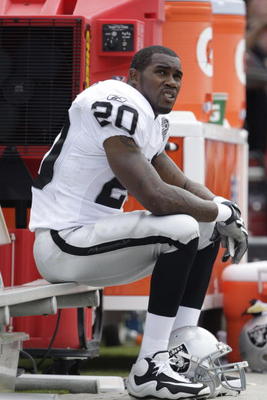 As an Arkansas Razorback, Darren McFadden was a stellar runningback, yet his draft stock was questioned, due to off the field incidents, as well as paternity issues.
McFadden has all the ability to be a running back, but he has only started ten games in both of his seasons, and sits behind Justin Fargas and Michael Bush, which proves his selection was not worth the price tag.
Running Backs taken behind McFadden:
No. 13. Jonathon Stewart, Carolina Panthers
No. 22. Felix Jones, Dallas Cowboys
No. 23. Chris Johnson, Tennessee Titans
Keep Reading