The Most Frustrating Teams in the NFL in 2009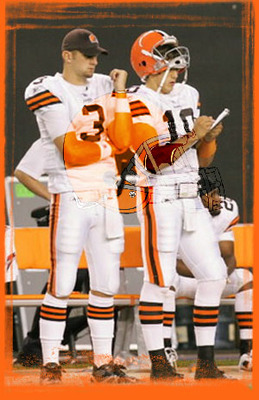 Whether it be consistent failure, not reaching expectations, or horrible inconsistency, many teams give their fans plenty of reason for aspirin and antacids.
These teams all share a common thread, causing night sweats and hand-wringing amongst their fans across the 2009 NFL season. Here they are, the most frustrating teams of 2009:
Oakland Raiders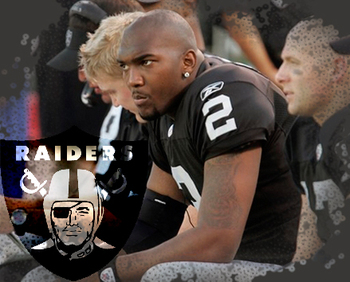 Approaching a frustrating decade.
The Raiders continually tease, with enough raw talent on their roster for fans to say, "if a few of these young guys just reach their potential" for several years now.
Some have (their Scrabble-game friendly cornerback, for example), but far too many have failed to make good on expectations.
This year's frustration has a focal point in the form of JaMarcus Russell. Barring significant change while replacing the injured Bruce Gradkowski, he has given himself candidacy for one of the worst seasons by a starting quarterback ever.
The spark Gradkowski brought to the lineup (two upset wins in three starts) just magnifies Russell's shortcomings.
To add to this frustration, a team looking to build on some second half success towards a solid closing to the year had to witness Gradkowski go down with injury, possibly for the year.
Since 2003, the Raiders have failed to post a record better than 5-11. That stretch of futility and carousel of coaches gives fans fits of frustration.
Washington Redskins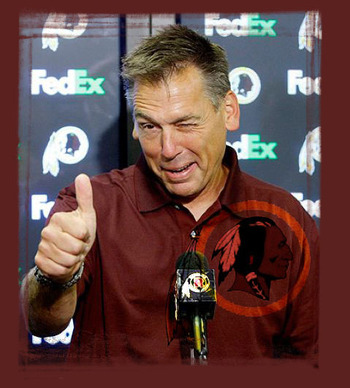 They just aren't winning.
In the first half of the season the team was the ultimate frustration for playing poorly while losing.
The defining moment of this year is likely to be the Detroit Lions finally winning by defeating Washington in week three.
The Redskins then entered the midpoint of the year with a 2-6 record, an emasculated coach stripped of play calling duties, and an offense incapable of scoring more than 17 points—even against the worst of the league.
The team has come into the second half in a different, but equally frustrating, manner. They are playing far better now than at any point in the first half of the year.
They have posted at least 24 points in four of the six games against much tougher opponents. So why the frustration? Because they are still losing.
Moral victories only go so far when dropping to the Cowboys, Eagles, and Saints by a total (not average) of seven points. This team is presently 4-9 despite an easy first half schedule and good second half play.
If they had managed to play at their present level all year they could easily be 7-6 and fighting for a wild card.
New York Jets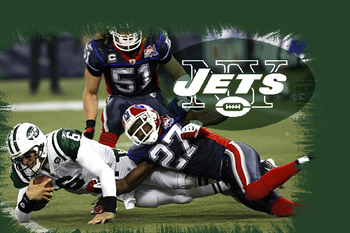 The ultimate teases in football. The Jets opened the year 3-0 including a moxie-making victory over the division rival New England Patriots.
Mark Sanchez looked primed for Offensive Rookie of the Year while the defense was frustrating even the best of offenses.
They then ran into the Saints and the wheels fell off. The Jets ran up a 1-6 record following that opening flurry, dropping the team to 4-6 following a loss to those very same Patriots they had embarrassed in Week Two.
Sanchez regressed to his rookie status and the team continuously fell short.
They had appeared to have completed another collapse en route to missing the playoffs and likely fighting just for a .500 record.
Instead of giving in, the team followed the seven game slump with three consecutive wins to reignite their playoff hopes. At 7-6 the team is in a four way tie for the final wildcard but plays a tough three games to close the season.
Is this the year they actually turn things around, or will they continue to frustrate fans with tantalizing teases of success only to fall just short once more?
Carolina Panthers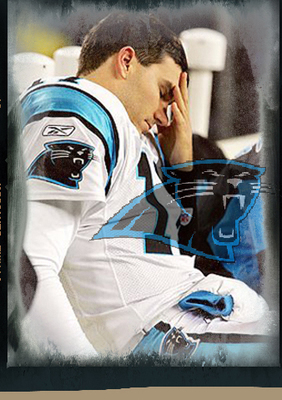 AKA why are we paying this guy?
Carolina put together a great playoff formula over the years. Solid defense, great running game, all the pieces looked in place to be a deep playoff threat again despite the setback against Arizona in the playoffs.
The team then caused more than a few to scratch their heads by inking 34-year-old Jake Delhomme to a big long-term deal. They also began the season throwing the football a lot…to the other team.
Delhomme threw 13 interceptions in the first six games en route to a 2-4 start that crippled the team's playoff hopes.
They have translated a difficult second half schedule into mediocrity (going 3-4 in the last seven games), but playing tougher while not coughing up the ball nearly as much.
To complete the final frustrating turn of events, Delhomme regressed and threw four picks in his final game in Week 12 against the Jets before missing the last two games due to injury.
The great frustration: with all the money tied up in him, the team is likely to continue to put its hopes on Delhomme for at least one more year, likely two.
Cleveland Browns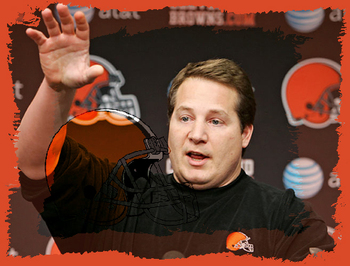 Futility, thy name is Cleveland.
While they share the league cellar with teams like Tampa Bay (1-12), Detroit (2-11), the Rams (1-12) and the Chiefs (3-10), the Browns have shown a futility for most of the year that is far more embarrassing.
All four of the aforementioned teams were young and knew going in they would post poor records whilst rebuilding.
Cleveland was seeking to prove last year's bump in the road was the fluke, not the 10-6 playoff Browns of 2007. They brought in recent firee Eric Mangini to coach the team, and promptly traded out of the fifth overall pick and unloaded tight end Kellen Winslow.
Mangini spent the offseason not announcing a starting quarterback before finally deciding on Brady Quinn to start the year.
After a mere three games, Quinn was yanked for Derek Anderson, who played far worse than Quinn (without the benefit of reasons like inexperience and limited time as the starter).
Quinn has now returned to the lineup, and is even helping the team look respectable in a close game against San Diego and a win over the reeling Steelers.
Cleveland fans have to be frustrated to see a franchise that looked a few pieces short of relevance spending so much time at 32nd on many pundits' power rankings.
Kansas City Chiefs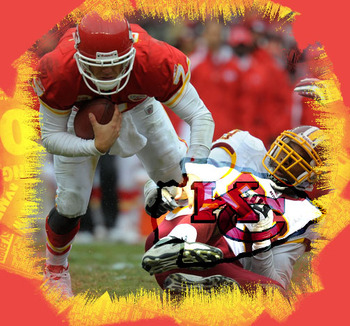 It was accepted that the team was still rebuilding. If there were any doubt, the trade of Tony Gonzalez to Atlanta solidified the notion.
But progress was expected. The team traded for its franchise quarterback in Matt Cassel, had some encouragement along a young receiving corps, and put a few pieces into the defense.
The Chiefs even showed glimpses of rejuvenating behind a three game stretch that saw the team put up 64 points and finish with back-to-back wins (including an upset over a Steelers team not yet in full free-fall).
An interdivisional matchup with San Diego clamped that optimism down quick as progress was stunted behind a 43-14 defeat that started a current three-game losing streak.
Kansas City frustrates fans because Matt Cassel and the offense looked to be finally turning a corner, then slammed back down into early-season mode.
The team was not expecting a playoff run this year, but a mere one game improvement is not sufficient with so many bad teams in the league.
Houston Texans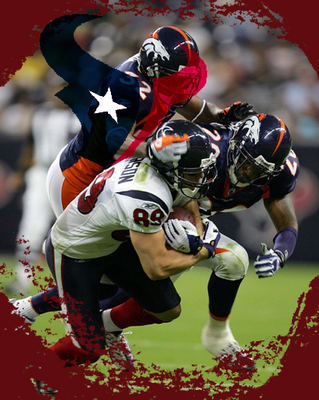 One of the more popular dark horse picks to make the playoffs this year.
Houston's rallying cry the last few years had been "with a healthy Matt Schaub, we can really do things."
They finally got their wish and have played the full year with Matt Schaub and been rewarded with big numbers from their quarterback.
They also scored one of the better picks in the draft, landing rookie of the year candidate Brian Cushing with a mid-first round pick while many taken above him have struggled.
With an explosive offense and an improved defense this should be the year Houston turned the corner, right?
Well unfortunately great paper teams don't always win games. Houston has ridden a 1-5 division record to a 6-7 overall result that leaves fans wondering what it will take to push them further up in the crowded AFC South.
Fans of Houston get a double dose of frustration for not measuring up to the hype and for being trapped in the best division (as measured by the overall win-loss record of the four teams in the division) in football.
Pittsburgh Steelers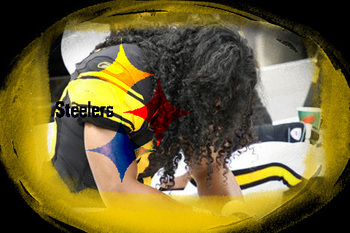 From defending champs to near collapse. The team began the year 6-2 and looking every bit the contender to attempt a Super Bowl repeat.
Troy Polamalu had been suffering injury problems most of the year, but the team was ultimately rolling along well without him, having just defeated the Broncos and Vikings in back-to-back weeks.
Cincinnati then rolled into Pittsburgh for the second time that year, and managed a victory for the second time. Polamalu reinjured his knee and the team began a five-game skid they are still riding.
Internal strife (injuries, Hines Ward's comments regarding Roethlisberger's concussion, questions about the staff) has threatened the team's chemistry, and may just be a stumbling block going into 2010.
Beyond missing the playoffs the year after raising the Vince Lombardi trophy, what frustrates Pittsburgh fans the most is that the five game losing streak has included losses to the Kansas City Chiefs, Oakland Raiders, and Cleveland Browns.
These three teams have a combined record of 8-30 (or winning one of every seven, if you take away the games with Pittsburgh).
San Francisco 49ers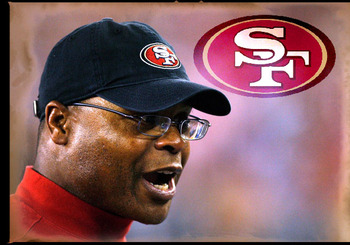 This team looked poised to take that ever-popular "next step." Head coach Mike Singletary had the team playing vastly improved football to close 2008.
They began the year 3-1 with the sole loss against the high-powered Minnesota Vikings. Fans started to hope the years of mediocrity were over and the team was finally playoff-bound again.
San Francisco has since learned what it is like to play outside the NFC West division (where all three of their wins came from) by going 2-6 outside the division.
They have been 3-6 total following that opening enthusiasm, and are practically (though not mathematically) out of playoff contention.
With an array of bad teams this year, San Francisco was primed to make that transition into relevance again, but instead have frustrated fans that can expect a .500 year and a "we'll get 'em next year" approach.
Tennessee Titans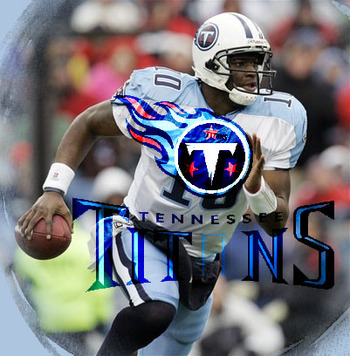 Or just a game or two too late.
Tennessee put together a remarkable stretch following its 0-6 start to the year, cobbling five straight wins through a rejuvenated defense and Vince Young-quarterbacked offense.
Running into the immovable object that is Indianapolis probably ended any real chance of turning a miracle playoff run from that disastrous start however.
This goes to tantalize fans with the "what ifs." A dangerous hindsight-based notion that can haunt fans and teams alike. "What if they had made the change to Vince Young a game sooner?" Or, "What if they had managed one win during those first six?"
In either event the team would still have an outside chance at making the playoffs with the final wildcard seed.
This team goes on the most frustrating list for the great stretch that shows how the team should have played all year, as well as for putting it together just a little too late to have a true run at the playoffs.
Arizona Cardinals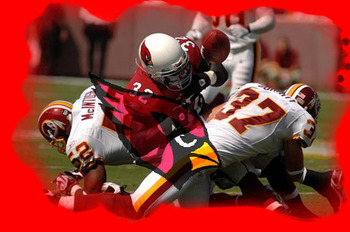 The division leading, playoff bound Cardinals are a monument to frustration this year.
How can you be listed as such while holding a two game division lead? Inconsistency.
The Cardinals looked like world-beaters in toppling the Minnesota Vikings, only to cough up seven turnovers in losing to the mediocre San Francisco 49ers.
They have also dropped a game to the sub-par Carolina Panthers as well as losing the opener to the 49ers again.
This team can look like a dominant force aiming for the Super Bowl, or a wildcard benefiting from a relatively weak division.
As long as Kurt Warner is healthy, this team is dangerous, but they could just as easily be eliminated in the first round as make the Super Bowl this year.
For a fan, failing to maintain that greatness consistently has to be frustrating.
New England Patriots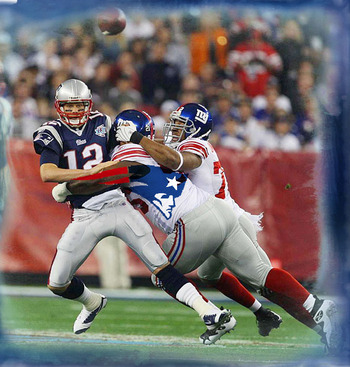 Like the Cardinals, this is an 8-5 playoff bound team likely to win its division. Unlike the Cardinals, the Patriots will need to do well down the final stretch to hold onto their division with two 7-6 teams nipping at their heels.
The Patriots' frustrations stem from a "tradition of excellence," so to speak.
This is a team accustomed to dominance. They may very well post a weaker record this year than they did last year playing without Tom Brady.
The defense is rapidly becoming a sieve and the first major stirrings of dissension have rustled through camp.
Questioning of Randy Moss' commitment, Bill Belichick's play calling, and the sending home of four players have shaken up a locker room known in the past for battle-worn veterans and a dedication to success.
For a team accustomed to spending its time among the NFL's elite, slipping down a peg this year after visions of Brady's messianic return has to be frustrating.
Dallas Cowboys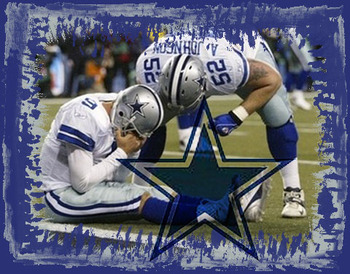 Another playoff caliber team with nervous fans.
Dallas took a high powered 8-3 team into December and two games later the division belonged to…Philadelphia.
This team has been a roller coaster this year. Unlike the any-given-Sunday inconsistency of the Cardinals, the Cowboys have tended to clump performances together, playing well for 2-3 games then following it with a pair of poor performances.
Dallas has been a preseason darling for several years now, with many of the pieces to make a run, every year optimism surrounds a team that could very easily be fighting for the conference crown.
Instead, fans have begun to hope for even a lone playoff victory with the team historically closing the year poorly.
With a mere one game lead over New York, and a difficult remaining schedule, Dallas fans are feeling the frustration of possibly missing the playoffs just a few weeks after they were thinking about the noise they could make there.
Indianapolis Colts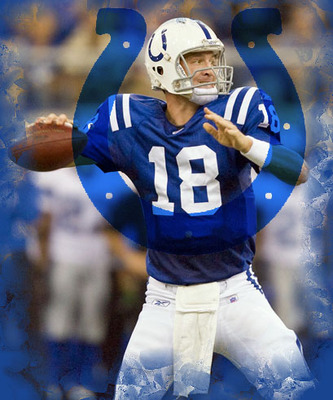 The "frustrating other fans'" pick.
This team is doing things it shouldn't be doing during their unbeaten streak.
They have survived an injury gutting of their secondary, the removal of a Hall of Fame wide receiver and the injury of another Pro Bowl-quality wideout.
Beyond overcoming any injury that fate seems to throw at the Colts, fans around the league are continuously frustrated by fourth-quarter comebacks that leave a fan thinking their team just might be the one to finally deal Indy an L, only to have that hope ripped away.
In a year of frustrations they have one very minor one for their own fans as well. The Colts, sitting at 13-0 at present, look to give significant rest to their starters to close the year.
This opens the door to a potential week 16 or 17 upset that one extra quarter of Manning may have averted. Should the Colts lose a game but win the Super Bowl, it will have fans thrilled at the trophy, but forever wondering what could have been if they had stuck around for 16-0.
Keep Reading

Kansas City Chiefs: Like this team?