How Colt McCoy, Toby Gerhart and Others Can Impact Their Draft Status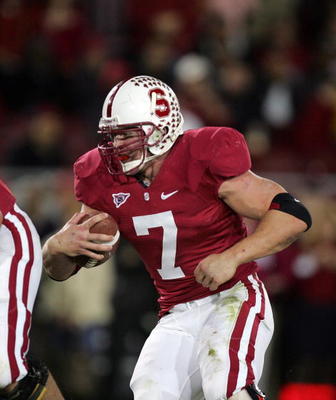 Aside from Senior Bowls, Shrine Games, and other cowtown talent shows of dubious validity, the bowls are the last opportunity for players to make a strong statement on their draft potential.
It's a great time for tough runners to face stiff defenses, pocket passers to test their presence against the rush, and quick defenders to take games on their shoulders with or without the help of their offense.
For some players, all the questions have been answered, and they can sleepwalk their way to $40 million and a top-five selection.
The rest still have something to prove.
Here are 12 players who can make an impact on their draft status with a great performance in the bowls.
Ryan Matthews, Fresno State RB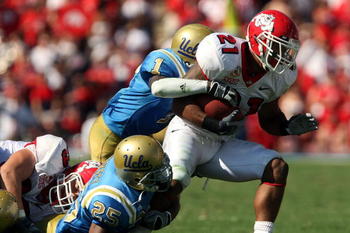 It's not as though Wyoming will put up much of a fight in the New Mexico Bowl, but Fresno State RB Ryan Matthews was recently upgraded to the no. 2 running back overall by Mel Kiper.
A big game showcasing Matthews' outstanding ability between the tackles, and his underrated speed, would be icing on the cake of a 1664 yard, 17 touchdown season. It also might cement him as the no. 2 running back overall, which may have him flirting with the first round.
Tim Tebow, QB, Florida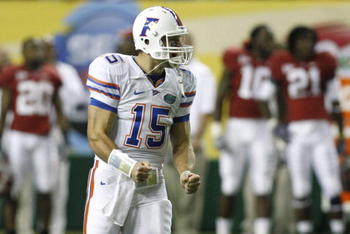 For what Tebow's built at Florida, it's stunning how little respect he gets as a quarterback.
He'll have one last chance to prove he can read and respond to defenses through the air, and he can do it against an overmatched Cincinnati Bearcats defense that is 50th in the country against the pass.
I think it's already too late—like Jaws said on last night's Monday Night Football, Urban Meyer's is not an offense that calls for a lot of passing reads from its QBs. But some draftniks have predicted that teams will at least try Tebow out for the QB position.
This is his last chance to make a claim on being a great passer. Please, Tebow, help us forget how you looked against the Tide.
Tony Pike, QB, Cincinnati
On the other side of the coin is Cincy's Tony Pike, whose intangibles and size project well, but whose production has declined while his interception numbers have risen in the latter part of the year.
Throwing for a few touchdowns and keeping the Bearcats in the game against the Florida Gators would go a long way towards answering questions about his pocket presence.
We'll work on getting him to the Old Country Buffet later.
Toby Gerhart, Stanford RB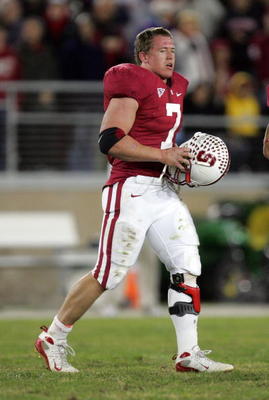 At seventh overall, the Oklahoma rushing defense will be the best Stanford's Toby Gerhart faces all year.
This is a chance for him to show off his speed and stamina against the Sooners' outstanding linebackers and future first rounder Gerald McCoy.
Jahvid Best, RB, Cal
We haven't heard from Best since his brutal injury against Oregon State, and there's no official word that he will play against Utah in the Poinsettia Bowl.
But he better. The injury called his long-term health prospects into question, and he was already struggling to find a rhythm against the better Pac-10 defenses before succumbing to the injury.
The Utes are 56th overall in rush defense, and Best tended to expose bad defenses with multiple touchdown performances when he was healthy.
If he can't get healthy again, he might want to consider spending another year with the Golden Bears.
Colt McCoy, QB, Texas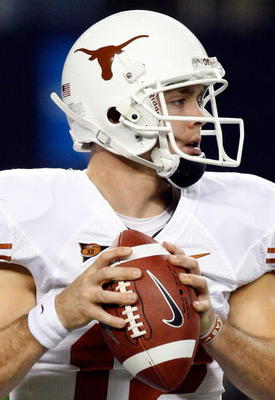 Amazing that despite being the winningest starter in college football history, Colt McCoy still needs to answer questions about his ability.
Well, he does. We all saw that paltry three-interception effort against Nebraska in the Big 12 Championship, and Alabama's defense will be better, if not along the line, than in coverage.
McCoy is the crucial element in the Longhorns' pass-heavy offense. He'll need to use his eyes to look off safeties and keep the downfield attack moving or risk getting his defense ground down by Mark Ingram, Trent Richardson, and the Alabama line.
And I'm sure scouts wouldn't mind seeing him spread the ball around more—Jordan Shipley has more than double the receptions of Texas' Y receiver, Malcolm Williams.
Brandon LaFell, WR, LSU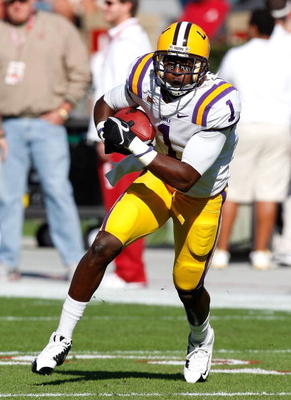 The LSU offense has been a muddled mess all year, and LaFell is nowhere near the top players in terms of output, but he has scouts drooling over his size and speed, and he did catch 10 touchdowns for the Tigers.
He'll line up across from Penn State's iffy passing defense, so he could have as big a game as Devier Posey had against the Nittany Lions. If so, he could stake a claim to be the first wide receiver taken without needing to base it all on potential.
Derrick Morgan, DE, Georgia Tech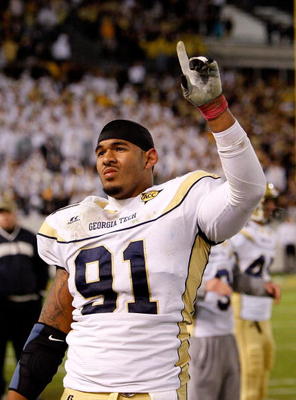 One more great performance from Derrick Morgan—the co-defensive player of the year from the ACC—against an outstanding Iowa offensive line could put him in the first round and maybe as high as the top ten for teams in need of an outstanding pass rusher.
Ryan Mallett, QB, Arkansas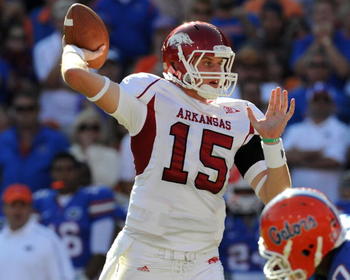 With Jake Locker staying, Ryan Mallett's name has been floated around as a high pick for teams with entrenched starters looking for their next franchise quarterback.
Mallett's only been the starter for a year after transferring from a woeful campaign at Michigan. But he can show he's up to the challenge against a good East Carolina team that harassed Case Keenum into three interceptions and took a win in the Conference USA championship.
Montario Hardesty, RB, Tennessee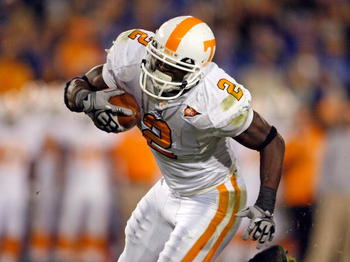 Hardesty is projected as high as the fourth running back taken to some scouts, but he hasn't been gaudy enough to get a lot of attention.
The fourth RB overall might fall to the second or even the early third round, so he'll want to show how he's kept the Tennessee "offense" alive throughout the year against the respected Virginia Tech rushing defense.
His power running style is probably keeping NFL scouts skeptical, but if he can get to a 100+ and get the Vols their best win of the year, he might be able to leap Jahvid Best or Jonathon Dwyer before draft day.
Jevan Snead, QB, Ole Miss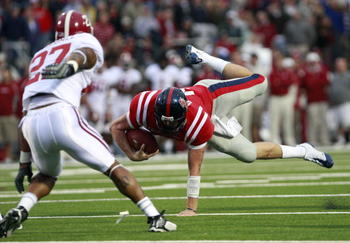 Snead's had a pretty terrible year given the expectations. He entered the season as the projected no. 2 QB behind Sam Bradford, but leaves a middling second-rounder after getting pick-happy in SEC play.
The loss of OT Michael Oher profoundly impacted Ole Miss's pass protection, but Snead's fundamentals haven't checked out all year.
He can light up the Oklahoma State defense like Keenum did, but it would still be wise to remain at Ole Miss another year and try again for a high draft spot barring a mistake-free performance that gets the buzz flowing again.
Corey Wootton, DE, Northwestern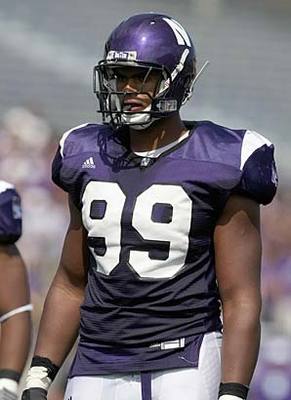 Wootton is projected everywhere from the mid-first to the late second round. He's not a pure defensive end, and would fit more as an OLB in a 3-4, but regardless, he can get some good national exposure by pressuring Chris Todd and keeping the Wildcats in the game against the Auburn Tigers.
I predicted that the better defense will win the day, so hopefully Wootton can disrupt the timing of Gus Malzahn's hurry-up offense by making some plays in the backfield.
Check Out Another College Football Slideshow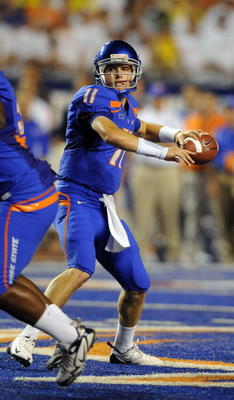 Keep Reading