Los Angeles Kings: 10 Reasons They're the Surprise of the NHL
The Los Angeles Kings have surprised the entire hockey world with their performance this season. The Kings have been overlooked and underappreciated for a long time, but this season has been different.
The Kings have had playoff teams and superstars before, but never a team with the grit and swagger of this year's lineup. The play of the team has excited hockey fans and dubbed the Kings' style of play "Hockeywood."
With an assemblage of skill and role players that have clicked coming out of the gate, the Kings have risen in standings and stature.
Players like Anze Kopitar, Jonathan Quick and Drew Doughty have added speed, finesse, and skill to the lineup.
Others such as Ryan Smyth, Raitis Ivanans and Justin Williams have added character and hustle.
Jack Johnson and Jarret Stoll have provided the puck-moving ability, shooting, and toughness the Kings have badly needed.
Here are the top 10 reasons the Kings are a royal pain to the other teams around the league.
Anze Kopitar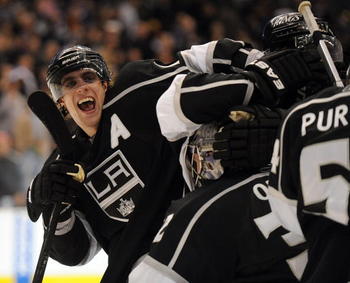 Anze Kopitar has terrific hands, creativity, shiftiness, skating ability and tremendous potential for offensive greatness.
He owns the size all 30 NHL teams crave from the center position. Kopitar is not a physical player, despite his massive frame.
To improve, he must work on his play without the puck, since he's only average in the defensive zone.
Despite the negatives, Kopitar has proven he can carry the offensive load for his team and produce a star performance when it is needed.

Coach Terry Murray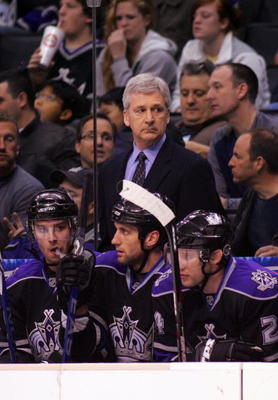 Coach Terry Murray has a tremendous amount of experience in the NHL. He was a player and coach on several teams before developing the style that has managed to keep the Kings players focused and driven toward excellent play.
Murray has been successful in handling star players and role players, and making them all feel equally good about what they contribute to the team.
Drew Doughty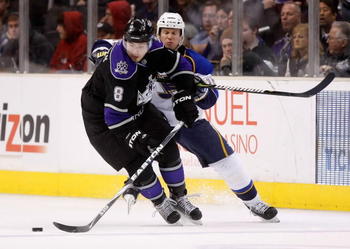 Drew Doughty is only in his sophomore year, and yet, he is being touted as a Norris Trophy candidate. Doughty has superior offensive skills to go along with solid positional play.
Doughty's work on the power play and in penalty-killing roles have showcased his value to the Kings on the blue line.
Jonathan Quick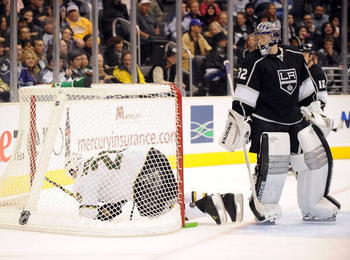 Jonathan Quick has proven that names can sometimes describe the person.
Jonathan Quick's glove hand, his pad and his stick have been fast and up to the task. Quick posted a 3-0-0 record with a 1.58 goals-against average and .941 save percentage, helping the Kings (21-10-3) leap to first place in the Western Conference.
He recorded 26 saves in a 2-1 win over the Calgary Flames Dec. 7, turned aside 29 shots and five of eight shootout attempts in a 3-2 victory over the Phoenix Coyotes Dec. 10, and finished the week by stopping 25 shots and all four shootout attempts in a 3-2 win over the Dallas Stars Dec 12.
Appearing in 31 of the Kings' 34 games, the 23-year-old Milford, Conn. native ranks second among NHL goaltenders in victories (19-9-3) and has posted a 2.60 goals-against average and .903 save percentage.
He is on track to become the first goaltender in Kings franchise history to reach the 20-win mark in fewer than 40 team games (the fastest was Mario Lessard, 40 games, 1980-81).
Ryan Smyth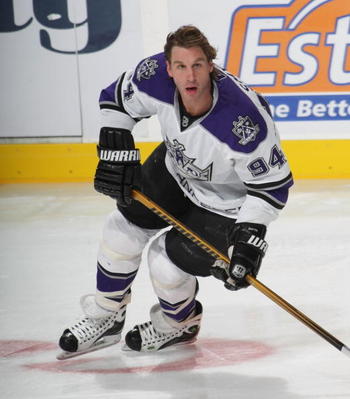 Ryan Smyth has underrated playmaking skills. He goes to the net with vigor, and scores the majority of his goals due to supreme determination and hustling effort.
The intangible is his leadership on the ice, which helps set the tone for the entire team.
Smyth must be careful not to let his breakneck style lead to injuries that could effect the team down the home stretch.
Jack Johnson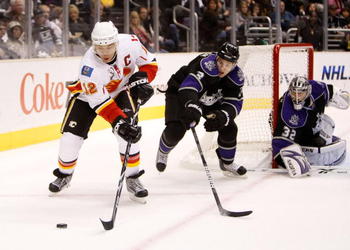 Jack Johnson is an incredible skater. He possesses good size, excellent all-around instincts, physical prowess and offensive upside.
He is never shy about laying on the body, and is better than average for a defenseman when in alone against the goaltender.
He also provides the Kings with two defensemen who can effectively man the point on the power play. He also displays exceptional leadership ability.
Dustin Brown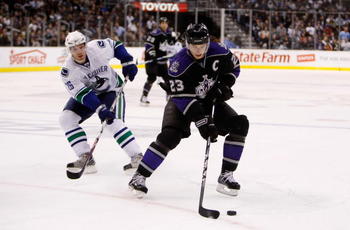 Dustin Brown likes to make the big hit, but is also a consistent body checker. He possesses a sound all-around game.
Brown has goal-scoring instincts and excellent leadership qualities. He has the versatility to play either wing position. He is the captain of the team.
His major flaw is he can get taken out of position looking for the big hit sometimes. He also has a tendency to fall into deep goal-scoring slumps, so offensive consistency can be an issue.
Still, his leadership has helped take the Kings to the top of the standings.
Jarret Stoll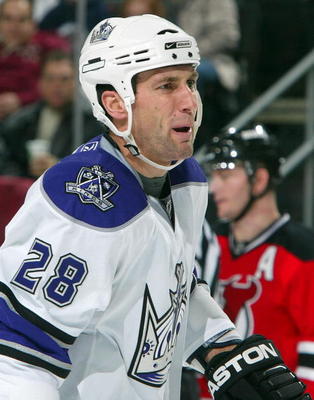 Jarret Stoll has excellent two-way ability and sound leadership qualities.
Stoll also possesses a wicked shot and grit that every team needs to go along with it.
He can also play the point on power plays and gives the Kings another scoring threat from the blue line when called upon.
Alex Frolov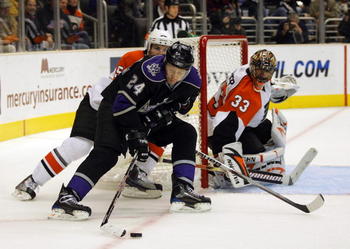 Alexander Frolov has excellent size and reach. He can be an impact forward at both ends of the ice, and provides just that on some nights.
Frolov is great at maintaining possession of the puck in tight spaces, and excels in the corners thanks to superior puck-handling skills.
He is, however, inconsistent, and needs to do a better job of bringing his best game to the rink more consistently.
Justin Williams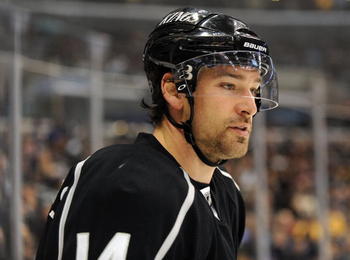 Justin Williams has great speed and quickness. He loves to take the puck wide in making moves on defenders.
He has an accurate shot and possesses sound defensive skills. Like many of his teammates, Williams can display leadership on the ice and in the dressing room.
Michael Handzus (Tied for 10th)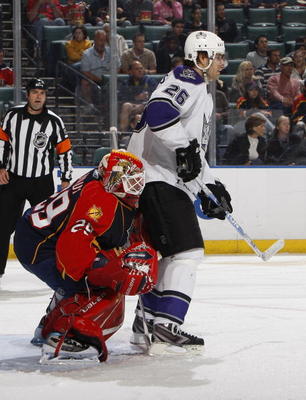 Mike is a load to line up against, at 6'4" and 218 pounds.
He plays solid defense and is also a capable playmaker. He is capable of chipping in with timely goals.
He only lacks speed. He isn't very aggressive for a player with such an imposing frame.
The upside for the Kings is that he has not reached his full potential on offense.
Keep Reading

Los Angeles Kings: Like this team?