What Real Madrid Can Do To Solve the "Problem" Caused By Pepe's Injury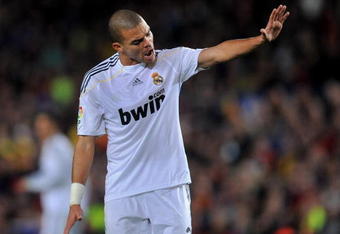 Jasper Juinen/Getty Images
Pepe's injury couldn't have come at a better time for the hundreds and thousands of journalists trying to sell their stories, newspapers, etc with the "January Transfer Window" right around the corner.
I too am one of them, profiting out of someone's injury. Look at me, am I not trying to get readers with this topic, shame on us, we are evil people.
Anyways, I am not here to suggest any random name of a central defender, claiming it to be coming from a reliable "source", because suggesting a name of central defender is the stupidest thing to do when you have been reading or listening to Jorge Valdano's interviews.
I really am sure that the source where the "news" of Real Madrid thinking of signing a central defender is coming from thinks Real Madrid is run by a bunch of buffoons who seriously have no idea what "future planning" means. When you look at the names of players coming up, it will be clear to you.
And because of such "news" articles, I have been asked this question by many Madridistas recently, "Who is going to play central defense?"
I don't answer. I just ask, "Seriously?"
Nearly every Madridista has been brainwashed by the media and is made to believe that after Pepe, there is no one to play in the center of the defense.
When, in reality, it is not as big a deal as it is made out to be. There are four players who can play in the center defense—Sergio Ramos, Ezequiel Garay, Raul Albiol, or Christoph Metzelder. So there are two possibilities, either Real Madrid play Ramos in the center or play him at right back.
Real Madrid play Sergio Ramos at Right Back
This is a fairly obvious solution to Pepe's absence. Stick Ezequiel Garay or Cristoph Metzelder in the center and everyone is happy. I am more with the idea of playing Garay—he was awesome with Racing two years ago. The problem is neither Metzelder nor Garay is as fast as Pepe.
And the other problem with Pepe's injury is that Real Madrid loses depth. Cristoph Metzelder is made out of glass (read: injury-prone), so he can't be counted on.
That only leaves Real with Raul Albiol and Garay for the center, and no one else. Imagine then if someone was to be suspended or worse...injured!
Real Madrid play Sergio Ramos in the center
This one is my favorite option, not only because Sergio Ramos returns to the center, but because you have the option of playing Lassana Diarra at right back (which he has done a few times for Real Madrid) and keeping Alvero Arbeloa at left back. The best part about it is Mahamadou Diarra returning to the center of midfield.
But there is one more problem with that.  In January, Mahamadou Diarra will have to leave for the African Cup of Nations, and that would leave Real with Fernando Gago as a defensive midfielder, so Lassana at right back won't last long.
But Alvaro Arbeloa can shift to play at right back and either Marcelo or Drenthe can play left back. Although no one would be thrilled about seeing Marcelo or Drenthe at left back. If not Drenthe or Marcelo, Manuel Pellegrini can always count on the young left back Marcos Alonso—who he called up to travel to Mestalla.
But the sensible thing would be to not expose Alonso to high expectations or pressure so soon and make do with Lassana at right back or Marcelo/Drenthe at left back and buy a left back in the January window.
But probably the best thing to do until Pepe returns is to play Arbeloa at right back, Sergio Ramos and Albiol in the center and the new left back at...well...left back. And when Pepe returns, Alvaro can be a cover for both Sergio Ramos and the left back, and we still have Metzelder (hopefully) and Garay as cover for Albiol and Pepe.
I wish Pepe a speedy recovery even though I know it will take him six months at least to return to action, and I also wish Manuel Pellegrini does use Marcos Alonso at left back for matches against lesser teams because first-team experience works wonders. Hala Madrid!
This article is
What is the duplicate article?
Why is this article offensive?
Where is this article plagiarized from?
Why is this article poorly edited?

Real Madrid: Like this team?