Top 10 Reasons the Los Angeles Kings Are Near the Top of the NHL Pacific Division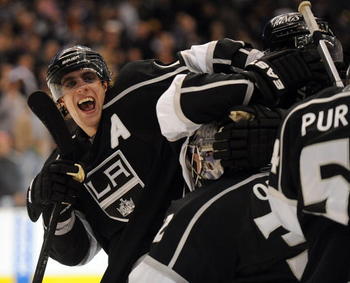 One of the surprise stories in the NHL this season, the Los Angeles Kings are now tied for first in the NHL Pacific Division with the San Jose Sharks.
While the Kings fail to lead in any categories the NHL might consider critical to success, ie. goals against, goals for, penalty kill, or power play, somehow they manage to stay near the leaderboard in terms of the overall standings.
Here's how...
#10: Terry Murray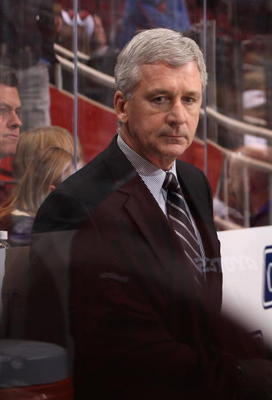 Terry Murray has enforced a new system in Los Angeles, and the players are buying in.
It took players like Anze Kopitar some time to get used to and trust that what Murray was laying as a foundation would work, but it has and more players than Anze Kopitar are reaping the rewards.
Even forwards like Alexander Frolov, who just weeks ago was benched for being told one too many times he needed to adapt or leave, have really seen a second coming in terms of production this season.
Terry Murray finally seems to have a young, eager to learn group at his disposal and he's making the most of it.
# 9 : The Addition Of Ryan Smyth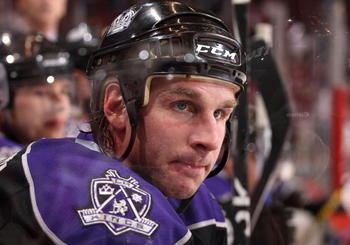 When the Ryan Smyth trade happened, it was kind of a big deal and kind of not a big deal.
Smyth was looked at by most as a star whose best years were behind him. He was being shipped away from a Colorado team that was in a serious re-building phase (ironically they are doing much better than expected as well) and looking to ship salary.
Ryan Smyth had plenty of salary bringing a remaining three years at $6.25 million per year to L.A., when many thought the Kings might make a move for a younger more "superstar" like forward.
It turns out that despite Smyth's injuries (the main reason he's down the list at No. 9), he's been exactly what a young Kings team needed and his point production to start the year was off the charts.
In only 22 games, Smyth has nine goals and 23 points, still fifth best on the team.
#8: The Somewhat Surprising Play of Jarret Stoll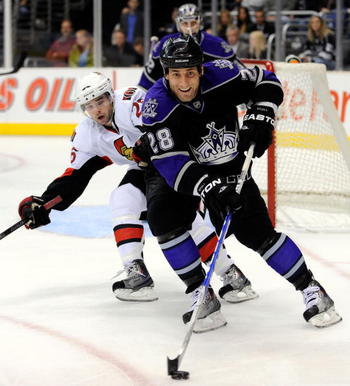 As an Edmonton Oilers fan, I got to see a lot of Jarret Stoll. When he left Edmonton in a trade for Lubomir Visnovsky, it was thought by Oiler fans that Stoll's health and productive days were behind him.
There was even some speculation after the trade took place that Kings GM Dean Lombardi called up Kevin Lowe to admit that the Oilers got the better of him in that trade.
It turns out, while Visnovsky has been fantastic for Edmonton, Stoll and Matt Greene are a good fit in L.A.
Stoll now has 25 points in 33 games. 10 of which are goals and three of which have come on the power play. He's currently on pace for 60 points and 24 goals, and that kind of production hasn't been something he's been able to create since 2005/2006 when he scored 22 goals and 68 points with the Oilers.
As always, Stoll is a horse in the faceoff circle and plays a pivitol role in the Kings penalty kill.
It was thought that some early injury issues this season were going to keep Stoll from being effective, but he's missed little action and been a great surprise in a plethora of areas for the Kings.
#7: The Semi-Awakening of Alexander Frolov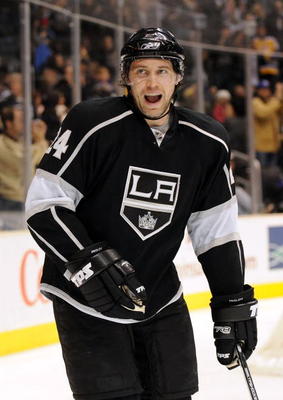 For a while, Alexander Frolov was in Terry Murray's doghouse. He wasn't playing the type of game that Murray wanted the Kings to be known for and as a result, Frolov was benched despite some mediocre production.
Since that sitting, Frolov has come back and now has nine goals and 14 assists for 23 points in 34 games. His production peaked after the incident and has been a much more offensive weapon.
Frolov's only real issue, is that among Kings forwards, he's still a minus-nine, which can't sit well with coaching.
He's been better but not good enough that bringing him back to the fold in L.A. is a lock next year.
#6: The Emergence of Wayne Simmonds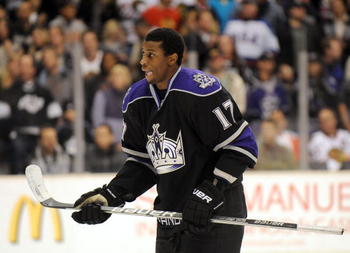 Wayne Simmonds has quietly almost equaled his total production last season in just 33 games.
Simmonds last year was thought of as a blue-chip prospect with nine goals and 14 assists in 82 games. This year he's proven he's got what it takes to be no longer considered a prospect but a here-to-stay pro.
For a productive forward, he's not shy about taking penalty minutes as he's second on the team with 42 and gives the Kings a harder edge as he's willing to hold is own in a battle.
Having carved himself a nice role on this team, Simmonds has made himself a critical part of the Kings roster and is quickly becoming an attractive commodity in the NHL.
#5: GM Dean Lombardi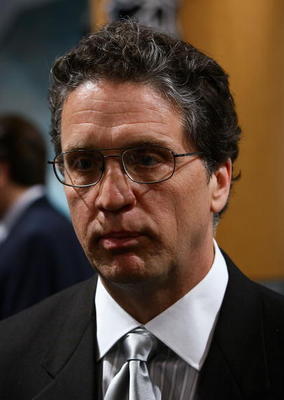 Kings GM Dean Lombardi has to be given major credit, thus he's been placed right in the middle of our Top 10 list even though what he's done could arguably place him higher.
When it wasn't really cool to, Lombardi set a plan in action years ago that he knew would take time. To even likely his surprise, what he's done has begun to reap rewards much faster than I'm sure he had anticipated.
He's made solid draft picks over the last few year, he's moved pieces out of L.A. that took not only cap space, but hindered the growth of a young core, and he's picked up some nice pieces in free agency and trades that compliment his team.
This list will look at some of those moves specifically, but Lombardi has done well to make this team a winner in only a short period of time.
#4: Long-term Success in Dustin Brown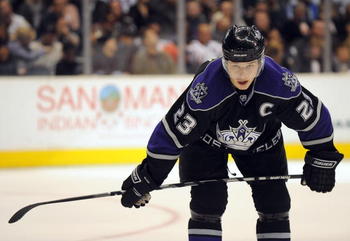 Dustin Brown is just getting warmed up. In terms of what he'll become in the NHL, Brown is a game changer.
With 25 points in 35 games, he not only adds to the production of the Kings offensively, but if you Google or Youtube Dustin Brown's name, you're bound to find a bone crushing hit or momentum swinging series of incidents that center around something started with a Dustin Brown play.
Brown leads the Kings in hits with 117 and takeaways with 21 so far this season. For a team that doesn't lead the league in goals against, those are critical to keeping them on an even defensive level with 29 other NHL teams.
Brown is that player you don't want to play against.
#3: Finding a Superstar in Anze Kopitar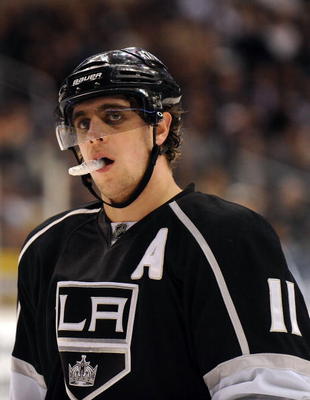 Anze Kopitar has broken out in a big way. For much of the start of the 2009/2010 NHL season, he led all NHL players in goals, points, and other offensive stats that made it look like Kopitar was perhaps the sole reason for the Kings success.
Even while his play has dipped, Kopitar still leads a very balanced offensive attack in L.A. with 16 goals, 22 assists, and 38 points in 35 games. That's good enough to put him on pace for about 90 points.
It took some time for Kopitar to become more than a goal scorer, but he's a much more well rounded player who looks to be just scratching the surface of what fans can expect from him for the next seven years of his contract.
Some might have thought at the time his contract out priced what he could possibly live up to. It looks as though many of us might have been selling Kopitar short.
#2: The Stud in Drew Doughty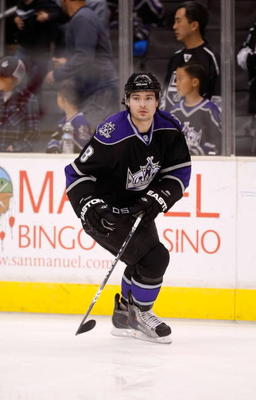 Drew Doughty was and is everything the Kings could have hoped for in a second overall draft selection.
Fifth in the NHL in defenseman scoring, Doughty now has eight goals and 24 assists in 35 games and leads the Kings in ice-time averaging TOI/game at 24 minutes.
He's a candidate for the Olympic team and that face of the defence in L.A. for likely as long as the Kings can get him under contract.
Don't be surprised if these long term deals keep coming that the Kings throw him a 12 to 13 year deal. There aren't many players worth it, but Doughty might be one of them.
#1: A Team Concept Backed By Jonathan Quick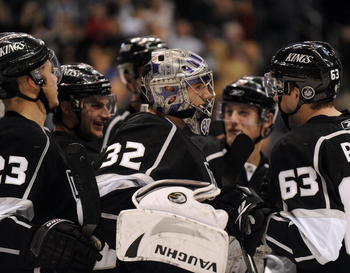 Where no one expected the Kings to succeed, perhaps their team play and goaltending is their biggest strength.
Despite a decent year last season in 44 games with the Kings, Jonathan Quick wasn't seen as much more than a prospect, or even a project when the season started, this year. Quietly, he's moved himself into a second place tie for league lead in wins with Buffalo Sabres' Ryan Miller and second only to, of all goalies, Martin Brodeur.
That's pretty good company for a goaltender who seemed to kind of sneak up on everyone.
His save percentage isn't in the Top 10, nor does he have any shut-outs to his credit, which can only mean one thing. The team in front of him has been pretty good at helping the cause.
The Kings don't lead any major categories, but they score more than their opponents do. As simple as that sounds, in reality, that's what makes you a winning hockey club.
The Kings rank eighth in goals per game, but 22nd in goals against. That's a large enough discrepancy that you'll see results as a team.
There's nothing flashy about their special teams, ranking 12th on the power play and a surprising 27th on the penalty kill.
So what's making this team so successful?
A combination of individual success and an overall team first attitude that seems to have caught on throughout the locker room. With a good mix of veteran leadership (the right kind might I add) and young emerging talent, the Kings are not-surprisingly surprising a few teams.
Keep Reading

Los Angeles Kings: Like this team?