The 10 Best Tattoos In the NBA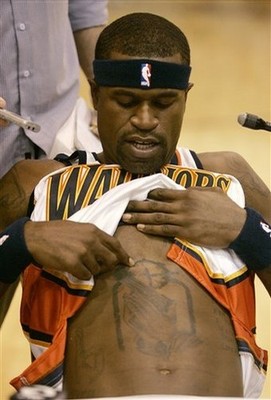 NBA players are getting inked-up like it's nobody business these days. Maybe it's a status thing or maybe it's a fashion statement - whatever it is, I dig it (as long as it's not on my back). Just about everyone in the NBA is rocking a little bit of ink but there are 10 tattoos that simply stand out from the rest. So sit back, relax, and marvel at the stupidity/geniusness of these 10 NBA ballers.
No. 10 - Gilbert Arenas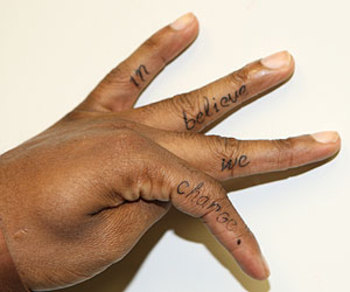 Gilbert Arenas, a.k.a Agent Zero a.k.a Hibachi has one of the more creative tattoos in the league. When President Barack Obama was elected to office, Arenas had, "change we believe in" tattood on his left hand. If only Gilbert could change his field-goal percentage and become the elite guard we all thought he would be.
No. 9 - Kenyon Martin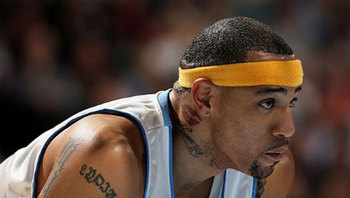 Those lips! Probably one of the most original tattoos in the NBA; Martin's bright red lips on his neck are exact replicas of his girlfriend's, rap-star and professional music video ho-fessional, Trina.
No. 9 Kenyon Martin Continued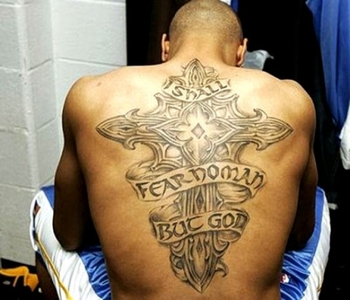 The Tattoo on his back reads, "I shall fear no man but God". If I saw a dude Martin's size with that tattoo I would fear him more than God.
No. 7 - Brandon Jennings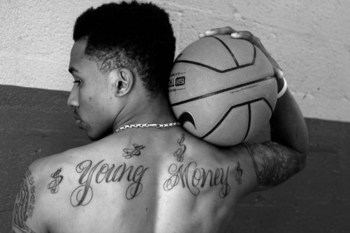 Brandon Jennings has officially arrived. I'm not sure if the, 'Young Money' inscribed across his back will make sense when he's using his senior discount at the movie theater later in life but for now, it's adding plenty to his street-cred.
No. 8 - Marcin Gortat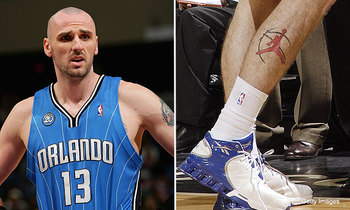 Gortat may not be the flashiest player in the league but his tattoo speaks volumes. Reebok gave Gortat an ultimatum - cover the Jordan logo or no sponsorship. Gortat's response: "It helped me get to the NBA... it's not going anywhere."
- "Even If they don't know my name, they know I'm the big white guy with the Jordan tattoo."
No. 6 - Allen Iverson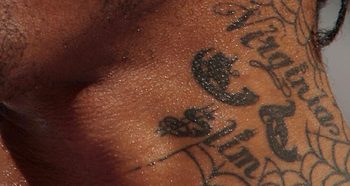 What, you don't have a spider web tattood on your neck that says, 'Virginia Slim'?
No. 5 - Amare Stoudemire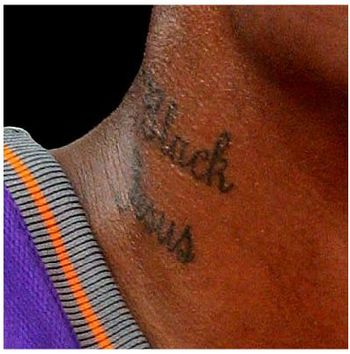 Amare Stoudemire is the self-proclaimed, "Black Jesus".... Enough said
No. 4 - LeBron James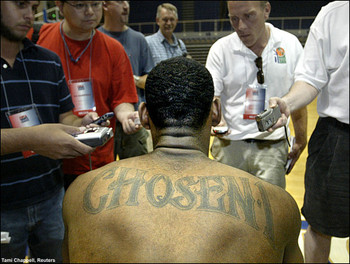 LeBron James, such a humble man. 'King James' has 'Chosen 1' tattooed on his back in size 72 font. I say he should have to cover the tattoo in duck-tape until he wins a championship.
No. 3 - Stephon Marbury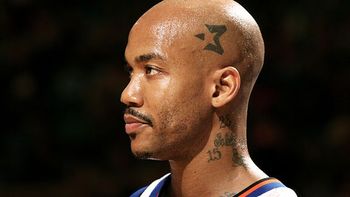 Marbury has a tattoo on his head and is still not number one! Starbury took his nickname to the next level and opted for prime product placement rather than looking like a normal member of society.
No. 2 - Marquis Daniels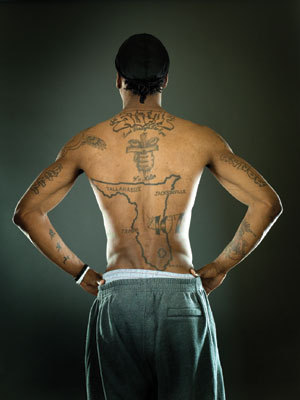 Florida's finest, Marquis Daniels is reppin' his click to the fullest. Born and raised in Orlando, Daniels has the state for Florida inked on his back with his area code, 407 highlighted.
No. 1 - DeShawn Stevenson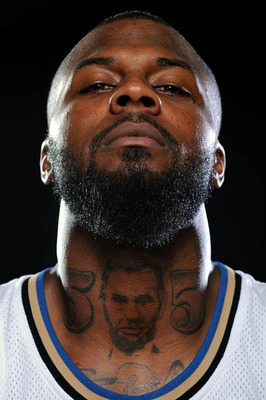 Winner, winner, chicken dinner! DeShawn is officially the most ghetto player in the league after the latest addition of ink to his jugular region.
No. 1 DeShawn Stevenson Continued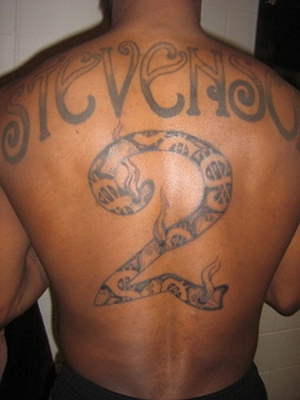 DeShawn's $5 bill on his neck is equally as disturbing as his permanent jersey on his back. Keep on doin' what you do DeShawn; making my job easy.
Keep Reading