Takin' a T/O with BT: The NHL All-Stars that Never Were (Eastern Conference)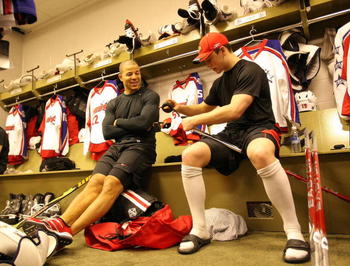 It's that time of year again!
Well, if it weren't for the Olympics, it would be.
While many are spouting off on who's going to make their Olympic dreams come true in Vancouver next year, there is an event that goes by without announcement...because it's not happening.
The NHL All-Star game.
While the players take to the ice in Vancouver, the NHL can't afford any more time out of its schedule to make up some All-Star rosters.
So we did.
The stipulation? One player per team, and the rosters are comprised of two goalies, four defensemen, and nine forwards.
After all, it's Christmas. You've got to be fair right?
Atlanta Thrashers: Ilya Kovalchuk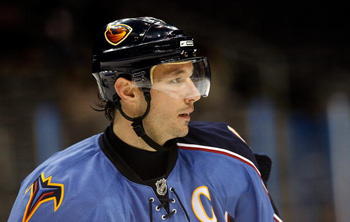 As Selected By: Warren Shaw and Andrew Buccellato
In a division that's been handed to the Washington Capitals for the past few seasons, some forget about the rest of the teams.
There are a handful of players in the Southeast, however, that burn themselves into your memory. Ilya Kovalchuk is one of them.
So far, Kovalchuk leads his team with 30 points and 17 goals, having missed six games due to a broken foot (he's played in 24 games this year).
Even having missed those games, he's tied for seventh league-wide with those 17 goals. He's in the top 25 for points, and also has the second highest shooting percentage of anyone in the top ten for goals. In fact, his is the third highest shooting percentage in the top 20.
Kovalchuk is a no surprise All-Star candidate, as the Richard winner has been to three games in his career; but there's no stopping this talent.
Atlanta Thrashers' Runner Up: Zach Bogosian.
Is this the year Kovalchuk puts it all together?
http://www.nhl.tv/team/console.jsp?&id=21298
Boston Bruins: Patrice Bergeron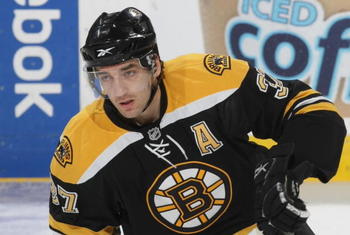 As Selected By: Ryan Pickard
Bergeron is undergoing a renaissance, to say the least.
Currently leading the Bruins in scoring with 24 points in 31 games, Bergeron is also enjoying some great health for the first time in a long while.
Once regarded as the Bruins' top centre behind Marc Savard, Bergeron's career was derailed by injuries, as he played in just 74 games over the past two seasons.
This year, he hasn't missed a game and is proving what he can do when he's in the lineup; he's put up two three-plus point games, and ranks in the top six in the league in faceoff percentage.
Boston Bruins' Runner Up: Zdeno Chara
Buffalo Sabres: Ryan Miller
As Selected By: Bryan Thiel
It seems that every year there's a goalie who is challenging the mark for lowest goals against average in a season.
Some of the names you'll hear are Martin Brodeur, Evgeni Nabokov, and Henrik Lundqvist in that race, but this year it's a man who's been quietly consistent but often overlooked.
This year, ladies and gentlemen, is Ryan Miller's coming out party.
Obviously Miller isn't as unknown as some might think he is. Americans are hopeful that the league's leader in goals-against (1.83), save percentage (.939), and shutouts (4) won't peter out before the Olympics, while Sabres fans are hoping he stays healthy.
For those who don't know, consider that the current 18-game winner could have had three straight 35-win seasons last year (and a playoff berth) if not for a late injury.
Buffalo Sabres' Runner Up: Thomas Vanek
Carolina Hurricanes: Ray Whitney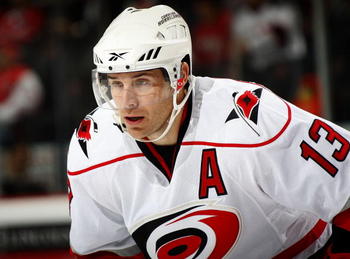 As Selected By: Mark Jones
The 'Canes have fallen on hard times this year.
Eric Staal was lost for 10 games and hasn't produced at the level expected quite yet, Cam Ward suffered a troubling cut to his leg and missed a month of action, and Erik Cole missed significant time as well.
That leaves the ever reliable Ray Whitney.
Not blowing the league away in any category, Whitney leads Carolina with 22 points on the year, 12 of them being assists. His 10 goals also have him as the only player with more than seven for Carolina.
The strange thing about this season is that while Whitney was chosen as the 'Canes All-Star, he's on pace for his lowest scoring season in Raleigh since he joined the Hurricanes in 2005.
Carolina Hurricanes' Runner Up: Tuomo Ruutu
See Whitney's collection of muscle cars:
http://www.nhl.tv/team/console.jsp?&id=21298
Florida Panthers: Tomas Vokoun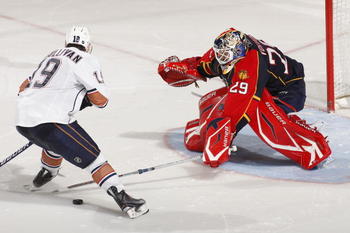 As Selected By: Robert Young
Partnering with Ryan Miller in the crease will be Florida's eternal reason for optimism.
Tomas Vokoun has been everything and more for the Florida Panthers, even overcoming a demented injury at the hands of a teammate.
A two-time All-Star already, Vokoun's save percentage (.923) currently has him ranked ninth in the league. Granted, his goals-against is high when looking across the league (though the number is fairly consistent for Vokoun's career), he's one of just six goalies on a non-playoff team in the top 25 of goals against average.
Vokoun has proven to be a battler through his career, and his ability to steal games for the Panthers is invaluable.
Also, name another goalie who could suffer four straight losses but have a .941 save percentage and a 1.92 goals-against in that streak. The list is small.
Florida Panthers' Runner Up: Nathan Horton
Montreal Canadiens: Mike Cammalleri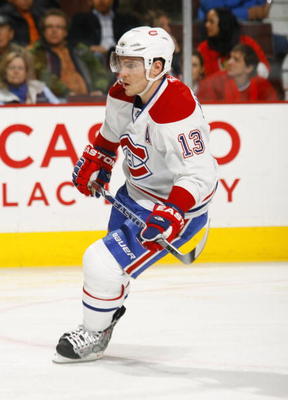 As Selected By: Miah Drew
The Canadiens have been battling for a playoff spot this season, and currently sit in eighth.
As they fight for positioning, Cammalleri has combined with Tomas Plekanec to give the Habs a pair of pesky scorers.
While Plekanec leads the team with 26 assists, Cammalleri has provided the finisher that Montreal needed with 17 goals.
He's also sitting with a team-high plus-10 rating and is on pace for 40 goals.
To put in perspective how valuable that is to the team, the Habs haven't had a 40-goal man in a long time—1993/94 to be exact.
Montreal Canadiens' Runner-Up: Tomas Plekanec
New Jersey Devils: Zach Parise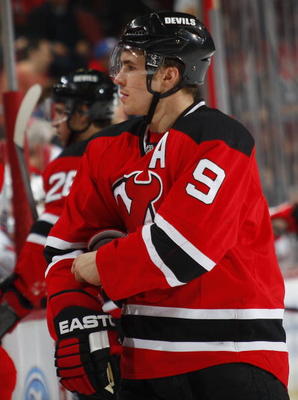 As Selected By: Carlos Figueiredo
This kid is dynamite.
Currently sitting 13th in the league in points, with 35 on the year, Parise continues to impress.
On a team that's seen a few injuries to key players, Parise has stepped into the role of primary scorer over the past two seasons and hasn't looked back.
This year, along with leading the Devils in scoring, Parise is 15th in the league in goals, 20th in assists (with 20), and has the highest plus/minus in the league at plus-18.
He may soon be giving division rival Mike Richards a run for the title of best defensive forward in the Atlantic Division.
New Jersey Devils' Runner Up: Martin Brodeur.
Watch Parise talk Team USA here:
http://www.nhl.tv/team/console.jsp?&id=45256
New York Islanders: Mark Streit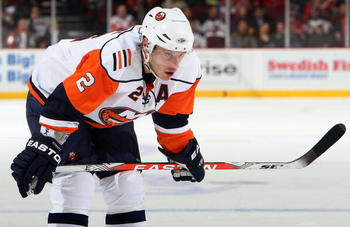 As Selected By: Bryan Thiel
While John Tavares may be the more likely candidate, the numbers game plays out in Streit's favor.
That's not to say that the Isles' defenseman isn't deserving though. Tied for seventeenth in scoring amongst defensemen, Streit is doing it in different ways this year.
Normally a power play presence, only five of Streit's points have come with the extra man this year, while he's been averaging the seventh-most ice time amongst defenders.
Streit also sits four goals behind L.A.'s Drew Doughty for the league lead in goals by a defenseman, and for a guy with 29 over the past two years, he could be in line for a comeback.
New York Islanders' Runner Up: John Tavares
New York Rangers: Michael Del Zotto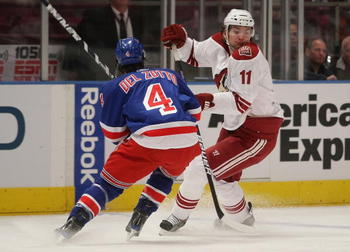 As Selected By: Bryan Thiel
Now before everyone gets on my case here, this spot SHOULD be going to Gaborik.
However, because of things like limited spots up front, it was a first come, first serve situation for potential All-Stars, and the response on Gaborik didn't make it in time. So I had to make the pick.
Deadlines, eh?
Well even with the league's leading goal-scorer sitting this one out, Michael Del Zotto is a fine representative for the Rangers.
The rookie has come in and lit the world on fire, for lack of a better term, with 18 points over his first 31 NHL games.
The minus-ten leaves a little to be desired, but the fact that he's fifth overall in rookie scoring and averaging the second-most ice time out of any first year player (first is Tyler Myers) certainly gives hope for the future of New York's blueline.
New York Rangers' Runner Up: Marian Gaborik
Ottawa Senators: Daniel Alfredsson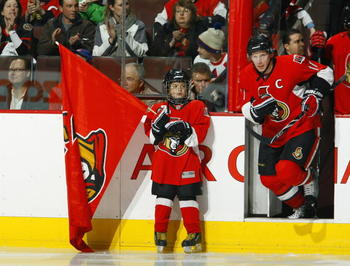 As Selected By: SensChirp
Alfredsson is another one of those players who isn't really blowing the league away in any one category. But simply put, he's been himself for the Sens.
In 31 games this year, Alfie has nabbed 29 points, 20 of them assists.
There are only two players on the Sens—Anton Volchenkov and Chris Phillips, both defensemen—who are getting more ice time per game than Alfredsson.
Alfredsson's presence alongside Mike Fisher in almost any situation also has Fisher on pace for a career season.
Ottawa Senators' Runner-Up: Anton Volchenkov
Philadelphia Flyers: Chris Pronger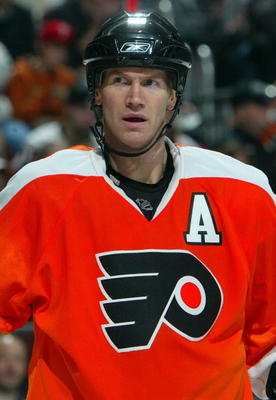 As Selected By: Mark Ritter
Honestly, I'm afraid of what Mark would do to me if I didn't mention his undying hope that Pronger wins the Norris Trophy this year.
That being said, Pronger has certainly changed the back end in Philly for the better.
Combining with Kimo Timmonen, Braydon Coburn, and Matt Carle, Pronger has given the Flyers big expectations on the back end.
For one, Pronger currently sits ninth in scoring for defensemen with 20 points. He's just outside of the top 15 with a plus-nine rating and his 32 shifts per game are tops in the league, while his 26 and a half minutes of ice time are good for a home in the top five.
Pronger's ability to slide into the Philadelphia Flyers' system and integrate himself (especially offensively) has been valuable to the struggling team. It may also see a personal milestone for Pronger, as he could break the 50-point plateau for the first time since 2006/07, and the fourth time in his career.
Philadelphia Flyers' Runner Up: Mike Richards
Pittsburgh Penguins: Sidney Crosby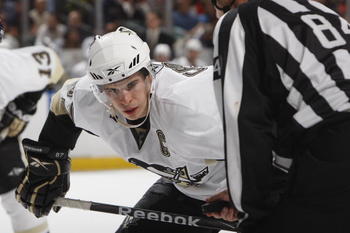 As Selected By: Sergey Zikov
An All-Star team would be hard to form without Sid The Kid, but that also begs another question: when is it ok to stop calling him Sid the Kid? And what do we call him after? Is it just "Sid" or is it something more manly?
Moniker aside, Crosby has rebounded from a few slow periods to sit fourth in league scoring with 38 points, and is more than halfway to his career-high of 39 goals with 20 already.
That, and the fact he's got 19 assists to this point have a few whispering about a 50/50 season. Wouldn't that be something?
While the numbers are already All-Star worthy, joining the half-century club in two different statistics would be award worthy for the Penguins' superstar, as he looks for a third-straight trip to the Stanley Cup Finals.
Pittsburgh Penguins' Runner Up: Marc-Andre Fleury
Tampa Bay Lightning: Steven Stamkos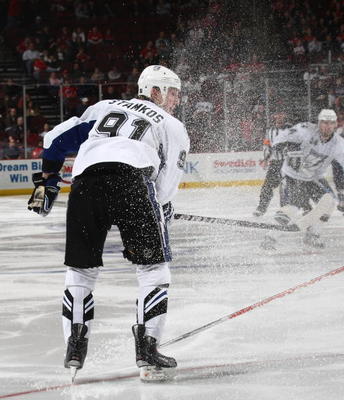 As Selected By: JC De La Torre
Last year, it was the entire 2009 rookie class looking down on first overall pick Steven Stamkos.
This year, he's stepping on their shoulders as he climbs to the top of the pack.
Stamkos underwent one of the fastest transformations from potential bust (or just a bust as many perceived him to be), to franchise player in Tampa Bay.
Currently second on the team in points and tied for seventh in the league in goals, Stamkos has jumped quickly to that upper-level of NHL talent, forgoing the sophomore slump that so many of his classmates are stuck in.
It's yet to be seen if the "Surge of Stamkos" will continue in full blast for the rest of the season, but it's hard to argue that he's been a dynamo for Tampa.
Both on the score sheet, and on the highlight reels.
Tampa Bay Lightning Runner Up: Martin St. Louis
Watch the draft experience for Stamkos here:
http://www.nhl.tv/team/console.jsp?&id=19754
Toronto Maple Leafs: Tomas Kaberle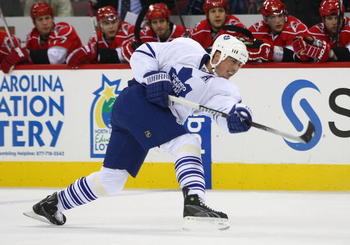 As Selected By: Bryan Thiel
The play as of late from Phil Kessel and Nik Hagman has certainly brought them into this discussion, but when the Leafs were struggling offensively early in the season, Kaberle kept them going.
Pulling an Andrei Markov (leading his team in points while being a defenseman), Kaberle has been on another planet in regards to moving the puck this year.
His 29 assists have him on pace for a (albeit unlikely) career high of 74, and they currently have him ranked third in the league behind Joe Thornton and Ryan Getzlaf.
While he's one back of points leader Mike Green in the defenseman scoring race, Kaberle has been outstanding for the Leafs this year, proving that holding on to him may have been a great move for now—even if it only increases his trade value.
Toronto Maple Leafs' Runner Up: Nik Hagman
Washington Capitals: Alexander Ovechkin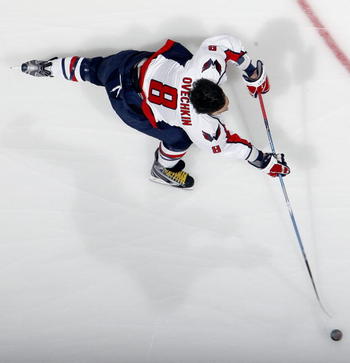 As Selected By: Dave Nichols
This pick was made way back when Ovie had been injured and suspended for his knee on knee hit.
Whether he's dirty or not, hurt or healthy, Ovechkin is the MVP of this team.
And for good reason. While players like Nicklas Backstrom and Alexander Semin draw their fair share of headlines and features, and Mike Green may be the premier offensive defenseman, no one does it like Ovie.
He's missed eight games this year and still leads his team in scoring. He's sixth in the league scoring race, and despite missing time, just a goal behind Gaborik in the race for the Richard.
Fact is, he's dynamic, talented, and an all-out hockey player.
Besides, you've got to include one guy per team who's at least rumored to lay a hit in an All-Star game.
Washington Capitals' Runner Up: Mike Green
Keep Reading