All I Want for Christmas is a College Football Playoff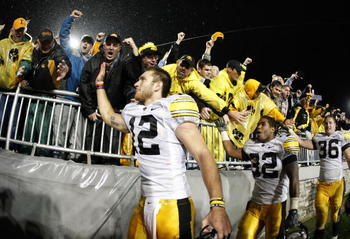 It has been long awaited, but will it ever come to us? I feel that my model for a college football playoff is best suited for all parties. In this case, the 10 BCS teams will play for a national championship, while the rest of the bowlers will bowl. Now, of course there will be those teams that complain as to why they didn't make it, but there is no resolution for such a problem. This model is a 10 team bracket with single elimination.
Qualification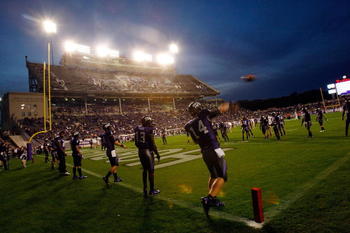 Conference champions of the ACC, Big 10, Big 12, Big East, Pac-10, and SEC will receive automatic bids. Four more schools will be chosen based upon season performance...for a mid-major to qualify, they must win their conference.
The 2009 Field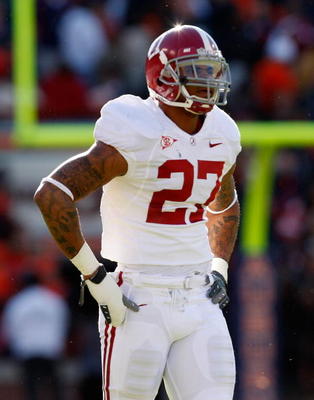 Seeds will be determined by a seeding committee.
1. Alabama
2. Texas
3. Boise St.
4. Cincinnati
5. TCU
6. Florida
7. Georgia Tech
8. Ohio St.
9. Oregon
10. Iowa
When & Where
Obviously, time is limited, but with the playoff teams will do less waiting around and more playing. All the bowl names will remain...two of the four quarterfinals, the two semi finals, and the championship game will keep the bowl names...the remaining four game will receive new names, such as the Citrus Bowl, the Peach Bowl, Florida Bowl, and the Pheonix Bowl.
Schedule:
Qualifying Round:
Thur Dec 17: 4 pm Phoenix Bowl-Phoenix Stadium: 8. Ohio St. v 9. Oregon
Thur Dec 17: 8 pm Florida Bowl-Dolphin Stadium: 7. Ga Tech v 10. Iowa
Quarterfinals:
Thur Dec 24: 1 pm Citrus Bowl-Citrus Bowl Orlando: 1. Alabama v 8/9
Thur Dec 24: 3 pm Peach Bowl-Georgia Dome: 3. Boise St. v 6. Florida
Thur Dec 24: 5 pm Sugar Bowl-Super Dome: 2. Texas v 7/10
Thur Dec 24: 8 pm Rose Bowl-Rose Bowl CA: 4. Cincinnati 5. TCU
Semi-finals:
Fri Jan 1: 12 pm Fiesta Bowl-Phoenix Stadium
Fri Jan 1 3:30 pm Orange Bowl-Dolphin Stadium
Championship:
Fri Jan 8 8 pm Citi Bowl-Rose Bowl CA
Why These Seeds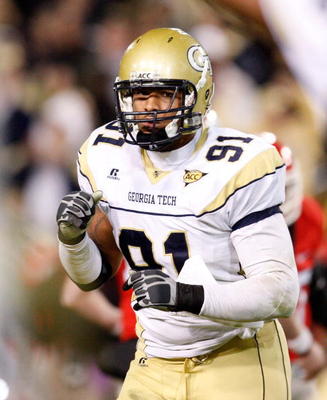 Georgia Tech would argue that they won the ACC, so therefore they should receive a qualification round bye. But what the seeds come down to is a 1-10 ranking. Alabama and Texas won their conferences and when undefeated, but so did Cincinnati, Boise St, and TCU, however Texas and Alabama defeated more quality opponents.
Alabama is the one seed, simply because they are ranked #1 in all the polls, they are undefeated, and they won the SEC defeating the previous number 1 Florida.
Texas is the two seed for the same reasons as Alabama.
Boise St. earned a three seed because of their win over Oregon and they are undefeated
Cincinnati is a four seed because of their undefeated mark.
TCU is seeded because of the same reasons as Cincinnati.
Florida earned a bye because of their ranking, their record, and their strength of schedule. Even though Florida didn't win their conference, they are still considered to be better teams than OSU, Georgia Tech, and Oregon.
Georgia Tech went 11-1 and won the ACC, but a beatdown from the Canes didn't help their cause. The ACC is a much weaker conference than the SEC and therefore they were ranked below Florida.
Ohio St has two losses on the season and like Georgia Tech, they play in a much weaker conference. OSU recieved this seed because of their 2 losses.
Oregon & Iowa recieved the bottom two seeds because of their 2 losses and because they are considered to be the weaker of these ten teams.
The Bracket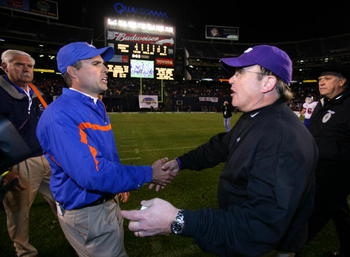 I can't add a bracket to the article, but for now what I can do is present this by team-by-team schedule.
Alabama will play the winner of the Ohio State and Oregon game.
Texas will play the winner of the Georgia Tech and Iowa game.
Cincinnati will play TCU.
Boise State will play Florida.
The winner of Alabama and OSU/Oregon will play the winner of Cincy/ TCU .
The winner of Texas and GA Tech/ Iowa will play the winner of Boise St/ FLA
The winner of these games will play for the National Championship Game.
Qaulifying Round—OSU v Oregon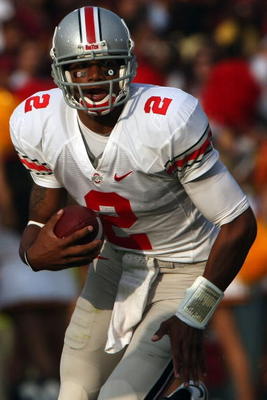 Ohio State will fall in a heartbreaker in OT to Oregon...Oregon will advance to play Alabama in the quarterfinals.
Qaulifying Round—Georgia Tech v Iowa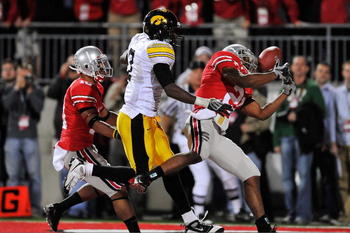 To Iowa, a conference championship means nothing at this point, but Georgia Tech thinks otherwise. Iowa runs all over Georgia Tech shutting down the Paul Johnson's option. Iowa moves on to play a well rested Texas team.
Quarterfinals—Cincinnati v TCU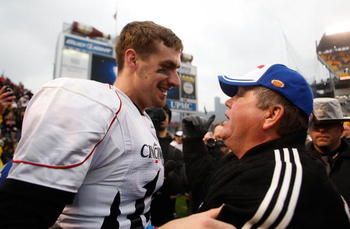 Despite their success all year long, the road ends here for the Bearcats...a team angry about a coach leaving the program sidetracks Tony Pike and the Bearcats, while TCU jumps all over Cincy.
Quarterfinals—Boise St. v Florida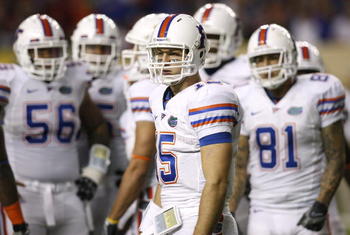 Florida is unphased by its beatdown from Alabama and gives Boise State what the wanted all along. Boise State has been waiting for an oppurtunity to play a big time college football school and thats what they will get...they will learn the hard way that they still don't belong with the big boys...Florida shuts 'em out 42-0.
Quarterfinals—Iowa v Texas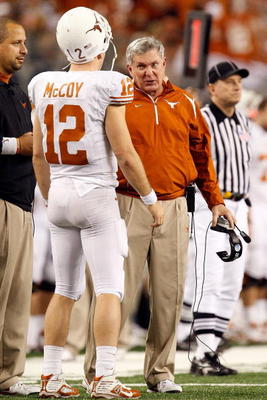 Some argued that Texas shouldn't have deserved a bid to the Championship and they were right...Iowa shocks Texas in this one to move on to the semis where they will meet Florida.
Quarterfinals—Alabama v Oregon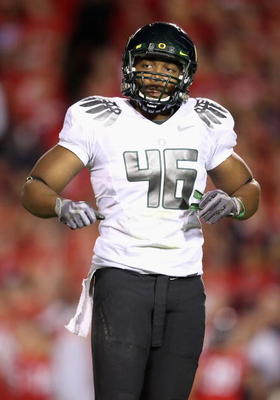 And so it is...Alabama continues to reign supreme this season...after this shalacking of Oregon, Bama is now 14-0 and looking for more.
Semi Finals—Iowa v Florida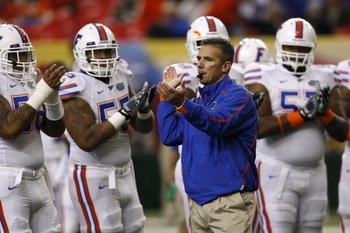 Iowa gives Florida a run for their money in the first half of this one. 3-2 Iowa would lead, but Florida quickly put them away in the second half scoring 28 unanswered before Iowa would add a TD with 1 minute remaining. Florida wins this one 30-10. In the end, the Hawkeyes failed to contain Tebow and the d-line of Florida was simply to fast. Florida
Semi Finals—Alabama v TCU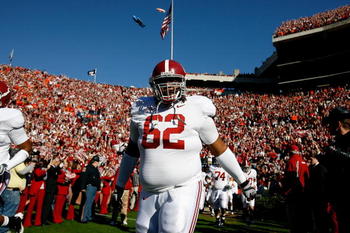 Here we go again...a rematch of the SEC championship game for the national title. It was a good run, but in the end the mid-major simply couldn't keep up with the big boys...TCU falls to Alabama in a defensive showdown 14-3, yet again proving that the big six conference teams are simply better than the the mid-majors.
National Championship Game—Alabama v Florida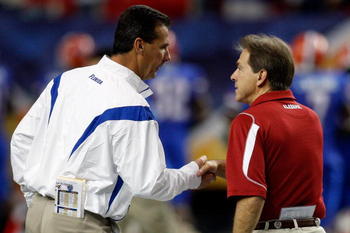 This one would be a dandy folks...Alabama would take a 3-0 lead on their first drive of the game. Florida would respond with 28 unanswered points—yes sir Tebow is in the zone. At halftime Bama would add another field goal to make it 28-6.
The third quarter would be a giant shutout by both times, neither yielding a single first down.
Alabama's dreams were beginning to fade and they seemed to lose their voice when Florida made it 35-6 with three minutes into the fourth quarter.
Bama refused to go away scoring 21 unanswered to make it 27-35 with two and half minutes left in the game...it was now decision time for Nick Saban, kick the onside or kick it off. Despite the fact the Bama still had all three of its time outs, Saban call for an onside...
BAMA RECOVERS!
They would move down the field picking up three first downs in under 30 seconds. The drive would come to a halt and a fourth and long from the 25 yard line looked Saban right in the face. His odds were slim; kick a field goal and go for another onside, go for it, or kick a field goal and kick it off with all three of his timeouts still remaining. Saban elected to kick the field goal and it was a costly decision...wide right!
Florida retains possession at its own 20 yard line and Bama with three timeouts remaining stuffed the run 3 times for a total loss of 7 yards. They used all three of there timeouts. There was 50 seconds left when Florida punted it back to the Crimson.
Bama got nothing out of the punt return and they now had 75 yards in front of them with 45 seconds left.
Bama wasted no time, with Florida protecting the sidelines, Bama took advantage, complelting passes of 12, 18, and 20 yards right up the middle. Bama would pick up a false start penalty and an illegal formation pushing them back to the The clock read 12 seconds and the ref was about to signal the clock. Bama was 35 yards out, when they went to the hook and ladder play. The ball was snapped and Bama had run a crossing pattern with Jones and Maze. Jones hauled it in about 15 yards down the field. He then flipped to Maze running the opposite direction. It was a hook and ladder, thank you Boise St, Maze had one man to beat and instead of looking good he lowered his shoulder and ran over the Florida defender. It followed with a celebratory dive, but Bama was still down two points.
Urban Meyer fearing another trick play (Boise St) moved to a zone defense, but Saban's play call was simple. A straight hand off to Mark Ingram. Ingram ran it in untouched from three yards out. The game moved to overtime, where clearly Bama had all the momentum.
Overtime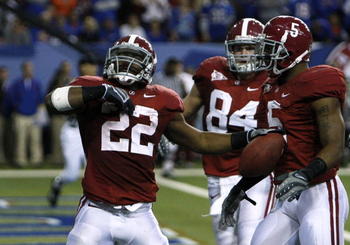 Bama won the toss and deferred. Three plays and zero yards. Florida kicked a field goal and made it 38-35 and now all of a sudden Florida has lost its voice.
Alabama's Turn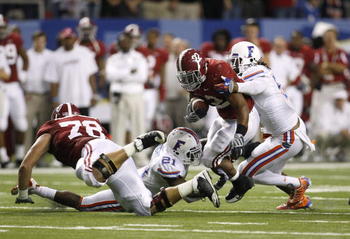 One play and 25 yards later Alabama was national champions: Mark Ingram right up the gut and two broken tackles.
Champions!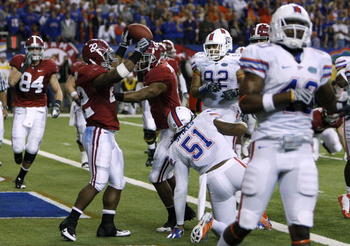 41-38 and so it was Alabama your 2009 National Champions!
16-0 undefeated!
Keep Reading