10 Non-Seniors Who Would Benefit The Most From Entering the 2010 NFL Draft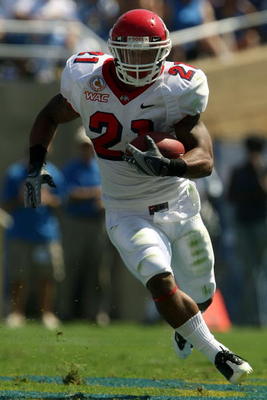 We already know the situation with Sam Bradford, Jimmy Clausen, and Golden Tate, and we're getting the word on Florida safety Ahmad Black and Jake Locker now: they're likely NFL bound as well.
The Bradford situation left a bad taste in everyone's mouth: return to compete again for a BCS championship, go down in the first game, return later in the season and get reinjured, and possibly lose millions of dollars and the prestige of the No. 1 pick overall while remaining sidelined for the rest of the season.
No player wants that, regardless of how much they love their team.
So between the rumor of a rookie salary cap in 2011 and the threat of injury looming over the breakout players of the year, the safe bet is usually to leave early.
Here are 10 players for whom leaving is the safe bet, and whether the draft buzz is there or not, my advice for each would probably be: take the money and run.
Toby Gerhart, RB, Stanford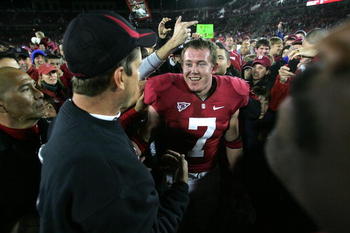 This one's a no-brainer.
Gerhart would be hard-pressed to repeat as the nation's leading rusher and touchdown leader next year despite a remaining year of eligibility. Not to mention it isn't worth the physical risk considering his style of running. He's proved his durability all year—what he needs to find out is if he can still truck people in the NFL.
Gerhart has tipped his hand that he plans on training for the combine.
Heisman or no, he's NFL bound, projected to go at some point in the second round. For any team that struggles in short yardage situations, he would be an excellent get.
Philadelphia Eagles, are you listening?
Donovan Warren, CB, Michigan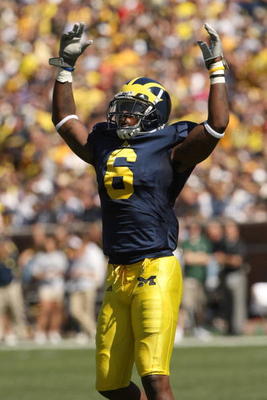 Warren had an outstanding year as a shutdown corner for the otherwise traitorous Wolverines' secondary, garnering All-Big Ten first team honors as a consensus pick.
He seemed to indicate that he would consider staying for another year, but it appears he was playing with my emotions.
Warren is a middle-round projection—not a terribly encouraging assessment—but it doesn't appear to matter. Would YOU want to play in that backfield for another year?
DeAndre McDaneil, SS, Clemson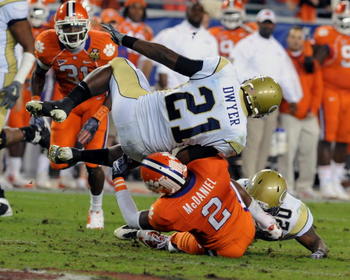 McDaniel finished the year strong, winning All-Conference and All-American honors, coming in second in the voting for ACC defensive player of the year, and tying Texas' Earl Thomas for most interceptions in the NCAA with eight.
McDaniel, a junior, will likely fall to the third strong safety selection spot after Eric Berry and Taylor Mays, a fairly beneficial place to be and one he ought to take, considering how early and how much money those two will likely be making. That placement should put him in the second or early third round.
That said, he's been pretty quiet about his long-term professional goals. Clemson may suffer a drop off next year after losing All-Everything back CJ Spiller to the draft, but don't be surprised if, given the silence, he decides not to abandon ship regardless of his perceived draft position.
Ryan Matthews, RB, Fresno State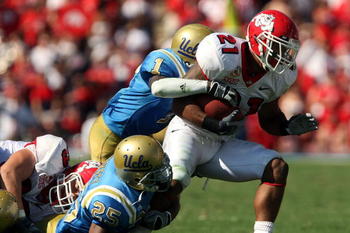 Matthews will file his papers and look to go in the first few rounds (scroll down to the 10/27/09 section), and some pundits have him as the fifth best running back overall.
The nation's leading rusher in terms of yards per game, Matthews has the build and speed, and might continue in the trend of Shonn Greene and Donald Brown, one-shot backs with outstanding years who didn't return and risk a falloff in production.
Encouragingly, Matthews indicated that if the projection isn't favorable enough, he'll return for his senior year and "have fun." Good man.
Donald Buckram, RB, UTEP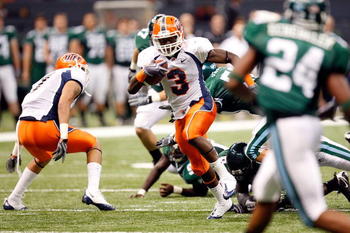 Buzz about Donald Buckram from NFL scouts (or anyone) is practically nonexistant, but he could be another one-and-doner in the mold of Greene and Brown.
He rushed for 1569 yards and 18 touchdowns for the UTEP Miners and has the fourth best yards per game average among running backs.
He had a monster 265 yard, four touchdown day against Houston in UTEP's upset win, but his production tapered at the end of the year.
I expect to see him back considering how quiet the draft front is, but there's still time before the combine.
Greg Salas, WR, Hawaii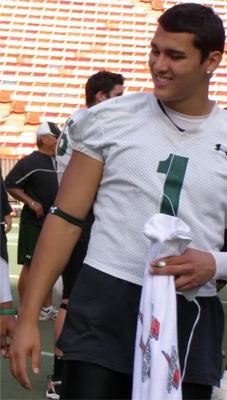 Salas, who ended the year second in the nation in receiving yards, may want to jump on the coattails of Davone Bess, another former Hawaii Warriors receiver who is having an outstanding year in the NFL, and leave Hawaii a year early.
Salas has the size and can run over the top and devastate the middle of the field, evidenced by his four games with 10 or more receptions.
In addition, the Warriors lose a lot of talent in their senior class, including QB Greg Alexander, who suffered a season-ending knee injury in the Louisiana Tech game and was replaced by sophomore Bryant Moniz, as well as most of their linebacking corps.
Not to mention the ax is hanging over the head of coach Greg McMackin—that kind of shake-up in a program is rarely good for stats.
Still, back-to-back 1500 yard seasons, even in a pass-happy system like Hawaii's, would definitely catch the eyes of NFL scouts looking for another Bess or Wes Welker. Considering the lack of buzz, he'll likely stay, but the Warriors better be thankful.
Earl Thomas, DB, Texas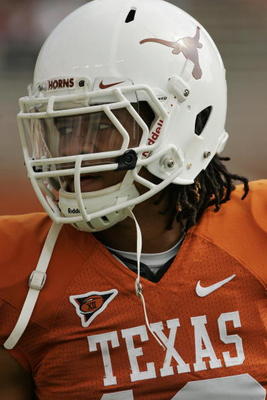 He was an AFCA All-American at strong safety and set the record at Texas for interceptions in a year with eight.
He's pretty flatly indicated that he's staying, but also said that he wasn't thinking about going pro because it would distract from his focus on the Big 12 Championship game.
Texas files paperwork on behalf of all its draft-eligible players, so we'll see if the return on Thomas is favorable. Thomas indicated that he would enter if he was a first round selection in a recent Rivals article.
The cap gives him a reason to bolt, but it looks like he's one kid who's loving playing for Texas and letting the pro part happen when it happens.
Rolando McClain, MLB, Alabama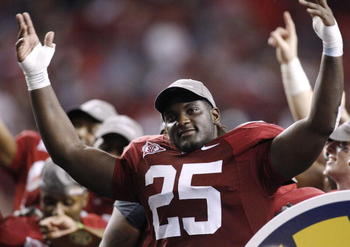 McClain is a Butkus award winner with all the sturdy physical tools, but he's been slow to file his paperwork with the NFL.
He's relating a similar story to Earl Thomas's: he's focused on the one game he has left and is not thinking about the NFL, despite the fact that he could be the first middle linebacker taken overall and a likely first-round pick.
Talk about a goofy situation—McClain claimed that coach Nick Saban encouraged him to enter the draft if he's projected as a first rounder, but the junior says he could care less.
If he's telling the truth, it's worth wondering how profoundly winning affects player loyalty. Saban, apparently, is also a master of reverse psychology.
The Pouncey Brothers, Florida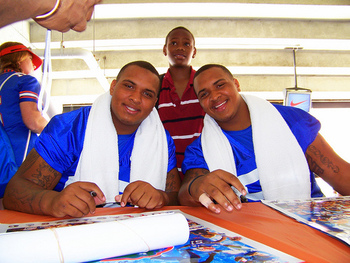 Maurkice (the center) is projected as the first center taken in the 2011 draft, and his brother, Mike (the guard), is a first/second rounder.
They could depart early along with the massive class Florida is losing to senior ship, and Mike discussed as much early in the season after Florida's 63-10 win over FIU.
It's practically inconceivable, but the Gators might be actually struggle next year if DE Carlos Dunlap, Aaron Hernandez and Joe Haden, also rumored junior departees, jump ship. That would leave Florida replacing their quarterback, middle linebacker, most of their offensive line and tight end, and half of their secondary.
The Pouncey twins' decision is crucial to guaranteeing some protection for John Brantley, Tebow's replacement next year. But the letdown in the SEC championship probably isn't doing Meyer any favors.
We'll see how this one shakes out and in what interest the Pouncey brothers act.
Check Out Another College Football Slideshow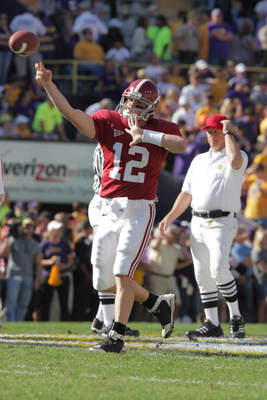 Keep Reading