Jersey's Here Loud and Clear: Recasting Jersey Shore with Sports Stars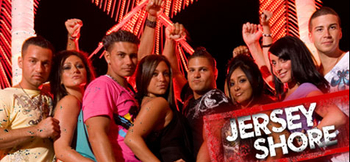 MTV has truly outdone itself with the recent addition of Jersey Shore.
The premise is simple: Four roided-out guidos and four spray-tanned guidettes shack up in a pimped-out MTV crib for a summer of fist pumping, alcohol abusing, and promiscuity beyond belief.
It's time to critique the most outrageous show on television—sports style. Each cast member is an athlete..."You like the situation right now? Yeah, me too."—Mike "The Situation."
DJ Pauly D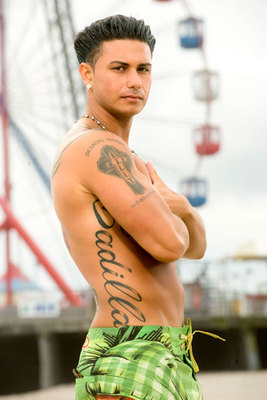 "Don't let the spiked hair fool you, like I'm not a bitch."
The season is young, but Pauly D is already a fan favorite. In the season premiere alone, he punched a guy in the face and exposed his "Prince Albert" to J-WOWW.
The guy has a tanning bed in his house and spends 25 minutes making sure his blow-out hair style is nothing short of perfection. Keep on gelling your hair bro. Looks awesome.
"There's no way I'm going to Jersey without my hair gel."—Pauly D
DJ Pauly D Is Pro Boxer Paul Malignaggi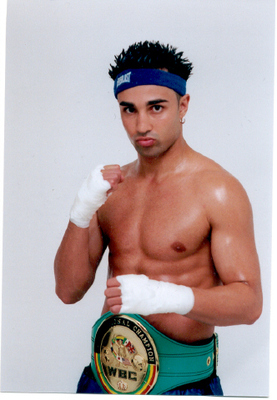 The physical comparisons between former Junior Welterweight Champion Paul Malignaggi and Pauly D are obvious.
Malignaggi grew up in Jersey, for crying out loud. Pauly D threw a pretty wicked right cross in the first episode—something Malignaggi is very familiar with. And remember kids, "It only takes nine pounds of pressure to break someone's nose."—Pauly D
Vinny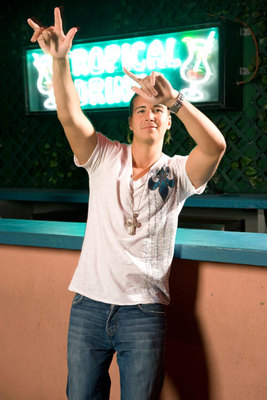 Vinny—the clean cut, mama's boy from Staten Island. So far the highlight of his presence on the show has been pink eye.
He is by far the most normal dude on the show, but expect him to pick up his performance in weeks to come.
Vinny Is Mark Teixeira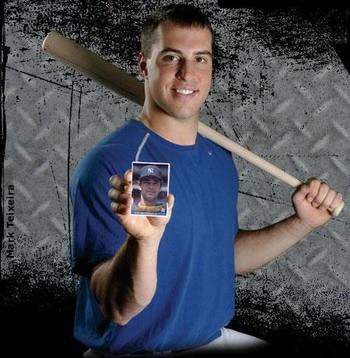 Mark Teixeira is like the more successful and much more talented older brother of Vinny. Rumor has it he may or may not have had pink eye before.
Mike "The Situation"
"Everybody loves me, babies, dogs, you know, hot girls, cougars...I just have unbelievable mass appeal."
Is Mike is "the situation," or are Mike's abs the situation? It doesn't really matter because his entire package is THE situation.
Probably the cockiest human known to man, The Situation crushes girls on the regular and works out five times a week. Easily the most ridiculous person I have seen on TV...ever.
Oh, and did I mention he is 27 years old?
Mike "The Situation" Is Derek Jeter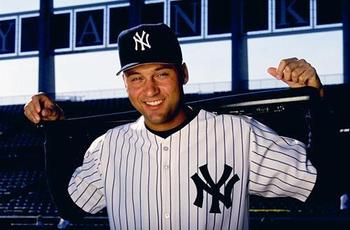 Jeter is The Situation. He gets it done in the clutch and has that smile that makes women weak in the knees. The only difference between these two is that Jeter actually gets any woman he wants, whereas The Situation only gets random whores on the Jersey Shore.
Big shout-out to Bill Simmons from ESPN for pointing out the physical similarities between these two. It's that "I just slept with a girl and I know I'm the s*%#" look that really ties the two together.
Ronnie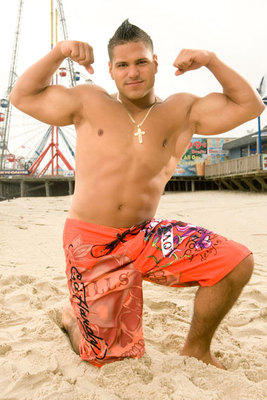 "Take your shirt off and they come to you—it's like a fly comes to shit."
Ronnie is a roided-out beefcake and the biggest "bro" of them all. His Jersey Shore essentials while he was packing were, "Gel, cologne, more cologne, and my protein shake."
Dude got The Situation's sloppy seconds from Sammi "Sweetheart." The guy is a joke and loves to fight—this season will be packed with club brawls, so get ready!
Ronnie Is WWE Superstar John Cena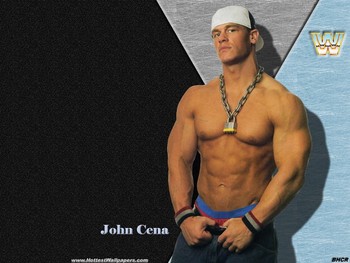 Not sure who sucks down the juice more, Ronnie or Cena. They are tan, ripped, full of themselves, experts in the art of ass kickin', and think they are God's gift to women. Ronnie might have a leg up in the partying department though.
"Ready to party, get out there, just get filthy, creepy, and weird."—Ronnie
Jenni "J-WOWW"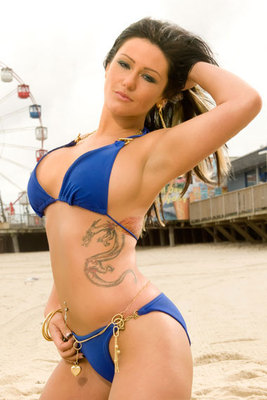 "I left the club early 'cause I didn't want to cheat on my boyfriend and I felt like eating ham and drinking water...ham."
J-WOWW has a huge tattoo of dragon on her stomach and is already loving Pauly D's "Prince Albert." Come on, she introduces herself as J-WOWW!
"I'm like a praying mantis; after I have sex with a guy I will rip their heads off."
J-WOWW Is U.S. Women's Soccer Keeper Hope Solo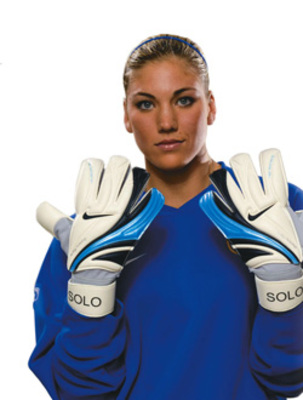 If you thought J-WOWW was good at creating controversy, you haven't met Hope Solo.
As you may remember, Solo was involved in a major coaching debacle in which she was replaced by GK Briana Scurry, which led to a U.S. loss to Brazil in the World Cup, as well as the firing of coach Greg Ryan.
On another note, both of these women are great at catching balls with their hands.
Sammi "Sweetheart"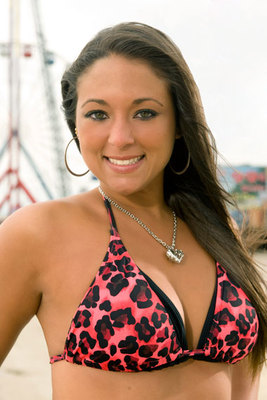 "I'm not looking for mr. right I am Looking to get with a lot of good hot sexy tan guido guys" - Sami Sweetheart
Wow, such high aspirations! Her parents must be really proud of her. Sammi has been dubbed the 'best looking' girl on the show even though she is relatively close to being considered hideous in my book.
Sammi "Sweetheart" Is WNBA Superstar Diana Taurasi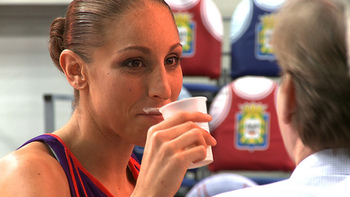 There is something about Taurasi that just screams Jersey. Maybe it's the dark hair or bad skin; I'm not sure.
Truly a floor general, Taurasi knows how to spread the wealth with teammates, similar to the way Sweetheart knows how to spread her body with the male population of the Jersey Shore.
Angelina "The Kim Kardashian of Staten Island"
"I feel like this job is beneath me. I'm a bartender. I do, like you know, great things."
Angelina, the self-proclaimed Kim Kardashian of Staten Island.
She seems oddly white to be a guidette, but luckily she has the obnoxious personality to counterbalance her pale complexion.
Angelina gets so jealous of her guido roommates hooking up with younger and more attractive girls that she kicks the "whores" out of the house. That's just poor etiquette Angelina—shame on you.
Angelina Is Former Figure Skater Nancy Kerrigan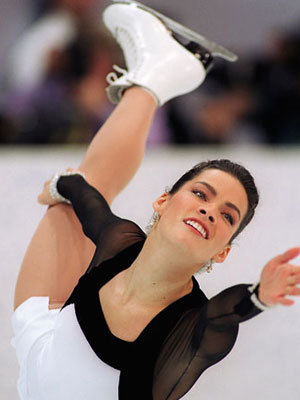 Angelina and Kerrigan both know exactly what it's like to be screwed over by the competition. Kerrigan took a pipe to the knee, while Angelina's roided-out freak roommates would rather sleep with anyone (the competition) that's not her.
Nicole "Snooki"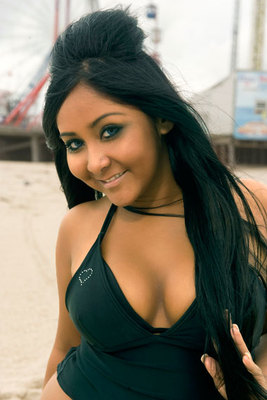 "She was like a little miniature chihuahua painted with some spray paint black"—The Situation describes Snooki.
No, this is not a hologram or a distorted image—this is just what she looks like. Unfortunate to both the viewers and guys that she brings home, Snooki looks like a combination of RuPaul and a troll doll.
Let's put it this way: The one guy Snooki brought home from the club chose to puke his brains out instead of hook up with her. Ouch!
"My ultimate dream is to move to Jersey, find a nice, juiced, hot, tan guy, and live my life."
Nicole "Snookie" Is Soccer Player Ronaldinho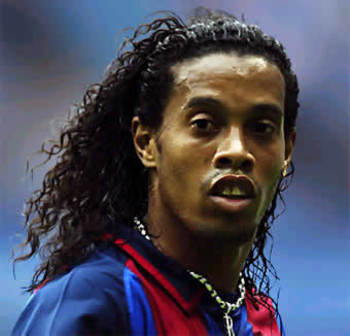 Probably the ugliest sports figure. No real shared character traits, but I would rather stare blankly at Ronaldinho while he spoke to me in Portuguese than listen to Snookie blab about her pathetic life.
"I want to bring home guys, and it's hard. Like it shouldn't be hard, but it is hard."—Snooki
Bonus Slide! T-Shirt Store Boss Danny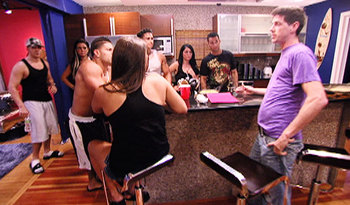 He runs the trashiest T-shirt store in the world and is much taller than the entire cast. Nice work, Danny boy!
Boss Danny Is NBA Giant Shawn Bradley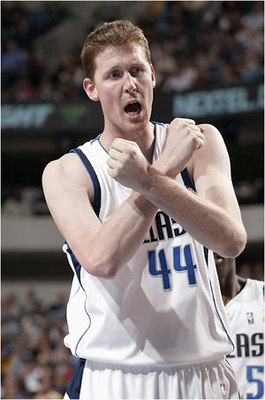 Keep Reading