8 Matches to Make WrestleMania 26 Insane!
Every year, WrestleMania seems to get bigger and better.
In the spring of 2010, "The Showcase of the Immortals" will be held at the University of Phoenix Stadium in Glendale, Arizona, in front of 72,000 WWE fanatics.
Now, WrestleMania XXVI is going to be a huge event, no matter who Vince McMahon puts on the card, but I implore the higher ups in the company to give the wrestling faithful some really great matchups to make next year's events truly memorable.
In this Slide Show, I have some ideas for next year's WrestleMania line-up, please take a look ...
Christian vs. William Regal vs. Shelton Benjamin
Our opening match, for the ECW championship, would see William Regal versus Christian versus Shelton Benjamin, in a triple threat contest.
The WWE currently has 8 major titles. Not all of them can be defended at WrestleMania, but I feel that it is important to have the ECW strap represented, because of its history and it's importance to the Tuesday night TV show.
All three of these guys are WWE veterans, and are capable of putting on a hell of a show.
I would like to see Shelton Benjamin become the ECW champ here. Benjamin is widely considered to be one of the best pure athletes in the company and it would be nice to see him gain his first title in the Land of Extreme, at WrestleMania.
Ted DiBiase vs. The Undertaker
After breaking away from Legacy and having a successful feud with Randy Orton, Ted DiBiase will be ready to take on the Dead Man.
The Undertaker was brought into the WWE by Ted DiBiase Senior, at Survivor Series nearly 20 years ago, so there is some history to be explored in this rivalry.
I found The Undertaker and Randy Orton's match, at WM21, to be the most interesting of all of The Demon from Death Valley's WrestleMania matchups, because I felt like there was a real chance that The Viper might break Taker's incredible winning streak.
I don't know if anyone really wants to see The Phenom's record broken, but if it ever happens, it will establish a young guy, like DiBiase, as a main eventer.
D-Generation X vs. The Hart Dynasty with Bret Hart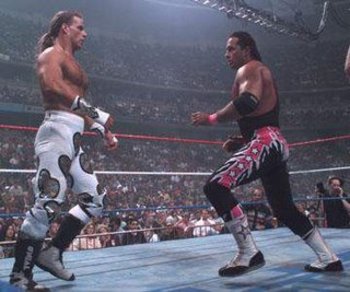 Bret Hart and Shawn Michaels had some great matches in the 90's and they are both part of the biggest wrestling conspiracy of all time.
Its been rumored that Hart has been open to working with the WWE, in limited capacity, for some time now. What better role to have him in than as a mentor to his nephew David H. Smith and his tag partner Tyson Kidd?
D-Generation X will be the Unified Tag Team Champions after winning their bout with Jerishow at TLC. Meanwhile, the Hart Dynasty goes on an incredible winning streak and they become the number one contenders for the belts.
It looks like Shawn and Hunter have the Dynasty outclassed and all but defeated, on an episode of Raw, when the "Excellence of Execution" shows up.
Over the weeks leading up to Mania, Bret trains the boys and talks smack to Michaels and HHH. Not only will this feud be a great WrestleMania match up, but it would make for some "Must See TV" on Monday nights.
Money In The Bank Ladder Match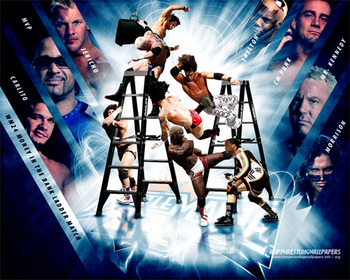 This year's combatants in the sixth annual Money in the Bank Ladder match would be Kofi Kingston, Evan Bourne, John Morrison, Rey Mysterio, C M Punk, The Miz, Sheamus, and Batista.
In the past, WWE superstars such as Edge, RVD, Jeff Hardy, Shelton Benjamin, and Mr. Kennedy have provided some great WrestleMania moments in this special, once a year contest.
With high flyers Evan Bourne and Rey Mysterio joining the fun, for the first time, I would expect this year's crazy ladder match to be the best yet.
Trish Stratus vs. Beth Phoenix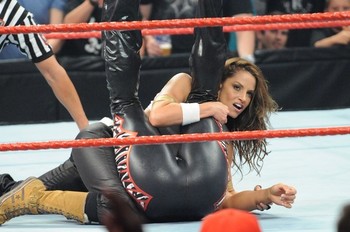 Trish Stratus was one of the few WWE Divas that was able to consistently draw on a PPV card, and since her retirement in 2006, the Women's division has been seriously lacking.
Now, when "The Quintessential WWE Diva" has returned to Monday Night Raw she always wants to fight Beth Phoenix. It would be great to see Trish mix it up, one more time, against the Glamazon, at the "The Grandaddy of Them All."
Ricky Steamboat vs. Randy Orton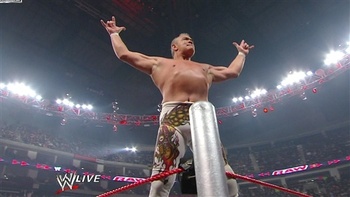 When Ricky Steamboat returned to the WWE at WrestleMania 25, he showed that he still has some gas left in the tank, putting on a good preformance with Chris Jericho.
How fun would it be to see "The Dragon" vs "The Viper" at WrestleMania 26?
The story practically writes itself as Randy Orton has a reputation of targeting WWE veterans. Once "The Legend Killer" starts attacking this years group of Hall of Fame inductees, Ricky Steamboat decides it time to put Orton down for good.
Chris Jericho vs. Edge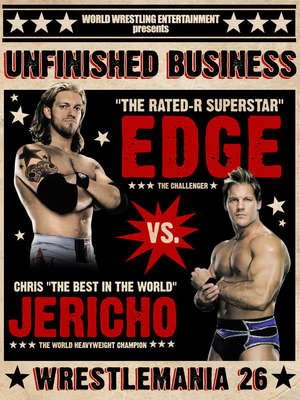 This rivalry started brewing, after the tongue lashing Jericho gave Edge, back in July. These two were partners then, having just won the Unified Tag Team Titles, when Edge was suddenly injured and had to relinquish his half of the belts.
"The Rated-R SuperStar" hinted at a face turn when he apologized to his fans for being hurt once again. And Jericho is the best heel in the business, who will become the World Heavyweight Champion, after defeating Undertaker at the Royal Rumble.
It would be so great to see Edge and Jericho go at it, on "The Grandest Stage of Them All"!
The Rock vs. John Cena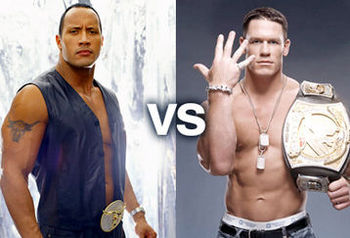 This is another match that has been rumored for awhile now. Back in March, John Cena called out the Rock, on MTV, to face him at WrestleMania 26.
It would be nice to see the biggest WWE Super Star of the 90's face off against the biggest WWE Super Star of the 2000's.
This match would be similar to WrestleMania X8, when Hulk Hogan, the face of the 80's, passed the torch to The Rock in their now classic match up.
The storyline would start with Dwayne "The Rock" Johnson guest hosting Raw and Cena challenging him to a match at WrestleMania. Johnson would decline, because there are other people who deserve a title shot at WM 26.
Later, at the Royal Rumble the "Great One" makes a surprise appearance and wins the battle royal, earning himself a championship match.
Keep Reading