Tiger Woods' Mistresses Pics: Rating The Pictures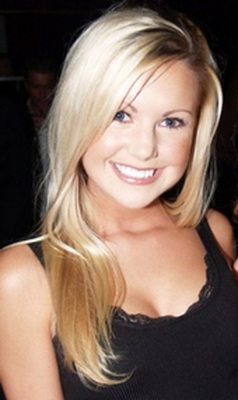 I saw a woman in the store the other day with her husband looking at the magazines by the checkout line when she all of a sudden went, "Wait a second! That is Tiger's wife? And he cheated on her with these women?"
I thought that was pretty telling. Someone with no knowledge of Tiger's life had kind of accepted his infidelity at this point until she saw just how hot the woman he was cheating on was. How could these other women possibly be worth it?
You've no doubt seen pictures, but let's dig a little deeper. I went through the pictures with a fine toothed comb and rated them to see if any of these women were worth the trouble.
Rachel Uchitel
This was one of the first pictures that surfaced of Uchitel before she became a household name and tabloid queen.
Some people have claimed that she looks a little mannish here. To be fair, she does look like she's got some guns in this picture. But her great body helps to cancel out the man-arms.
However, her eyes are a little uneven, which is hard to get past. If that's how she winks I don't really know how Tiger fell for her.
Rating: 5 out of 10
Rachel Uchitel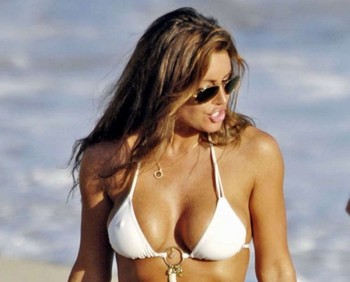 Here is Rachel at the beach. She's wearing those oversized shades that she seems to like so much. Maybe they help hide those cockeyes of hers.
As you can see, Uchitel has some pretty nice sized, actually, fairly large... lips. Yes, here we get to see her channeling her inner Angelina. Especially since she's got seven different adopted kids tagging along outside of the frame.
Rating: 7 out of 10
Jaimee Grubbs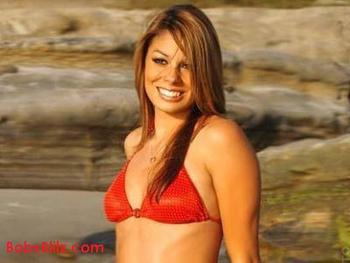 Grubbs has said that she always wanted to get in Playboy. She's got a nice face, but not as much going on up top as, say, Uchitel.
Still, you can't deny that Jaimee is a cutie and is definitely photogenic.
Rating: 7 out of 10
Jaimee Grubbs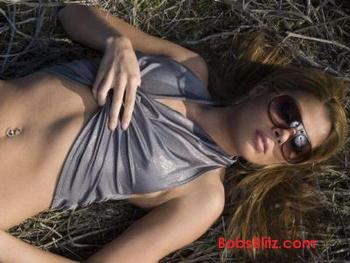 Here Grubbs seems to be a fan of the sunglasses too, as well as laying on the ground wearing a metallic looking top that shows up plenty of midriff.
After having a boyfriend on Tool Academy then one with double digit mistresses, Jaimee has shown tremendous taste in guys. I hear Mike Tyson is single!
Rating: 6 out of 10
Kalika Moquin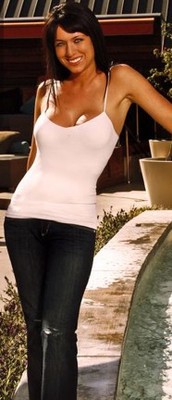 Moquin, a club promoter from Vegas, took this photo for a magazine story about her. It obviously showcases her great body, but her face doesn't do much for me.
Either it was too bright outside or she's a demon, because her eyes are really starting to scare me the more I look at them.
Rating: 5 out of 10
Kalika Moquin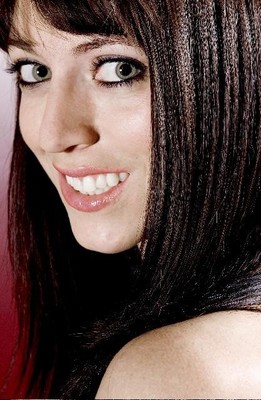 "Do you think you could do a closeup? Yeah, that's good, a little closer though. Closer. Closer. Come on, I want you to be able to see each of my pores individually. Great, right there, now just a little closer and we're good."
That's about how I imagined that conversation going.
Rating: 4 out of 10
Cori Rist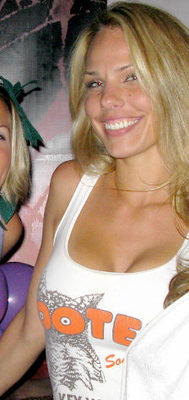 The headshot seen round the world, this picture has been cropped just so you can see Rist's face, but it left out the most important part, that Rist was a waitress at Hooters.
Cori looks pretty good here, but that smile is kind of out of control. It takes over half of her face and is just a little too gummy for my taste. I won't go as far as to make a Mrs. Ed joke, but it's out there.
Rating: 5 out of 10
Cori Rist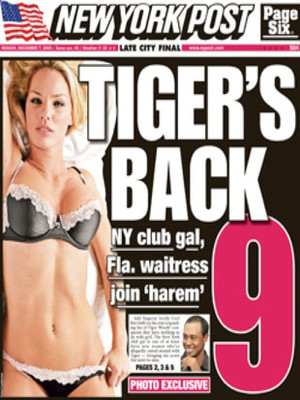 Yowza! Looks like that earlier picture of Rist didn't do her justice at all. Turns out she is sexy as hell.
She showed up on the New York Post in some lingerie, gave us a smoldering look instead of a big grin, and all of a sudden she's pin-up material. Well done.
Rating: 9 out of 10
Jamie Jungers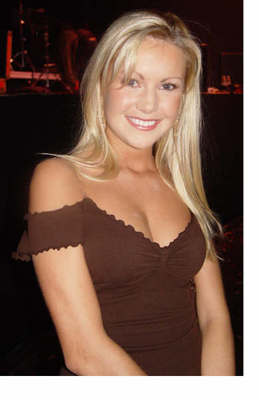 Tiger's second Jamie, and second blond, burst onto the scene with a fury as Woods' first mistress with a modeling career.
You can see why—shes' gorgeous. Rocking the bare shoulders and that way-too-innocent-looking-to actually-be-innocent face, Jungers quickly became the one girl guys said they might cheat on Elin with.
Rating: 9 out of 10
Jamie Jungers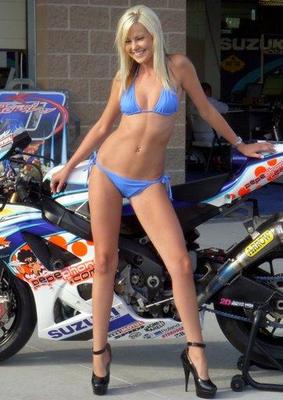 Here is Jamie showing off her stuff in my favorite dress combination: bikini and stiletto heels, in front of a motorcycle no less.
I don't know what it is about hot women and fast machines that drive guys so nuts, maybe it's because we think it makes them fast women, but poses like this are what gets our blood boiling.
Rating: 10 out of 10
Bonus Jamie Jungers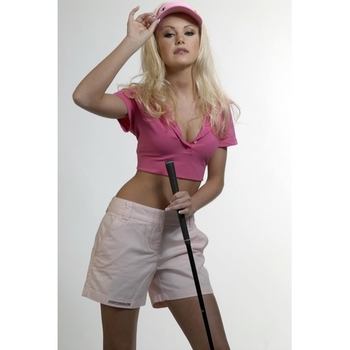 Just for fun, let's take a look at a picture from a photo shoot that Jamie did before she even met Tiger.
It's too perfect. Her and golf were already a match made in heaven. I don't know why the PGA Tour doesn't snatch her up immediately for an endorsement deal.
Ooh! Even better! If I were paired with Tiger at any tournament in the future, I would make her my caddy in a second.
Rating: 9 out of 10
Mindy Lawton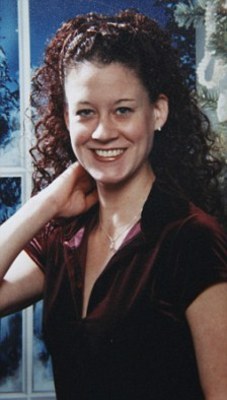 Mindy isn't a model, as you can see. She's not even a waitress at some place like Hooters. No, Mindy was a Pancake House waitress who might be the perfect example of how much Tiger wanted to have sex with anybody but his wife.
I'm sure she's an attractive girl if you meet her, but this picture just makes her seem like a less attractive version of Rosanne's daughter.
Rating: 2 out of 10
Mindy Lawton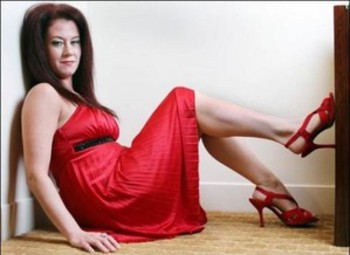 You know what? The sexy pose, red dress isn't doing it for me either Mindy. I have to say, she looks a little bit like Elvira here.
Tiger, buddy, what were you thinking?
Rating: 3 out of 10
Holly Sampson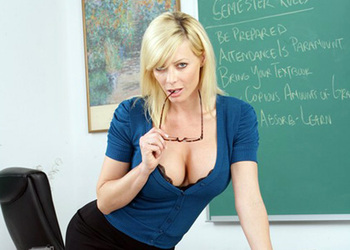 Well now, Tiger went in a little different direction for his next mistress. Of course, I'm sure this isn't exactly the order he went through, just the one we found out in.
It looks like Holly is an incredibly hot teacher. She wears glasses, but is seductively biting on them, and her blouse is showing a ton of cleavage. She must be popular with the students.
What's that? She's a porn star? Ohhhh. Yeah, that makes more sense.
Rating: 9 out of 10
Holly Sampson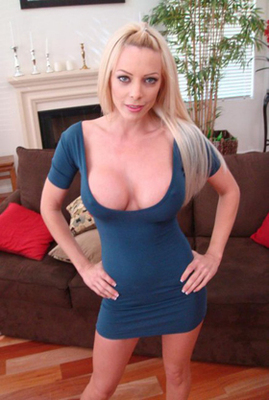 Seriously, though. Even disregarding the ridiculously low cut shirt (and that is ridiculous), you can tell that Holly is a porn star just by the vacant, soulless look she has in her eyes.
Not that I would know what that looks like. Or why other porn stars would have it... Let's just move on.
Rating: 7 out of 10
Joslyn James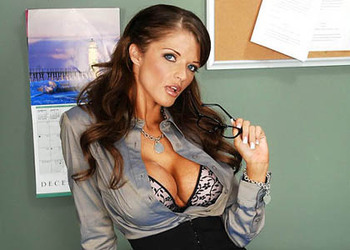 This time it looks like Tiger went after a sexy office worker... hey, wait a second. She's a porn star too, isn't she? I knew it.
Joslyn is the latest woman to come forward by name about having an affair with Woods. She shows that even though a Tiger can't change his stripes, let's all hope that he used protection because if not his stripes might start falling off.
Rating: 9 out of 10
Joslyn James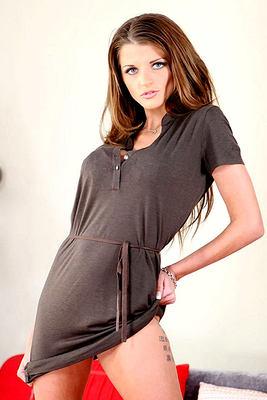 It looks like Tiger's newest lady has a little bit of ink going on. She's got some Oriental characters on her leg, as well as some interesting ones on her back.
James probably thinks the characters on her leg say "Sparkling Moonlight" or something stupid like that. In reality, ironically enough, they say "I had sex with Tiger Woods and all I got was this stupid tattoo."
Rating: 9 out of 10
More Tiger Woods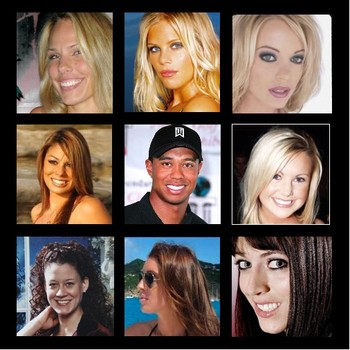 Keep Reading