The 2009 Heisman Finalists: Did They Get It Right?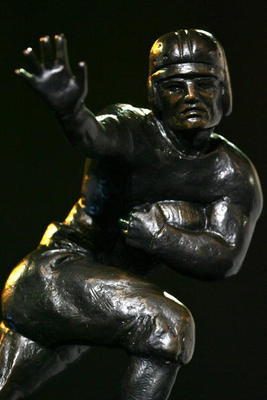 The names have been released, and we have the five finalists for the 2009 Heisman Trophy. I wrote an article a few weeks ago asking if anyone wanted to win the Heisman, due to the lack of a runaway candidate, and frankly, I still feel the same way.
The following is how I see the voting falling into place for the 2009 Heisman Trophy.
Fifth Place: Ndamukong Suh—Nebraska Cornhuskers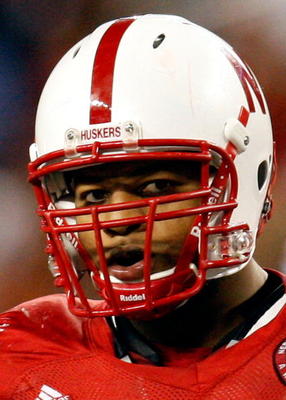 I may have Suh in fifth place, but he has earned a place forever in my heart. Did you see how he threw Texas QB Colt McCoy around like a rag doll during the Big 12 Championship game? Wow.
Unfortunately, he doesn't have a chance of winning the Heisman Trophy, and it has nothing to do with his performance. The NFL will welcome Suh with open arms, and surely Nebraska will miss him when he does leave for the draft.
His 2009 stats: 50 solo and 32 assisted tackles for a loss of 92 total yards, 14 sacks (10 solo and four assists) for a loss of 77 yards, with one forced fumble and three blocked kicks.
Fourth Place: Tim Tebow—Florida Gators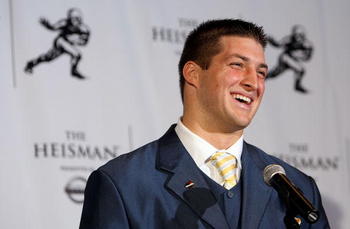 Yes, the crowned King of College Football has been invited, but should have been left off the list and replaced with CJ Spiller. Sorry, but Tebow does not deserve to be mentioned or placed in the Top Five finalists.
However, since he has, he is now the first player in college football history to be placed in the top five three straight years in a row.
His 2009 passing numbers: 182/279 with 18 TDs and five INTs. And his rushing numbers: 203 carries for 1026 yards with 13 TDs. He was involved in 482 offensive plays for a total of 3272 yards.
Third Place: Toby Gerhart—Stanford Cardinal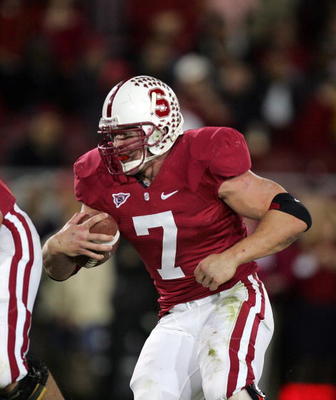 Talk about from nowhere to everywhere, Toby Gerhart of Stanford has arrived. Unfortunately, he plays for a school which is better known as an academic institution than a football powerhouse. They also play in the PAC-10, and outside of USC and possibly Oregon, no other teams gets the respect they might deserve.
Gerhart's 2009 numbers: Ranked No. 2 overall in rushing statistics, he rushed 311 times for 1,736 yards and 26 TDs.
He may be number three on this list, but don't be surprised if he becomes the number one RB in the NFL in two to three years.
Second Place: Colt McCoy—Texas Longhorns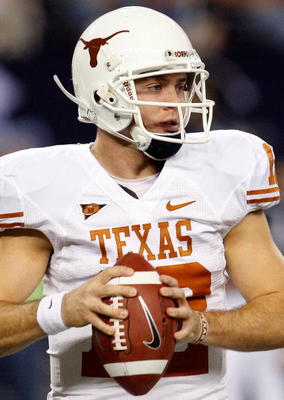 Colt McCoy was my No. 1 choice before the SEC and Big 12 Championship games, but his performance in the latter and Mark Ingram's performance in the former finalized my rankings. McCoy will also have a wonderful career in the NFL, but he will simply have to settle for runner-up in the Heisman voting again in 2009.
During the 2009 season, he passed 468 times completing 330 for 3,512 yards. He threw 27 TDs and 12 INTs. He also ran 128 times and gained 348 yards for three TDs.
Will he lead Texas to a National Championship against the Crimson Tide of Alabama? I think not. If he struggled against Nebraska, he's going to fail miserably against Alabama.
The Winner: Mark Ingram—Alabama Crimson Tide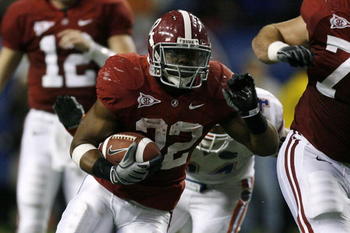 A double-feature—Mark Ingram will win the 2009 Heisman Trophy and lead his team to a National Championship. Ingram's performance against the Florida Gators in the SEC Championship game in Atlanta was spectacular. He ran for 113 yards on 28 rushing attempts, and three TDs.
His 2009 production: On 249 attempts, Ingram gained 1,542 yards and scored 15 TDs. The majority of his production was earned against SEC defenses, and that is the compelling factor in him winning the Heisman Trophy.
Keep Reading