A Look At Tim Donaghy's Allegations: True or False?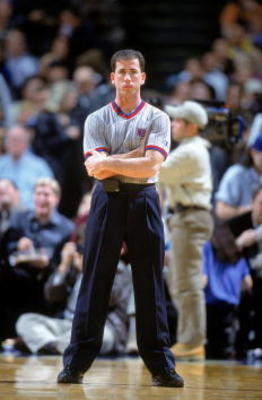 Despite the relative lack of attention that is given to the Tim Donaghy scandal as opposed to Tiger Woods, Michael Vick, Plaxico Burress or steroids, it is the most serious of all.
After all, it doesn't condemn players for their choices as much as it completely undermines the very fabric of competitiveness that makes up the game itself.
For basketball conspiracy theorists, reading the published allegations is like having your worst fears confirmed because everything Donaghy says is completely believable and completely wrong.
But where does fiction end and the truth begin? After all, this is a man who served time in federal prison for his crimes, so why wouldn't he try and earn himself some coin and notoriety by dragging the league and it's refs down with him?
Donaghy's story is this: when he was betting on games, he would use the knowledge he had of referees—their biases toward certain players and the way they officiated—to place his bets.
The result was that Donaghy had a record that is the envy of every wiseguy and bookmaker from the Jersey Shore to Las Vegas.
The FBI claims he picked at a 75 percent clip, and Donaghy himself claims a streak of 15 out of 16 correct picks at one time.
While the gambling stories are interesting, the thing that interests the NBA and its fans is the fact that such biased tendencies toward officiating are so blatant that games can be figured out because of them.
The NBA has vehemently denied all of his allegations; although they did promise that they would be looked into.
When it comes to a matter like this, the truth is probably somewhere in the middle. The referees, the NBA, David Stern and Tim Donaghy are not completely blameless.
Let's take a look at some of them, and see how likely they are.
Vigilante Justice
Tim Donaghy appeared on 60 Minutes Sunday night, and he expounded on some of his stories.
One of which was the supposed hatred between Allen Iverson and referee Steve Javie.
Donaghy mentions a game between the Philadelphia 76ers and the Denver Nuggets, while Iverson was with the Nuggets. In the game, Iverson was ejected with two technical fouls, and afterward he claimed that Steve Javie had a personal bias toward him.
Donaghy claims that the referees were unsatisfied with the $25,000 fine levied on Iverson, so they decided to punish him on the court.
On Janurary 6, 2007, the Nuggets were playing the Jazz, and Iverson bore the brunt of many knockdowns, yet his assailants were rarely whistled.
After the game, even coach George Karl noticed that something was amiss, saying, "A.I. gets beat up and no calls. It just seems like you get paranoid and you think everybody is against us."
According to Donaghy, the Nuggets were suffering because of what transpired between Iverson and Javie.
It's easy to see referees sticking up for their own like that and with someone like Iverson as a target, it seems like it would be easier to get away with, since he already had a reputation as somewhat of a malcontent.
This all took place within the weeks following his acrimonious exit from the 76ers.
Verdict: True
This Time It's Personal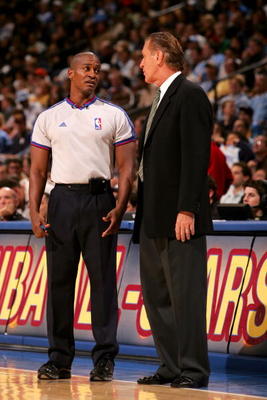 Donaghy claims that the bets he placed were based on his inside knowledge on the factors that might make a certain ref officiate a certain game a certain way.
Since referees are (as far as we know) human, surely they have some biases both for good and bad.
Donaghy's examples involve who else, but Allen Iverson.
The aforementioned Steve Javie was supposed to HATE Iverson, and so Donaghy knew that he should bet against Iverson's teams when Javie was there.
On the other hand, according to the book, Joe Crawford had a grandson who loved Allen Iverson, and once in a while the grandson would come visit the game when Iverson was playing.
Crawford would introduce the grandson and often the three would spend some minutes together before the game.
Donaghy claims that he knew to always bet against Iverson when Javie was there, for Iverson when Crawford was there.
I buy this completely, and I don't even find much wrong with it. Refs are human, and as much as they try to detach themselves, it's hard not to whistle one way or the other at such a quick reaction time if you've got some sort of feelings.
I don't think it's appropriate for Crawford to take his grandson to meet Iverson, especially pre-game, but then again, noboduy's perfect.
Verdict: True
The Superstar Treatment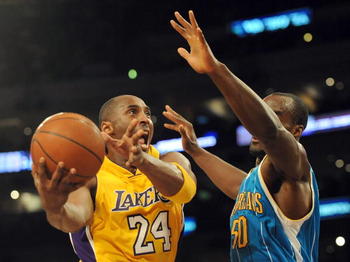 Another thing that Donaghy mentioned that resonates strongly is "superstar treatment." We've all seen the ones who benefit from that. Kobe Bryant, Dwyane Wade, and LeBron James all seem to live at the free throw line, especially with the game on the line.
It's gotten so bad for James that he causes a stink when anything is called on him on close games. I have watched many a game where LeBron has benefited greatly from this superstar treatment, and if Donaghy is to be believed, the league not only knows about it, they practically encourage it.
In the book, he says, "Over the years, I have reviewed many recorded hours of video involving Raja Bell. The footage I analyzed usually illustrated fouls being called against Bell, rarely for him. The message was subtle but clear—call fouls against the star stopper because he's hurting the game."
This is the kind of stuff that cause fans to seethe with anger, particularly those who aren't fans of the Lakers, Heat or Cavaliers.
Who decides who a superstar is? Is Dwight Howard (who gets in foul trouble an awful lot) more of a "star" than Dwyane Wade, and if so, why and who decides?
This passage seems to be an example of the things that everyone always suspected, but now we have proof, which is why I don't buy it.
In the first part, I don't doubt that someone like Raja Bell was shown fouling a lot as examples on what to call, but I think that's more about the on-court duties of Raja Bell than anything else.
After all, Bell (and Shawn Marion, Shane Battier and others) are often just defensive specialists—put out there to guard the other team's best guy. Since he's constantly defending quick guys like Kobe, the chances are he's going to have more contact with them, and more contact that might be missed by
the officials.
I don't see the connection he makes that when they are shown videos, it means they are encouraged to call more fouls on people defending Kobe. I think it's a calculated leap that Donaghy made to get people to buy into the whole idea of superstar treatment.
Verdict: False
Naming Names: Dick Bavetta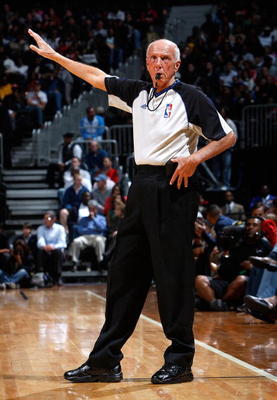 Donaghy really does a number on Dick Bavetta, accusing him of being an attention whore (alledgedly Bavette paid someone to keep track of all the times his name was mentioned on a national broadcast), that he makes it his business to keep games close and a stooge for the wishes of the NBA marketing folks.
He also calls Bavetta a master at manupulating games, saying, "Studying under Dick Bavetta for 13 years was like pursuing a graduate degree in advanced game manipulation. He knew how to marshal the tempo and tone of a game better than any referee in the league, by far. He also knew how to take subtle—and not so subtle—cues from the NBA front office and extend a playoff series or, worse yet, change the complexion of that series."
This one is sort of a mixed bag. I believe people are human and have their tendencies, and possibly Bavetta felt bad for the losing team (the excerpts seem to back that up). I don't doubt that after so many years in the game one learns how to subtly mastermind a game.
That being said, the fact that Bavetta is supposedly the No. 1 guy when it comes to making the suits at the league office happy is a little much. You would think that the league loves close games, as well as extended series, and so Bavetta would be their guy in those games.
According to research fromTrueHoop, Bavetta was no more likely to have officiated close games over blowouts. In fact, big underdogs were 17-25 against the spread, which isn't a margin that would have you rolling in dough.
Verdict: False
Naming Names: Tommy Nunez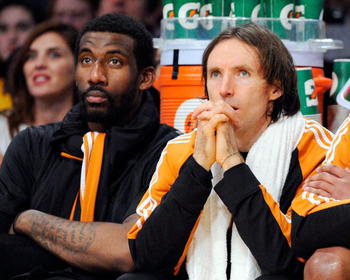 Donaghy has quite a claim for those who claim that the Phoenix Suns were robbed of a shot at the title by the suspensions of Amare Stoudemire and Boris Diaw during the 2007 Playoffs.
He claims that referee Tommy Nunez, a native of San Antonio, had strong personal connections to the city, and therefore would be more likely to give the Spurs the victory.
"My favorite Tommy Nunez story is from the 2007 playoffs when the San Antonio Spurs were able to get past the Phoenix Suns in the second round. Of course, what many fans didn't know was that Phoenix had someone working against them behind the scenes. Nunez was the group supervisor for that playoff series, and he definitely had a rooting interest. Nunez loved the Hispanic community in San Antonio and had a lot of friends there."
"Plus, he, like many other referees, disliked Suns owner Robert Sarver for the way he treated officials. Both of these things came into play when he prepared the referees for the games in the staff meetings…Nunez should have a championship ring on his finger."
Now, this screams of every Suns fans' deepest fear, but let's look a little closer at that series.
That was the one where Steve Nash missed some crucial time at the end of game one, when the Phoenix medical staff couldn't close a cut on the bridge of his nose that was bleeding heavily. That doesn't really have anything to do with the referees, since Nash got it from a head-to-head collision with Tony Parker.
Then there were the infamous suspensions, which happened when Robert Horry pushed Steve Nash into the scorer's table. Now, I know it was a terrible decision by the league, but the fact is, they were enforcing the rule. A stupid rule, but a rule none the less.
When it comes to the referees in the series, particularly Nunez, I find it hard to believe that he was able to get away with blatant favoritism for one team over the other.
Now, I also believe that the league should have known better than to assign
Nunez to a series that he might have personal feelings about, just like they seem to match up Joey Crawford with the Spurs in playoff games, even though Crawford has had documented problems with Tim Duncan.
Same with Bill Kennedy and Celtics coach Doc Rivers, who have had documented problems with each other, yet they still appear in playoff games together.
The NBA needs to look at this closely because as this book comes out, they can ill afford even the appearance of anything sketchy.
Verdict: False
We're Talking About Playoffs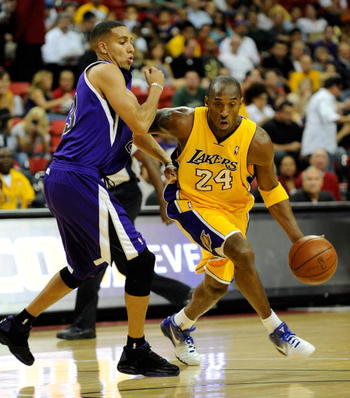 While regular season shenanigans are one thing, affecting the playoffs and the eventual championship is about as tainted as a sport can get. We all had our conspiracy theories when the Lakers and Celtics met in 2008, and we all thought we would be sure to see a Kobe-LeBron Finals last year—although we didn't, thanks to Mike Brown.
But we all have our personal moments of being screwed by the refs in the playoffs—the aforementioned 2007 Spurs-Suns series. The 2006 Finals have all but become a punchline (excuse me while I go drink some gasoline).
The 2002 Western Conference Finals between the Lakers is another one, when the Kings coughed up a big lead in game six, and eventually fell to the Lakers in seven, allowing the Lakers to win the title that year.
Donaghy has plenty to say on that one:
"The 2002 Western Conference Finals between the Los Angeles Lakers and the Sacramento Kings presents a stunning example of game and series manipulation at its ugliest…The referees assigned to work Game 6 were Dick Bavetta, Bob Delaney, and Ted Bernhardt. As soon as the referees for the game were chosen, the rest of us knew immediately that there would be a Game 7."
"In the pregame meeting prior to Game 6, the league office sent down word that certain calls—calls that would have benefited the Lakers—were being missed by the referees. This was the type of not-so-subtle information that I and other referees were left to interpret. After receiving the dispatch, Bavetta openly talked about the fact that the league wanted a Game 7."
""If we give the benefit of the calls to the team that's down in the series, nobody's going to complain. The series will be even at three apiece, and then the better team can win Game 7," Bavetta stated.
"As history shows, Sacramento lost Game 6 in a wild come-from-behind thriller that saw the Lakers repeatedly sent to the foul line by the referees. For other NBA referees watching the game on television, it was a shameful performance by Bavetta's crew, one of the most poorly officiated games of all time."
Every single Kings fan reading this just threw up in their mouth.
As far as this allegation, I'm completely stumped. I know Donaghy probably thought that this game would be first and foremost on everybody's mind when they thought of a game that had been rigged, which is why he made sure to mention it.
On the other hand, we all saw that game and Donaghy is right—whatever the motivation, it was one of the most poorly officiated games of all time, and it was a game on the highest stage.
The cynic in me nods my head furiously when I read that excerpt, and the dreamer in me thinks that the game I love couldn't be that susceptible to forces such as the size of media markets and TV ratings.
It begs the question, just like the superstar treatment: who decides what teams need to be in the top, getting the exposure?
Think about this. In the past 25 years, only six teams (Celtics, Lakers, Bulls, Rockets, Pistons, Spurs) have won 24 of the titles, with the Heat being the only outlier. Now, of those, all but San Antonio are in large markets.
Are the front offices of the other 24 teams that incompetent? Probably.
But allegations like this feed into the paranoia of fans of teams like the Kings, Trailblazers, Mavericks, Suns and every other team that never won that could make a case that they got screwed by the refs.
Verdict: ?
The $64,000 Question
Did Tim Donaghy fix games?
That's the question we need to know. We need to know how vulnerable the sanctity of the NBA is. We need to know if it is possible that it can be undermined by one person.
The FBI tracked Tim Donaghy winning 75 percent of his games, which is above and beyond any normal gambler. I don't doubt that Donaghy had some sort of inside information and that he was able to figure out what certain people might call.
But in the evidence examined by ESPN's TrueHoop, the games they were able to research do not give him a 75 percent winning margin, in fact, a lot of them are well below 50 percent.
On 60 Minutes Sunday, Donaghy said he bet on more than 100 games. He was a gambling addict that started by betting on golf games, and it grew.
Of those 100 games, when he was asked how many of them he officiated, he said, "A lot."
He also said, "When you talk about gambling and the euphoria that comes with it, making winning picks is what excites you."
Does a man in the throes of euphoria sound like a guy who would be self-disciplined enough to call games the correct way? If you had the ability to help yourself win, wouldn't you do it, even if it was unconscious?
Think about video games you might have had, and you had a cheat code. Once you've got that cheat code, you can't go back to playing by the rules.
Why run out of ammo or die at a certain part when you can have infinite life and ammo?
That's why I find it hard to believe that Donaghy didn't fix the games.
But the FBI found no evidence that he did fix the game, and an independent investigation by the NBA also found no evidence.
Donaghy told investigators, "Knowing the information I had, I didn't have to do anything on the court to pick a winner."
I sort of buy that, but not all the way. Remember, this guy was betting on games for the better part of a decade, and was still considered one of the highest "graded" refs in the NBA.
He could have been doing this forever if he didn't come under FBI scrutiny, and that only happened because he was working with people who were being investigated for ties to organized crime.
Seeing as Donaghy was a weak man, he fell victim to gambling addiction and whatever else, I find it hard to believe that the means of his "winner's high" was literally at his fingertips, and yet he was somehow able to refrain from altering the outcomes of those games.
Verdict: Tim Donaghy fixed NBA games that he officiated, in order to win money.
The Final Verdict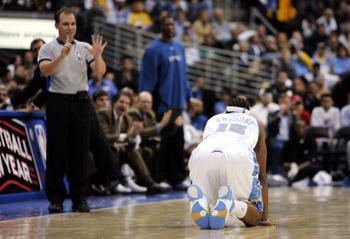 We know Tim Donaghy is a liar. We know he's a criminal.
But in his book "Personal Foul" is he lying?
Is he lying when he said that he didn't fix his own games? I believe so.
But is he lying when he writes about the personal biases of certain referees and how they might have affected games, seasons and championships?
What makes Donaghy's claims so believable is that he ascribes a very human element to these referees, who are supposed to be impartial. We all love to gripe about how the refs hate our team, or hate our favorite player, but deep down, we hope it's not true. It just can't be true.
But now Donaghy has given tangibility to our fears. He's given us names. He's given us examples and he's given us the reasons for some of the haunted memories we have when the game we were watching went wrong.
It's stunning that referees can be so casual about something that affects so many people. How many people fork over their hard-earned paycheck for a ticket, hot dog and beer to watch a basketball game, only to have the competitiveness of the game undermined by something as silly as who doesn't want to tip the ball boy for the evening.
That being said, since our first reaction is to say "I f#%king knew it!" We should be cautious. Whatever else Tim Donaghy is, he's a smart man.
He realizes that he is a pariah, and his family's well being has been put at risk because of it. He's been attacked in jail and made an example of what is wrong with our modern sports world.
So what does he have to lose by spreading lies and heresy? Nothing.
What does he have to gain? A lot. Money, credibility, less of the blame, maybe even a reality show for all we know.
He knows he's playing to the fears of every single fan of every single sport that has ever questioned the officiating, and maybe that's why he wrote this book.
The NBA has its problems, and officiating is right at the top of the list, but do we really believe that the league has a vested interest in who wins the title, what stars stay on the floor and what people are allowed to foul and what ones aren't?
Are we to believe that this game we love is tainted all the way from the top down?
I don't want to believe it, but the questions are there. Should I believe that one of the reasons that my beloved Dallas Mavericks don't have a trophy in their case is because the league wanted Dwyane Wade to become a superstar, or that David Stern didn't want to have to hand the Larry O'Brien trophy over to Mark Cuban?
The bad news for NBA fans is that now questions like these aren't mere conjecture, but have at least a small fiber of truth to them.
I honestly don't know what to believe, and I honestly don't think we'll ever find out exactly what is true and what isn't.
But like I said in the beginning, both the NBA and Donaghy deny any wrongdoing, and the truth is probably somewhere in the middle.
As NBA fans, we can only hope that whatever the problem was, proactive steps are being taken to get rid of it, and that the damage caused to any players and fans involved isn't too much to bear.
But I do know the next time I get pissed that LeBron James draws another blocking foul or D-Wade gets charges into the paint and sent to the line, that a part of me will wonder just exactly why that whistle blew.
Keep Reading