NBA Top 10: Midterm Rankings for First Semester of 2009-10 NBA Season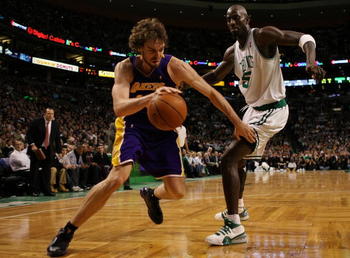 This edition of the NBA Power Rankings involves a five-way Mexican standoff for No. 1.
The NBA has never been this divided in terms of talent, and the top four teams from each conference are all in talks of championship contention.
As of this point, there are only a couple teams that look impossible to beat when they are playing their game.
It's only appropriate, then, that these two teams made the No. 1 and No. 2 of this midterm ranking.
10. Miami Heat (11-9): No Longer the D-Wades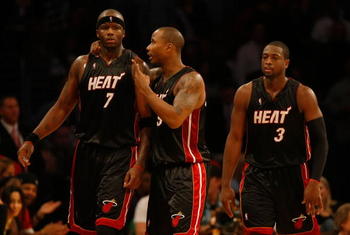 So much for Dwyane Wade's back problems.
The Miami Dwyane Wades have actually become a team, using Wade as a facilitator, with Beasley and Jermaine O'Neal putting in enough offensive production to play as a professional basketball team during Wade's shooting slump.
Not that it didn't hurt, but when Wade gets his stroke back, the Heat should be a scary team to face.
When one of your losses is against a superior Lakers team by one point based on a buzzer-beater, you really can't complain about the progress this team is making after a slump.
9. Utah Jazz (12-8): Saucing Their Opponents with Boozer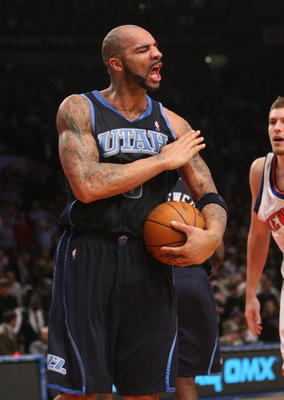 There is no team this writer hates more than the Utah Jazz, but all credit to them for going 8-2 in their last 10 games, and to Carlos Boozer for picking up Western Conference Player of the Week honors with Malone-esque numbers: 82-125 FG, .656 FG%, 26.1 PPG, 10.2 RPG since the beginning of Utah's home stand beginning Nov. 21.
If Boozer keeps up his high level of play, the Jazz might actually be competitors come playoff time.
8. Dallas Mavericks (14-7): Ubermensch's Stellar Play Keeping Dallas in the Contention Conversation
Losing to Golden State and posting only 103 against their revolving door of a defense stands to show that old habits die hard.
Dallas has some maturing to do, with one of the oldest squads in the NBA, if they don't want to waste what could be Dirk Nowitzki's second MVP season.
7. Phoenix Suns (15-6): Same Old Suns Leave Postseason Intensity Questions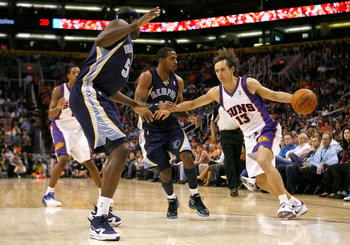 Outrunning and gunning with one of the highest offensive tempos in the league...
Same old Suns.
Second highest in the league PPG average...
Same old Suns.
Eighteen of their first 21 games with more than 100 points...
Same old Suns.
Unable to thwart Phil Jackson's tempo-slowing defense in two losses against L.A...
Same old Suns.
Unable to defeat any team with playoff intensity, including the NBA superpowers, the Phoenix Suns wish they were (L.A., Orlando, Cleveland, excepting Boston)...
Same old Suns.
6. Atlanta Hawks (14-6): Talented, Young Core Keeps Hawks Soaring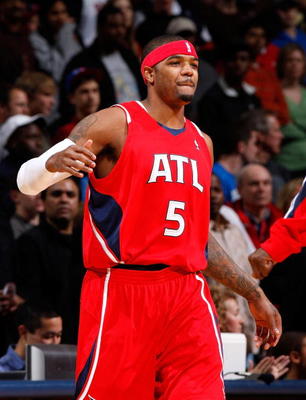 So much for being No. 1; the Hawks were bound to fall from grace.
Playing to the level of their competition can be a good thing or a bad thing, but the Hawks are doing it, winning against winning teams and... losing against losing teams, save a 17-point thumping at the hands of the Orlando Magic.
Unless they can bite up the moxie to win big games, the Hawks will have a tough time reassessing their season at the All-Star break.
5. Denver Nuggets (16-5): Nothing 'Melo About Denver's Chances with Anthony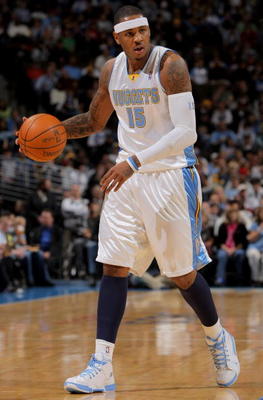 Carmelo and Chauncey have been leading a very competent Denver offense that has everyone in the Mile High City thinking playoff time.
Denver has a distinct competitive advantage in conditioning that allows them to go full blast for four quarters.
Denver has posted more than 110 points in 10 games this season and more than 120 points in 6 games––all victories.
4. Orlando Magic (16-4): They're Who We Thought They Were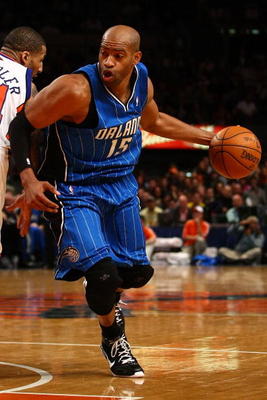 The Magic lost a close one to Miami, but have since taken up a job lighting up scoreboards: 100, 114, 118, and 126 in their last four with as much "D" as your high school valedictorian's report card.
Dwight Howard's numbers are down from last year, but with this kind of offensive potential, it's really not needed.
3. Cleveland Cavaliers (15-5): Fast-Paced Offense Favors the King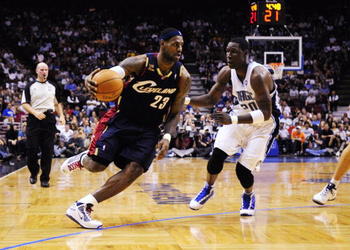 Convincing victories over Western Conference teams like Dallas and Phoenix makes you wonder just how they're going to handle the Lakers.
After starting 3-3, a faster offensive pace (with or without Shaquille O'Neal) favors the Cavs, who are 12-0 when they score 100 points or more.
They've quietly come out on top in "big test" games, including at Orlando and at Miami.
2. Boston Celtics (16-4): Just as Scary as They Always Were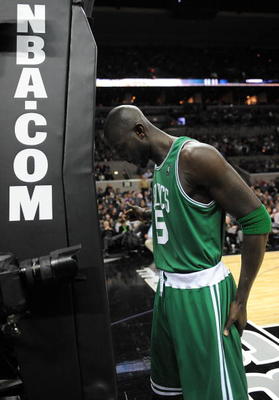 BAD NEWS: Losing to teams like Phoenix, Atlanta, and Orlando does not bode well for their position on the list.
GOOD NEWS: Sturdy, lock-down defense (No. 1 in the league in terms of PA) and the highest PF to PA differential (+9.6) in the league shows Boston is controlling the tempo of the game after that woeful offensive performance against Orlando.
They haven't lost a game since.
1. Los Angeles Lakers (16-3): On Championship Road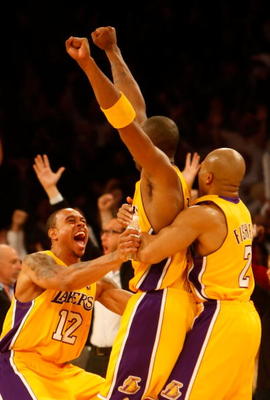 Not quite time for championship hugs when they'll be coasting for the next couple of weeks.
Their next big test is against Cleveland on Christmas--until then it's just doing homework against a handful of sub-par teams.
A five-game road trip against "underachieving" Utah, "mid-season form" Chicago, "young talent" Milwaukee, "resurgent" New Jersey--screw it.
If there was such thing as a road-trip vacation, the Lakers have one.
They're in dynastic form after pulling the pants down on the Phoenix Suns on Sunday.
Keep Reading