Flow's Playoff Picture 2009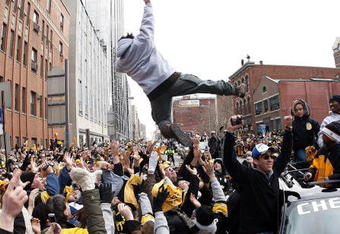 Gregory Shamus/Getty Images
With week 13 past us it is about time to make my prediction on who is in and out in the playoffs this season. It has been a year of great upsets, amazing 4th quarter drives, and Chris Johnson.
I will order the divisions by total wins the division has, thus explaining which division is the strongest as well.
AFC South - I would not be surprised if this division had 3 playoff contenders. What team is not fit to be in the playoffs? Every team has beaten worthy opponents this season. With the AFC being bad this season I could envision the Titans being a team that makes it.
NFC East - The AFC North let everyone down this year so at least their rival division stayed up top. The Giants, Cowboys, and Eagles have been battling all season, and the Redskins are showing some life late this season.
NFC North - With a team like the Lions in your division everyone else better be running scared. More in their defense, both of Detroit's wins were to non-division opponents (Browns and Redskins). The Vikings seem to have grasp on a playoff spot, but the Packers look like they could come back and tie the division. I could see it happening. 12-4
AFC West - The last thing I saw myself saying this year was that the AFC West would be a good division again. Here they are though. The Broncos and Chargers are in a head to head race for the division title, and the Raiders and Chiefs have pulled their fair share of upsets
NFC South - The Saints make their division look tougher than it is. None of them have a chance at wild card.
AFC East - The Patriots and Dolphins have some good competition going for their division title this season. If the Dolphins get hot again, and the Patriots play any more games on the road, this could be Miami's season for the taking.
AFC North - Wow they all suck. The Bengals have gotten a few good wins, but they lost to the Raiders (one of a few upsets they have pulled off). The Steelers and Ravens haven't beaten any worthy opponents except for Denver and San Diego which both of those are unexplainable; and the Browns can't win.
NFC West - All is good in the west on the NFC side. Sucking as usual. The Cardinals are looking red hot and excited to try for another super bowl entry. Everyone else is just doing the same old western thing.
NFC:
Seed 1 - New Orleans Saints (14-2)
Seed 2 - Minnesota Vikings (12-4)
Seed 3 - Arizona Cardinals (11-5)
Seed 4 - Philadelphia Eagles (11-5)
Wild Cards - Green Bay Packers (12-4) New York Giants (10-6)
AFC:
Seed 1 - Indianapolis Colts (13-3)
Seed 2 - San Diego Chargers (12-4)
Seed 3 - Cincinnati Bengals (11-5)
Seed 4 - Miami Dolphins (9-7)
Wild Cards - Denver Broncos (11-5) Tennessee Titans (9-7)
Wild Card Round:
I see 3 out of 4 being home-field losses.
Titans over Bengals, Broncos over Dolphins, and Packers over Eagles.
As bad as the Cardinals are at home, I still see them beating the Giants (or cowboys if that happens to be wrong.)
Divisional Round:
AFC:
Colts would beat the Titans for the 3rd time of the season, and the Chargers would beat the Broncos in Qualcomm after not being able to in the regular season.
NFC:
Packers surprise the Saints in the superdome after coming together as a well-rounded team late in the season, while the Vikings get payback on the Cardinals on their home field.
Conference Titles.
AFC: Chargers vs. Colts, neither of the Mannings know how to operate against San Diego. I don't know what it is, but the Chargers are Mannings' kryptonite. Chargers win a thriller.
NFC: This is the NFC title because god wanted it to be. Brett Favre beat Aaron Rodgers in the regular season twice while Jared Allen was eating up Green Bay's suspect offensive line. The line has been healed and Aaron Rodgers is (in my opinion) the top QB as of this season. The Packers don't let Favre take three.
Super Bowl:
Chargers vs. Packers. The Chargers are prone to winning super-bowls, and the Packers are running off a playoff series similar to the Cardinals' last year. Packers win the Super Bowl.
Now you know my opinion. If you want to call me a moron for thinking the Titans will make it feel free, because I am probably wrong.
This article is
What is the duplicate article?
Why is this article offensive?
Where is this article plagiarized from?
Why is this article poorly edited?