Which Big Ten Teams Will Likely Be Dancing in March?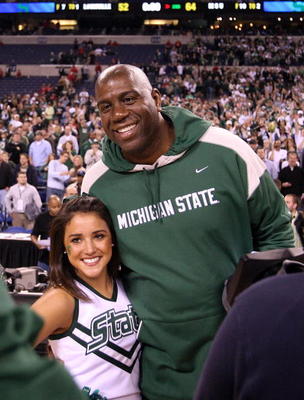 The Big Ten finally took home bragging honors in the Big Ten/ACC challenge after falling short the past ten years. No wonder Magic is smiling.
The Big Ten did not thrash the ACC, as the winner of the challenge remained very much in doubt until the closing seconds of Wisconsin's thrilling upset win over No. 6 Duke.
On the heels of winning the challenge, many Big Ten fans began to wonder how many teams will make it to the big dance. How sweet would the bragging rights be for Big Ten fans if the Big Ten qualified more teams for the tournament than any other conference?
Last year, the NCAA selection committee awarded only two at-large bids to teams with less than 20 wins. The two teams were Wisconsin (19-12) and Arizona (19-13).
Eight teams from the Big Ten finished .500 or better in conference play. Penn State, 10-8 in conference, was the only team to finish better than .500 and not make the tournament.
In assessing the likelihood of each team making the tournament, there are three questions fans should therefore be asking when examining the resumes of their favorite team...
Which remaining non-conference games do they need to win?
Assuming the team takes care of its non-conference schedule, do they need to finish .500 or better in conference play to secure an NCAA bid?
Can they finish .500 or better?
Illinois Fighting Illini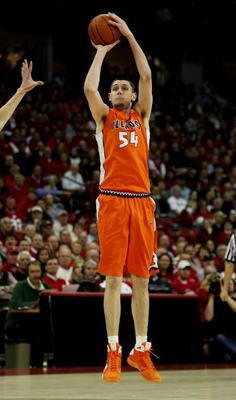 Are the kids doing alright?
The question will be asked often in Champaign as the Illini have two impact freshmen guards in D.J. Richardson and Brandon Paul.
In addition to Richardson and Paul, the Illini have Michael Tisdale (pictured above) and two other returning starters who are averaging more than 10 points to give them a balanced attack.
The Illini stumbled over Thanksgiving during the Las Vegas Invitational, losing to Utah 60-58 and Bradley 72-68.
Illinois came to the Challenge seeking to right its ship, but fell behind Clemson by 20 at halftime.
I hope that whatever was said at halftime by Coach Weber was recorded. Clemson pushed the lead to as much as 23 points but the Illini were not to be denied, going on a 35-10 run to take the lead with 8:47 to go in the game.
Illinois went on to win to beat Clemson 76-74. The 23 point comeback victory was the largest margin in school history.
The Illini are currently sitting at 6-2. The non-conference schedule is brutal for Illinois as four tough games remain before they get to the heart of the Big Ten season.
The Illini have Vanderbilt at home on Dec. 8 and Gonzaga on Jan. 2. Illinois travels to Georgia on Dec. 19 and Missouri on Dec. 23.
Non-conference wins? The Illini need to go at least 4-2 in their remaining non-conference games. The Illini need a convincing win over Gonzaga or a sweep of Vanderbilt, Georgia and Missouri.
Is .500 enough? Maybe. Because of the strength of Illinois' non-conference schedule they may be able to get to the tournament with only 19 wins.
Can Illinois finish .500 or better? Yes, the Big Ten schedule is favorable in that they play Iowa twice and only face Michigan and Minnesota once. The Illini are hard to count out when they have come back from 23 points down.
Indiana Hoosiers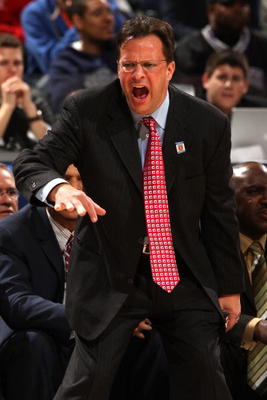 Indiana is currently sitting at 3-4 without a signature victory.
The most interesting story line out of Bloomington this year will not be what seed the Hoosiers will receive to the big dance but whether the Indiana faithful are still willing to be patient with Coach Tom Crean as he rebuilds.
Hoosier Nation has high expectations for its basketball program and it will be interesting to see if supporters begin to grumble if the team has a losing record this season.
See James Secoloff's article "Jeremiah Rivers . . . Waiting in the Shadows" and poll to feel the angst among Hoosier fans waiting for success.
The good news for the Hoosiers is that their next five games are at home.
The bad news for Indiana is that the next two games for the Hoosiers are against the 7-1 Pittsburgh Panthers and the undefeated No. 4 Kentucky Wildcats.
Hopefully, fans will remember that all of the key contributors on their team are underclassmen that should return next season.
Non-conference wins? An upset win over Pittsburgh with a decent performance in conference play could result in an NIT invite.
Is .500 enough? Maybe, if we are talking about the NIT tournament. The Hoosiers will likely lose to both Pittsburgh and Kentucky leaving them with at least six pre-season losses and no signature wins.
The only way the Hoosiers make the NCAA tournament this year is to win the Big Ten post-season tournament.
Can the Hoosiers do better than .500? No, but If Indiana can get to post seven wins during Big Ten play fans should consider that the program is back on track and look for Indiana to be contending for an NCAA bid the following year.
Iowa Hawkeyes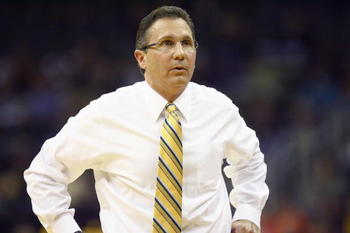 The Hawkeyes lost two of their top four scorers and their two remaining leading scorers don't score more than 11 points a game. The top six players in minutes played are all underclassmen. The Iowa basketball program is clearly rebuilding.
The Hawkeyes are 3-5 and will struggle this season to find back to back wins throughout the season.
The 70-64 loss against Virginia Tech in the Challenge was a good game by the young Hawkeyes but they simply do not have enough talent on this squad to compete night in and night out against solid teams.
Some writers have begun to suggest that Coach Todd Lickliter might be the wrong person to turn the program around. See P. Murphy's article "Coach Lickliter is under pressure as Iowa's Coach."
The remaining games on the Iowa schedule before the Big Ten season begins are: Northern Iowa, Iowa State, Drake and South Carolina State.
Iowa's focus this year should be to win the mythical Iowa Championship by beating Northern Iowa, Iowa State and Drake. Losing the mythical Iowa Championship may cause Iowa fans to become disenchanted with Coach Lickliter.
Non-Conference wins? If Iowa could win three of its remaining four games, Iowa could position itself for an NIT tournament bid.
Is .500 enough? Yes, again if we are talking about the NIT tournament.
Can Iowa do better than .500? No. The Big Ten schedule is not favorable as they have home and away games with No. 6 Purdue, No. 9 Michigan State, and No. 15 Ohio State. Iowa will have its hands full going 9-3 against the teams in the Big Ten that are not ranked in the top 20.
Michigan Wolverines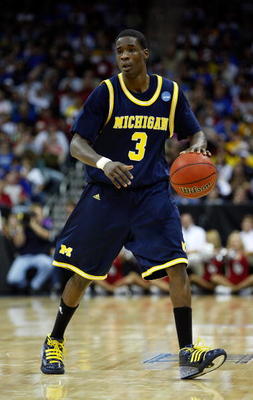 The Wolverines are 4-3 but have no wins over a quality opponent.

In the Old Spice Thanksgiving Tournament, Michigan struggled to beat Creighton in double overtime before dropping consecutive games to Marquette 79-65 and Alabama 68-66.
In the Challenge, Michigan started slow and lost to Boston College 62-58 and people began to wonder if the young Wolverines were a year away.
One issue that needs to be addressed right away is rebounding. Michigan gave up 10 offensive rebounds to the smaller front line of Marquette and the Eagles out-rebounded them by 41-26.
The elite teams in the Big Ten will not be so kind to allow the Wolverines back into games they start slow and will definitely not be charitable with rebounds.
The player to watch for the Wolverines is Manny Harris (pictured above) who is averaging 21.1 points, 8.7 rebounds, and 5.4 assists a game.
Michigan has three non-conference games they should win—Utah, Detroit, and Coppin State.
Michigan has two opportunities to pick up a marquee upset—Dec. 19 in Lawrence against No. 1 Kansas and on Jan. 17 at home against No. 13 Connecticut. See, Paul Fournier's article "Michigan Basketball Ready to Rock-n'-Roll, The Top Five Games of 2009-2010" for a good break down of these matchups.
Non-Conference wins? Michigan needs to upset either Kansas or Connecticut to give them a signature win.
Is .500 good enough? Sure, but only if the Wolverines engineer an upset over either the Jayhawks or Huskies because of the cache a win would carry.
Without an upset over Kansas or Connecticut, Michigan will need to win at least 11 games. Alternatively, Michigan could still get into the tournament with two wins in the Big Ten post-season tournament.
Can Michigan finish .500 or better? Maybe, the schedule helps Michigan in that they only have to play Purdue once this season. If the team matures and plays well against Kansas or Connecticut, confidence may spill over to the Big Ten season prompting the Wolverines to finish in the top half of the conference.
Michigan State Spartans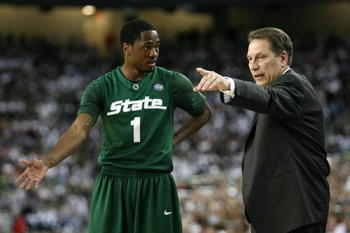 The No. 9 Spartans are assured of making the tournament as this squad is talented and deep. The Spartans are led by the 2008 Big Ten Player of the Year Kalin Lucas(pictured above).
Michigan State is not a one-man team as they have five players scoring more than 11 points a game. The Spartans are long, athletic and play good defense.
Michigan State is 6-2 with a quality 75-71 win over No. 16 Gonzaga. The two losses by the Spartans have come at the hands of quality opponents, No. 13 Florida and No. 11 North Carolina.
Michigan State's Achilles heel appears to be consistent shooting from the perimeter. See, Michigan State Exposed in Loss to North Carolina ... Again, Daniel Muth.
If the Spartans find consistency in their shooting from beyond the arc, the Spartans should be rewarded with a low seed in the tournament.
Non-conference wins? The issue for the Spartans is not winning non-conference games to secure a bid but rather to avoid being upset to ensure a low seed in the tournament. The Dec. 22 game in Austin against No. 2 Texas should be a good barometer as to whether Michigan State can get back to the Final Four.
Is .500 good enough? Yes, but the Spartans will do far better than .500 as they stake their claim for back to back Big Ten titles.
Can Michigan State finish .500 or better? Yes, but the real question is whether the Spartans can win the Big Ten title. The schedule is favorable for the Spartans repeating as Big Ten champions as they only have to play Ohio State once and the game is in East Lansing.
Minnesota Golden Gophers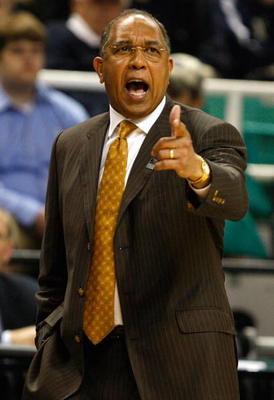 Minnesota got off to a quick start with a No. 18 preseason ranking and four wins which included a win over then No. 10 ranked Butler.
Unfortunately, the Gophers dropped their next three games.
If there is a silver lining, the losses by Minnesota are all quality losses—No. 25 Portland, No. 16 Texas A&M, and 8-0 Miami.
The Gophers losses are mostly attributable to failing to adequately defend the three point shot, poor free-throw shooting and failing to limit second chance opportunities.
See, Gophers Head Back to the Barn for Fine Tuning, Kevin Lindsey for a more in-depth discussion on the Gophers.
Minnesota is now 5-3 with the remaining non-conference games at home against teams the Gophers should beat –Morgan State, St. Joseph, Northern Illinois and South Dakota State.
Non-conference wins? Coach Tubby Smith and the Gophers need to win all of their remaining non-conference games an upset would mean that Minnesota would have to win 12 Big Ten games.
Is .500 good enough? Maybe, the Gophers would not have 20 wins but all of their non-conference losses would be to quality opponents. A better strategy for the Gophers would be to go into the Big Ten season thinking they need to win at least 11 wins to ensure themselves of a NCAA bid.
Will Minnesota do better than .500? Probably, the depth of the Gophers bench will likely wear down opponents. If suspended players Royce White and Trevor Mbwake return to the team in time to see meaningful time the Gophers could get back into the Top 20.
Northwestern Wildcats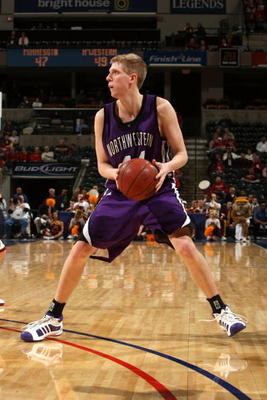 If there has been a Cinderella team in the Big Ten, the glass slipper would definitely belong to the Northwestern Wildcats.
A good article on the Wildcats magical run can be found in "Northwestern Basketball Growing Up Fast as They Win Chicago Invitational," by Aaron Morse.
The Wildcats lost 6'8" Kevin Coble (pictured above), their leading returning scorer and First Team All Big-Ten candidate, to injury before the season. Then one game into the season, Northwestern lost 6'7" Wing player Jeff Ryan to a knee injury.
Instead of collapsing, the Wildcats have turned in one of the most surprising performances of the 2009 season. Northwestern has principally relied on three players in making its run—Michael Thompson, 6'4" Jeremy Nash, and 6'8" John Shurma.
Northwestern has raced out to a 6-1 record and in the process have beaten three quality opponents - Notre Dame 7-1, Iowa State 6-2, and North Carolina State 6-1.
The remaining teams on Northwestern's non-conference schedule are teams that they can beat—North Carolina A&T, Stanford, North Florida, Central Connecticut State, Texas Pan-American, and Chicago State.
Non-Conference wins? Northwestern has already done all of the hard work. Now, the Wildcats need to run the table. The only real obstacle on the non-conference schedule appears to be Stanford.
Is .500 good enough? Yes. The Wildcats should be able to win at least 5 of their 6 remaining non-conference games. If they play.500 in the conference they will be 20-11 with quality wins over Notre Dame, Iowa State and North Carolina State and one quality loss against Butler.
Can Northwestern do better than .500? The schedule does Northwestern a favor in that the Wildcats only have to play Purdue and Ohio State once.
The issue for the Wildcats is whether they will make it home before the clock strikes midnight as their bench is not deep. Hard to root against a program that has never made it to the NCAA tournament.
Ohio State Buckeyes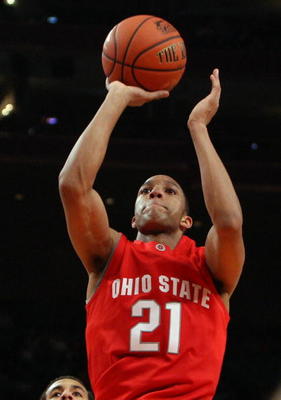 The fortunes of the No. 15 Buckeyes took a turn for the worse when star Evan Turner (pictured above) reportedly broke bones in his back while dunking in Ohio State's 111-60 blow-out of Eastern Michigan. Turner is expected to miss eight weeks.
The loss of Turner will be significant. Turner going into the game against Eastern Michigan was averaging 20.6 points, grabbing 12.9 rebounds and dishing out 6.6 assists a game. Turner's flirtation with averaging a triple double would make Oscar Robertson proud. See, Buckeyes Clinch Big Ten/ACC Challenge Championship, Drew Gatewood.
The Buckeyes are however not a one man team as they have four other players scoring at least 10 points a game. Junior Guard John Diebler who is scoring 16.6 points a game will likely be called upon to fill the void of Turner's absence.
The No. 15 Buckeyes are 7-1 and have a victory over then ranked No. 13 California. The only loss by the Buckeyes came at the hands of North Carolina 77-73.
The Buckeyes have three non-conference games on their schedule in which they will not miss Turner—Presbyterian, Cleveland State and Delaware State.
Ohio State's next game on Dec. 12 against No. 20 Butler and their later tilt in Morgantown on Jan. 23 against No. 8 West Virginia may be a different story.
Non-conference wins? Because the status of Turner's return is uncertain, the Buckeyes need to avoid an upset in December to ensure 10 wins before they go into Big Ten play to improve their chances of receiving a low seed.
Is .500 good enough? Yes, but the Buckeyes have enough talent without Turner to finish in the top half of the conference.
Can Ohio State finish .500 or better? Yes, the real question is whether the Buckeyes can win the Big Ten title without having Turner able to play until late January or early February.
Penn State Nittany Lions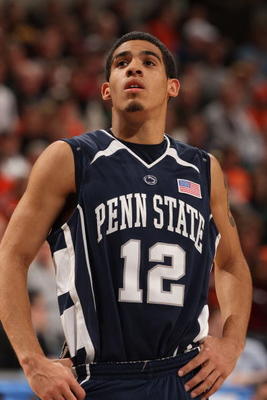 The Nittany Lions at 5-3 are a difficult team to figure out.
Last year's NIT Champion Nittany Lions started this season winning five of their first seven games. The Lions have a signature win after beating the University of Virginia 69-66 in the Challenge.
The problem is that the only team that Penn State has beaten with a winning record is Virginia.
Further compounding the problem is that two teams that beat Penn State, UNC-Wilmington and Tulane, will only make it to the dance if they win their conference's post-season tournament.
Penn State has one of the best players in the country in 6'0" junior point guard Talor Battle (pictured above) who is averaging 20.1 points, 3.6 assists, and an amazing 6 rebounds a game. See Bleacher report article, "What Do We Know about Penn St. Basketball So Far?" by Ben Jones for a good break down on the team.
Saturday's 45-42 loss to Temple was not a bad loss but it demonstrated that if you are able to contain Battle the Nittany Lions have trouble scoring.
Penn State has Virginia Tech, American, Gardner-Webb and University of Maryland-Baltimore County left on their non-conference schedule.
Side bar—I'm not sure if the Penn State AD should be thanked or criticized for the non-conference schedule of the football and basketball teams this year—American, Gardner-Webb and UMBC?
Non-conference wins? The Nittany Lions need to beat Virginia Tech to enhance their NCAA non-conference resume. Remember, the NCAA selection committee penalized the Nittany Lions non-conference schedule last year in denying them a bid despite a 10-8 Big Ten record.
Is .500 good enough? Probably not, Penn State's losses against UNC-Wilmington and Tulane will not endear them to the committee; they need to win at least 10 and most likely 11 wins.
Can Penn State finish .500 or better? Maybe, the Nittany Lions get to play 8 games before facing a ranked team in the Big Ten and they will need to win at least 7 of those games to have a chance. Additionally, the will need Battle to have a season worthy of being named Big Ten player of the year.
Purdue Boilermakers
The No. 4 Boilermakers are loaded and have the look of a team that is serious about making a Final Four run to Indianapolis.
Purdue is 7-0 and has a quality win over No. 11 Tennessee. See, "Purdue-Tennessee: Lasting Benefits for the Boilermakers," Jeff Stine.
Purdue has three scorers in 6'4" guard E'Twaun Moore (pictured above), 16.8, 6'10 center JaJuan Johnson, 14.3, and 6'8" forward Robbie Hummel, 13.7. They also have veteran leadership at the guard position in Chris Kramer and Keaton Grant and a bench that is deep and has experience.
Coach Painter should be able to get his reserves valuable playing time as Purdue has four easy games on its schedule—Valparaiso, Alabama, Ball State and SIU-Edwardsville before they travel to Iowa on Dec. 29.
Purdue should be 12-0 at the end of the year.
2010 will start with a bang as the nation will get a good look at whether Purdue is ready to claim the Big Ten title on January 1st when Purdue hosts No. 8 West Virginia.
Non-Conference wins? The game against No. 8 West Virginia may have implications as to which team is awarded a top seed in the NCAA tournament.
Is .500 good enough? Yes, but the real question for the Boilermakers is whether Purdue can win the Big Ten title not whether they finish over .500.
Can Purdue do better than .500? Yes. Purdue along with Michigan State are the two favorites for the Big Ten Title. Purdue plays the Spartans on Feb. 9 and 27 at the end of the season. The two games against Michigan State should be a good way to end the Big Ten season.
Wisconsin Badgers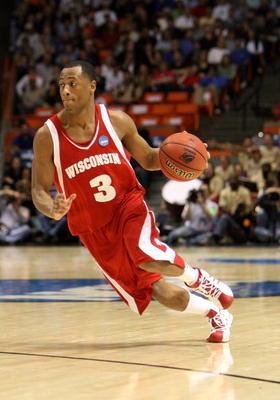 Coach Bo Ryan appears to have done it again.
The Badgers have played solid defense, eliminated opponents fast break opportunities, used the clock on offense and picked up just enough loose balls to start the season 6-1 with two marquee upsets over traditional ACC powers, No. 22 Maryland and No. 6 Duke.
See, Wisconsin Badgers: Duke Win Hopefully a Sign of Things to Come, Sam Oleson.
The Badgers have two solid scorers in 6'0" Trevon Hughes (pictured above) and 6'10" Jon Leuer. Hughes showed the country in the game against Duke that he can score from anywhere on the floor and is adept at controlling the tempo of the game.
This is bad news for the rest of the Big Ten as the Badgers will be a tough out each time they play.
The Badgers remaining non-conference games are against Green Bay, Marquette, Cal-Poly, Milwaukee and Illinois-Chicago. Wisconsin should win five and has a good chance to win all of them.
Non-Conference wins? Wisconsin has done the hard work; A win over Marquette would be nice but what they need to do is to avoid getting upset.
Is .500 good enough? Yes, the Badgers should have at least 20 wins and would have two quality non-conference wins over Duke and Maryland.
Can Wisconsin finish .500 or better? Yes. If the Badgers maintain their current level of play there is no reason why the Badgers can't finish in the top half of the conference.
The Badgers do not have as much talent as Purdue, Michigan State and Ohio State but they may have enough heart to get the job done.
Keep Reading