Could We See Women in The NBA?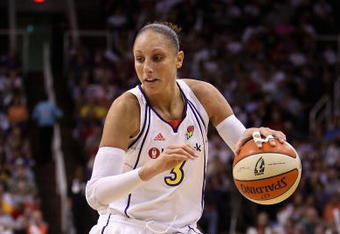 Christian Petersen/Getty Images
David Stern said in an interview with Sports Illustrated that he could see women playing in the NBA within the next ten years. I respect the fact that woman have such a passion for the game that it would ever be considered, however I highly doubt we will ever see women in the NBA. First of all, we have a league called the WNBA which is a professional basketball league for women. There are 12 teams who play 34 games in the regular season, 43 including the playoffs. So if a woman were to sign with an NBA, there would be no purpose of the WNBA.

Secondly, could you really imagine say Diana Taurasi posting up Lebron? Or vice-versa? The NBA is way too physical for women, and they would have an extremely hard time adapting to the play. I also don't think the pace of the game is any where near the pace of the WNBA. Point blank, the NBA is the league's premier basketball league in the WORLD.

Now, if it were possible, I would be all for a woman in the NBA. If she could hold her own, and play at the same pace every other player could then that's great. I, unlike Stern, can't see that day in the future.

Link to the SI Article
This article is
What is the duplicate article?
Why is this article offensive?
Where is this article plagiarized from?
Why is this article poorly edited?