2010 World Cup Draw: Which Country Has the Hottest Fans?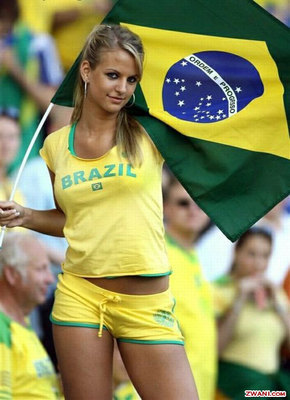 The draw for the 2010 World Cup has been announced. Now we just have to wait to see some action.
Or do we?
A little while ago I ranked the competing countries by the hottest woman from there. But let's be honest, those women probably won't show up to the games.
If a country's hotness is going to swing the World Cup, it has to come from the fans.
So let's take a look at the lovely ladies who might be cheering their teams on to victory next year—the Hottest Fanbases of the World Cup.
No. 24: Greece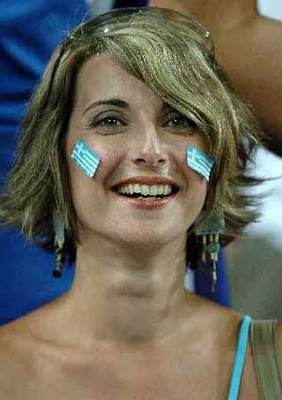 Fans aren't always young women. Some fans have been around for a while and still look good in face paint and tank tops. So to get things started off, we're going with a bona fide cougar from Greece.
She might be the mom of one of the players; she might be their girlfriend. We don't know. That's the beauty of the cougar.
No. 23: Ivory Coast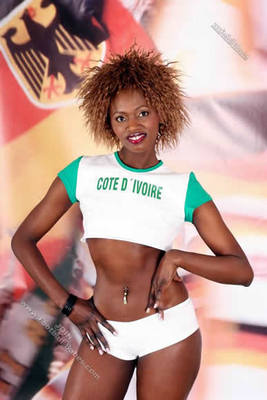 The fans for Africa are particularly rowdy about their teams. They don't really worry too much about looking good. Many times they just look like Tommy Davidson from Ace Ventura 2.
But we're happy at least one fan has the courage to show a little skin. I'm sure the team appreciates it as much as we do.
No. 22: Denmark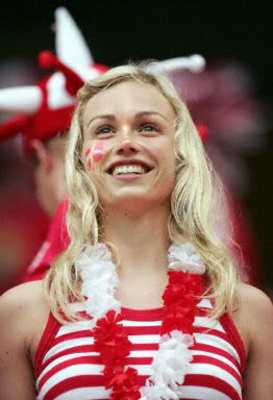 This girl has got the two-toned approach down pat. Not only is her shirt striped, but even her lei is striped.
She could have gone the extra mile and colored every other tooth red, but I like her smile a lot better this way.
No. 21: Uruguay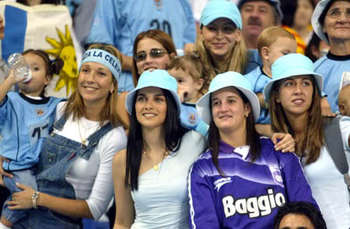 I think the black-haired girl in the middle has got it going on, but you have to give it up for the soccer mom next to her. It takes a lot of talent to hold your kid, feed him, and still root on your team.
No. 20: Netherlands
Did you know that she spent two weeks weaving that sign? Yeah...we really don't care.
Could you maybe just hold it a little further behind your head? Yeah, really stretch. Perfect.
No. 19: Paraguay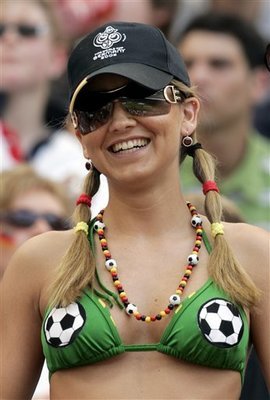 To be honest, I'm not really sure where this girl is from, but we caught her cheering in the Paraguay section, so that's what we're going with. Bonus points for the excellent placement of soccer balls.
I meant on her necklace. What did you think I meant?
No. 18: Serbia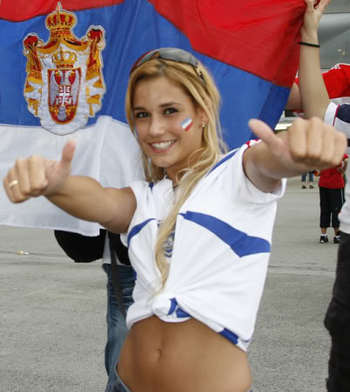 This chick is hot, so we're going to excuse her for getting the flag upside down on her face.
A solid thumbs sideways to you too, miss.
No. 17: Portugal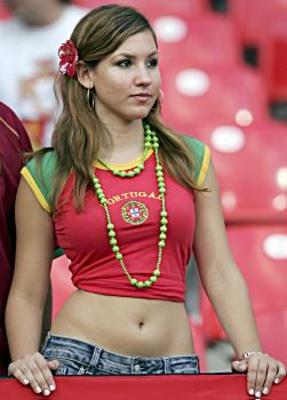 This fan looks solemn. Maybe Portugal just got scored on. Or maybe she's having trouble with that size XXXS t-shirt she's wearing.
I don't even care. She is fine.
No. 16: Spain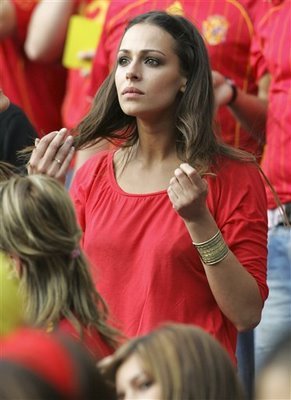 Just like the woman from Portugal, I don't know why this woman has a worried look on her face, but dammit if she still don't look amazing. She could pull her hair out from all the stress and still be freaking gorgeous.
No. 15: Australia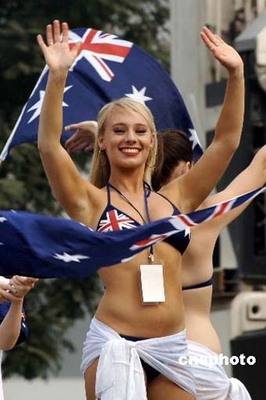 I would like to take this time and salute the guy who invented the flag bikini. Whoever you are, wherever you are, thank you, you magnificent bastard.
No. 14: Chile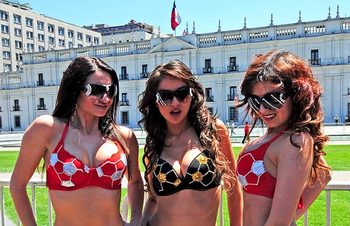 These fans decided to take to the streets to celebrate Chile making it into the World Cup. And what better way to celebrate than in soccer bikinis?
God bless warm weather and sexy women.
No. 13: Republic of Korea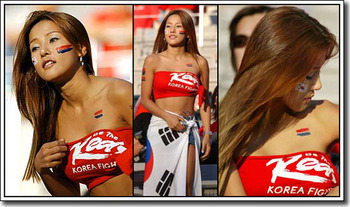 One picture wasn't enough to showcase the hotness of this Korean fan. And we really do appreciate the fan aspect of having a flag towel, but don't you think a flag thong would do the trick just as well?
No. 12: Germany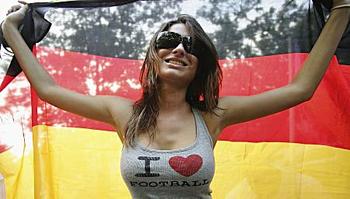 Yes, we heart football too. Except we call it soccer. And we don't really heart it as much we heart looking at your shirt.
No. 11: Switzerland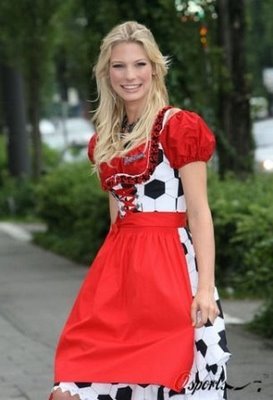 Yep, this is pretty much how I picture every woman from Switzerland. If she offers me some hot chocolate, it would make my life.
No. 10: New Zealand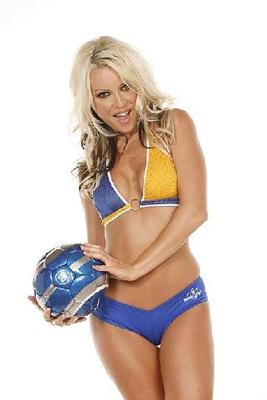 This is a New Zealand model posing with a soccer ball. Does she count as a fan? Let's check with the judges.
By a unanimous vote of 1-0, the entire panel has decided that, yes, it counts. Glad we got that worked out. Let's just enjoy her hotness.
No. 9: Sweden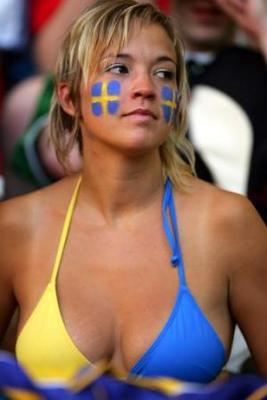 Um, hello...her flags are up here!
No. 8: France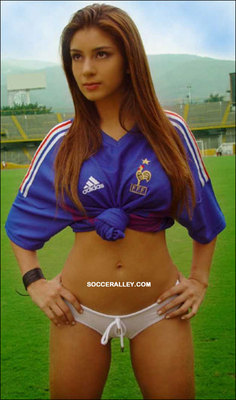 Ladies, take note. When presented with a bulky soccer jersey, the best way to make it sexy is to just plain lose the pants and then tie the jersey snugly around your bosom. Got it? Good.
No. 7: Japan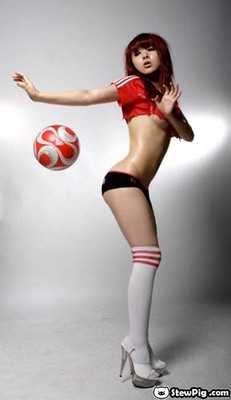 I believe this is the best way to play soccer: in stilettos. And instead of bouncing the ball off your forehead, just use your butt. The popularity of the game would go up 400 percent in America if that was the case.
No. 6: America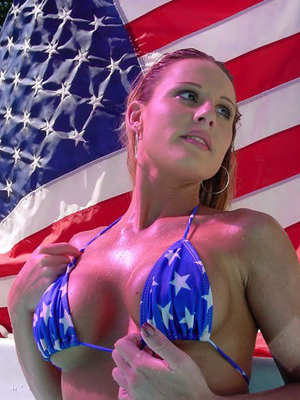 Speaking of America. This woman is a huge soccer fan. Huge. Giant. Enormous soccer fan. You'll just have to take my word for it.
No. 5: Mexico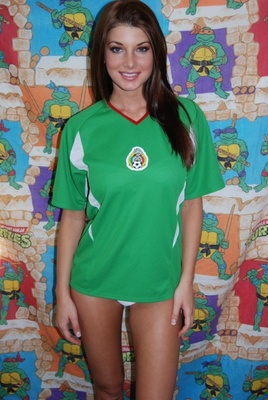 This Mexican soccer fan is incredibly fine. And if you think that I didn't bump her up a few spots as well because of the retro Ninja Turtle sheet in the background, well, you would be mistaken.
No. 4: England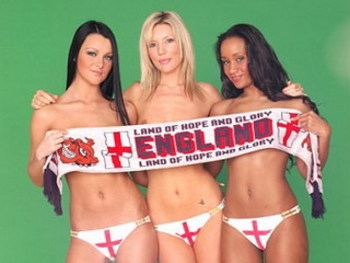 It's hard to find fans that love their soccer more than England. It is the land of Hope and Glory. Those are the two on the sides. The one in the middle is Sparkle, but that didn't really fit on the sign as well.
No. 3: Argentina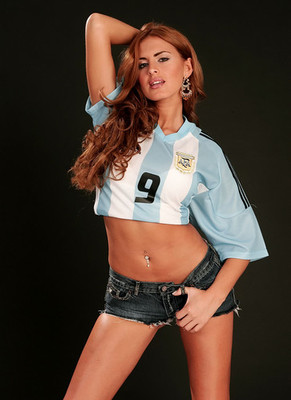 Argentina gets the nod up to No. 3 on volume alone. There are tons of pictures out there of hot women cheering for Argentina. They wear jerseys, t-shirts, banners, and—my personal favorite—body paint.
It really does seem to be the land of milk and honeys.
No. 2: Italy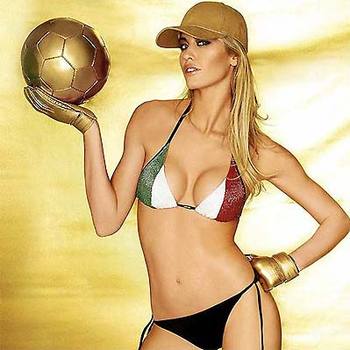 Oh, those Italians. I would love them for their pasta alone, but when they manage to crank out beautiful, soccer-loving fans, it just brings them even nearer and dearer to my heart.
No. 1: Brazil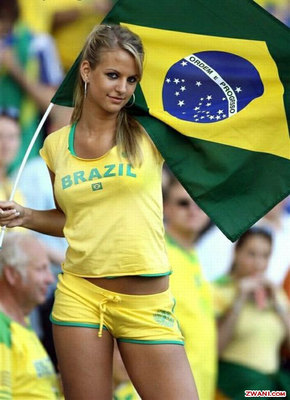 Does it ever get any better than Brazil? They topped the last World Cup rankings on the strength of Adriana Lima, and they top it once again because of this incredibly sexy fan not doing anything special other than just looking good.
I swear, every girl in their country is amazing looking. And oh my gosh do they love their soccer. In America, we go crazy if we meet a girl who is hot and loves sports. In Brazil, you find a girl like that every 10 feet.
I need to start learning Portuguese...
Keep Reading