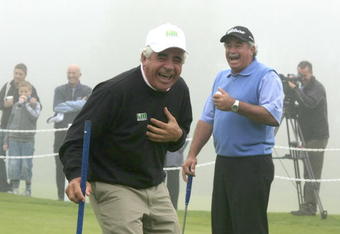 Phil Inglis/Getty Images
Topped it, skulled it, thinned it, breakfast ball, mulligan, blocked it, came out of it, left it out, bladed it, boned it, chunked it, chunked city, yanked it, tugged it, waved at it, fan job, butter cut, cut it, pulled it, skanked it, Aliced it, Mary Janed it, missed it, caught it thin, caught it fat, hit it fat, hit it thin, hit a screamer, hit a low runner, a cup out, on the high side, rim job, prom putt (nothing but lip), lipped out, bailed on it, bailed out, came off it, came over the top, topped it, hit it squirrelly, on the dance floor, dancing, came up short, short armed it, chili dipped it, crushed it, nutted it, hit it on the screws, nailed it, killed it, hammered it, worm burner, Eva Braun-ed it (dead in the bunker), Thurman Munson-ed it (dead Yank), it's wet, get there, plugged it, toed it, shanked it, fried egg, up and down, good out, that's dead, threw in a bomb, made a bomb, dropped in a bomb, curled it in, snaked it in, flopped it, dropped it in, chased after it, chased it, down the line, in to out, out to in, and lost it.
This article is
What is the duplicate article?
Why is this article offensive?
Where is this article plagiarized from?
Why is this article poorly edited?