Calgary Flames All-Time: NHL Awards and Trophies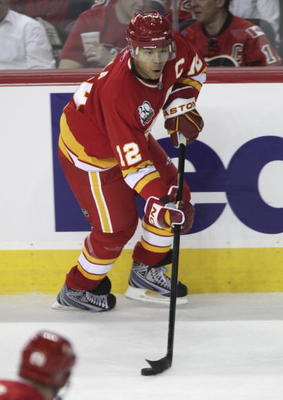 For a club with such an up-and-down past, the Calgary Flames have a surprising number of NHL Awards in their franchise display case.
Proud owners of sixteen separate trophies, the Flames organisation has had its name or the names of its players engraved on League silver nearly thirty times, heralding fourteen different individual Flames recipients and six team recognitions.
In a slideshow heavy on Jarome Iginla content, the current captain's impact on his team becomes palpably apparent. Six separate individual NHL Awards bear his name, and including Calgary's 2004 Clarence S. Campbell Bowl, he has collected NHL trophies on at least eight separate occasions.
Jarome has led the NHL scoring race, been chosen as League MVP by his player peers, come just the wrong side of the tightest Hart MVP voting in history, been selected best all-around leader by Mark Messier, and received virtually every prize for leadership, commitment, and heart.
Most of these honours were achieved before his 30th birthday.
Despite a relative lull between Iginla's numerous nods of the 21st Century and the team's talent logjam of the 1980s, Calgary's collection of NHL hardware is impressive. Only a few NHL Award categories have eluded their collection, which the team makes up for with multiple wins in others.
Some are contentious, others clear cut—all NHL Awards hold a prized position in the organisation's history, through their thirty years in Calgary and back into the '70s in Georgia. The three players who won when the franchise was still in Atlanta all came with the Flames in the move to Calgary, so their place in this list isn't just honorary; each of these men were award-winning Flames, each wore the Flaming C in the Stampede City.
Prepare to be amazed at how many NHL Awards and Trophies the Flames have won, all-time.
This is the book you can't buy anywhere, all about the Flames winning past. So go on, start the show!
Photo: Jarome Iginla, seen here at the start of the 2009-10 season in retro Flames silks. The vintage colours visually place Iggy with Calgary's skilful '80s roster, and his NHL Award recognitions put him with and above the best in franchise history.
Slides in reel listed in chronological order of when the Flames first won each given award.
Calder Memorial Trophy — Atlanta Flames: Eric Vail, 1975; Willi Plett, 1977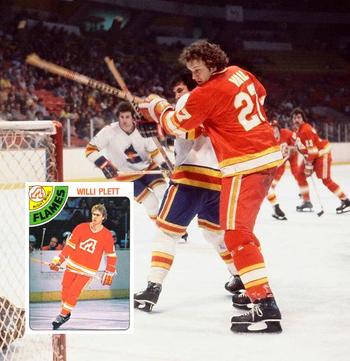 Calder Memorial Trophy — Awarded to the NHL's most outstanding rookie.
Atlanta Flames
1976-77, Willi Plett
1974-75, Eric Vail
The Flames franchise has had more Calder Memorial Trophy wins than any other NHL Award it has garnered. Going back to the 1970s and the club's days in Atlanta, the organisation has five wins in the "Most Outstanding Rookie" category; since the 1967-68 expansion, no other franchise has more Calder wins. With so many on-fire rookies, the Flames Calder winners get two separate slides—Atlanta and Calgary.
The Flames Calder-winning tradition dates back to the team's tenure in Georgia, and was the organisation's first NHL Award. Eric Vail started the trend in 1974-75 with 60 points and 39 goals in 72 games. By comparison, Pittsburgh's star youngster Pierre Larouche nailed 68 points in 79 games the same season, a year before his unprecedented sophomore performance, when he became the youngest player to top 50 with 53 goals and 111 points.
Some believe that Vail's win was at least partially due to luck. Not only was he up against strong competition, but he barely qualified for freshman status, having played 23 of the permitted 25 games the previous season. Nevertheless, Flame Eric Vail took the coveted trophy in 1975 as that year's best rookie.
Willi Plett took it two years later for Atlanta, recording what would be the best points-per-game ratio of his career, 56 points and 33 goals in 64 contests. Both Vail and Plett would accompany the Flames in their move to Calgary, staying on the roster for two more years (1980-82). The old guard was moving on, the Calgary Flames of the 80s were ready to stand on their own.
Photo: Eric Vail, seen here in 1978 battling the Colorado Rockies; inset, Willi Plett 1978-79 O-Pee-Chee hockey card.
Lady Byng Memorial Trophy — Bob MacMillan, 1979; Joe Mullen, 1987 & 1989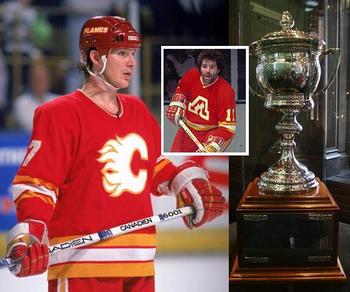 Lady Byng Memorial Trophy — Awarded for outstanding sportsmanship and gentlemanly conduct, combined with a high standard of play.
1988-89, Joe Mullen
1986-87, Joe Mullen
1978-79, Bob MacMillan (Atlanta Flames)
The Flames reputation as a punishing squad hasn't left them without class-acts and gentlemanly players. Some of the most so-called "considerate" men have also been the club's top scorers, and a few have earned the Lady Byng Memorial Trophy.
Joe Mullen may have grown up in Hell's Kitchen, but he was an angel when wearing the Flaming C. Two-time winner of the Lady Byng, he earned his first in 1986-87 after leading the Flames in scoring with 87 points and 47 goals, but only called for 14 penalty minutes.
The roster's stat-leaders shuffled the next season, but a year later Joe was back as top scorer, grabbing 110 points and 51 goals in 79 games, guilty of only 16 PIM to take his second piece of NHL silver.
Joe never had more than 41 penalty minutes in a single season over his career, winding out with just 241 PIM in 1,062 games in the regular season, and his bada-Byng duo sets him in comfortable company. Since the 1970s, only four players have won the Byng Memorial more than twice—Mike Bossy (3), Ron Francis (3), Pavel Datsyuk (4), and Wayne Gretzky (5). Few can complain if those are they guys he trails.
Years earlier, stuck in tightest division of 1978-79, the soon-to-be-moved Atlanta Flames missed the playoffs in their penultimate season in Georgia despite a solid showing and incredible individual performances. Bob MacMillan's Lady Byng Memorial Trophy victory was slight consolation, a faded representation of a fantastic season. MacMillan and team-mate Guy Chouinard respectively landed fifth and sixth in League-wide scoring. Atlanta's two top point-getters were dead even in Byng contention; MacMillan had a 79GP-37G-71A-108PTS record, and Chouinard had a 80GP-50G-57A -107PTS sheet. Both men had just 14 PIM, and though Guy's goal-totals could have tipped it his way, MacMillan's well-rounded efforts won him the day and the prize.
However, of the two, Chouinard would end his career with the more "gentlemanly" penalty statistics and greater offensive totals than Bob the Byng, overall.
Photo: Joe Mullen and the Lady Byng Memorial Trophy, which he won twice. Inset, Bob MacMillan, who won the trophy playing in Atlanta and later became one of the original Calgary Flames.
Bill Masterton Memorial Trophy — Lanny McDonald, 1983; Gary Roberts, 1996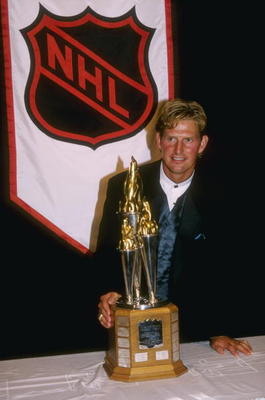 Bill Masterton Trophy — Awarded for perseverance, sportsmanship, and dedication to hockey; may be won only once in a player's career.
1995-96, Gary Roberts
1982-83, Lanny McDonald
Lanny McDonald, known to Calgarians as the face of the '80s Flames, was the franchise's first Masterton honouree, 1983. Recognisable to the world by his enormous red moustache, Lanny is respected in hockey circles for his more practical qualities, personified in the NHL through his commitment to the game. Originally a Toronto Maple Leaf, he had been relegated to the soon-to-be-defunct Colorado Rockies before being shipped to the freshly transferred Flames in 1981. Persevering in what could have been expansion exile, McDonald posted an astounding 66 goals in his first full season in Calgary (1982-83) and would become the heart-and-soul leader of the Flames organisation through the rest of the decade.
Flames favourite Gary Roberts had to miss a season and a half to win his award, all due to the serious neck injury which knocked him out of the 1994-95 line-up. After suffering through bone spurs, nerve damage, and major surgery, it seemed that his career might be over; yet, almost miraculously, Gary pushed himself to return to the Flames roster halfway through 1995-96. Showing the dedication which would win him the Masterton at the end of the season, Roberts worked through the pain to score 42 points in just 35 games, managing fifth place in team scoring despite his abbreviated appearance.
The Masterton is an award most are reluctant to win, or even earn a nomination. The trophy's purpose, to reward perseverance, often comes at the price of a life-threatening ailment or possible career-ending event. Many winners are barely heard of after, or sometimes even before their Masterton season. McDonald and Roberts not only persevered, they would each continue to improve, ending their NHL tenures on their own terms and completing their place in history as names of the game.
Photo: Gary Roberts pictured at the 1996 NHL Awards with the Bill Masterton Memorial Trophy, granted for his amazing post-injury comeback.
Calder Memorial Trophy — Calgary Flames: Suter, 1986; Nieuwendyk, 1988; Makarov, 1990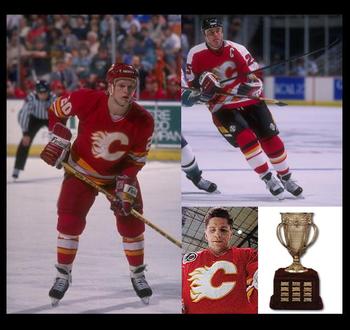 Calder Memorial Trophy, Part Two
Calgary Flames
1989-90, Sergei Makarov
1987-88, Joe Nieuwendyk
1985-86, Gary Suter
The Flames franchise had already seen two NHL-best rookies in Atlanta, but it wasn't until they came to Alberta that the team saw its most impressive freshman classes.
Defenseman Gary Suter started Calgary's late-'80s Calder supremacy, setting numerous franchise records and scoring 68 points in 80 games, tied for fourth in team scoring.
Suter would be paired on the blueline with eventual Flames team-mate Dana Murzyn (Hartford Whalers) on the '85-86 NHL All-Rookie Team; they fronted the goalie who would be Calgary's Stanley Cup netminding nemesis later that year—Montreal Canadien rookie star Patrick Roy.
Two seasons later, Joe Nieuwendyk posted 51 goals and 92 points in 72 games in his dominant Calder-winning performance of 1987-88. His goal tally made him just the second rookie in NHL history to knock at least 50 into the net*. Young Joe came in third in Flames scoring that season, one above former star rookie Gary Suter's '87-88 total. The next year, in 1989, both he and Suter were integral cogs as the Flames blasted through the season, and then on to the Stanley Cup. His numbers bouyed the club for almost a decade, and Nieuwendyk would remain a face of the Flames until he was traded in 1995 for Calgary's next heir apparent, Jarome Iginla.
Yet again, it was just two years before the Flames won their next Calder. Calgary's most recent rookie champ may have won under a technicality, but would add one as well. Sergei Makarov, the "M" in the Soviet KLM superline, was one of the new wave of Iron Curtain professional players to break into North American hockey. Makarov came fourth in Flames team scoring with 86 points in 80 games—at age 31—to nab the Calder Memorial twenty years ago. With youngsters like Mike Modano (75 points in 80 games, age 19) and Rod Brind'Amour (61 points in 79 games, age 19) chasing for the title that same season, the NHL was hesitant to award an experienced pro with "Rookie of the Year". But the Russian's numbers could not be ignored, nor could the powers-that-be dismiss the instant effect the newly tapped Soviet talent pool was having on the NHL. Makarov was given the trophy, but the League amended winning criteria the next year, instituting age restrictions on "rookie" status for the first time.
* Mike Bossy was the first NHL rookie to hit 50 goal, marking 53 in his own Calder season, 1977-78. Wayne Gretzky had 51 in 1979-80, but though it was the Great One's first NHL season, it was not his first pro year, and he was not considered a rookie.
Photo: Gary Suter, seen here in 1990; Joe Nieuwendyk in 1995; Sergei Makarov (UD hockey card shot); Calder memorial Trophy, as it was when the Flames won it (without the added-on base).
Clarence S. Campbell Bowl — Calgary Flames: 1986, 1989, 2004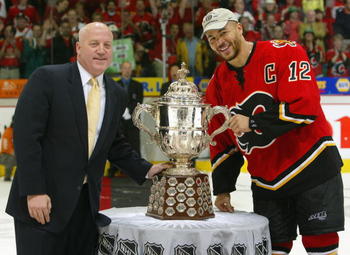 Clarence S. Campbell Bowl — Awarded to the: Western Conference Playoff Champion (1994-Present); Campbell Conference Playoff Champion (1975-1993); West Division Playoff Title (1968-1974).
1986, 1989, 2004: Calgary Flames
As most Flames fans know, Calgary has played in three modern-day Stanley Cup Finals. Before they could get to those historic series, the club had to emerge each time as Conference Champions by winning three playoff rounds and the Clarence S. Campbell Bowl.
The Calgary Flames made it to a Conference title series for the first time in 1981, but were unable to claim Best in the West, falling to the Minnesota North Stars in six games.
In 1986, the Flames were back. After sweeping the Winnipeg Jets in the first round, Calgary made the Conference Finals after toppling Edmonton, interrupting the Oilers Cup-winning streak as the only team to knock the Northern Albertans out of the postseason in nine previous series. Future Calgary captain Steve Smith, then with the Oil, had the puck accidentally bank into his own net on a routine play, prematurely helping the Flames to move forward. The upset put Calgary in line to play the St Louis Blues for seven games; the ensuing but hard-fought victory gave the Flames their first Conference Championship.
Though they lost the 1986 Stanley Cup to the Montreal Canadiens in just five games, the C of Red surged back in 1989. They took out the Vancouver Canucks and Los Angeles Kings to match up with the Chicago Blackhawks in the Conference Final; the Flames dispatched the 'Hawks in five on their way to Calgary's second Campbell title, then played just six more to take their first Cup, from Montreal, in Montreal. The Flames were on top of the hockey world.
Then came the fall. For fifteen years, Calgary's NHL club floundered in the postseason, at first just unable to make it out of the first round, then seven seasons without a playoff seed at all. Finally, in their first appearance since 1996, the Flames not only passed the quarter-finals, but made it to the 2004 Cup match-up. On the way they laid out the Vancouver Canucks and Detroit Red Wings, before beating the San Jose Sharks for their third Campbell Bowl success.
A Cinderella effort, the Flames were the first Canadian team to win the trophy and make the Cup Finals since the Vancouver Canucks lost Lord Stanley's hardware to the New York Rangers in 1994. Calgary had beaten three division leaders and been tagged "Canada's team" on their way to facing the Tampa Bay Lightning; though the Flames lost to the Bolts in seven, the incredible effort helped rebuild the team and provided renewed pride, in and from Calgary's NHL franchise.
Photo: Calgary captain Jarome Iginla accepts the Clarence S. Campbell Bowl from Deputy Commissioner and former NHL VP Bill Daly, 2004.
Presidents' Trophy — Calgary Flames, 1987-88 & 1988-89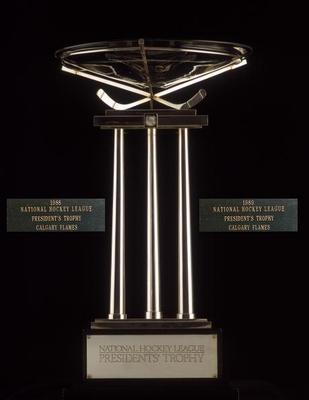 Presidents' Trophy — Awarded to the NHL club with the best regular-season record.
1987-88, 1988-89: Calgary Flames
Instituted in 1986, the Flames were the second team to earn the Presidents' Trophy after their rival Oilers had led the League in '86 and '87.
Check out these Battle of Alberta Presidents' Trophy stats:
Both Edmonton and Calgary have won the point race twice; each team won their honours in consecutive years.
For each team, their first win (1986, Oilers; 1988, Flames) led to an early exit in the Division Finals: Edmonton lost to Calgary in '86, Calgary lost to Edmonton in '88.
They mirrored one another again in their encore attempts. Despite faltering the year before, each went all the way in their respective second-Trophy seasons. The Oilers won the Stanley Cup in '87 after a 106-point effort, and the Flames won the Championship in their 117-point 1988-89.
Spooky...
Most teams which have won the Presidents' Trophy have only managed it once, while a record of two League-leading seasons is the second best tally—following the glaring exception of the chart-topping Detroit Red Wings, who have earned the award an incredible six times.
However, of the four clubs which have earned top marks two years in a row (Edmonton, Calgary, Detroit, Dallas), only the Wings failed to win the Cup in one of those seasons—the Oilers, Flames, and Stars each won the mug in their second Presidents' year playoff attempts.
In 23 Presidents' Trophy presentations, the winning team has won the Cup in the same year just ten times; the Calgary Flames are one-for-two on that count. Tied for second-best overall with their two awards, the Flames nearly made it three straight when they came second in 1990 with 99 points. They hit 100 the following year to tie for fourth in the NHL, but wouldn't crack the century mark until the next century, when they totalled 103 regular-season points in a Northwest Division-winning 2005-06 season.
Photo: The Presidents' Trophy, flanked by the nameplates from Calgary's take-home replica awards (on display at the Pengrowth Saddledome), earned in 1988 and 1989.
King Clancy Memorial Trophy — McDonald, 1988; Nieuwendyk, 1995; Iginla, 2004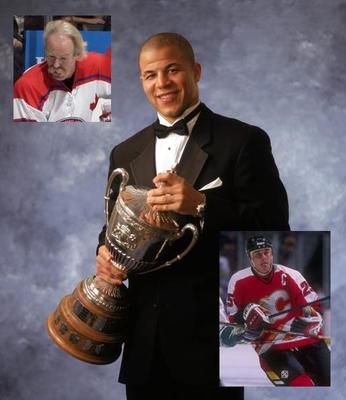 King Clancy Memorial Trophy — Awarded for outstanding leadership qualities, coupled with exceptional humanitarian contribution and involvement.
2003-04, Jarome Iginla
1994-95, Joe Nieuwendyk
1987-88, Lanny McDonald (inaugural winner)
The King Clancy Memorial Trophy holds a special place in Calgary Flames history, a shining silver badge of honour recognising high-level hockey skills and well-rounded personal integrity.
It was a Calgary representative who won the very first trophy in 1988, when Lanny McDonald took home a spanking-new Clancy for his long-time support and involvement with numerous charities in Calgary and his former NHL home of Toronto.
Joe Nieuwendyk was next to earn the prize for the Flames, in 1995. His stellar career in Calgary was nearing an end, but having served as captain since 1991, Nieuwendyk was a clear leader for the club. He managed 50 points in the lockout-shortened season of 1994-95, while blazing the way in community involvement, leading his team in many charitable efforts. Nieuwendyk would be traded that December in exchange for the team's next Clancy winner, Jarome Iginla.
It hardly seemed possible to improve the Calgary Flames humanitarian reputation, but Iginla quickly built on the legacy of his predecessors, and was instrumental as the franchise somehow managed to further integrate itself into the local community. When he won the King Clancy in 2003-04, Iginla was involved in every community initiative the Flames had going and had created a few himself, as well as donating $1,000 of his own money for every goal he scored.
By 2009, he had doubled his per-goal donation to $2,000 and continues to lead the team in personal charitable commitment, having supported organisations such as KidSport, Juvenile Diabetes (Shoot For A Cure), and Médecins Sans Frontières/Doctors Without Borders over the past decade. His non-profit Jarome Iginla Hockey School continues to be a success and is not only run for the benefit of underprivileged children, but takes time to fundraise in aid of various local and international charities as well.
The Calgary Flames have had more winners of this coveted prize than any other franchise. The Northwest Division leads the League with the most winners, and Calgary's three recipients make up nearly half of the Northwest's seven Clancy representatives, and almost a third of all winners from Canadian teams. No player has ever been honoured with a Clancy Trophy more than once, and only two clubs—other than the Flames—have more than one recipient: the Boston Bruins and Edmonton Oilers, with two apiece.
Check out Mac's profile photo for a shot of Iginla and his 2004 Clancy and Maurice "Rocket" Richard Trophy.
Photo: Jarome Iginla holds the King Clancy Memorial Trophy at the 2004 NHL Awards (main photo). Lanny McDonald, still participating in Legends games and community events (upper inset), and Joe Nieuwendyk, one of Calgary's most memorable leaders on and off the ice (lower inset).
NHL Plus-Minus Award — Brad McCrimmon, 1988; Joe Mullen, 1989; Theo Fleury, 1991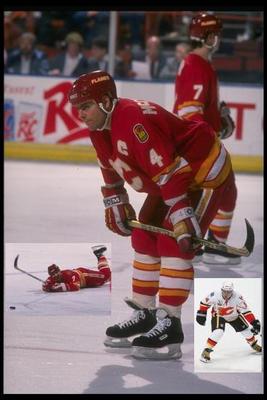 NHL Plus-Minus Award — Awarded for the highest plus/minus rating in the regular season.
1990–91, RW Theo Fleury (plus-48)
1988–89, F Joe Mullen (plus-51)
1987–88, D Brad McCrimmon (plus-48)
Calgary players won the team's first two NHL Plus-Minus Awards in the same years the Flames earned the Presidents' Trophy.
Brad McCrimmon's 42 points in 1987-88 were overshadowed by his plus-48 rating, and a Flames player took the NHL Plus-Minus Award for the first time since the award was instituted in 1982-83.
Joe Mullen was all over the ice the next year (1988-89) recording a plus-51 rating with the NHL's best overall plus/minus numbers while taking 86 points but only 30 penalty minutes, a well-rounded season which also earned him the Lady Byng, the same year Calgary took the Stanley Cup.
Theoren Fleury stands as Calgary's most recent player to rank at the top of the League's plus/minus list, tying with LA King Marty McSorley with plus-48 back in 1990-91.
Photo: Brad McCrimmon (as Calgary's captain, 1990), Joe Mullen sprawling across the ice, and Theoren Fleury (shown here in the 2009 pre-season)
Conn Smythe Trophy — Al MacInnis, 1989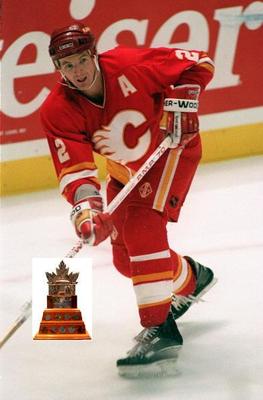 Conn Smythe Trophy — Awarded to the Most Valuable Player of the NHL Playoffs.
1989, Al MacInnis
When Calgary won its first Stanley Cup, it anointed its first playoff MVP. Not only was Al MacInnis the franchise's first Conn Smythe winner, he earned it as the first rearguard to lead all postseason players in points, which he collected during the second-longest scoring streak in playoff history.
Known for his killer point-shot, the Flames star rearguard blasted home seven goals and a massive 24 assists, marking a total of 31 points in 22 games on the way to the 1989 Cup. MacInnis set both records and pace that year, leading the next highest playoff point-scorer (Philadelphia Flyer Tim Kerr) by six, and distancing himself from second-place LA King Wayne Gretzky by seven assists in the helpers column. Al even surpassed Calgary snipers Doug Gilmour and Theoren Fleury—and the rest of the League—in game-winning goals, with four clinchers in all.
Ten years later, in '98-99, MacInnis would win the Jack Norris Trophy as best all-around defenseman; but by that time, he had been with the St Louis Blues for five years. Nevertheless, the man called "Chopper" set a gold standard as a Flame, and raised the bar for subsequent defensemen in Calgary, where his brilliant career began.
Photo: Al MacInnis donning the Flames logo in which he became famous. Inset, the Conn Smythe Trophy.
Stanley Cup — Calgary Flames, 1989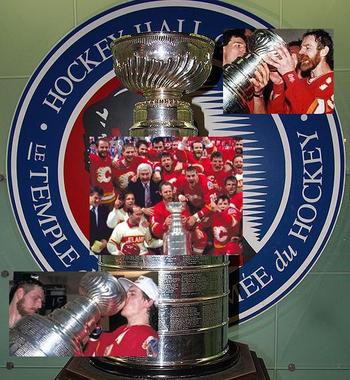 Stanley Cup — NHL Playoff Championship Trophy.
Calgary Flames: 1989
If you don't know what this one is awarded for, stop watching this slideshow—now.
It was a storybook season for the Calgary Flames in 1988-89. The team ended the regular season with a franchise-record 117 points, before defeating the Vancouver Canucks, Los Angeles Kings, and Chicago Blackhawks to match up with the Montreal Canadiens in the 1989 Stanley Cup Final.
Facing the same club and same goaltender responsible for ousting Calgary in 1986, the Flames were up against history in their battle with the storied Montreal club.
The Canadiens had knocked out the Hartford Whalers, Boston Bruins, and Philadelphia Flyers on their path to the Cowtown crew, and were poised to repeat their '86 run.
Goaltenders Mike Vernon and Patrick Roy went head-to-head in a direct rematch of the Cup battle they'd played as rookies in 1986; back then, Montreal's Roy won the day, the Cup, and the Conn Smythe when the Canadiens trounced the Flames. This go-'round would be different.
The Finals opened with a 1-1 series deadlock after the opening two games at the Olympic Saddledome. The next pair, at the Montreal Forum, repeated the split, and everyone headed back to Calgary for a Game Five tie-breaker. The Flames took that contest by a one-goal margin, forcing the Canadiens to play for their lives on their home ice.
It was that deciding game in which Lanny McDonald wrapped up his career, the way legends should. Everyone knew this was the big red moustache's final season, his last push for the Cup of countless childhood dreams. The team worked hard for their co-captain, as he had done for them, and McDonald helped the Flames take the lead when he scored Calgary's second goal of Game Six. That tally would end up as the draw-even goal when the Doug Gilmour added two and the Canadiens got one of their own for the eventual 4-2 Calgary Cup-clinching win.
Though many still mistakenly believe that Lanny got the winning goal, he didn't. The only marker he did score in the '89 Cup-run was the one in the final game of the year, which was not the game-winner; Gilmour earned that honour when he gave the Flames the go-ahead and insurance markers later in the game. McDonald didn't seem to mind; he'd ended the regular season with exactly 500 career goals and 1,006 points, and with four more in the playoffs, ended his NHL run with 1,090 points, and more importantly, his first long-sought Stanley Cup victory.
He ended his career as a member of the Calgary roster which became the only visiting team to win the Stanley Cup away from the Canadiens on Montreal Forum ice.
Leading the way, Gilmour (11 goals, 22 pts), Joe Mullen (16 goals, 24 pts), and Joel Otto (6 goals, 19 pts) paced the Flames in forward scoring, Al MacInnis wasted all other point-getters from his place at the blueline, while Mike Vernon (22-16-5) had a playoff-best four shutouts, one better than his rival, Roy (19-13-6).
It was a launching point for many on Calgary's '89 roster, as numerous players went on to win other hardware, including more Stanley Cup Championships, with other clubs through their careers. Some of the most influential NHL players of the next decade came from the Flames late-'80s Cup-winning team.
Though the Flames have not won the game's most treasured trophy before or since '89, the team has spent the past few years threatening for the mug in a way not seen in Canada for a long time. Now back in the "Favourites" category, Calgary's appearance at the 2004 Finals gave fresh life to an old Cup contender.
This time around, the franchise made efforts to retain key players, rather than letting the core drift away as it did twenty years ago.
Besides, if you believe in video replay, Calgary had the possible Cup-winning goal in their Game Six tilt against the Tampa Bay Lightning in '04. It may sound otherwise, but it's not just a homer statement to say that the Calgary Flames were NHL Playoff Champions in the hearts and minds of many that year, no matter what the record book says.
Photo: The Stanley Cup at the Hockey Hall of Fame. Top right inset, Lanny McDonald takes a sip from the mug, with the help of Tim Hunter. Centre inset, Flames group shot, as seen in contemporary periodicals. Lower left inset, Gary Roberts gives Al MacInnis a hand with the champagne.
Art Ross — Jarome Iginla, 2001-02
Art Ross Trophy — Awarded to the NHL's regular season point-total leader.
2001-02, Jarome Iginla
Jarome Iginla reigns as the only Flame to date to lead the League in scoring, earning the 2001-02 Art Ross with 96 points, six points ahead of Vancouver's second-place Markus Naslund and equalling Jaromir Jagr's Ross-winning numbers of '99-00.
With his '01-02 stats, Iginla broke an incredible, star-studded Ross streak. Since 1980-81, the only players to earn the prized points title were Wayne Gretzky ('81-'87, '90, '91, '94), Mario Lemieux ('88, '89, '92, '93, '96, '97), and the aforementioned Jagr ('95, '98-'01).
It was a banner year for the man who would eventually become Calgary's captain as Iginla took home plenty of hardware in '01-02, including the Ross, the Maurice "Rocket" Richard Trophy, the Lester B. Pearson Award, and Olympic gold from Salt Lake, 2002. [For more on Calgary's international and Olympic involvement, stay tuned for an All-Time Flames International Players]
The "elite" tag which was attached to Calgary's No.12 was richly deserved. Previously hidden on a low-seeded team, Iginla rightly earned the spotlight and helped revitalise not just his Flames club, but interest in the widespread talent playing out of the West.
Photo: Jarome Iginla shakes hands with former Flames leader Lanny McDonald in a centre-ice ceremony at the Pengrowth Saddledome with Iginla's 2001-02 NHL Awards haul: the Art Ross Trophy, Maurice "Rocket" Richard Trophy, and the Lester B. Pearson Award (not pictured). October 2002.
Maurice Richard Trophy — Jarome Iginla, 2001-02 & 2003-04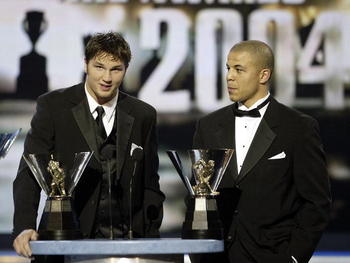 Maurice "Rocket" Richard Trophy — Awarded to the NHL's regular season goal-scorer.
2003-04, Jarome Iginla
2001-02, Jarome Iginla
The Calgary Flames are used to Jarome Iginla leading the team in scoring, and in two separate seasons his numbers have been good enough to lead the NHL as well.
Since 1998-99, winning the goal-scoring race has entitled the leader to the Maurice "Rocket" Richard Trophy, named for the first man to score 50 goals in 50 games and hit the 500-marker milestone.
Twice emerging from the regular season with the League's best goal-totals, Iginla first grabbed the Rocket's tail in 2001-02 when he notched 52 goals, leading all other players by at least 11 tallies—his closest competition were Boston's Bill Guerin, Toronto's Mats Sundin, and LA/Boston hybrid Glen Murray, tied for a distant second with 41 each.
The '01-02 Richard Trophy was the first to be won by a North American, as only Mighty Duck of Anaheim Teemu Selanne and Florida Panther Pavel Bure had earned the honour to that point, once and twice respectively.
Jarome's next goal-scoring title came in his first year as Calgary captain, when his 41 markers tied with Columbus Blue Jacket Rick Nash and Atlanta Thrasher Ilya Kovalchuk for the 2003-04 scoring title. This trio represents the only time the award has met a draw, as well as the lowest total to take the Maurice Richard.
Iginla is also in fine company with Washington Capital Alexander Ovechkin and the now-retired Bure*, the only other players to capture the award more than once; all three men currently have two Richard Trophies apiece. Calgary's captain may have his work cut out for him with the likes of Ovie in the NHL, but will continue to score, with the best interests of his team in mind, as long as he plays the game.
Richard himself led the League in goal scoring a record-hitting five times (1956**), the second of only six players to do so (Charlie Conacher, 1936; Gordie Howe, 1963; Bobby Hull, 1969; Phil Esposito, 1975; Wayne Gretzky, 1987**). However, the famous Rocket never won the Art Ross to take the double-offensive scoring title, a feat which Calgary's Jarome Iginla has already accomplished once in his career.
* Pavel Bure, not to be confused with his younger brother, former Flame and Iginla team-mate Valeri Bure.
** Dates indicate the year of each player's fifth and final goal-scoring title.
Photo: Rick Nash (left) and Jarome Iginla (right) accepting the Maurice "Rocket" Richard Trophy at the 2004 NHL Awards. The two team captains tied for the title by scoring 41 goals each, along with fellow leader and '04 Richard winner Ilya Kovalchuk (absent).
Hart Memorial Trophy, Honourable Mention — Jarome Iginla, 2001-02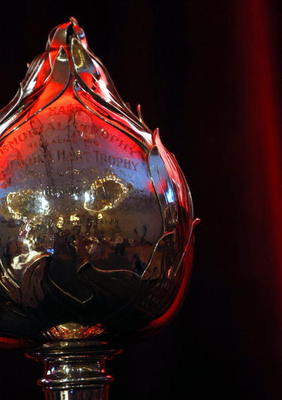 Hart Memorial Trophy — Awarded to the NHL's regular season MVP.
2001-02 Runner-Up, Jarome Iginla (Honourable Mention)
Although no Flame to date has had his name immortalised on the Hart Memorial Trophy, a familiar suspect deserves special mention in this MVP category, the League's oldest individual player recognition.
Jarome Iginla came as close to the Hart as any player has ever been without winning, the same year he started piling up his ever-growing collection of NHL prizes, 2001-02. He tied with goaltender José Théodore—playing for the Montreal Canadiens at the time—in total Hart Trophy votes, cast by members of the Professional Hockey Writers' Association.
Coming down to the tie-breaker, Iginla had 82 first-place ballots tossed in his direction—just four fewer than Théodore's award-winning tally of 86.
The netminder walked away as the official MVP that year, but each man's record speaks for itself. With all due respect for the up-and-down Washington Capitals goalie, as of this moment, it is Jarome Iginla, not Théodore, who is considered to be the more enduring, valuable-to-his-team player.
If Calgary's leader carries on his winning ways and team-oriented attitude, he may one day be crowned as the NHL's MVP.
Photo: The Hart Memorial Trophy
Lester B. Pearson Award — Jarome Iginla, 2001-02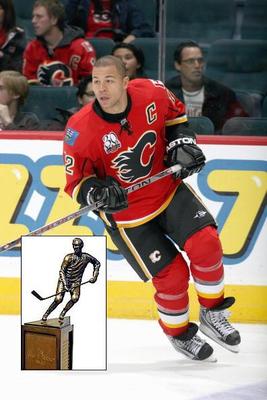 Lester B. Pearson Award — Awarded to the NHL MVP, as chosen by members of the NHL Players Association.
2001-02, Jarome Iginla
Jarome Iginla may not have been named Hart MVP in 2001-02, but who cares what the writers think when the players say otherwise.
Jarome Iginla was selected as NHL MVP by a jury of his peers, the members of the NHLPA. After sweeping the League's offensive awards while toiling on a bottom-tier team, the young man stood above the crowd in the '01-02 season. No group better understood just how skilled Iginla was than the men he played against night in, night out.
To say that he did not go unnoticed would be a massive understatement; the NHL's player ranks voted to recognise the growing talent of soon-to-be-captain Jarome Iginla.

Iginla, Mike Luit, Markus Naslund, Jean Ratelle, and Steve Yzerman are the only Pearson recipients without a Hart at this point in time; however, only Jarome remains active in the NHL, so he still has a chance to get out of this otherwise elite group. Until then, he can stand proud, knowing that he was already considered an MVP before he'd even hit 30 years of age.
Photo: Seen here in 2009, Iginla was recognised as an elite player and leader-in-the-making back in '01-02, before he ever donned the captain's "C", or even hit his career-best point-totals. Inset, the Lester B. Pearson Award which marked his MVP status that season.
NHL Foundation Player Award — Jarome Iginla, 2003-04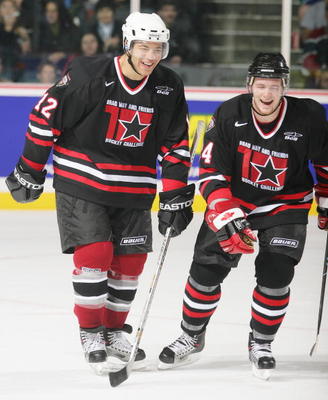 NHL Foundation Player Award — Awarded to the player best exemplifying hockey's core values ("commitment, perseverance and teamwork") to enrich the lives of people in his community.
2003-04, Jarome Iginla
Jarome Iginla was honoured twice in the same year for his elite level of play and his admirable community involvement, winning both the King Clancy and NHL Foundation Player Award at the 2004 NHL Awards. Earning both for similar reasons, the Foundation win reflected the recently-appointed Calgary captain's initiative when working with his community, efforts above and beyond ordinary expectations.
Though most Foundation Player winners have also won the Clancy at some point in their careers, Iginla is one of only four to win the pair in the same season, joining Rob Ray ('98-99), Ron Francis ('01-02), and 2004 Stanley Cup rival Vincent Lecavalier, who nabbed the King and shared the Foundation Award with Trevor Linden in 2007-08.
For more on Jarome Iginla's extra-curricular good works, see the King Clancy Memorial Trophy slide, and check the Community pages on the Calgary Flames Official Website.
Photo: Jarome Iginla playing in the Brad May Charity Hockey Challenge, December 2004
Vezina Trophy — Miikka Kiprusoff, 2005-06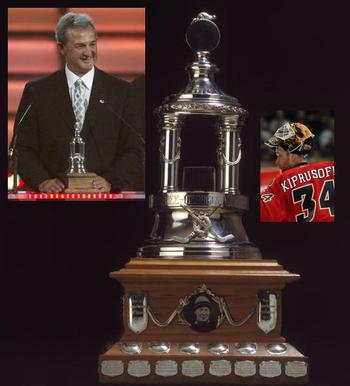 Vezina Trophy — Awarded to the NHL's top goaltender, as voted by team GMs.
2005-06, Miikka Kiprusoff
The only goaltender in Flames history to take home NHL individual hardware, Miikka Kiprusoff solidified his place in team netminding history when he swept the 2005-06 NHL Awards goalie categories, winning both the Vezina and William M. Jennings.
Standing tall with Award regular Martin Brodeur, Kipper broke Brody's winning streak in '05-06 with enviable goaltending stats. The Flames star netminder played 74 games, and though Brodeur had one more win than Kiprusoff's 42 victories, the Finn's overall numbers were good enough to bump the Devil from the podium.
Miikka led in most goaltending categories. His .923 save-percentage topped all NHL goalies with more than 45 games-played; his 10 shutouts were at least three more than his nearest competition; and his sturdy 2.07 GAA stood despite facing the League's fifth-highest shot-total, after 1,951 pucks were thrown at Kipper's net.
Not since Mike Vernon have the Flames and their fans so closely identified with their goalie. Kiprusoff has been the NHL's most heavily worked twine-tender over the past few years, and despite occasional fluctuations in his stats, there is little doubt that he has re-set the standard for goaltending in Calgary.
Photo: (Large inset) Darryl Sutter accepting the Vezina, in replica form, for Calgary goaltender Miikka Kiprusoff (smaller inset), 2006 NHL Awards. Main photo, the Vezina Trophy.
William M. Jennings — Miikka Kiprusoff, 2005-06
William M. Jennings — Awarded to the goaltender(s), having played in a minimum of 25 games, minding net for the team with the fewest goals-against through the regular season.
2005-06, Miikka Kiprusoff
One of just six goaltenders to win the Vezina and William M. Jennings in the same season, Miikka Kiprusoff played remarkably well in 2005-06 to win both favoured netminding trophies.
The Calgary Flames led the NHL defensively that year with only 193 goals-against, trailed by the Ottawa Senators, who had 205 go in the net. Even more impressively, only 93 of the pucks allowed by Calgary came even-strength, with a median 68 let in during 4-on-5 penalty-kills, and eight during two-man disadvantages. Five of those 193 total goals against Calgary were empty-net, while Kipper allowed the puck in the net a meagre 151 times—less than either Marc-Andre Fleury or Nikolai Khabibulin let through in each of their comparatively-few 50 games-played.
The Flames team average for '05-06 was just 2.35 goals-against per game.
Having shouldered a heavy load of 74 games-played, Miikka Kiprusoff earned lone credit on the Jennings nameplate as goaltending stalwart for the defensively-sound Flames. Having set a modern-day GAA record of 1.69 in 2003-04, his post-lockout season of '05-06 further proved the Finnish goaltender's worth—the only NHLers to etch lower goals-against averages that season played just seven-or-fewer games.
No contest. Kipper stole the season and the awards, not only as the first Calgary player to win a netminding trophy, but the first Flames goalie to win any individual recognition at the annual NHL Awards.
Photo: Double-winner Miikka Kiprusoff demonstrating his athletic ability to keep Calgary's net covered, from all angles.
Mark Messier Leadership Award — Jarome Iginla, 2009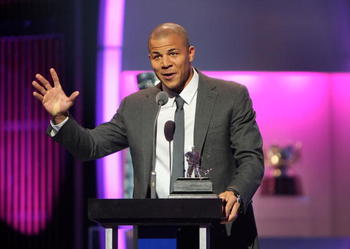 Mark Messier Leadership Award — Awarded for exceptional leadership qualities, on and off the ice, during the regular season.
2009, Jarome Iginla
Instituted in 2007 and sponsored by Cold-fX, the Mark Messier Leadership Award is given to the regular season's best all-around contributor, on the ice and in the community. Winners must motivate their teams, lead by example, show committed dedication, and maintain community involvement through activities and charitable causes.
Selected by Messier himself, the winners of this award aren't simply credited as well-rounded hockey players, but well-rounded people.
By far the youngest winner in this award's short history, Iginla epitomises his leadership role—at the rink for the Flames hockey club, and in the city of Calgary as a whole. Already the recipient of the NHL Foundation Player Award for his local, national, and international involvement, the Flames captain has continually lifted his team with stellar play and "practice what you preach" methods, earning him this multi-faceted leadership trophy.
The other two annual winners? Chris Chelios (2007) and Mats Sundin (2008). In 2006-07, the award also noted monthly honourees Brendan Shanahan, Scott Niedermeyer, Sidney Crosby, Vincent Lecavalier, and Roberto Luongo.
Not bad, Iggy, not bad. The 2009 Messier is the captain's most recent NHL honour, but as he tears through the opening months of 2009-10, Jarome Iginla has ample opportunity—and skill—to work his magic for a long time to come, an era bound to be decorated with plenty more bling.
And if the lights in his trophy case are ultra bright, he'll need welder's goggles just to enter the room.
Photo: Jarome Iginla accepts the Mark Messier Leadership Award, as chosen by its namesake, at the 2009 NHL Awards in Las Vegas.
Flames All-Time NHL Awards, Chronological List (1972-2009)
Chronological All-Time Flames NHL Awards, 1972-2009
(Atlanta, 1972-1980; Calgary, 1980-Present)
1974-75 — Calder Memorial Trophy (Vail)
1976-77 — Calder Memorial Trophy (Plett)
1978-79 — Lady Byng Memorial Trophy (MacMillan)
1982-83 — Bill Masterton Trophy (McDonald)
1985-86 — Clarence S. Campbell Bowl (Calgary Flames), Calder Memorial Trophy (Suter)
1986-87 — Lady Byng Memorial Trophy (Mullen)
1987-88 — Presidents' Trophy (Calgary Flames), Calder Memorial Trophy (Nieuwendyk), King Clancy Award (McDonald), Alka-Seltzer Plus/Minus Award (McCrimmon)
1988-89 — Stanley Cup (Calgary Flames), Clarence S. Campbell Bowl (Calgary Flames), Presidents' Trophy (Calgary Flames), Conn Smythe Trophy (MacInnis), Lady Byng Memorial Trophy (Mullen), Alka-Seltzer Plus/Minus Award (Mullen)
1989-90 — Calder Memorial Trophy (Makarov)
1990-91 — Alka-Seltzer Plus/Minus Award (Fleury, tied)
1994-95 — King Clancy Award (Nieuwendyk)
1995-96 — Bill Masterton Trophy (Roberts)
2001-02 — Maurice "Rocket" Richard Trophy, Art Ross Trophy, Lester B. Pearson Award, Hart Memorial Trophy Runner-Up (Iginla, all)
2003-04 — Clarence S. Campbell Bowl (Calgary Flames), Maurice "Rocket" Richard Trophy, King Clancy Award, NHL Foundation Player Award (Iginla, all)
2005-06 — Vezina Trophy, William M. Jennings (Kiprusoff, all)
2008-09 — Mark Messier Leadership Award (Iginla)
The Flames franchise still has yet to have winners of the James Norris Memorial Trophy (best all-around defenseman), the Jack Adams Award (best head coach), the Frank J. Selke Trophy (forward player with best defensive aspects), the Roger Crozier Saving Grace Award (goalie with best save-percentage in at least 25 games-played), and a clear-cut winner of the Hart Memorial Trophy (MVP, see Slide 14). There are still a few to capture, but so far, Calgary's crew have done a good job keeping the team in the spotlight of NHL Award history.
Photo: Three of the NHL's major postseason awards, the Clarence S. Campbell Bowl, Stanley Cup, and Conn Smythe Trophy, shown here in 2007. The Flames and their players earned all three in one of the team's most comprehensive seasons, 1988-89.
Keep Reading

Calgary Flames: Like this team?