All-Time Minnesota Wild Roster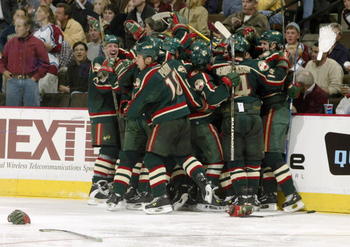 Of all of the teams that you could possibly do an all-time roster for, the Minnesota Wild are likely among the easiest.
Since their initial season in the NHL, the Wild have always been a competitive team but have rarely had their share of standout players.
To be honest, many of the players on this list wouldn't even crack the top of other teams' lists, but all have played a significant role on the team in one facet or another.
With that in mind...
Here.......We........Go.
Line One: Left Wing—Andrew Brunette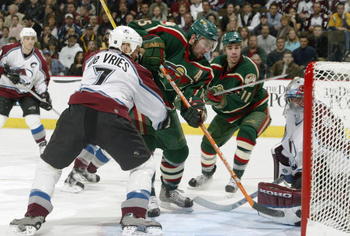 Besides the fact that Brunette scored what is still the most memorable goal in Wild history, he remains a cornerstone of Minnesota's franchise.
Even after the decision was made to keep Alexandre Daigle over Bruno and a dejected Brunette signed with the rival Colorado Avalanche, Wild fans still showed him the appreciation and respect that he deserved.
In the offseason prior to the 2008-09 season, Bruno came home to Minnesota—to the team that he never wanted to leave in the first place—and he picked up right where he left off.
An undisputed leader in the Wild's locker room, Brunette sits third on the team in career goals, assists, and points with 85, 148, and 233 respectively.
Line One: Center—Wes Walz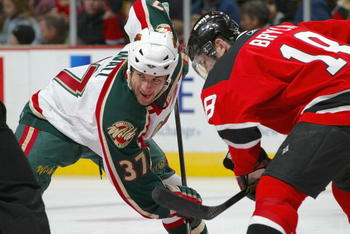 With all due respect to Mikko Koivu, Wes Walz is the seminal center and captain of the Minnesota Wild.
While he was never the most talented player on the ice, Walz-y always led by example and was often considered to be one of the top defensive forwards in the game. He was a career journeyman until he came under Jacques Lemaire's tutelage with the Wild.
From there, Walz went on to be not only a fan favorite for Minnesota, but a player that was the epitome of what the Wild were all about—hard-working, gritty hockey.
Walz retired from hockey after a rash of injuries in the 2007-08 season and is now an assistant coach for the Tampa Bay Lightning. He is third on the team in games played with 438 and fourth in goals with 82.
Line One: Right Wing—Marian Gaborik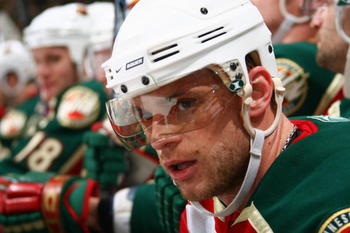 There is a very large love-hate relationship between the Minnesota Wild fans and Marian Gaborik, but whether you loved him or hated him, there's no doubt that he is by far the best player ever to pull on the Iron Range Red.
Gaborik played eight season for Minnesota, and many wonder what could have been were he healthy for all of those eight seasons.
A five-time 30-goal scorer, Gaborik electrified every time that he was on the ice and provided Wild fans with many memorable moments, capping it with a five-goal performance against the New York Rangers during the 2007-08 season.
Gaborik sits atop the Wild in every appreciable offensive category with the exception of games played. His 219 career goals are 123 more than the next closest player and 134 more than the next closest active player, making this a very easy decision.
Line Two: Left Wing—Brian Rolston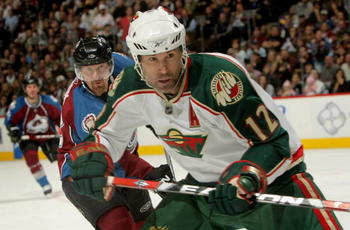 Rolston is remembered fondly by most Wild fans as the player that really turned the franchise into a winner coming out of the lockout.
His booming slap shot and strong two-way play gave the team a stark contrast to the dynamic offensive talents of Marian Gaborik, and his leadership helped mold the team into a consistent winner.
Though Rolston only played for the Wild for three seasons, he topped the 30-goal mark in each season and was never shy about putting the puck on net.
With 96 goals, Rolston is second all-time in goals for the Wild, but his locker room presence is still being felt as players like Brent Burns and Mikko Koivu continue to emerge as leaders.
Line Two: Center—Mikko Koivu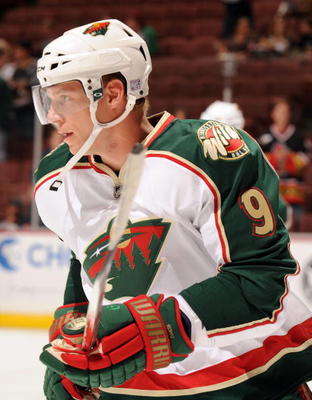 As soon as Koivu was dubbed "Franchise" by Brian Rolston, you knew he was going to be a special player.
The Wild's current captain spent all of last season playing under the title of "Most Underrated Player" in the NHL.
In any national broadcast, the announcers consistently brought up the fact that Koivu is overlooked by many, but that he has blossomed into a solid two-way center.
To be honest, last season Koivu was the team's best skater. Marian Gaborik had nothing on Koivu, and the young playmaker's powerful style and his poise in all situations immediately endeared him to fans.
After an underwhelming first season with the team, Koivu came prepared the following season and notched the first of his two 20-goal seasons. In just five seasons, Koivu is fourth on the team's all-time points list with 208 and is steadily moving up.
Line Two: Right Wing—Pierre-Marc Bouchard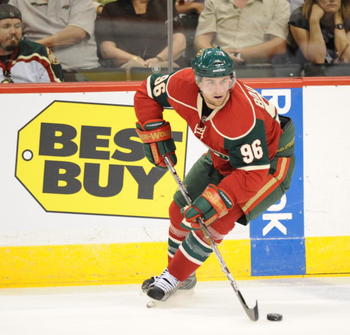 There's a saying about Pierre-Marc Bouchard that makes its way around the media circuits up here in Minnesota—that he could stick handle in a phone booth.
I've never heard a statement that is more correct.
Despite being undersized, Bouchard has made quite the name for himself with the Wild, proving himself to be one of the more dynamic playmakers in the league.
Bouchard has racked up points and assists in his career despite never having played with a true, bona fide sniper. His skills with the puck are dazzling, and his ability to find the open man is uncanny.
Despite missing the bulk of this season with a concussion, Bouchard sits second all-time on the team in both assists and points with 190 and 267 respectively.
Line Three: Left Wing—Antti Laaksonen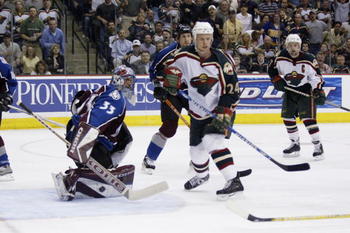 Laaksonen will never be known amongst Wild fans for his scoring prowess, but he makes this list because of his consistency and because of his defensive ability.
Laaksonen consistently made his mark on the scoresheet for the Wild, scoring at least 15 goals in three of his five seasons with the team, but his true legacy remains on the left side of Wes Walz to form one of the best defensive forward tandems that the team has ever seen, not to mention one of the best penalty-killing tandems of the decade.
Despite not being called upon often for his offensive talent, Laaksonen sits ninth all-time for the Wild in goals with 55.
Line Three: Center—Sergei Zholtok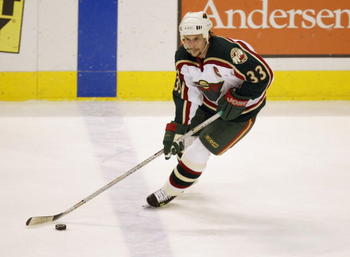 Despite being on the team for just two-and-a-half seasons, Zholtok remains one of the players that is most fondly remembered by the fans.
He could always be counted on for consistency and leadership and was one of the catalysts in the team's miraculous run to the Conference Finals in the '02-'03 playoffs.
His offensive touch was something that the team had never seen much of in its history, and he made an immediate impact, scoring 19 goals upon signing with the team as a free agent.
Unfortunately, Zholtok's life was cut tragically short during the lockout as he collapsed on the way to the locker room during a game in Minsk, Belarus and later passed away on Nov. 3, 2004.
Line Three: Right Wing—Owen Nolan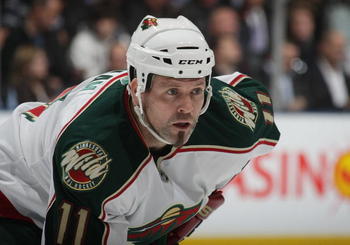 The man they call "Cowboy" has made an immediate impact on the Wild, despite only being with the team for just over a year.
Nolan's work ethic and his leadership ability easily cemented him on this list, and stories of his exploits during practice and on the ice last season when the team looked to be floundering are quickly cementing him as one of the best forwards ever to dress for the Wild.
Despite only being with the team just over a year and despite struggling with injuries last season, Nolan led the team in goals last season and is tied for 16th all-time on the team.
In just 84 games for the team, he has amassed 32 total goals—the same number that Jim Dowd and Todd White tallied in 283 and 138 games, respectively.
In the last year of his contract, there is a growing consensus among Wild fans that this Cowboy can remain with the team until he decides to ride off into the sunset.
Line Four: Left Wing—Stephane Veilleux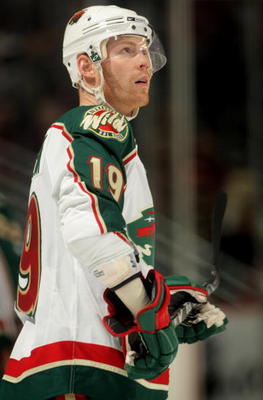 This fiery redhead is probably best known to casual fans for his antics in the penalty box two seasons ago against the Colorado Avalanche, but make no mistake—he belongs on this list.
One of the fiercest competitors the Wild has ever seen, his physical play and tenacity was a driving force for the Wild during his time there, and his underrated scoring touch helped the team when it counted (in '08-'09, 12 of his 13 goals came in the third period and either tied the game or put the game out of reach).
His touch has placed him 10th all-time on the Wild's goal-scoring list, and his tenacity has put him as one of the all-time fan favorites.
Line Four: Center—Darby Hendrickson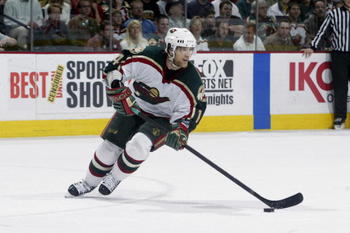 You can't have an all-time list of Minnesota Wild players without having the first Minnesotan ever to play for the team on the list.
While Hendrickson was never the most skilled player on the team, he was never lacking in his work ethic or his leadership ability. He scored the first goal in team history and was a staple on the penalty kill for the team in his tenure in Minnesota.
While in Minnesota, Hendrickson enjoyed his most productive seasons, and he tied for the team lead in goals during the team's first season in existence.
Line Four: Right Wing—Cal Clutterbuck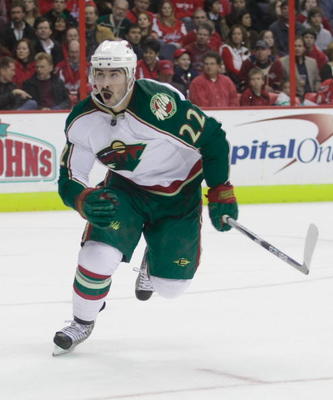 There's no way you make a list of the best players and leave this man off.
Cal Clutterbuck joined the team last season and quickly elevated himself to the status of "cult hero" for the team. His quick wit and heavy hitting has made him a staple on the team's checking line, and he has often been praised as having the best shot on the team by coaches.
Last season he led the league in hits, breaking Dustin Brown's hit record, despite missing five games and is well on his way to breaking his own record again this season.
He is viewed as a future 20-goal scorer by many and is going to be giving opposing teams headaches for years to come in Minnesota.
First Defensive Pairing: Left Defense—Nick Schultz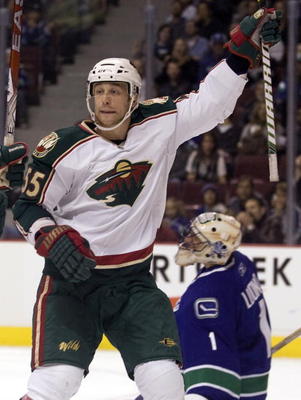 Schultz has quietly become one of the better defensive defensemen in the game.
His steady play and solid defensive ability have made him the Wild's go-to shutdown defenseman, and he finds himself playing against teams' top lines on a nightly basis.
While prone to mistakes early in his career, Schultz steadied his play and as amassed a plus-22 rating over his career. While not flashy offensively, Schultz is one who stabilizes the team and seems to always be in the right place at the right time.
In addition, he is one of the team's most reliable players, playing in at least 79 games in each of the last five seasons and leading the team all-time in games played.
First Defensive Pairing: Right Defense—Brent Burns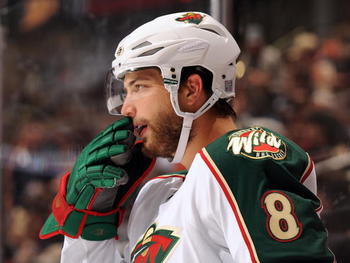 Being a fan of Brent Burns is a maddening thing.
Though he has been plagued with inconsistency throughout his career, Burnsie is easily one of the best defensemen ever to pull on a Wild sweater. His speed, skill, and physical play have even brought him into the mix in talks of playing on Team Canada in this year's Olympics.
Despite struggling with injuries over the last two seasons, Burns has become an offensive talent to reckon with on the blueline and plays the game with a youthful enthusiasm matched only by that of Alexander Ovechkin.
When healthy, Burns is a key piece in the Wild's offense and defense and is one of the Wild's most dangerous players.
Second Defensive Pairing: Left Defense—Willie Mitchell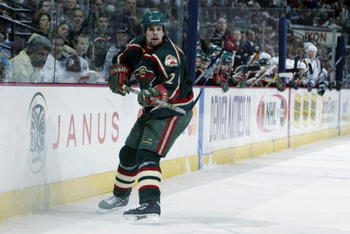 While Mitchell may not always be remembered fondly by Wild fans due to his departure from the team in the '05-'06 season, there is little doubt that he is one of the best D-men to skate for the team.
Mitchell came to the Wild from the New Jersey Devils in the team's first season and struggled through his first full season in a Wild sweater before becoming the team's go-to defensive defenseman.
His battles with Todd Bertuzzi show just how far he was willing to go to help his team, and he was always a physical presence for his team.
Mitchell gave the Wild an element that they rarely had—a strong, physical defenseman—and his presence on the ice and in the locker room made the Wild a stronger team.
Second Defensive Pairing: Right Defense—Filip Kuba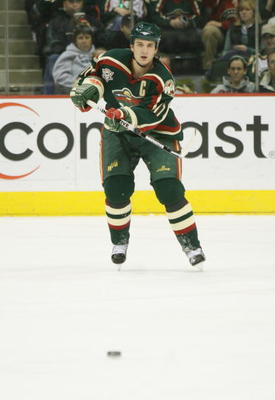 You can't talk about the Wild's defense without at least mentioning Kuba's name.
Kuba was the Wild's first "offensive" defenseman, and he provided a dangerous weapon for the Wild on the blueline in the team's early years.
In addition to being a weapon on the blueline, he was a minute muncher as well, averaging at least 21 minutes of ice time each season he was with the team.
Another player who was a huge help to the team in their Conference Finals run, Kuba was also selected to the All-Star team in 2004.
Third Defensive Pairing: Left Defense—Kim Johnsson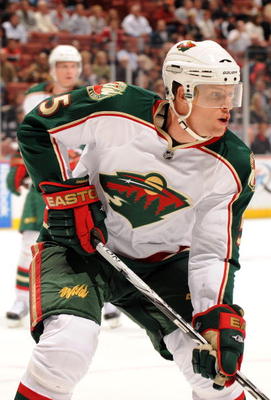 This might draw the ire of many Wild fans, but there's no denying that Johnsson is an important defenseman to the team.
Since joining the team as a free agent in 2006, Johnsson has averaged around 24 minutes of ice time. Billed as an offensive blueliner, Johnsson has not shown much offensive flair since he has donned a Wild sweater, but he has shown that he is capable of playing against other teams' top lines night in and night out.
The combination of he and Nick Schultz has been one of the Wild's top shutdown pairings over the last couple seasons and Johnsson is continuing his strong play this season, typically playing alongside either Schultz or Shane Hnidy.
Third Defensive Pairing: Right Defense—Kurtis Foster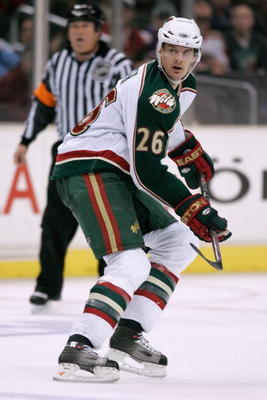 Foster was one player that I was genuinely sad to see go this offseason. After his trials and tribulations in recovering from a broken leg, Foster came out and played some of the best hockey of his career, notching a goal and six points in a 10-game span.
Despite the fact that he wasn't in the cards for the Wild this season, Foster was a boon for the team for the four seasons he spent in Minnesota. His booming slap shot always gave goalies and defensemen pause, and his attitude was always second to none.
Though he never quite captured the gusto that his first season had (10 goals and 28 points in 58 games), Foster was a huge threat on the power play and even began showing some physicality later in his Wild career.
Starting Goaltender: Niklas Backstrom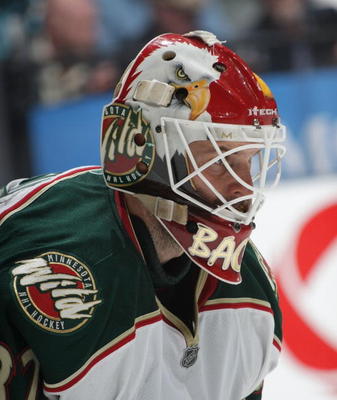 When Backstrom signed with the Wild on June 1, 2006, no one really knew what they were getting.
An injury to Josh Harding and a strong camp gave Backstrom the nod to head into the season as the team's backup, however, and an injury to Manny Fernandez gave Backstrom the starting job—a job he would never relinquish.
Since joining the team, Backstrom has not only cemented himself as the team's top goalie, but as one of the league's as well. A career 2.28 goals-against average and a .922 save percentage have earned him a spot on the Wild's all-time team, not to mention 102 victories in just over three seasons' worth of work.
Backup Goaltender: Manny Fernandez
Before there was Backs, there was Manny.
Fernandez was the team's premier goaltender for five seasons before being supplanted by Backstrom in net. Before injuries and attitude problems derailed his career with the Wild, Fernandez helped lead the team to the Conference Finals in '02-'03 and managed to win the role as permanent starter during the '05-'06 season.
His 260 games played and 113 wins still rank atop the team's all-time leaderboard, as do his 102 losses.
The End...For Now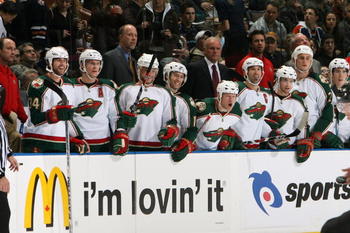 As I mentioned earlier, this was probably one of the easiest all-time teams to do. The Wild certainly doesn't have a deep history yet, but the organization continues to grow and continues to flourish in the Land of 10,000 Lakes.
Keep Reading

Minnesota Wild: Like this team?