2009 NCAA Bowl Projections, Part Three: The Big XII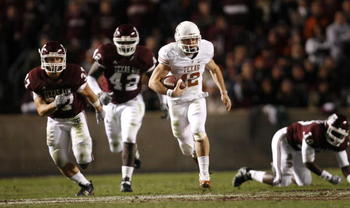 The second team in the BCS half of the conference-by-conference bowl projection series is the one likely to meet the SEC Champion in the BCS Championship Game: The Big 12.
And yes, writing 12 is easier than XII, even though that may or may not be the official name of the conference on any given day of the week.
A year ago, the Big 12 had three teams with designs on going to the BCS Championship game; ultimately, it was Oklahoma who went to the big one, Texas who replaced them in the Fiesta and Texas Tech who had to settle for quite possibly the most undeserved (in a good way) Cotton Bowl berth ever.
What a difference a year makes. While the Big 12 is still likely to have one of its teams play for the national title, it will take a miracle stroke of luck for a second team to even sniff BCS contention.
Texas could make a "down" year in the Big 12 a distant memory if it can end the SEC's streak of BCS Championships, while the evident parity could make for some interesting bowl matchups.
The Big 12 has eight eligible teams and eight automatic tie-ins this year, as contractual obligations require the Gator Bowl (which can normally choose between the Big 12 or the Big East) to select a Big East team this season.
Since only one team is earmarked for the BCS, every slot will be filled.
Bowl-Eligible Teams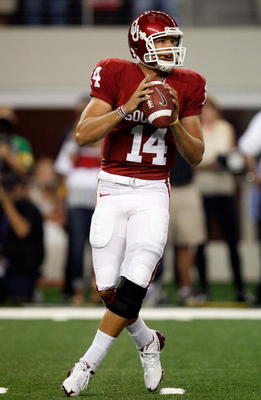 Eight of the dozen teams in the Big 12 are eligible for post-season play this year.
Kansas State also finished 6-6, but because two of those wins were against FCS (formerly Division I-AA) schools, they did not qualify.
These are the Big 12 teams who will be going bowling this Holiday season:
Texas (12-0, South Division Champion)
Nebraska (9-3, North Division Champion)
Oklahoma State (9-3)
Missouri (8-4)
Texas Tech (8-4)
Oklahoma (7-5)
Iowa State (6-6)
Texas A&M (6-6)
Bowl Tie-Ins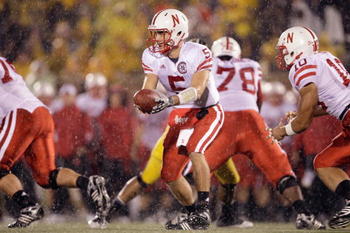 Here, in order of selection, are the Big 12's usual automatic tie-ins:
No. 1: BCS (Fiesta Bowl or BCS Championship Game)
No. 2: Cotton Bowl
No. 3: Holiday Bowl
No. 4: Alamo Bowl
No. 5: Sun Bowl
No. 6: Insight Bowl
No. 7: Independence Bowl
No. 8: Texas Bowl
In most years, there would be a rotation system in the middle between the Sun, Alamo, and Gator Bowls; again, however, the Gator must select a Big East team, so that is out of play.
Also, because the Big 12 is highly unlikely to receive a second BCS bid, all bowls will select as ordered. Should they do so, however, the Texas Bowl bid would be forfeited.
Projections and Synopsis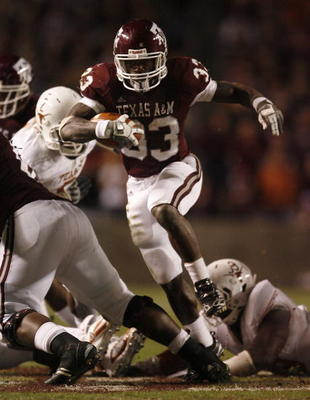 Projected Bowl selections:
No. 1: BCS National Championship Game—Texas
No. 2: Cotton Bowl–Oklahoma State
No. 3: Holiday Bowl–Nebraska
No. 4: Alamo Bowl–Texas Tech
No. 5: Sun Bowl–Oklahoma
No. 6: Insight Bowl–Missouri
No. 7: Independence Bowl–Iowa State
No. 8: Texas Bowl–Texas A&M
Nebraska will be the best team they've faced all season, but Texas should defeat them and move on to the BCS. The Longhorns should then still be No. 2 and head to the BCS Championship; if not, they will go to the Fiesta Bowl as per the usual BCS tie-in.
Then it gets weird.
Oklahoma State was a likely candidate for the Fiesta Bowl until losing to Oklahoma, and now they could end up as low as the Sun Bowl. The likeliest scenario is that the Cotton will take them, with Nebraska going west for the Holiday and the Alamo taking in-state rep Texas Tech.
However, all it takes is one upset to see Oklahoma State drop like a rock. If Oregon State wins the Pac-10, Oregon is likely headed to the Holiday Bowl. So if the Cotton decides to take a chance on Nebraska (unlikely, but possible) in that scenario, the Sun won't take Oklahoma State because it would be a rematch of last year's game.
The Alamo might still want an in-state team and take Texas Tech, meaning the Cowboys are headed to one last roundup in El Paso.
But, even if Oregon State wins the Pac-10, the Cotton would probably still avoid Nebraska, so I digress.
With the fifth pick, the Sun Bowl takes Oklahoma. They could also get USC, and even in a down year, that matchup sells tickets.
The Insight, Independence, and Texas Bowls now get to choose between Missouri, Iowa State, and Texas Tech. The Insight, which might lose its other tie-in (Big Ten No. 6) based on the BCS, would likely take Missouri because they're the best team of the three.
The Texas Bowl would like to have A&M and will probably get them, as the Independence will match Iowa State against South Carolina and let A&M head to Houston to battle Navy.
Keep Reading

Texas Longhorns Football: Like this team?