Early Vezina Trophy Candidates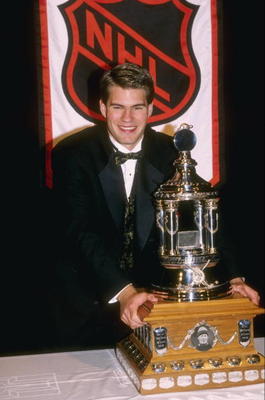 The NHL season is a long and arduous one, so starting the season well doesn't guarantee you anything. It does however give you a better shot at it than the rest that started slowly.
There are many goalies who will be in the running, and come the end of the season, things could change drastically. But as for the first two months of the season there have been a few standouts.
Here are the top five early front runners for the Vezina Trophy.
5. Craig Anderson - Colorado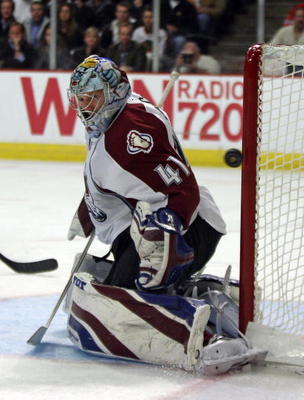 The Only thing more surprising than the Colorado Avalanche in 2009-10, is the fact they are winning with Craig Anderson in goal. Outside of die hard Avalanche fans, I don't know many that would have predicted this. Even "die hards" would have been happy with a playoff position.
Anderson has played outstanding this season leading his team to an early 15-8-5 record on the strength of his league leading 779 saves. This has the Avs only two points back of the red hot Calgary Flames for first in the Northwest Division.
Anderson has played well out of the gate, leaving many to wonder if her can handle that many shots throughout a full season. His numbers have trailed off a bit from the first 15 games, but he is in no way out of the running especially if his team can pick up their play and use their youth to their advantage.
4. Evgeni Nabokov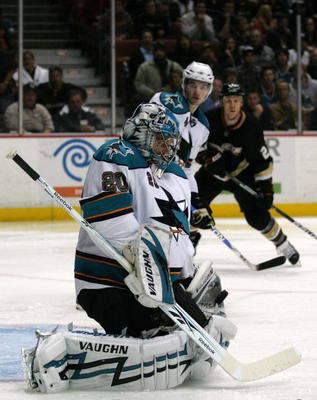 The San Jose Sharks have been contenders for quite a few years now, and the consistent factor in the last few years has been Evgeni Nabokov. Even in their playoff failures, the Sharks have just not had their forwards putting up the goals needed to win.
Goaltending hasn't been an issue for the Sharks for a while, and this year isn't any different. Nabokov is having another solid year between the San Jose pipes, and this year could be very promising for the Russian goaltender.
Aside from the win column, Nabokov's numbers haven't been great, but he has a team in front of him that can put in goals at will, and have brought the team to the top of the NHL early this season.
With a team that can expect to win every time they lace up the skates, wins will probably pile up quickly for the Sharks. If this continues and Nabokov stays healthy, we could see Martin Brodeur's wins record broken at the end of the year. If that happens, it doesn't matter how bad his numbers are, Nabokov will win.
3. Miikka Kiprusoff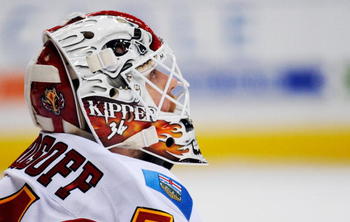 The Calgary Flames are starting to come together as a team after a decent start with a few hiccups. The main reason the Flames were in it early on was because of Miikka Kiprusoff. His GAA wasn't great early on, but he was doing enough to keep the Flames in each game.
Kiprusoff has stepped up his game and so have the rest of the Flames. That combination has the Flames playing great hockey, and making it easy for Kiprusoff. Shots per game have been going down, and Kipper is making fabulous saves on a regular basis.
Three shutouts in the Month of November has brought Kipper's GAA down to just above two and a quarter, and a very respectable .925 save percentage. Add 15 wins, one shy of Evgeni Nabokov for the league lead, and there could be two goalies breaking Brodeur's wins record.
2. Martin Brodeur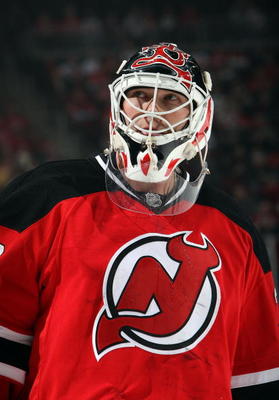 Martin Broduer has benefited from New Jersey's perpetual defensive style of play over the years, but anyone that has thought that was the key to his success has been proven wrong over and over and over.
Every year I wonder if this is the year Brodeur will slow down and have to hand over some of the responsibilities to another goalie, and thus start his slow down to retirement.
Again this year I thought it, and I have been completely blown away AGAIN! Brodeur has once again been the backbone of a team that should be underachievers. Instead they are three points behind the Stanley Cup Champions for first in the Atlantic Division.
Brodeur's numbers are up in wins, GAA, and save percentage, and I am going to go against my usual notions, and I will expect him to remain in the Vezina hunt throughout the season. If it comes down to a tie in stats, I give Brodeur the nod, simply because his team isn't as good as most of the others in this list.
1. Ryan Miller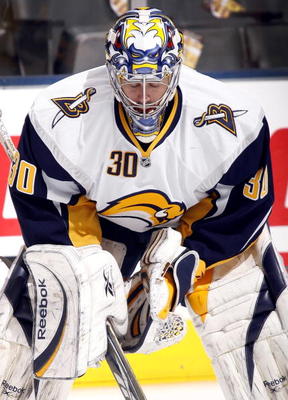 In the 2006 playoffs, the Sabres took a risk and went with Ryan Miller as the goalie for their playoff run. Miller won a lot of games, but I was thinking Martin Biron was a better choice.
Miller was given the starting job after that, and I still wasn't sold. Biron was traded away to Philly, and I shook my head questioning the choice of who to trade.
All my doubts have gone away after watching Miller this season. I have always thought he was a good goaltender, but wasn't sure he was the right choice between him and Biron. Mostly because I felt Biron hasn't been given a fair shake wherever he goes.
I will admit this year that Miller has been the most consistent and outstanding goaltender in the NHL this year. This was made the most clear in the 2-1 Shoot Out victory over the Flames on November 13th. Both Kiprusoff and Miller were outstanding. Kiprusoff is known for being the one to make spectacular save after spectacular save. That night Miller was even with his spectacular save count, and was the only reason the Sabres won that night.
Both teams could have scored 5-6 beautiful goals, but in the end Miller was standing tall.
The Sabres are playing well, and Miller is playing even better. If the trend continues, the Sabres will be strong contenders come playoff time, and Miller could easily be holding the Vezina, and the Conn Smythe come awards night.
Keep Reading