Orlando Magic Week Five Preview: Dwight Howard and the Road Warriors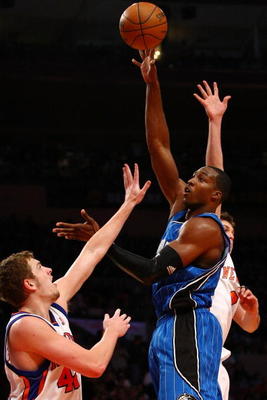 Orlando gets a bit of a break after a busy schedule last week. In the process, the Magic have stepped up and now sit atop the Eastern Conference standings with the Boston Celtics at 14-4.
Kicking off the week against the Miami Heat at home on Wednesday night, Orlando took a tough loss on a controversial put back dunk by PF Michael Beasley. When Dwayne Wade missed badly on a potential game winner, Beasley dunked the ball with 1.6 left on the clock, putting Miami ahead 99-98.
Magic players pleaded with the refs for a goaltending call, to no avail. Vince Carter was unable to counter with his last second shot and Orlando took the loss.
Jason Williams had a big game for the Magic, scoring a season high 25 points and adding eight assists.
On Thanksgiving night Orlando headed to Atlanta to face the red-hot Hawks. After struggling early, the Magic out scored Atlanta 54-35 in the second half and allowing only 11 points in the forth quarter. This solidified a 93-76 win for the Magic.
Dwight Howard returned to form putting up 22 points, 17 rebounds and four blocks. Howard has not looked like an MVP candidate to this point but he is starting to turn things around.
Howard's great play carried over to Orlando's 100-98 victory in Milwaukee against the Bucks on Saturday night. Superman led the team with 25 points, 20 boards, and four blocks. Vince Carter also added 25 points for the game.
The Magic win came despite turning the ball over 17 times and Carter taking an elbow to the mouth in the game. Carter required four stitches in his lip but returned to score 19 of his 25 in the second half.
Sunday night in New York it was Rashard Lewis' turn to come up big, leading all scorers with 26 points. Lewis has not looked like himself since returning from a ten game suspension to start the season.
Howard continued to have a hot hand, adding 24 points and 16 rebounds. With both teams even from the field, fouls were the difference as the Knicks gave up 26 fouls to the Magic's 15. This allowed Orlando to take their sixth straight road win with a 114-102 victory.
The Magic will invite the Knicks to Orlando for a rematch on Wednesday night before heading out west for four games. On Saturday night Orlando takes on the Golden State Warriors.
Click forward as we breakdown the two match-ups for this week in Magic basketball.
Wednesday, December 2 Vs. New York Knicks (4-14)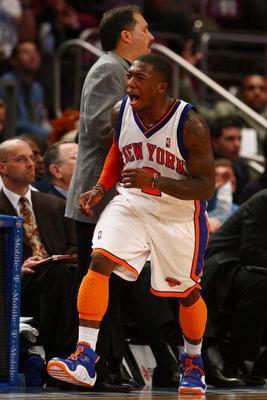 The New York Knicks are struggling mightily and seem to lack identity. Most of the players are auditioning for a spot in head coach Mike D'antoni's fast scoring system.
There looks like there is no expectation for wins this year as management is focused on the 2010 free agent class, namely LeBron James.
The 5'9" wonder, Nate Robinson has returned to action and is lighting things up of late. In Sunday night's game, "Krypto-nate" matched "Superman's" 24 points.
Danilo Gallinari has shown flashes of excellence in his second year as a pro. The Italian native is dangerous from outside while standing 6'10".
Orlando went to New York and took care of business last week. Look for more of the same on Wednesday. The Magic have to take advantage of their home court before hitting the road.
Saturday, December 5 @ Golden State Warriors (6-11)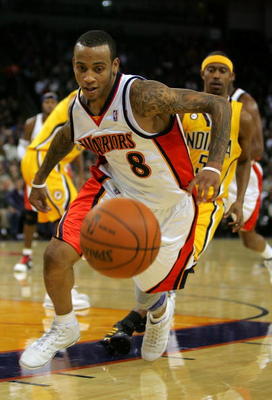 Golden State plays a similar, fast-paced game to that of the Knicks. Under Don Nelson, the Warriors take lots of shots and move the ball quickly. You can never be sure who is going to take shots on any given night.
As of late, it has been PG Monta Ellis providing the brunt of the scoring. Ellis is averaging 24.4 points a game and has seen increased opportunity with the departure of Stephen Jackson.
Rookie G Stephen Curry has seen increased minutes and is coming into the Rookie of the Year picture. Another player who has taken advantage of an increased role is SG Anthony Morrow.
With Stephen Jackson out of the picture, it has been addition by subtraction, however, with no front court help, the Warriors look soft. By allowing 113.7 points a game, Golden State has the league's worst defense.
Look for the Magic scorers to put up big numbers. Dwight Howard will have only gangly PF/C Anthony Randolph to challenge him in the front court. Expect a big night from the big man.
Keep Reading

Orlando Magic: Like this team?