ACC Football: Regular Season Ending Grades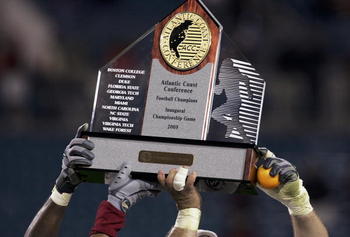 Once again, a season of ACC football has come and gone much like a Jackie Chan flick. Sure there were a few moments worth remembering, but you'd never buy the DVD and nobody's going to win an Oscar for any performances.
As objective football fans, however, we can decipher the pros and cons of each team in the ACC regardless of how the teams may matchup with other BCS conferences.
Let's flip through the teams (in alphabetical order) to drill down just what went right and what went wrong...and what the final grade is for each team as we approach bowl season.
Boston College: C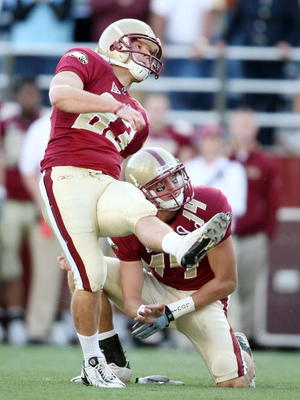 The Eagles were perhaps the biggest question mark coming into the season.
First, a new head coach (its third in three years) took the reins. Secondly, Preseason All-American linebacker Mark Herzlich announced he would have to sit out the 2009 season to undergo treatment for cancer.
Many teams going through such adversity would crumble under the pressure. Boston College, however, proved the mettle to muddle through, ending with an 8-4 record.
Not bad, but a very unimpressive schedule demanded bigger wins to really grab national attention.
The Eagles stayed in the ACC Atlantic hunt until the final weeks, when an embarrassing performance at home against North Carolina doomed them from reaching a third consecutive ACC title game.
With defensive leader Herzlich back next year, expect BC to be back in the thick of things, but the team needs its coaching carousel to stop so recruiting can gain some footing among the ACC elites.
Clemson: B-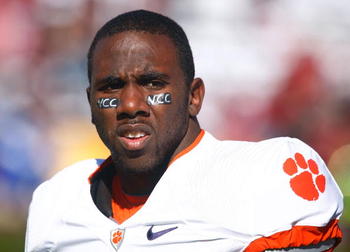 Still a long way from Danny Ford status, Dabo Swinney is certainly making his mark in Death Valley.
The Tigers will play Saturday for a chance to lay claim to its first ACC title since 1991.
With an 8-4 record (6-2 in ACC play), Clemson has had a somewhat typical year. It's the opening of the newspaper and seeing Clemson atop the ACC Atlantic standings to which fans are not accustomed.
Much of the season's success comes from the phenomenal play of Heisman hopeful C.J. Spiller, who many see as the east coast version of Reggie Bush. Combine Spiller with surprisingly solid play from freshman QB Kyle Parker and a quality defense, and Clemson is a team looking to replace Florida State as the ACC figurehead.
However, some issues did arise during the season, most notably a very sluggish offensive start to the year, which lead to a devastating loss to Georgia Tech and a downright pathetic performance against cellar-dweller Maryland.
Heading into the ACC CG on Saturday, Clemson must let the emotions of a 34-17 defeat at the hands of in-state rival South Carolina die before it arrives in Tampa.
No question Swinney has the ACC's attention, but now he must prove he can avoid deflating the title dreams he helped build up.
Duke: C+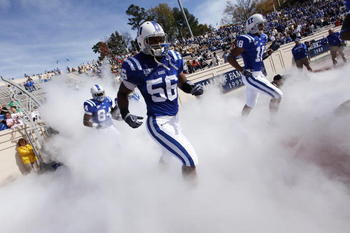 The 2009 season started bad enough for the Blue Devils, losing to FCS opponent Richmond 24-16.
However, ending with a 5-7 record is an improvement on typical Duke football seasons—winning three ACC games compared to just one last year. The impressive play of QB Thaddeus Lewis was enough to get him named second team All-ACC.
Duke ended the year on a four-game losing streak, but did manage big wins over NC State and Army during the year. Had Duke managed to pull off the huge upset against Virginia Tech—a game it lost by only eight points—the Dukies would be bowling.
Though the team gets no postseason game, expect coach David Cutcliffe to continue shocking the league with impressive recruiting class hauls.
Florida State: D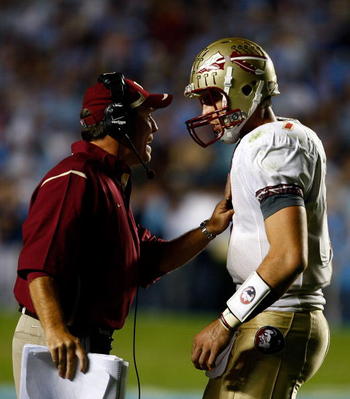 The ending of an era at FSU came with one of the worst defensive performances in school history. The Seminoles rank last, or next-to-last, in the ACC in every major defensive category.
Perhaps that's part of the reason defensive coordinator Mickey Andrews is leaving. More so, it's the reason the Noles finished with a 6-6 record, just barely continuing their streak of years with bowl eligibility.
By far their best win was on the road against BYU, where the offense showed it can put up big numbers. Lead by QB Christian Ponder, the Noles scored 30-or-more points in five of their six wins. But, with a near invisible defense, pressure was put on Jimbo Fisher's offense to pick up more slack than it really could. Thus, FSU has a 6-6 record, a mere 4-4 in ACC play.
The numbers are simply unacceptable for a program long heralded as the class of the conference.
Fisher takes over the head coaching duties next year for the legendary Bobby Bowden, who rides off into the sunset perhaps a few years past his prime. No question the offense will keep ACC defenses guessing next year.
But if the D doesn't show, does the O even matter?
Georgia Tech: A-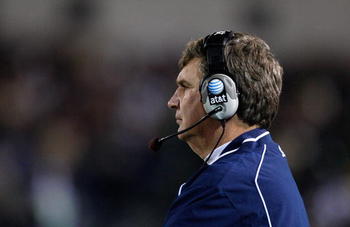 The 2008 ACC Coach of the Year certainly worked hard to prove last year was no fluke.
Paul Johnson lead to Ramblin' Wreck to a 10-2 record, 7-1 in ACC play.
The triple-option attack that has featured All-ACC back Jonathan Dwyer and the ACC's most efficient QB in Josh Nesbitt has steamrolled through the ACC en route to an ACCCG appearance. Take away a poor performance on the road against Miami on a short week, and GT was nearly flawless.
A disappointing end to the season came when rival Georgia came to Atlanta and knocked off the Jackets, prompting many critics to point fingers at the ACC as just a pretend BCS conference.
However, should GT make a BCS bowl, it can prove it's no fluke and can compete with teams in other conferences, despite what the team showed against LSU in last year's Chik-fil-a Bowl.
Maryland: D-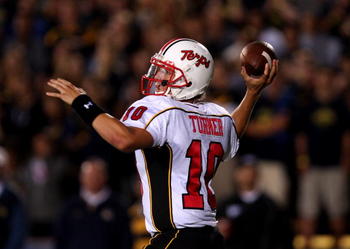 Bad doesn't begin to describe it. Maryland football was downright atrocious in 2009.
Winning two games in the ACC would have been bad enough, but winning only two games the entire year was embarrassing.
That said, one of those wins was against the ACC Atlantic champ, Clemson.
But one impressive win isn't enough, especially when a team loses to Virginia and Duke in the same season. Maryland wasn't great on offense, but the defense was non-existent, giving up an ACC-high 31.2 points a game.
Yes, that includes giving up 35 points to FCS opponent James Madison.
The Clemson win alone keeps the Terps from an F, but after hearing that Ralph Friedgen will be retained in 2010, one would have to question just how dedicated Maryland is to building a winning football program.
Miami: A+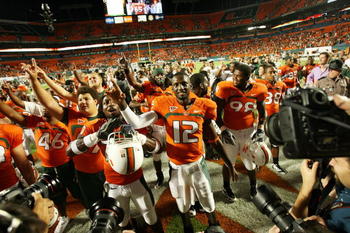 The Canes are back.
Well, not Jimmy Johnson-Willis McGahee-Ray Lewis-National Title back, but pretty close.
Miami turned heads right away this season by winning three of its first four games against then top-25 ranked teams—Florida State-win, Georgia Tech-win, Virginia Tech-loss, Oklahoma-win. Many experts predicted Miami wouldn't even taste victory until after that four-game stretch.
Though Miami was unable to make the ACC title game, it managed to put a positive spotlight back on a program many thought had fallen into mediocrity.
The Hurricanes will bring the vast majority of their talent back next year, namely stud QB Jacory Harris. On top of that, strong recruiting gives this team every reason to believe it will unseat Georgia Tech as ACC Coastal champs next season.
North Carolina: C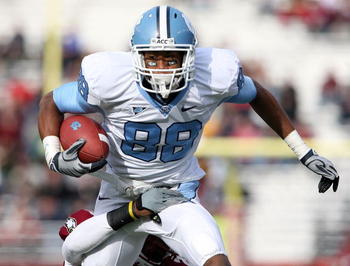 The North Carolina Tarheels were a real enigma this year.
Going into the season, many publications had Carolina in the top 20 nationally. The Heels started off 3-0, but didn't manage to get their first ACC win until Oct. 29—against Virginia Tech of all teams.
The defense was strong much of the year, but a young, inexperienced offense proved to be the team's downfall, managing only 10 points total in back-to-back losses to Georgia Tech, and (gulp) Virginia.
Nonetheless, the Heels ended with eight wins matching last season's total.
The talent is there for this team to make things interesting next season. Butch Davis and his impressive recruiting will make sure Chapel Hill isn't an afterthought when it comes to football.
North Carolina State: D-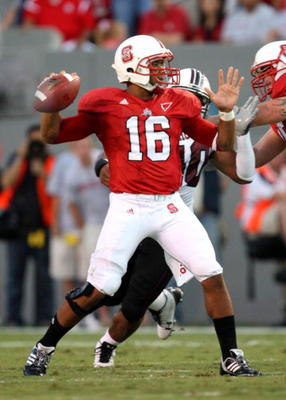 A quarterback cannot carry an entire team all by himself. Such a ridiculous request was made of the talented Russell Wilson, who, despite a pretty successful season, could not usher the Wolfpack into bowl eligibility.
Wilson threw for over 3,000 yards and 31 touchdowns, but had little help from the defensive side of the ball, which gave up 30-or-more points in six of the team's seven losses.
Beyond that, NC State was also dead last in the league in turnover margin, another reason for a disaster of a season.
Wins over Pitt and North Carolina were the few highlights from a year that featured little else to get Pack fans excited.
I would say the State alums give Tom O'Brien one more season to get things right. Russell Wilson will be back, and given some defensive support, can make the Pack a quality team again.
Virginia: F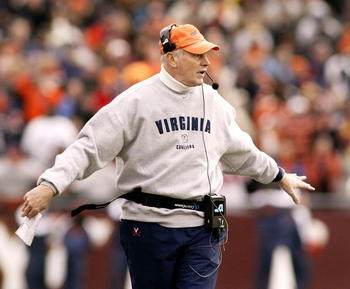 It's safe to say the Virginia Cavaliers earned their grade the first week of the season when they lost to William & Mary...by double digits.
It was at that point you knew things wouldn't get any better for Virginia. It had a bad enough year in 2008, which turned out to be a dark precursor for what turned out to be a 3-9 season.
But give UVa credit for seeing the need to stir things up and fire Al Groh who just wasn't cutting it anymore.
Virginia Tech: C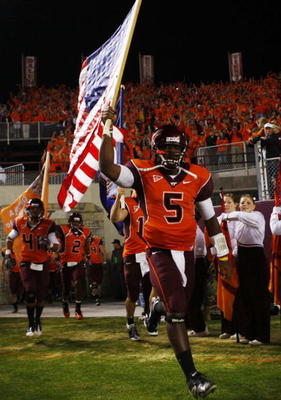 It's not that the Hokies didn't have a good season. In fact, by ACC standards, it was a great season.
But this was a team many saw as a dark horse for the BCS championship game. After a loss to Alabama, VT got on a roll that took it into the Georgia Tech game, one they ended up losing by five.
Then, despite a week and a half to prep, the North Carolina Tarheels came into Blacksburg and shocked the Hokies, winning 20-17.
With eight returning starters on offense, VT was supposed to be more effective than they were. VT ranked only sixth in the ACC in total offense.
The Hokies would have been lower were it not for the impressive running of freshman tailback Ryan Williams who dominated in his performance replacing the injured Darren Evans.
Defensively, the Hokies were strong as always, and I'd look for them to rebound to ACC-title-level play next year.
Wake Forest: D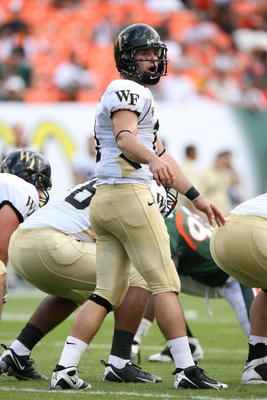 It's still hard to view Wake Forest as one of the better teams in the ACC, but that's exactly what they've been in recent years.
That is, until this season where the Demon Deacs ended with a 5-7 record, short of qualifying for a fourth consecutive bowl.
Riley Skinner had a respectable season at QB, but the Wake defense collapsed to 10th in the league after ranking 16th nationally in 2008.
Wake was predicted by many in the preseason to get 7-8 wins. I can see that being a reality next year, only if a competent replacement for Skinner is found.
Keep Reading

Clemson Football: Like this team?