Magnificent Seven-College Football's Top Quarterbacks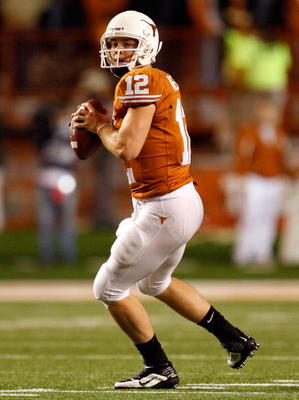 Sadly, the college football season is appoaching sunset. Before we put the facepaint and cornhole away, let's sit back and reflect on this season. In that spirit, I am introducing my 'Magificent Seven' for the 2009 campaign. Through out this month, I will cranking out lists of the top players, games, coaches, and moments of the year. We start with the glamour position in college football: the quarterback. Did your signal caller make our list?
7) Jimmy Clausen-Notre Dame
Stats: 289-425, 3,722 yards, 28 TD, 4 INT, 161.4 Rating
We would have ranked him higher, but the black eye (not the one on his face) for his case is that the Irish lost their last four games to turn a possible BCS saving season for Charlie Weis into another 6-6 season. Having Golden Tate and Malcom Floyd is nice, but it never helps that he has to keep scoring with an epic fail of a defense playing behind him. With his parents selling their South Bend home, there is a good chance he will be entering the 2010 NFL Draft. He has a great future in the NFL, as long as he doesn't get sucker punched when drafted by Philly.
6) Colin Kaepernick-Nevada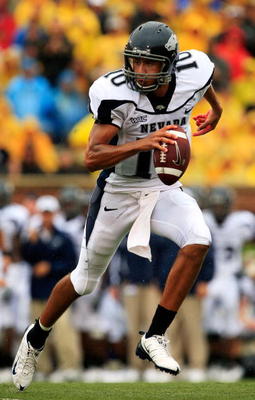 Stats: 151-253, 1,875 yards, 19 TD's, 4 INT, 1,160 yards rushing, 16 rush TD
Stand our No. 6 quarterback next to anyone his size and you couldn't pick him out of the crowd. Put him in the Pistol offense and he's your worst nightmare. This dual-threat is one of only two QB's to rush for 1,000 yards this season (Joe Webb of UAB is the other) and is one of three players on his team to have 1,000 yards rushing (first time in FBS history). Want to shut his rushing game down, not a problem. He has thrown for 1,875 yards with 19 TD's and only 4 INT's. Did I mention he's only a junior? Scary thought for the WAC next season.
5) Tim Tebow-Florida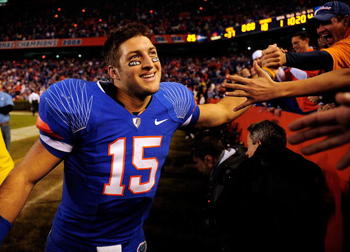 Stats: 162 Comp, 244 Att, 2,166 Yards, 17 TD, 4 INT, 796 Rush Yards, 13 TD
Ignore the fact his passing yards, TD passes, and passer rating have declined each of his final two seasons as a starter. Forget the fact he's been sacked three fewer times (25) this season than in the previous two years combined (28). This is TIM FREAKING TEBOW we're talking here. He can do no wrong, he can motivate anyone, and he looks good doing. Now that I got the Gator out of me, let's face facts. While Tebow has been solid in his senior season, the stats show he has been more of a leader of the team than the offensive focalpoint.
4) Tony Pike-Cincinnati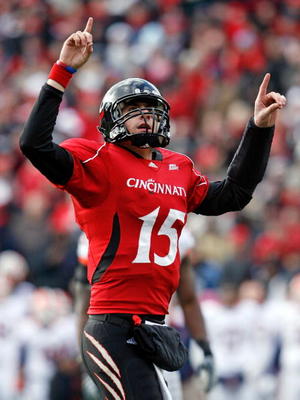 Stats: 177 Comp 272 Att 2,048 Yards 23 TD 3 INT 162.2 QB Rating
What he didn't miss those 3 1/2 games with his arm injury? He might have been our No. 1 gunslinger. Nonetheless, this gritty Bearcat lands on the M7 with one of the more solid seasons to date. Anytime you can throw for at least two touchdowns in every game played and cap your final game at home with six scoring strikes, you need to be on this list. He will have one final chance to show the nation his skills on Saturday as they visit Pitt for the Big East championship.
3) Kellen Moore-Bosie State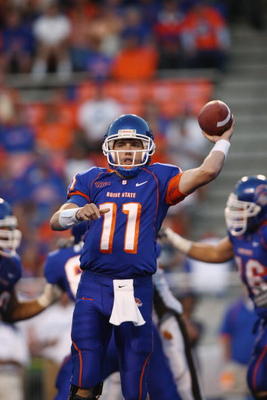 Stats: 235 Comp, 362 Att, 3,053 Yards, 38 TD, 3 INT, 168.75 Rating
When he was named the starter before the 2008 season, we were all saying "Kellen Who?" At the end of his career, we might be asking how Boise State replaces the icon that is Kellen Moore. In his second season, the red-shirt sophomore has Bronco fans thinking about 2006 when they shocked the world in the Tostitos Fiesta Bowl. His 38 TD's has tied with another member of the M7 for the national lead. Also, among QB's with at least 20 TD passes, he is one of six QB's with more touchdown passes than INT'S and sacks combined (answers at the end of the column). Want another scary fact, he returns almost EVERYONE on offense next season.
2) Colt McCoy-Texas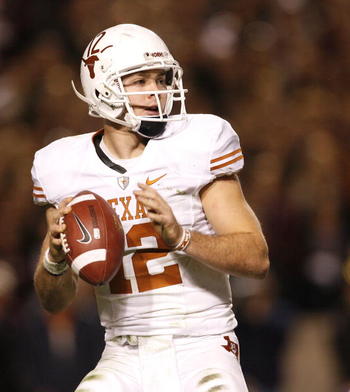 Stats: 310 Comp, 432 Att, 3328 Yards, 27 TD, 9 INT,
Before you begin getting on my case, let's take a look at the numbers. The only number that increased from his mind-boggling junior season was his interceptions. Every other major stat (rushing yards included) has gone down from 2008. With all due respect, hardly anyone expected Colt to duplicate the season he had when Texas got screwed out of playing for the Big 12 and subsequent BCS National Championships...that's another can of worms I'll open later. Nonetheless, he can ease everyone's pain with two more wins and one big crystal football heading to Austin, Texas.
1) Case Keenum-Houston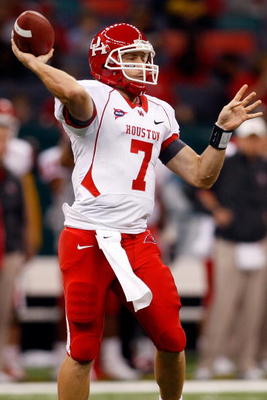 Stats: 412 Comp, 584 Att, 4,922 Yards, 38 TD, 6 INT, 160.76 Rating
It was a tough choice between Colt and Case, but you can't argue with what Keenum has done to make him the ultimate gunslinger in 2009. When you look at his numbers, you thought Mouse Davis was calling the plays for this Cougar. Consider this fact if you will: If he didn't take another snap in his college career, he would be top ten all-time in passing yards and TD passes. Even scarier is the fact that he could become the first quarterback to throw for 6,000 yards in a season. The rest of Conference USA hopes that this junior throws is name in for the 2010 NFL Draft.
Best of The Rest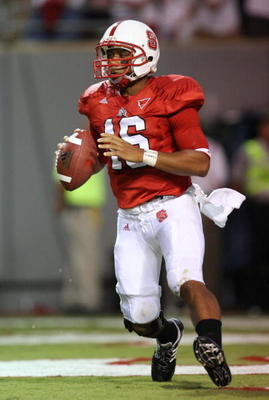 While these guys had great seasons, they didn't make the cut:
Russell Wilson-NC State
He, Christian Ponder, and Jacory Harris will battle for ACC's No. 1 QB in 2010.
Jacory Harris-Miami (FL)
Take out the fact he led the nation in INT's and he could have had Miami in Jacksonville this Saturday (that and the lack of defense versus Clemson).
Dan LeFevour-Central Michigan
Could be the next big time NFL star to come from the Mid-American Conference.
Jerrod Johnson-Texas A&M
If not for his team inconsistent play all season, he might have gotten more love.
As for the answer to the question I asked about what other QB's with 20+ TD passes had more TD's that INT's and Sacks combined. The answers are Pike, Moore, Keenum, LeFevour, Blaine Gabbert (Mizzou) and Andy Dalton (TCU).
Stay tuned tomorrow when we showcase the Magnificent Seven Running Backs in 2009
Keep Reading