If I Was Given a Heisman Ballot, Week 14
Receiving a Heisman ballot is something that I know will never happen to me and will probably never happen to you as well, unfortunately. How great would it be if we were allowed to vote on college football's most prestigious award, though? In this slideshow, I'll give you my top five for the Heisman as of right now.
Before you get started, yes, I know—you can only put three players on a Heisman ballot. But did I ever say I've received one? Let's get started!
No. 5: Ryan Mathews, RB, Fresno State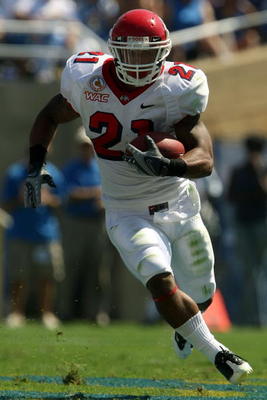 Admit it: before the season, there were quite a few of you out there who didn't even know who Ryan Mathews was. I'll admit to being one of those people.
However, Mathews' stats this year have been amazing: 1,491 yards on just 213 carries, an average of seven yards per carry, fourteen touchdowns, and in all but one game, he has rushed for over 100 yards, including a 234 yard, three touchdown game in a 51-34 loss against #6 Boise State.
If there's anyone who deserves true dark horse consideration, it's Mathews.
No. 4: Ndamukong Suh, DT, Nebraska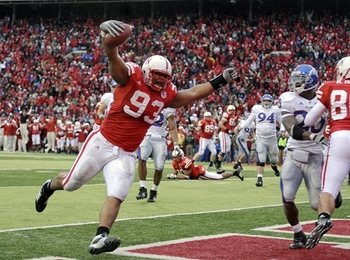 Before the season, Tennessee safety Eric Berry was expected to be the only defensive player contending for the Heisman.
Ndamukong Suh had something to say about that.
70 tackles, seven sacks, an interception, and the honor of being the leader of the resurgent Nebraska defense have pushed him to the top of the defensive pile. Offensive coordinators can try to figure out how to stop him, but whatever they've tried hasn't worked so far.
He has a chance to give his campaign a massive boost if he has a strong game against Texas this Saturday in the Big 12 Championship Game.
No. 3: Tim Tebow, QB, Florida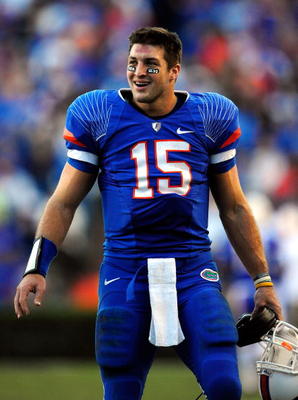 I know what you're thinking.
This would be a career-achievement award for Tebow, wouldn't it? Not so fast. With a 66% completion rate, seventeen passing touchdowns against just four interceptions, and thirteen rushing touchdowns to go along with it, he's had a pretty darn good season.
He has one last chance to boost his Heisman hopes, and it's a big opportunity—the SEC Championship game against No. 2 Alabama. If he pulls off another dominating fourth quarter performance like last year, he easily has a chance for another Heisman.
No. 2: Kellen Moore, QB, Boise State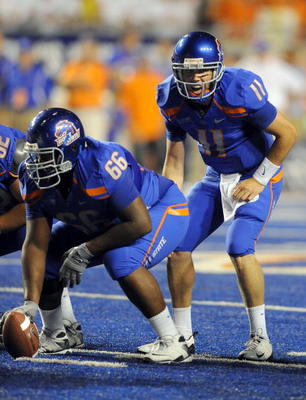 Once again, I might as well prepare for some hate.
"BOISE STATE? The team with the blue field?"
"What teams has he played, Colorado Schools For the Blind?"
"Didn't you learn from Andre Ware?"
Before you even start, I'll go ahead and tell you what I think of that: stuff a sock in it. Boise State doesn't throw the ball sixty times a game like Houston does and they've beaten the Pac-10 leader, No. 7 Oregon.
Moore's stats this season are unbelievable. A 65% completion rate, 38 touchdowns, and only three interceptions have pushed him towards the top of most Heisman ballots. A near 13-to-1 touchdown to interception ratio is just amazing.
If the next guy on our list hadn't had such a great season, Kellen would be looking at No. 1, but that spot is held by...
No. 1: Toby Gerhart, RB, Stanford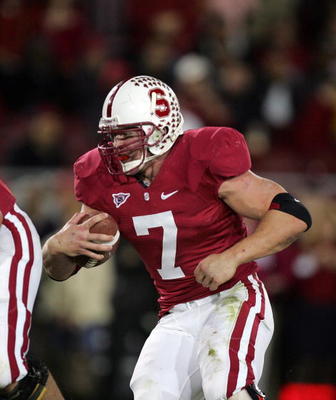 He's from Stanford. His team's ONLY 8-4.
Who cares?
Gerhart is having a dream senior season. Stanford's back into the postseason after an incredible year which featured beatdowns of No. 7 Oregon (51-42) and No. 20 USC (55-21).
Besides the team, let's look at his stats. 311 carries, 1,756 yards, a 5.6 yards per carry average, twenty-six touchdowns, and ten games of one hundred yards or more on the ground. Just in the month of November, he had thirteen rushing touchdowns.
Gerhart's best games include a 223 yard, three touchdown performance in a 51-42 win over an Oregon team that had beaten USC 47-20 the week before and a 205 yard, three touchdown game against Notre Dame in a 45-38 win.
Honorable Mentions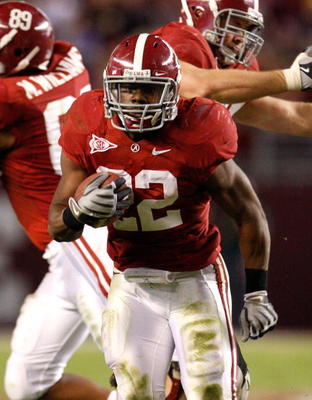 Mark Ingram, RB, Alabama
Case Keenum, QB, Houston
Colt McCoy, QB, Texas
CJ Spiller, RB, Clemson
Danario Alexander, WR, Missouri
Freddie Barnes, WR, Bowling Green
Jimmy Clausen, QB, Notre Dame
Mardy Gilyard, WR, Cincinnati
Dion Lewis, RB, Pittsburgh
Ryan Williams, RB, Virginia Tech
Jacquizz Rodgers, RB, Oregon State
Jordan Shipley, WR, Texas
LaMichael James, RB, Oregon, post-Purdue game
Golden Tate, WR, Notre Dame
Tony Pike, QB, Cincinnati
Keep Reading