MWC Power Rankings: Post-Regular Season Edition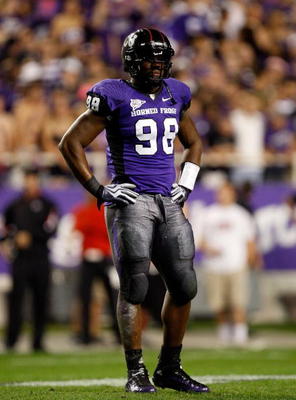 It has been another interesting year for the Mountain West Conference. The top four teams remain the same, just with some minor reshuffling in the rest of the conference.
TCU's undefeated season marks the six consecutive year that the MWC champion has gone undefeated in conference, though all three teams of the MWC Big Three have done it twice.
What is even more impressive is that the MWC has three teams in the BCS top 25 for the second consecutive year.
The top of the conference is clearly at a BCS level, while the rest of the conference needs to catch up.
As to the middle and bottom of the conference, things have definitely changed from the preseason positions.
My preseason power rankings
1. TCU
2. BYU
3. Utah
4. UNLV
5. Air Force
6. CSU
7. San Diego State
8. Wyoming
9. New Mexico
Things have definitely changed from that. Interesting enough, every team in the power rankings for the end of the season defeated all the teams ranked behind it.
Let's take a look.
9. Colorado State Rams (3-9)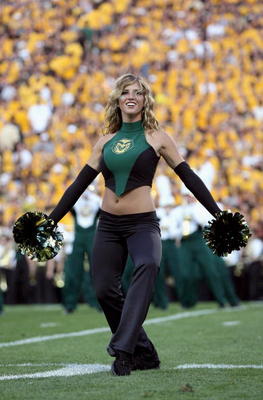 Wow, how can I even begin to say how shocked I am about how the Rams finished out.
Coming off an impressive bowl win over Fresno State, CSU started the season out with a huge win over Colorado.
CSU went 3-1 in OOC play (finding a way to lose a very winnable game at Idaho) and played BYU tough.
But something just fell apart after CSU went up 6-0 on TCU, as they allowed 44 unanswered points.
CSU reached the bottom with the loss to New Mexico.
Now, Coach Steve Fairchild showed promise last year, but another season like this one will not do well for his long-term prospects.
8. New Mexico Lobos (1-11)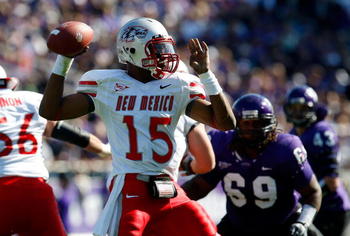 Wow, a 1-11 season and not in last place. Crazy enough, even with the huge off-the-field issues and huge on-the-field issues, the Lobos showed considerable promise and progress.
It was only a few year ago that New Mexico was a contender for the upper tier of the MWC. The Lobos beat Arizona last season.
While the fall off last year and the coaching changes seemed horrible, maybe something is actually going to go well.
7. San Diego State Aztecs (4-8)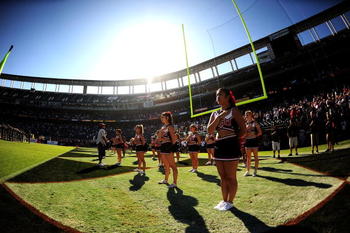 So, with a new coach and a new hope, it seemed as though things were turning up.
But by losing some very winnable games where the Aztecs were up big, it seems as though SDSU will have a little further to go to top-tier status.
SDSU has all the talent, recruiting area, and coaches to be a true contender, but has failed to do so for far too long.
6. UNLV Rebels (5-7)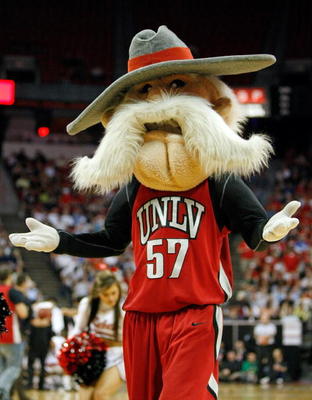 Yes, UNLV is a basketball school and more fans watched the game against Louisville at the Thomas and Mack than showed up at the Silver Bowl for UNLV's amazing comeback win over SDSU.
So, UNLV will get a new coach and maybe the school will finally invest in an on-campus stadium, even a cheap little one.
So, UNLV may be able to progress next year, or may fall to the bottom. They sure underachieved this year, as many folks had the Rebels in the upper half of the conference.
To think, UNLV had Oregon State beat until a questionable pass interference call late in the game allowed the Beavers to have a chance to pull out a win. But for that loss, I think UNLV might still have a coach and the Rebels would be fifth overall in conference.
5. Wyoming Cowboys (6-6)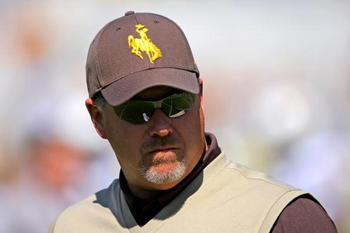 Wow, about the only people that would have guessed that Wyoming would be here are Wyoming fans and their new coach.
Still, Wyoming has always been a tough team that has been able to pull big wins on a regular basis. Last year's win at Tennessee was only one in a long string of great wins for the Pokes.
Even so, most people were shocked when Wyoming started to defeat the so-called up-and-coming teams in the conference, especially UNLV and SDSU.
The victory over Colorado State in the Border War was a huge bonus to a vastly improved year.
Hopefully Wyoming will be able to win the New Mexico Bowl against a WAC foe to finish with a winning record.
4. Air Force Falcons (7-5)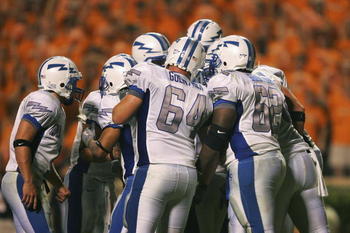 While Air Force finished 7-5 instead of 9-3, one of those losses came in overtime to Navy, one was in overtime to Utah, one was a three-point loss to TCU, while the other was at Minnesota where the Falcons dominated most of the game before letting it slip away.
Air Force under third-year coach Troy Calhoun has proven a tough out. The Falcons have a top ten defense and a very young team.
In all reality, the Falcons are a solid No. 4 team in the MWC and just need to win out its OOC schedule next year.
The Falcons may be able to crack the Big Three at some point, I just don't know when.
3. Utah Utes 9-3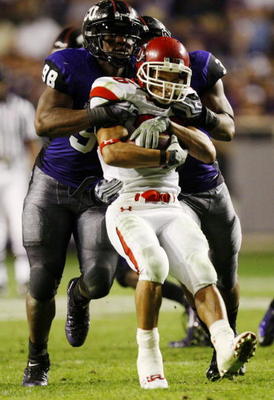 For a rebuilding year, this was a great job by Utah. Outside of the TCU game, Utah had a close lose at Oregon and the overtime loss at BYU.
As such, Utah is officially in the reloading business, not the rebuilding business. This is quite the change from 2005 when the Utes barely had a winning record after going to the Fiesta Bowl the season before.
Utah is on a huge bowl game winning streak and should keep the streak alive versus a Pac-10 team in December.
2. BYU Cougars (10-2)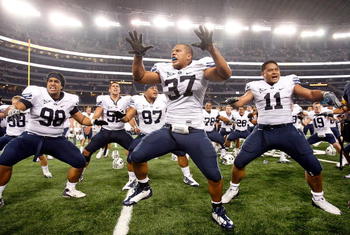 Fourth consecutive double digit win season and yet it feels disappointing for a lot of BYU fans.
The season started out perfectly with a massive upset of Oklahoma. BYU beat up the Sooners so bad that they ruined the Sooners' season, with the injury to Sam Bradford just being part of the damage BYU did to OU.
BYU suffered their own injuries, especially on defense, demonstrated clearly in what turned out to be one of Bobby Bowden's last great wins. BYU could not stop the 'Noles, but they also kept giving the game away with five turnovers. Interesting enough, BYU almost matched FSU in total yards even though BYU had the ball only for about 20 minutes.
Oh, what might have been. A 11-1 BYU team would likely be in the top ten, attempting to steal a BCS bowl bid from Boise State. Hey, what, BYU is at No. 14 in the BCS and is not only BCS-eligible, but has a strong chance to finish the season in the top ten with a bowl win.
Max Hall leaves a questionable legacy and as many BYU fans will be sad to see him go as are glad to see him gone. His recent comments after the Utah game only add to this problem.
1. TCU Horned Frogs (12-0)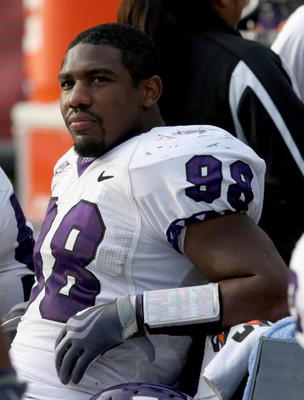 TCU finally lived to expectations. Having been rebuilt from the ashes by Dennis Franchione's arrival in 1998 (when the Frogs beat USC in the Sun Bowl and gave top ten Air Force its only loss of the season) to conference championship after conference championship in different conferences, TCU has risen to the upper echelon of college football.
DE Jerry Hughes and LB Darryl Washington are the latest in a long line of impressive defensive players developed by Gary Patterson. TCU's defense, currently No. 2, is likely to take the season defense title after next Saturday's SEC title game.
This season, TCU finally put some tremendous offense together. TCU could always move the ball on the ground and control the clock, but now TCU is throwing up points left and right, even with TCU trying to do nothing but run out the clock for the final ten minutes in games.
TCU is in the top five in both offense and defense and appears capable of taking on anyone. Hopefully the Frogs will get a chance for all the marbles.
As someone who predicted an undefeated regular season, I have been amazed at just how dominating this team has become.
Keep Reading

TCU Football: Like this team?