NFL Teams Rising Above or Falling Below Expectations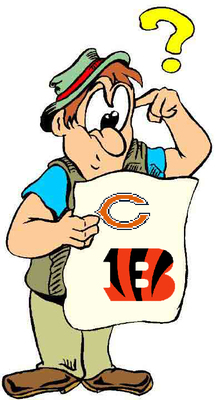 This year many teams have put together seasons that pundits (and fans) did not necessarily expect. Some have put together far better results than expected, while others have fallen flat in the midst of high anticipation.
Here are just a few of those teams that have either exceeded what was expected of them, or found that their seasons have been derailed with results far below par:
Cincinnati Bengals
Long the poster children for all talent and few results, Cincinnati began the year with a wide receiver legally changing his name to a number and a reality series providing great potential for distraction.
Instead, the team has found an identity behind Cedric Benson, a prime example of the type of given-up-on players that usually found themselves mired in a 7-9 or 8-8 type of Bengals season. This season, he is carrying the offense, while a physical defense has been thwarting opposing teams all along.
Playing in one of the NFL's toughest divisions (Browns aside) the Bengals have risen above expectations that placed them third, and likely outside even the wildcard picture, by looking to earn themselves a first round playoff bye on the power of an 8-3 record.
Fun Fact - Though considered in many ways the face of the Bengals franchise, Carson Palmer presently ranks 17th in the NFL in yards and 15th in quarterback rating.
Pittsburgh Steelers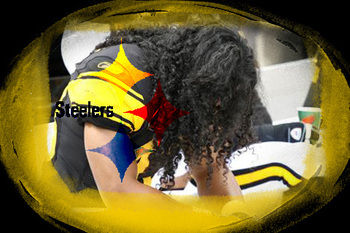 You cannot follow the Bengals up with any other team.
The Super Bowl Champion Pittsburgh Steelers were looking to put their mark on the AFC and make their way down to another winter game in the sun.
Instead, they find themselves battling injuries, and the Bengals rebirth, to fall to a 6-5 record, where just making the playoffs have become the focus.
With Big Ben fighting a concussion and Hines Ward questioning his quarterback for sitting out, this team needs a big run to end the season or towel town could find itself in a rare situation, watching January football from their living rooms
Fun Fact - No defense is more reliant on one man, as evidenced by a 6-0 record with he-of-the-large-hair, while going 0-5 without Polamalu.
New Orleans Saints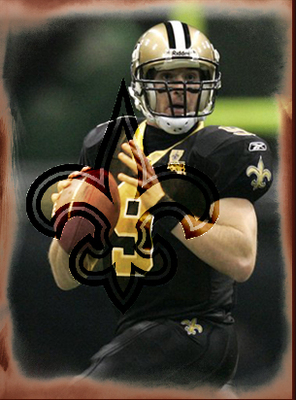 Much optimism surrounded New Orleans this offseason.
Greg Williams was brought in to provide an attacking defense that might just finally compliment that high octane offense.
Most people thought they would finally put themselves back in the playoffs this season.
What was not expected was a 10-0 run of dominance has seen the defense win games, the rushing attack win games, and, of course, Drew Brees and his receiving corps. With five games remaining the Saints are one of the odds on favorites to compete for the NFC championship.
Fun Fact -Two players considered past their primes and fantasy duds are contributing massively to the Saints cause with Jeremy Shockey collecting 461 yards receiving and Darren Sharper snagging seven interceptions.
Houston Texans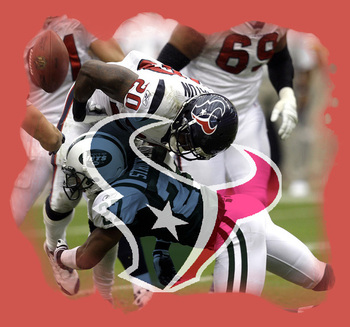 A favorite "dark horse" pick in the offseason, Houston now finds itself staring down the barrel of another 8-8 season.
They are not mathematically eliminated from the postseason, but standing 5th in line to a two-team wildcard race means their destiny is reliant upon multiple teams stumbling and an undefeated run the rest of the year.
It was said that a full healthy year out of Matt Schaub was the only thing missing from putting Houston in the playoffs. Now it seems that a new division would be a much better tool for ending a year above .500.
Fun Fact - Entering the year as a fantasy first rounder, Steve Slaton is presently 35th in a 32 team league with 437 yards rushing.
Denver Broncos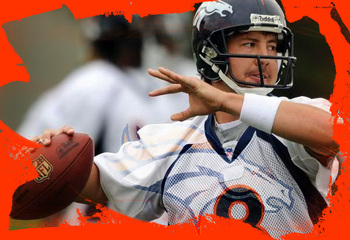 While a losing skid has taken some of the shine from this team, the Broncos already have more wins (7) than many pundits predicted the team would have the entire season, with frequent predictions in the 4-6 range.
After a turbulent offseason that saw their franchise quarterback (Jay Cutler) force his way to Chicago, and Brandon Marshall nearly follow suit, Denver remains not only in the wildcard race at this late date, but a mere game back in the divisional race.
This team has proven itself to be a perfect example of where a collection of guys buying into a system can perform above their overall talent pool.
Barring a complete meltdown they will likely finish the season above .500, a far cry from the 6-10 guesses laid on them.
Fun Fact - Kyle Orton's quarterback rating is a full 13.5 points above Jay Cutler, due strongly to a 20:6 difference in interceptions thrown, likewise the two teams have mirror image records at 7-4 vs. 4-7 respectively.
Chicago Bears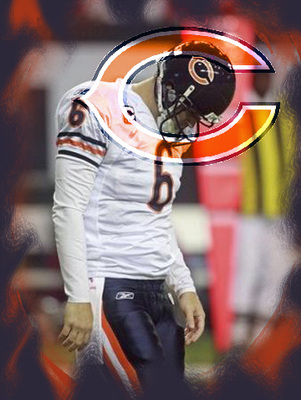 The obvious follow-up to Denver.
Much was made of the team that only needed a franchise quarterback to put them over the top.
In the offseason, buzz of a deep playoff run began as soon as Cutler traded blue for brown. Now the team has been shown to have several holes in all aspects of the game, including very little drafting power thanks to zero first round picks until 2011.
The team has given up the most interceptions in the league while complimenting it with the 32nd ranked rushing attack in the NFL.
As a team, they are four hundred rushing yards behind Chris Johnson alone.
Fun Fact - Despite a middle of the road 18th in yards allowed, the Chicago defense is 24th in points allowed, thanks largely to their large number of turnovers and the resulting shorter fields.
Jacksonville Jaguars
With no wide receivers, the emptiest stadium in football, and the longtime face of the franchise heading to New England, the Jaguars were not expected to do anything beyond last year's 5-11 record.
Instead, the fighting hyphens have led this team to a 6-5 record and a measure of respectability.
More importantly, should the season end today Jacksonville would hold the #6 seed in the AFC, in other words they have the inside track over the Steelers and Ravens for that final playoff berth.
Fun Fact - Maurice Jones-Drew already has 177 yards more than last year, and an average of 100 yards a game to close the season would give him as many yards as the last two years combined.
New York Giants
With a powerful front four, a Super Bowl champion quarterback, and a quality running back tandem, New York looked to be one of the top teams and possibly a challenger for another Super Bowl.
They started the year hot at 5-0, and looked like they were going to make good on expectations.
A head-to-head matchup against the also undefeated Saints derailed a team that has yet to reboot itself.
They have gone 1-5 since, needing an overtime win against an injury-crippled Falcons team just to eke out that one victory.
With Philadelphia and Dallas ahead of them, the division seems to be a lost cause. Now they must hope Green Bay or Philadelphia coughs up a couple of games in order to back into a wildcard berth, a likelihood dwindling with each additional New York defeat.
Fun Fact - The vaunted Giants pass rush is presently in a four-way tie for 17th in the NFL with 23 sacks, just over half of the league-leading 40 from the Minnesota Vikings.
Both Above and Below Expectations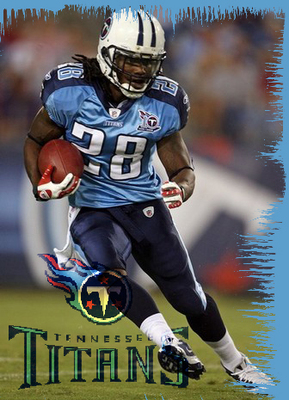 Tennessee Titans
Any team coming off of a 13-3 season is looking to be a major playoff contender. Instead, Tennessee began the year with an 0-6 record that caused many to begin to wonder about the job security of one of the most respected head coaches in the NFL.
The team looked creaky on both sides of the ball, relying too heavily on Kerry Collins' arm while failing to stop opposing offenses.
For their seventh game they finally pulled the trigger on a quarterback swap, inserting Vince Young into the lineup. Aside from their last win, Young mostly put up game manager's stats, but the team responded, improving drastically on both sides of the ball to cobble together a five-game winning streak, and whispers of a wildcard possibility when they had been written off as a top five drafting team.
Fun Fact - Chris Johnson was averaging 15.5 carries per game in the six game losing streak, while averaging 24.4 carries per game during the five game winning streak. Makes you wonder…why not put the team on his back (legs) sooner?
Keep Reading