Tennessee, Vince Young's "Music City Miracle II" Crushes Cardinals 20-17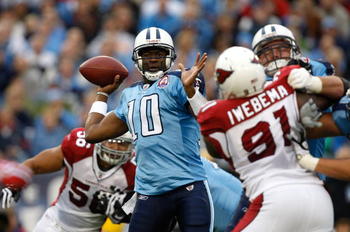 CARDINALS-TITANS REPORT CARD
It was a crushing defeat! It was the kind of defeat that gnaws at you...eats at you. What happened today in the shadows of Graceland will be tough to get over. It takes time to recover from a loss like this. Who knows how long it will take? Or what toll it will take?
I'm referring to the Cardinals faithful, of course.
The team will fly back disappointed, to be sure. But they will be proud of what they did today, despite that disappointment. The word "If" will be prominent, both on the flight home, and in the film room at the facility in Tempe this morning.
They'll get treatment on what ails them physically, and lick their own emotional wounds left by the visuals that keep playing in their heads. They'll cuss their own errors while watching film.
It very well may take me until Thursday or Friday to get over this loss. Maybe even next Sunday afternoon, when the natural juices start to flow preparing for the upcoming game.
But the Cardinals will hash out their plays, both good and bad, today. And by tomorrow, be 100 percent focused on the Minnesota Vikings.
The Cardinals have a lot to be proud of indeed. This was a fantastic game! It had everything! Great defensive plays. Great offensive plays. Great special teams plays.
The only time a team took more than a six-point lead...it lasted all of 12 seconds. It was a mini see-saw battle that seemed like it went back and forth all day.
And if you had any questions before this game about Titans QB Vince Young, and whether or not he's truly the real deal, he answered them. The same can be said, to a lesser extent, about Cards QB Matt Leinart, too
That said...let's get to the grades. Shall we?
Cardinals Passing Offense: A-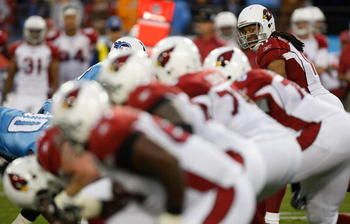 The Cardinals in general, and back-up QB Matt Leinart in particular, didn't know that starter Kurt Warner wasn't going to play until just two hours before kickoff.
Warner has been cautiously optimistic all week, and took, if not all, the vast majority of the snaps in practice this week.
But Warner woke up, apparently, with peripheral blurred vision. I wasn't really shocked, despite the fact that he practiced like he was starting. He never really sounded convinced he was 100 percent.
And if you remember, Warner contemplated quitting football when WR Anquan Boldin got his face crushed in the Meadowlands last year. He's a little gun shy. "Too gun shy" would be a matter of opinion.
But Leinart went out there despite the lack of practice snaps, and played himself a decent football game. In fact, under the circumstances, he played a fine game!
He started pretty slow, but got "hot" in the second quarter. His passes were accurate. Very accurate. His decisions were solid. He didn't get sacked until late in the game, and that on a terrific diving play by former Cardinal Kyle Vanden Bosch.
He made some beautiful throws, and missed a couple others by mere inches. Most importantly, he didn't turn the ball over, via fumble or pick. He did exactly what head coach Ken Whisenhunt expected, and what the faithful could only hope for.
What he didn't do was score. He led a great fourth quarter drive that gave the Cards their first lead of the day. But he couldnt quite finish until that point. Also, no Cardinals receiver collected more than Anquan Boldin's 53 yards (five grabs), and Larry Fitzgerald was held to 34 yards on four receptions.
The grade would have been dropped to a 'B' if fourth WR Early Doucet's fumble wasn't challenged by coach Whisenhunt, and reversed to an incomplete pass.
The offensive line deserves a B for their performance. The passing game plan was shortened, so they didn't have to hold blocks very long in general. But they did a pretty good job when they had to.
A couple drive-killing false starts and late fourth quarter holding call didn't help. But Leinart did a great job staying in the pocket and getting rid of the ball, even when heavy under pressure.
I wouldn't give Kurt an 'A' for today's TD-less performance, but there's no question that Leinart, thrown to the wolves with little notice against a very good team on a record breaking hot streak, came through very well.
Cardinals Running Game: B-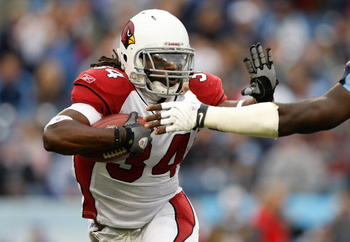 The Cardinals ran the ball pretty well, especially starter Tim Hightower. But they only ran the ball 19 times. This, despite having the ball nearly 29 minutes, and Leinart only throwing 31 passes.
By way of comparison, Tennessee's time of possession was two minutes more, but they ran 15 more offensive plays. But whatever...
Hightower continues to impress, and keep his role as the teams starter solidified. He doesn't get much press, but defenders know they were hit when they tackle him.
He never gives up on a run, and displays second (and third) effort constantly. He averaged over five yards per carry again today, and absolutely punished Titan's linebackers for having the audacity to try and tackle him.
This was especially true on his six-yard touchdown run when he was hit at the four-yard line, a la the NFC championship game, twisted his way into the end zone.
His longest run of the day was a 14-yarder down the sideline in the second half. But he rarely gets tackled for a loss.
Even when you think he's stopped cold, he manages to squeeze a couple yards out of the play. He only had a couple carries where he didn't pick up five yards.
Beanie Wells wasn't as much a factor this week, although he is just as punishing as Hightower. Maybe more so.
He provided a key first down on a 3rd-and-1 wherein he was met straight on by a full speed Titans LB, only to plow forward and pick up the new set of downs. He was also on the receiving end of a beautiful 26-yard Leinart pass on third down that was pivotal.
The most exciting thing so far about the 2009 season in my eyes, is the fact that the Arizona Cardinals are a full fledged running threat.
It doesn't matter who plays defense. The Cardinals can and will run the ball, and do so with increasing consistency and success.
That they did what they could with relatively few snaps, playing against a Titans DL that played very well, is an above average overall performance. This in spite collecting under 100 yards (75) for the first time in a month.
Cardinals Rushing Defense: B-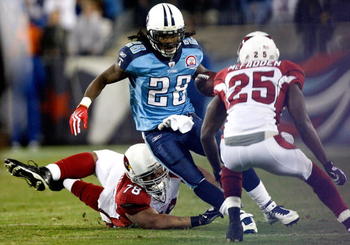 It's hard to explain it if you weren't watching the game. Despite the fact that the Cardinals defense gave up well over 500 yards in this game, they actually played a very good game overall.
I know.. I KNOW! You can't allow a guy to run for 154 yards and a touchdown, and see much good in it. Even if that guy is the NFL's rushing leader, Chris Johnson.
But the entire game, I was very happy with the defense, especially against such potent weapons. Time after time, they either forced the Tennessee offense to settle for field goal attempts, or to punt.
The Titans seemed to be dominating the first half. They moved the ball up and down the field, while Leinart was just getting his feet wet. It seemed like the Titans should be up by more than the three points they were up at the half.
Johnson was picking up his typical five yards each time he touched the ball, but except for a 13 yard carry in the second quarter, he didn't have a run for more than seven yards in the entire first half.
In fact, he was held to a relatively low 65 yards until late third quarter. It was then that he broke off an 85 yard run that ended in his lone touchdown.
Equally important, the Cards D didn't allow Vince Young to run the ball at all. He only managed eight yards on four carries, and wasn't able to 'save' a possession by scrambling his way to first downs in third down situations.
This was an 'A' performance throughout the game, except for that single 85 yard Johnson touchdown run. They otherwise held the two top runners at their respective positions in check. But an 85 yard TD run is an 85 yard TD run. Thus, the B-minus.
Cardinals Passing Defense: C-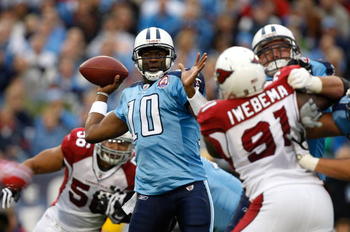 First, it has to be said that Vince Young probably played the best game of his career.
His accuracy was fantastic. His game management, save for taking a boneheaded quasi-sack as the clock ran out in the first half, was terrific. He made great decisions, and followed them up with sharp, pinpoint passes. He found the hot read on the Cards few blitzes. Like Leinart, he put the ball exactly where it should be put way more often than not.
Cards DT Darnell Dockett had a monster game with three sacks, and Karlos Dansby was making plays all over the field before being replaced by Ali Highsmith after getting hurt in the third quarter.
Maybe it was that the Cards passing defense was able to keep Tennessee out of the end zone for 59:59. But it didn't really seem like Young was putting up the numbers he was putting up.
I was more than a little shocked as he passed the 200 yard plateau, then the 300 yard plateau, 350, 375...you get the point.
But regardless, that last drive, the "Music City Miracle II" drive, a drive that will certainly go down in Tennessee Titans lore, was as excruciating a drive as I have witnessed in many moons.
Somehow, Young and company managed to put together an 18 play, 99 yard touchdown drive with 2:37 left in the game. They managed to stuff 16 plays into the final 1:56!
Think about that! I was screaming "home cooking!" because it seemed like the clock keeper was Vince's cousin, helping him keep each play under six seconds, and a few only taking but three or four precious ticks off the clock.
But that wasn't it. Even though the Cardinals defense allowed over 430 yards heading into that final heart-wrenching drive, the Titans only managed 13 points.
That made it seem a whole lot more like the defense was downright dominant. And except for a couple plays where a Titans receiver looked more lonely then the Maytag repair guy, they were. In general.
Yet Young played spectacular football on that final drive. He sliced and diced the Cards pass D, picking up first downs, hitting guys in stride that were able to get it out of bounds, and managing the clock as well as it can possibly be managed.
He was able to hit nearly every "pressure" third down conversion. And when that didn't happen, he simply completed three straight fourth-down conversions. Including the game winner with 00:00 on the clock.
Looks can be deceiving, and it looked like the defense played very well. And they did, despite the massive yards allowed. Even despite that final, painful drive.
It was one of the best played and managed offensive drives I've ever witnessed. Sometimes, like an Ali-Frasier type heavyweight fight, both can have a great fight, but someone has to lose. It just sucks that "my team" was on the losing end of it today.
Cardinals Special Teams & Coaching: A-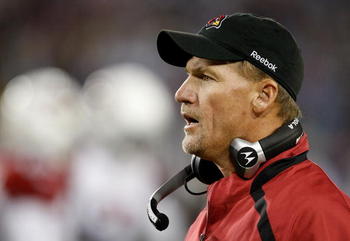 "The Hyphen."
Ok, it's not as cool sounding as "Rocket," but if Cardinals rookie (seventh rd) RB LaRod Stephens-Howling continues his fabulous special teams play at it's current pace, he may be the next rookie return phenom worthy of national recognition.
And "The Hyphen" is a hell of a lot less a mouthful than LaRod Stephens-Howling. It's kinda catchy, too.
All season long, The Hyphen has quietly been a beast on coverage teams. He leads the team in special teams tackles, as well as balls downed inside the 20. He has had a few nice kickoff returns, but hasn't quite been able to break one. That was before today.
Today, he followed up that 85 yard touchdown run by Johnson with a 99 yard kickoff return for a TD of his own. You had to see it to appreciate the intensity surrounding it.
With frenzied Titans fans still on their feet following Johnson's score, potentially putting Leinart and Co. in too deep a hole to dig out of with the games first double-digit lead, Stephens-Howling took all of 12 seconds to silence the jubliant throng, and narrow that lead back to three points.
It was (sniff) beautiful!
He also managed to down two of punter Ben Graham's six fine punts at the one-yard line. Admit it, Cardinals fan, you were feeling pretty darn good on the second one, with that 2:37 on the clock.
And Graham continues his pro bowl caliber season. He averaged nearly 50 yards per boot, his longest covering 64 yards. He leads the NFL in punts inside the 20, and was second in punting average coming into the game. And he just added to his already lofty stats.
Kicker Neil Rackers just cruises along, doing his job when called upon. His kickoffs were good, and he nailed each of his three scoring opportunities (one 41 yard FG, and two extra points). He also made another tackle on Tennessee's best return of the day.
Coach Whisenhunt called a great game. He showed his confidence in him when he allowed Leinart to throw a couple deep balls, but made sure there were enough short passes to stay in rhythm. He mixed up the run and pass well, too.
The only real standout "bad call", in my humble opinion, was when they only rushed three on fourth and four from the Titans seven after almost sacking Young for a safety by bringing the heat the play before.
Overall: B+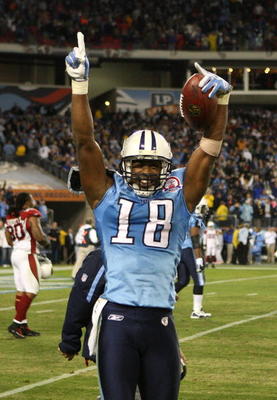 This was a pretty darn well played game on both sides of the ball, for both teams. Every time a Cards player made a big play, Tennessee would do the same. And vice-versa.
It was a classic game between two very good teams that happened to brake the collective heart of the faithful in the end.
It was Vince Young playing incredible, and besting Matt Leinart, who also played very well, on a last minute "miracle." In that regard, it was deja' vu all over again.
It was as exciting and exhilarating a game as I've seen all season. It was a clash of two titans, a slugfest that someone had to win. And while the Cards played a hell of a game, this time, it was Vince Young the Titans that came out on top.
Keep Reading

Arizona Cardinals: Like this team?