Is the 2010 Baseball Hall of Fame Ballot a Blank Slate?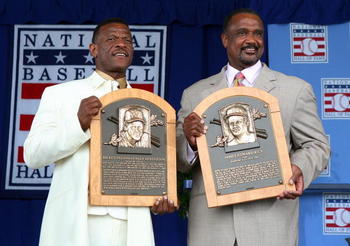 The 2010 ballot for the Baseball Hall of Fame was released to voters on Friday. Unlike 2009, where two new entrants were enshrined in baseball's hallowed Hall, fans may not see a single player on this year's ballot in Cooperstown next summer.
2009's electees, Rickey Henderson and Jim Rice, were a study in contrasts. Henderson was a dead lock, first-ballot Hall of Famer, whereas Jim Rice made it in by the skin of his teeth on his last year of eligibility.
As many voters squabbled over Henderson's lack of a unanimous vote as they complained of Rice's admission as a sign of falling standards.
No other newly eligible candidate in 2009 received the 5% of votes needed to remain on the ballot. As a result, there are a record low of 11 returnees on this year's ballot, alongside 15 new entrants.
I'm taking a look at the three players I think have a legitimate shot at being elected to the 2010 Hall class, and giving my predictions as to the likelihood of their election this year.
I'll also take a look at the rest of the list to separate the always-a-bridesmaids from the one-and-dones, and highlight candidates whose resumes have been shamefully overlooked by Hall voters.
Many of these 26 may hoist plaques in a future summer, but in the words of Tom Petty, the waiting is the hardest part.
Let's separate the wheat from the chaff, starting with Contender #1...
Contender No. 1: Roberto Alomar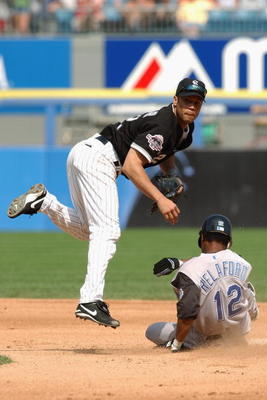 Roberto Alomar
Second Base
First Year of Eligibility: 2010
Career Highlights: More Gold Gloves than any other second baseman in history (10); 12-time All-Star; four-time Silver Slugger.
Why He'll Get In This Year: Widely considered one of the best defensive second basemen in the history of the game, Alomar was also a solid threat at the plate, collecting 210 career home runs and boasting a .300 lifetime batting average.
He blazed on the bases as well, swiping 474 bags in his 17-year career with a lifetime 80.6 percent success rate. His career stats compare favorably with the second basemen already enshrined in the Hall; he beats out the most recent inductee at his position, Ryne Sandberg, in all major categories except home runs and slugging percentage.
Why He'll Sit on the Bench: As dazzling as Alomar's career stats may be, his failures have drawn an equal share of the spotlight. His production dropped precipitously after his move to New York in 2002, earning him a chorus of boos on baseball's biggest stage. He also tarnished his reputation in an ugly 1996 incident, spitting at umpire John Hirschbeck after an argument over balls and strikes.
Finally, though Alomar was a remarkably complete player, he never dominated the league in any particular category. His "Black Ink" score—a common indicator of Hall of Fame candidacy that measures the number of times a player led his league in a common statistical category—is just 3. The average Hall of Famer scores a 27.
Chances for a 2010 Bid: 50-60 percent. It's arguably unfair that Alomar will be judged as much for The Great Spitting Incident of 1996 as for the rest of his sterling career, but these are the issues that tend to stick in the minds of BBWAA voters. He will almost certainly be handed the keys to the Hall kingdom at some point, but he's no lock on his first ballot.
Contender No. 2: Andre Dawson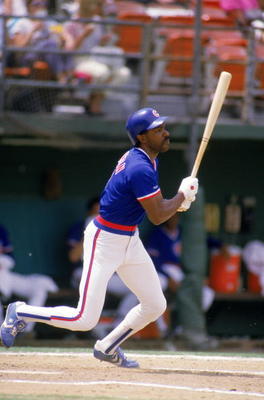 Andre Dawson
Center Field/Right Field
First Year of Eligibility: 2002
Career Highlights: 1977 NL Rookie of the Year; 1987 NL Most Valuable Player; eight-time All-Star; eight-time Gold Glover; four-time Silver Slugger.
Why He'll Get In This Year: Hawk is part of an extremely elite club—one of only three players in major league history (along with Willie Mays and Barry Bonds) to amass 400 home runs and 300 steals. He is the only eligible player with more than 1,000 extra-base hits not in the Hall of Fame.
His stats compare most favorably with several players already in the Hall—Billy Williams, Tony Perez, and Dave Winfield amongst them. Most convincingly, his vote totals have risen quite steadily over the course of his candidacy, reaching 67 percent of the vote last year. Only one player, Gil Hodges, has ever garnered more than 60 percent of the vote and not made it into the Hall.
Why He'll Sit on the Bench: For all his gaudy counting stats, Dawson's rate stats—particularly on-base percentage—are the biggest mark against him. His .323 lifetime OBP mark actually fell below the league average during the era; Lou Brock's .343 mark is currently the lowest for any outfielder currently in the Hall of Fame. His slash stats (.277/.323/,482) are less than compelling.
The brutal Olympic Stadium concrete did a number on Dawson's knees, rendering the once-formidable outfielder a defensive liability in his later years. But it's ultimately his free-swinging nature—almost 1,000 more strikeouts than walks over his 21-year career—that is his biggest barrier to Hall admission.
Chances for a 2010 Bid: 45-55 percent. Ryne Sandberg's plug for Dawson during his own induction ceremony in 2005 has had some apparent effect on Dawson's Q rating with voters, and Jim Rice's induction last year seems to beg the question for Dawson to be admitted as well. Dawson is the epitome of a borderline candidate, and this ballot may well be his best chance to squeak in.
Contender No. 3: Bert Blyleven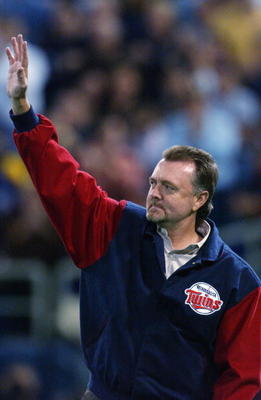 Bert Blyleven
Starting Pitcher
First Year of Eligibility: 1998
Career Highlights: Two-time All-Star; two-time World Series champion; threw no-hitter in 1977.
Why He'll Get In This Year: Blyleven is the only eligible pitcher with more than 3,000 career strikeouts not in the Hall; he is fifth on the all-time list with 3,701 Ks. He ranks ninth on the career shutouts list with 60; Luis Tiant is the only other pitcher in the top 25 in career shutouts not in the Hall of Fame.
Blyleven's 287 wins place him at 17th on the all-time list; he is one of just two eligible pitchers in the top 25 in career wins not in the Hall of Fame. Like Dawson, Blyleven's Similarity Score puts him in the same echelon as current Hall of Famers, including Don Sutton, Ferguson Jenkins, and Gaylord Perry. He's moved up the Hall voting ranks fairly steadily over the last several years, receiving 62.7 percent of the vote in 2009.
Why He'll Sit on the Bench: Blyleven's detractors point out that he has never won a Cy Young award, has only one 20-win season, and only made the All-Star team twice in his career. Pitching in the same era as luminaries like Tom Seaver, Nolan Ryan, Steve Carlton, and Jim Palmer meant that Blyleven's accomplishments were considered second-rate in comparison.
While he did notch 287 wins in his career, he also posted 250 losses; furthermore he holds the ignominious record for home runs served up in a single season with 50. In addition, the BBWAA has overlooked starting pitchers in the last 10 years, electing only one (Nolan Ryan) since 1999.
Chances for a 2010 Bid: 35-45 percent. By many standards, Blyleven is the best eligible starting pitcher not in the Hall. It's arguable that had he pitched for even average teams in the prime of his career, he'd be well beyond the 300-win mark that seems to be the linchpin for admission for starting pitchers. That being said, it's difficult to make the argument that he was ever the most dominant pitcher in the league during his career, which may be what ultimately keeps him out. For better or worse, it's not likely that the same BBWAA voters who passed him over for the Cy Young year after year will have a change of heart in casting their votes for the Hall.
Close But No Cigar: Barry Larkin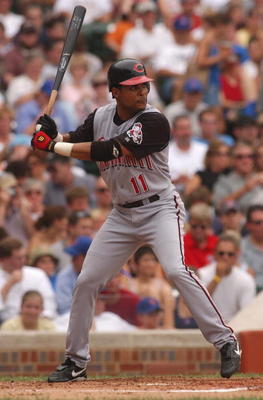 Barry Larkin
Shortstop
First Year of Eligibility: 2010
Career Highlights: 1995 NL MVP; 12-time All-Star; nine-time Silver Slugger; three-time Gold Glover.
Barry Larkin is just a hair below the three aforementioned contenders for the 2010 Hall of Fame class, though I do expect that he will make it in sooner rather than later. His 19 seasons with the Cincinnati Reds were good enough for Bill James to name him the sixth best shortstop of all time. Unfortunately, his candidacy suffers from three major issues:
1) Career-long health problems. Half of Larkin's 19 seasons had him on the bench for 50 games or more, and he averaged fewer than 100 games a season in his last five years in the league. His inability to stay on the field, particularly in the waning years of his career, will likely leave a bad taste in the mouths of Hall of Fame voters.
2) Lack of offensive dominance. Likely due to his health issues, Larkin never led the league in any offensive category during his career. While his career numbers compare favorably with already-enshrined shortstops, his goose egg in the Black Ink indicator will sour some voters on his candidacy.
3) Stuck in the middle. While Larkin's offensive stats certainly place him amongst the elite shortstops of his era, his numbers weaken when compared to the new guard of offensive powerhouses at the position. At the same time, while he was far from a defensive slouch, his fielding stats aren't strong enough to place him among the upper echelons of the all-glove, no-stick shortstops of old. He may be cursed by being too good in both areas and not great enough in either.
While he is, at best, a dark horse to make it into the Hall on his first ballot, Larkin is a near-lock to be the fifth Cincinnati Red to be inducted, with his best chances for admission coming in the weaker 2011 and 2012 class years.
Overlooked and Underappreciated: Tim Raines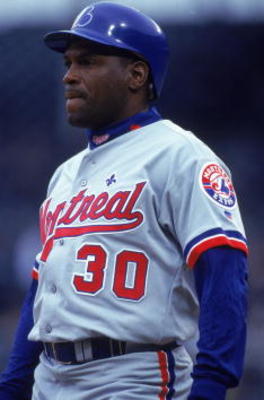 Tim Raines
Left Field
First Year of Eligibility: 2008
Career Highlights: Seven-time All-Star; three-time World Series champion; one Silver Slugger award.
Tim Raines is close enough to our #2 Contender, Andre Dawson, that you can almost envision them doing a three-legged walk into the Hall. One of Raines' sons is named after Dawson, and they were the closest of friends on the Expos teams of the 1980s.
In my mind, Raines is just as deserving of a Hall bid as his buddy Dawson, but I think he's more likely to be getting his props on the sidelines while Dawson gives his acceptance speech. That's a real shame, and the measly 22% of votes Raines garnered in the 2009 balloting casts a pall on whatever credibility the BBWAA voters might have otherwise had.
Raines was in the top three best leadoff hitters of the last fifty years; the fact that the other two (Rickey Henderson and Wade Boggs) were his contemporaries should not diminish Raines's case one iota. Nor should the fact that he toiled in relative obscurity in Montreal, where it seemed like Youppi! the mascot drew more national press than the players on the (cavernous) field.
Raines holds fifth place in the all-time steals list with 808, and had the highest success rate (84.6 percent) of any man with more than 300 career steals. That's substantially higher than the two modern-day steals kings, Lou Brock (938 steals, 75.3% success rate) and last year's first-ballot inductee Rickey Henderson (1406 steals, 80.8% success rate).
He was also a beast from both sides of the plate, hitting .294 lifetime as a lefty and .293 as a righty. That, alongside his preternatural ability to get on base and avoid the double play, lifts him into Hall consideration.
What will ultimately keep him out, however, may be the focus on his early use of cocaine; many writers are forever unable to think of him without envisioning his headfirst slides in order to avoid puncturing the coke bag in his back pocket. In this era, plagued by denial around the use of performance-enhancing drugs, it is especially galling that Raines—a man who confronted and conquered his addiction, and never shied away from speaking about it—is kept out of consideration.
I predict that his candidacy will get a boost in the next several years, but that he is likely to linger in the 50-60% vote-getting range for the balance of his BBWAA eligibility. It may take the fiat of the Veterans Committee for Raines to finally get his due.
Hanging Tough: Fred McGriff and Edgar Martinez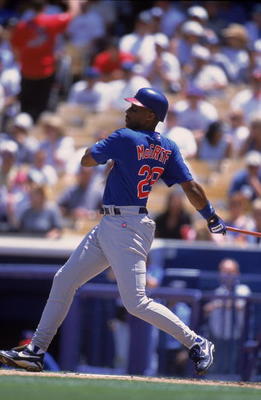 These two players have at least even odds of making it to the Hall at some point during their eligibility periods.
Fred McGriff
First Base
First Year of Eligibility: 2010
Career Highlights: Five-time All-Star selection; World Series champion; three-time Silver Slugger Award winner.
Fred McGriff, like Barry Larkin before him, will punch his ticket to Cooperstown someday. He was a model of consistency for the many teams with whom he played, hitting 30+ home runs for seven straight seasons and turning in six 30+ home run, 100+ RBI seasons over the course of his career.
He hit home runs in 37 different ballparks and off 300 different pitchers. The Crime Dog's scenery changed many times over the course of his 19-year career, but his production stayed true throughout.
He gets in over Mark McGwire as long as his reputation remains unimpeachable and McGwire continues his vow of silence about steroid use. As we can see with many current candidates, the BBWAA is a bit of a morally judgmental lot.
Edgar Martinez
Designated Hitter
First Year of Eligibility: 2010
Career Highlights:Seven-time All-Star; five-time Silver Slugger.
Though Paul Molitor spent more than 1,000 career games in the DH slot, Edgar Martinez is the first serious candidate for the Hall of Fame to have spent the majority of his career as a designated hitter.
Like Barry Larkin, Martinez is known for playing his entire career with one team, the Seattle Mariners. It's not just because of the distasteful corporate name of Safeco Field that it is so frequently referred to as the house that Edgar Martinez built.
Martinez's offensive stats certainly bring him into the Hall conversation: the pretty .312/.418/.515 career slash line places him in the company of just 12 other HoF-eligible players in the history of the game. Eleven of them are in the Hall of Fame.
His patience as a hitter also puts him in rare air: He is one of just 28 players to end his career with more than 300 home runs and more walks than strikeouts. He was an extra-base machine in his prime years, averaging more than 40 doubles and almost 30 homers a year between 1995 and 2001.
It is justifiable that voters might be wary of giving Martinez a first-ballot pass into the Hall; though his stats are eye-popping, it's difficult to avoid imagining how some of the premier hitters of his day might have fared had they not had to play in the field. With that said, however, Martinez stands firmly in the elite in his position, and as more career DHs come up for consideration in the coming years, his candidacy will prove difficult to ignore.
Out at Home: Mark McGwire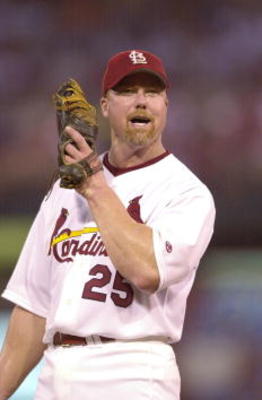 Mark McGwire
Mark McGwire's candidacy is clearly marked as much by his entanglement in the steroid controversy as by his home run-hitting prowess. While he holds some seriously impressive records in the latter arena, his overall contribution to the sport leaves him a marginal candidate at best. Yes, even taking steroids out of the equation.
It is surely unfair that he is being made the fall guy for the era while the leadership of the game sat idly by (I'm looking at you, Bud Selig), but when you strip away the drama and look at the numbers, McGwire just doesn't quite cut it.
His .263 lifetime batting average is not Hall of Fame caliber. I can hear the voices of sabermetricians in my head—not to mention my own protestations—when I cite that stat, but when you pair it with 1,626 hits over 16 seasons, his case begins to develop a few holes. While he did win a Gold Glove in 1990, he was considered a subpar fielder for most of his career.
McGwire's case, on the face of it, is a rough one.
Though he helped to resuscitate post-strike Major League Baseball by setting the home run record in 1998, he helped to stir the toxic cauldron of the steroid frenzy by refusing to answer questions about steroids in baseball. It becomes near-impossible to support a Hall of Fame case built almost entirely around home run hitting ability when that ability hinges so critically on the use of performance-enhancing drugs. Whether or not McGwire broke the rules of baseball—and if he did, he was surely assisted by the indifference of the MLB powers that be—he is not likely to gain admission as long as he continues his media blackout about steroids.
Looking Ahead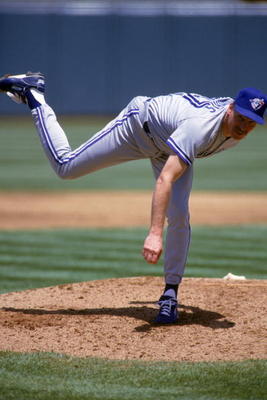 Two other candidates, Jack Morris and Lee Smith, have gotten significant support from voters in the last couple of years after starting out a bit slowly in their earlier campaigns. Smith received 44.5 percent and Morris 44 percent of votes cast in 2009. This represents a recovery of their previous peak voting in 2006, after which each of their candidacies experienced steep declines.
Jack Morris is primarily known for two things: winning more games than any pitcher in the 1980s (162), and his legendary 10 shutout innings to win the 1991 World Series for the Minnesota Twins.
Though he was an elite pitcher in his prime, his career stats are not quite Hall caliber. His 3.90 ERA is a pedestrian showing, and when evaluating all those wins, you have to look at the powerhouse Tiger, Blue Jay, and Twin offenses giving him run support. Jack Morris was absolutely a fine pitcher, and I wouldn't be upset if he did eventually get a nod, but he wouldn't be on my ballot.
Lee Smith is perhaps the best example of a candidate hoping for precedent-based entry. He's certainly got a leg to stand on, especially with the induction of Bruce Sutter, whose saves record he broke by nearly 200. Even as other closers like Dennis Eckersley, Goose Gossage, Rollie Fingers, and Hoyt Wilhelm have gotten the Hall nod, Smith is more akin to Sutter in that he spent his career almost entirely as a closer.
With storied closers Trevor Hoffman and Mariano Rivera in their twilight years in the league, it is only a matter of time before Hall voters will need to make a decision as to the role of closers in the Hall of Fame. If voters decide that Rivera and Hoffman cannot be denied, there is no strong case to be made against Smith. He's got until 2017 to get in through the BBWAA election; by then, the debates around Rivera's and Hoffman's candidacies will surely be heating up, if they are not already eligible. Smith will likely get in before his time runs out, but he will need the buffeting of the closer debate to propel him in.
Keep Reading